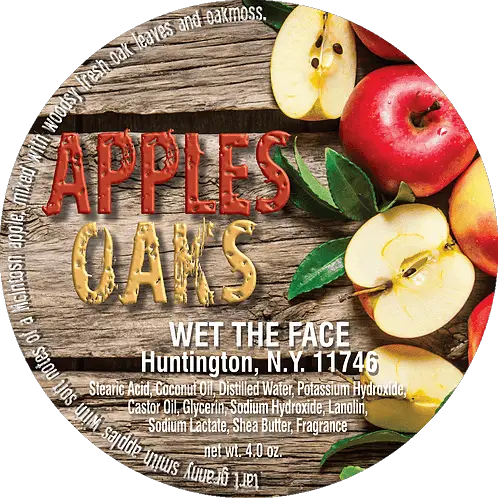 In the recent annual Fall Seasonal Special Wet Shaving Talk podcast, Joe Borrelli mentioned Wet The Face Apples Oaks limited edition shaving soap.  It sounded intriguing so I picked up a puck to try for myself.
WTF Apples Oranges Shave Soap
From the WTF website:
"We start off with a tart granny smith apples and then round it off with McIntosh apples, we mix in fresh woodsy oak leaves covered in oakmoss. Don't use another pumpkin-scented shaving soap try something that really says, Autumn."
Ingredients: Stearic Acid, Coconut Oil, Distilled Water, Potassium Hydroxide, Castor Oil, Glycerin, Sodium Hydroxide, Lanolin, Sodium Lactate, Shea Butter, Fragrance
My Experience With WTF Apples Oaks
I generally prefer stronger-scented shave products (I have an unfortunately insensitive sense of smell) and this soap does not disappoint.  Both dry off the puck and "bloomed" on the sink I get less of an apple note and more of a spicy/woody note.  If I had to compare it to something I'd say it kinda-sorta smells like a pie crust.  Almost cinnamon and nutmeg.
But again, my nose is kind of weird, so YMMV.
Lathered on the face the scent is still pleasantly moderate (and persistent) and the addition of a tart green apple note definitely whiffs up into my sniffer.  The kinda-sorta-almost-cinnamon note morphs into much more of a woody vibe to me.
But it's really the performance that is the surprise for me here.  My previous experiences with WTF soaps have been decent.  Solid enough, but not really standing out for me (and my hard water) in the increasingly crowded artisan shave soap space.
WTF Apples Oaks uses their new "V 2.0 formula" soap base and the change is a noticeable improvement to me.  The lather builds more quickly and liberally, with a consistency that's thicker and creamier, than the previous formula.
I find lubrication to be very good and cushion/protection to be excellent.  Post-shave feel is good, too, though I note that the ingredient list has lanolin so if you're sensitive to "sheep wax" be aware.  🙂
Conclusion
Wet The Face's Apples Oaks shave soap is a pleasant surprise for me.  The truth is I didn't have high expectations based on my previous experiences with WTF soaps.  But the "V 2.0 formula" along with the moderately strong scent profile really impressed me.
The scent of Apples Oaks is supposed to evoke Autumn but that is going to be partly based on your location.  I imagine it's more "Autumny" to someone in the Northwest US (where WTF is based) than to a "Suthunuh" like me.
But even if the scent doesn't scream Autumn to you it is still a nice scent and the performance is worth using year-round.  WTF had been off my radar for a while but Apples Oaks has reclaimed my attention and I'm going to be giving WTF's new soap base serious consideration as I update Sharpologist's "Best Shave Soap" article in the near future.
WTF Apple Oaks shave soap (there is also an aftershave that I did not try) should be available through the end of October.
Have you tried WTF Apple Oaks?  What do you think of it?  Leave a comment below!