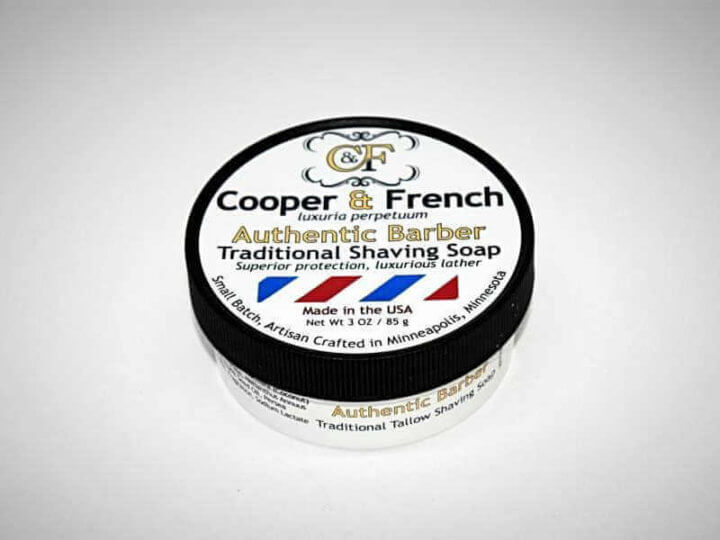 One of my favorite wet shaving smells is a "barbershop" scent.  Here's one take on barbershops, Cooper & French Authentic Barber shave soap.  Plus some additional comments on a couple of their other scents.
Cooper And French
From the Cooper And French website:
"There's no school like the old school. Welcome back to the good old days with our Authentic Barber. Get spruced up with the traditional barbershop fragrance of powdery Bay Rum, Sandalwood and earthy Patchouli."
Ingredients
Distilled Water, Potassium Stearate, Cocos Nucifera (Coconut) Oil, Potassium Tallowate, Sodium Stearate, Helianthus Annuus (Sunflower) Seed Oil, Ricinus Communis (Castor) Seed Oil, Persea Gratissima (Avocado) Oil, Glycerin, Fragrance, Sodium Lactate
My Experience With Cooper & French Authentic Barber Shave Soap
I get pretty mild Bay Rum (minus the "powder") and woody notes (I can't pull out anything specific) in my notoriously dull nose.  While it doesn't scream that barbershop scent to me I can see where it is in the ballpark.  The scent softens even further when lathered on my face, to the barely detectable (to me) level.
However I find the lather itself to be excellent: I can get a voluminous, creamy lather in no time, even in my "hard" water, with a variety of shave brush hair types.
Performance has been outstanding for me, with generous cushion and lubrication.  I'm able to get great shaves with Cooper & French even with multi-day stubble that sometimes challenges other shave soaps.  The already excellent lather even seems to improve noticeably while "percolating" in my shave brush between passes, so my second and third passes can be quite confident.
Post-shave moisturization is equal to that of other tallow shave soaps–I don't find it drying at all.
Some Other Scents
I got a couple other Cooper & French samples:
Sandalwood & Amber, described as "…a warm woodsy fragrance with top notes of bergamot, heart notes of rose and violet, rounded out with amber, sandalwood and vanilla base notes."
I get woods and vanilla.
Fresh Start, described as "Cedar, Amyris, and Vetiver establish an invigorating, woodsy foundation. Crisp, floral notes unfold in herbaceous Lavender and Geranium."
I get florals and a hint of wood.  This one seems to be a bit more strongly-scented to me.
In any event, these two samples performed just as well as Authentic Barbershop.
Conclusion
As part of the run-up to this year's Big Shave Southwest meetup I'm highlighting some of the vendors who will be selling there.
I think Cooper & French scents seem to be just distinct enough to differentiate themselves from the crowded artisan shaving soap market without going too far-afield.  I wish they would strengthen their scents though, as I prefer stronger scents generally.
Their lather is particularly noteworthy to me because their shave soap base ingredient list is somewhat shorter than some other artisan shave soap bases.  They seem to be doing more with less.
Where the rubber meets the road–or maybe I should say where the blade meets the skin–I find Cooper & French shave soaps perform extremely well for me.  They may just find a spot in a future update of Sharpologist's Best Shaving Soap List.  I've giving them a solid 4 out of 5 stars.
Do you have Cooper & French shave soap?  What do you think of it?  Leave a rating and comment below!