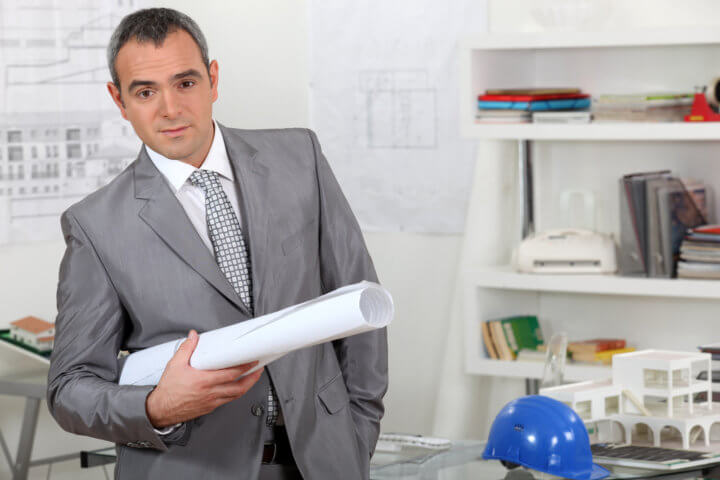 Executive Man shave soap from Stirling Soap is their most popular product, with a scent that's based on Creed Aventus.  I got a puck to see how it performs.
Stirling Executive Man
From the Stirling Soap website:
"You make your own decisions and stand by them.  You give orders and expect them to be immediately followed.  You walk into a room and all eyes are on you.  You are the Executive Man.
If confidence in a $2,000 suit could be bottled, this is what it would smell like.
Inspired by (but not affiliated with) Creed Aventus."
Ingredients: Beef Tallow, Stearic Acid, Distilled Water, Castor Oil, Potassium Hydroxide, Vegetable Glycerin, Fragrance Oil, Almond Oil, Shea Butter, Coconut Milk, Lanolin, Sodium Hydroxide, Sodium Lactate
My Experience With Stirling Soap Executive Man Shaving Soap And Aftershave Balm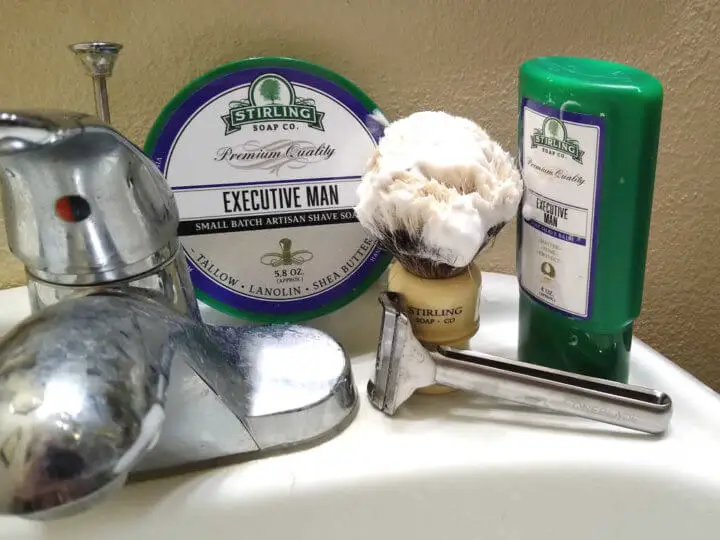 [Note: I received an Executive Man shave soap and aftershave balm gratis from Stirling.  Amazon and West Coast Shaving links are affiliate.]
Scent
The scent of Stirling Soap Executive Man shave soap is based on Creed Aventus EDP.  Here's how Basenotes describes Aventus:
Top Notes: Blackcurrant, Italian bergamot, French apples, Pineapple
Heart Notes: Rose, Dry birch, Moroccan jasmine, Patchouli
Base notes: Musk, Oakmoss, Ambergris, Vanilla
There are a number of artisan shave products based on Aventus; three that have been recently reviewed on Sharpologist include Ariana & Evans Spartacus, Captain's Choice Venture, and WSP's Olympus.
Like Olympus and Venture, I would say Executive Man is more of a "riff" on Aventus (I think Spartacus is closer to the baseline scent).  The scent is similar but I think the Executive Man scent is "brighter" and more fruit (especially pineapple) and floral-forward.   My dull nose gets very little of the Creed base notes in Executive Man (however, remember "your nose may vary").  The scent is moderately strong in the tub, softening some when lathered up.
Lather
Speaking of lather, Executive Man shave soap lathers quickly, though not particularly voluminously (but certainly more-than-adequate), for me in my "hard" water.  I get a fairly dense lather that is more "creamy"-looking and less "foamy" than many other artisan shave soaps I use.
Performance
I find the price:performance ratio of Stirling Soap shave soaps excellent.  The only thing I would like to point out is their use of Lanolin: also used in much more expensive soaps (most famously Mitchell's Wool Fat shave soap), some shavers with sensitive skin my get some irritation (not a problem with me, luckily).  However, beyond that Stirling Soap Executive Man gets high marks from me for both cushion/protection and–especially–lubrication/glide.
I think the post-shave moisturization characteristics of Stirling Executive Man shave soap is very, very good.
Aftershave Balm
Stirling offers aftershave splashes and balms in most of their signature scents.  I generally prefer balms. From the Stirling website:
"Our non-greasy formula soaks in to your skin to give you a soft, nourished feeling all day long. The scents are lighter than the aftershave splashes by design, and will not interfere with your cologne."
They're right: the scent from the Stirling Soap Executive Man Post-Shave Balm is very mild from the tube and pretty much nonexistent to my insensitive nose when applied to the skin.  However performance-wise I think it's a solid balm: moisturizing and nourishing to the skin without being heavy or greasy.
Conclusion
Although they may not have the "sexiness" of some other shave soap artisans, Stirling Soap goes about its business with a wide variety of scents to satisfy almost anyone's taste and products that are not only solid performers but at an excellent price point as well.
Stirling Soap is fairly widely available.  You can find it at its website; familiar wet shaving merchants like Merz/Smallflower, Shave Shack of TX, Maggard Razors, West Coast Shaving; and a number of other venues.
Have you tried Stirling Soap Executive Man shave soap and aftershave balm?  What do you think of it?  Leave a comment below!