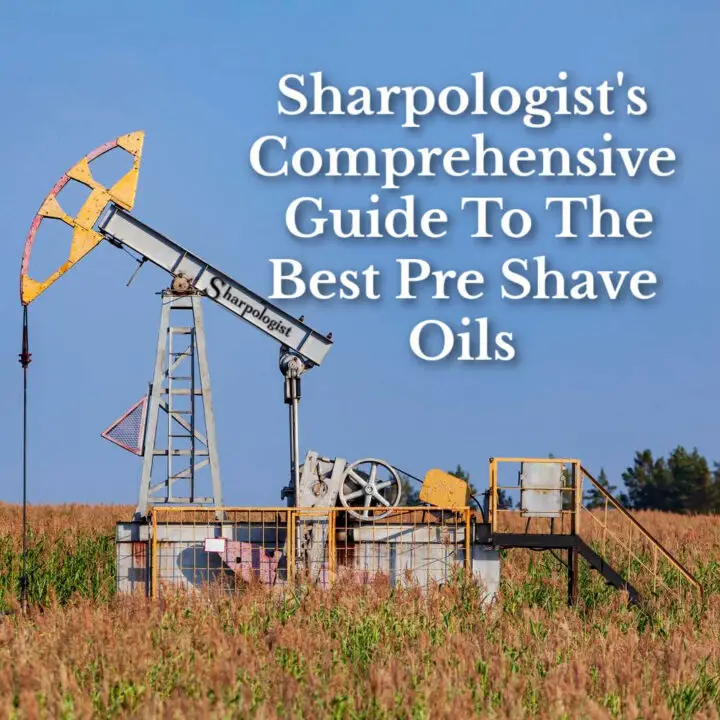 Pre-shave oil can be an important part of a shaving routine. It can help moisturize the skin before shaving (by preventing moisture loss) and provide an extra layer of lubrication to help protect sensitive skin against irritation. There are many different types of pre-shave oils on the market, so it can be difficult to decide which one is best for you. Here is a comprehensive guide to the best pre-shave oils that will help you choose the right product for your needs.
Contents – Skip To:
Shaving Oils That Can Be Used On Their Own Or As A Pre-Shave Oil
The Great Shave Prep Debate! Warm Water And Cleanser vs Non-Oil Pre-Shave vs Pre-Shave Oil
How To Choose The Best Pre-Shave Oil Product (For Your Razor And Your Skin)?
Ingredients to Look For In Pre-Shave Oil
Best Pre-Shave Oils
When it comes to the shaving routine, there are a lot of different things to consider. In addition to the type of razor you're using, the cream or soap you put on your face, and the direction in which you're shaving, pre-shave oil is a good thing to think about.
Pre-shave oil helps lubricate and soften the skin before shaving, making it less likely to result in nicks or razor burns. They can also help reduce irritation and increase blood flow to the face. The key is finding a formulation that works well for your skin type.
Looking for the best non-oil pre-shave products? Click/tap here to read about 11 non-oil pre-shaves!
Criteria (Why Trust This Article?)
Unlike a lot of other "best pre-shave oil" lists from large consumer or fashion websites that concentrate on sponsorships or just what is available on Amazon, Sharpologist specializes in getting the best, most enjoyable shave possible.
This list is based on the personal experience of Sharpologist's editor (me!), contributors, and readers who have actually purchased and used the products–plus over ten years of research from review sites and specialty discussion forums. Generally-speaking, shaving facial hair is the primary objective.
Admittedly the following criteria is a bit arbitrary but I think it's a great starting point:
Natural/organic ingredients: while this is no guarantee that a particular pre-shave oil won't cause skin irritation, it can reduce the likelihood.
Usable under traditional lather: since most Sharpologist readers are "old school" shavers, one criterion here is that the product should be (though not guaranteed)  friendly to animal hair shave brushes.  If you have any doubts, use a synthetic fiber shave brush.
Low/no scent: strong scents usually indicate additional unnecessary ingredients that might cause a reaction, or at least clash with the scent of the shave cream/soap lather applied over the oil.
Brand/product performance reputation: while it's unlikely that a particular product will be liked by everyone, a positive sentiment by a significant number of users can be a positive sign.
Price: while a factor, I give it a lower priority.  You use so little oil that the per-application cost is probably going to be acceptable to most users if they get the results they are looking for.
There are many pre-shave oils of great quality on the market today, but I've narrowed it down to seven of the best, plus three great shave oils that can be used by themselves or as a pre-shave. Check them out below (alphabetical order)!
[Geni.us links may contain affiliate links.]
Bevel Pre-Shave Oil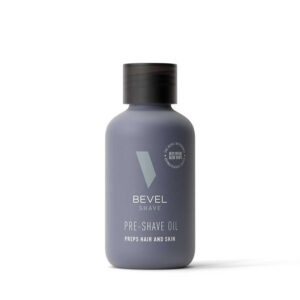 "Creates a lubricating layer and softens your hair and skin by holding moisture in to reduce nicks and cuts that can create dark spots. Softer hair allows for a more comfortable cut, and softened skin helps your razor glide across your skin. This lets you apply less pressure to get a better shave."
Ingredients: Helianthus Annuus (Sunflower) Seed Oil, Olea Europaea (Olive) Fruit Oil, Ricinus Communis (Castor) Seed Oil, PEG-40 Hydrogenated Castor Oil, Fragrance, Hydrogenated Castor Oil, Copernicia Cerifera (Carnauba) Wax.
My Comments:
Little-to-no scent, uses organic oils, performs very well.
Other reviews:
"It provides such a good barrier between your skin and the blade that I sometimes question if my razor is getting a close enough shave as it passes effortlessly over my head. It feels like I'm not really getting the hair, but I'm usually able to shave my entire head with just one pass."
Rated 4.6 out of 5 stars on Amazon with about 320 ratings and a 90% positive sentiment.
Lather & Wood Pre-Shave Oil (Unscented)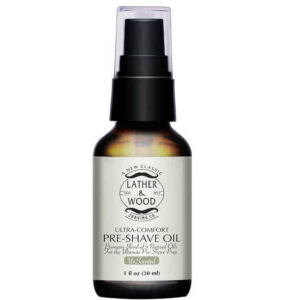 "TOUGH BEARD? – No problem. Lather & Wood Pre-Shave Oil prepares your beard for an extremely close shave with a proprietary blend that softens the beard, conditions the skin, and gives a superior slickness for extreme comfort."
Ingredients: Grapeseed oil, organic olive oil, Sandalwood oil, meadowfoam oil, tocopherol, (vit. E), wheatgerm oil, cranberry oil, red raspberry oil, rosemary extract, neem oil, sodium bicarbonate & citric acid.
My Comments:
I found the consistency of this pre-shave oil to be on the heavy side.  It might be too heavy for those prone to acne or other 'skin clogging' conditions.  On the other hand I think it may be well-suited for those with heavy stubble and the over-all performance during a shave is very good.  In fact you may be able to use this oil by itself (without using a cream or soap over it) in a pinch, as long as your stubble isn't too heavy.
Other reviews:
"This oil is hearty, and you can even shave relying only on the pre-shave product – without any soap or shaving cream!"
"…this oil may be a little thick for some users who prefer a less thick and lighter pre-shave oil."
"The seven-oil blend conditions your skin to reduce your risk for irritation, redness, and ingrown hair. All you need is a single drop of the potent formula; allow it to seep into the hair and skin for 30 seconds, then layer on your shaving foam or cream."
"Lather & Wood knocks it out of the park when it comes to producing an affordably priced take on one of the best pre-shave oils, and we couldn't be more impressed with the all-natural formula or the soft finish."
Unscented version rated 4.4 out of 5 stars on Amazon with over 2600 ratings and an 83% positive sentiment.
Available from these sources.  (Available in a Sandalwood scent, too.)
St. James of London Pre-Shave Oil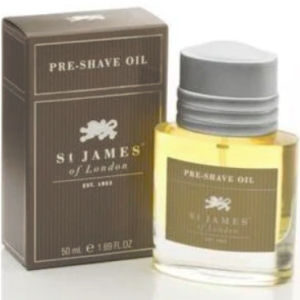 "Our customers rave about adding a pre-shave oil to their routine. A small dab of our oil in a complimentary suite of fragrances leaves your razor gliding effortlessly across your face for a shaving experience you've only imagined."
Ingredients: helianthus annuus(sunflower) seed oil, prunus amygdalus dulcis (sweet almond) oil, parfum, cyclopentasiloxane, simmondsia chinensis (jojoba) seed oil, persea gratissima (avocado), oil, tocopheryl acetate, bht, citronellol, coumarin, limonene, citral, geraniol, linalool, cI 47000 (yellow 11), cI 45370:1 (orange 5)
My Comments:
This oil works very well for me: mild, pleasant fragrance; texture on the lighter side, easy to rinse off; and lubricates very well.
Other reviews:
"My shaving routine would not be complete without the use of the shave oil. The oil is wonderful to use and produces great results. Even if you are a daily shaver, it lasts for a long time because it requires little energy and less time to use. "
"It contains sunflower oil and jojoba oil to leave your skin feeling smooth as silk."
"Fragrance of refreshing, and doesn't bother my sensitive skin. It's a very light texture so your blade doesn't get hung up on it. "
Rated 4.1 out of 5 stars on Amazon with about 30 ratings and an 80% positive sentiment.
Stirling Soap Co. Pre-Shave Oil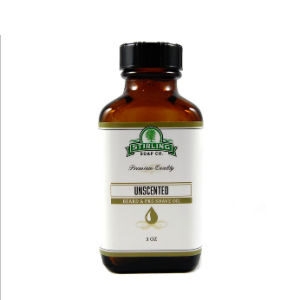 "A dual purpose softener and conditioner. A blend of oils, silk protein, and panthenol to help condition and nourish your beard when you want to keep it and make it look great, and also soften and prepare it and your face when the time comes to shave it off."
Ingredients: Castor Oil, Jojoba, Almond Oil, Babassu Oil, Meadowfoam Seed Oil, Olive Oil, Sunflower Oil, Oil from Grapeseed, Soy Lecithin, Silk Protein, Panthenol, Vitamin E, Optiphen.
My Comments:
Stirling is well known for both the performance of their shave products and the exceptional value they offer.  This dual-purpose oil is no exception.  Although the consistency is a bit heavy for me I find it rinses easily post-shave and performs admirably with adding extra lubrication to shave lather.
Other Reviews:
There aren't too many independent reviews of Stirling's pre-shave oil–it "flies under the radar" of most. But those who have tried it, love it:
"Leaves my skin feeling soft and smooth and cuts down on razor drag."
"This is a good base layer to prep your face before you lather up. I believe this made a major difference in my shave and saved my face from burns, cuts, irritation and razor bumps."
"I love this stuff. It makes the razor glide smoother on the first pass and I get less irritation."
This oil is also mentioned as an exceptionally good value (as are most of Stirling's other shave products).  Available unscented and in many of Stirling's scent profiles.  It can also be used as a beard oil.
Taconic Organic Pre-Shave Oil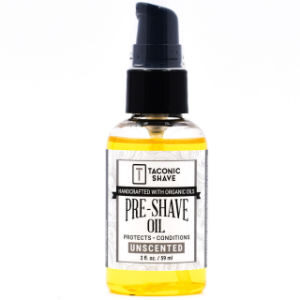 "Taconic Shave's Pre-Shave Oil creates a layer over the skin to protect you from the repeated contact of the razor on your skin. This will help prevent skin rashes, bumps and razor burn. It also softens stubborn hairs so shaving will be easier, smoother, closer and more comfortable than ever before."
Ingredients: Carthamus Tinctorius (*Safflower) Seed Oil, Ricinus Communis (*Castor) Seed Oil, Vitas Vinifera (Grape Seed) Oil, Citrus Latifolia Tanaka (Lime) Oil, and Tocopherol (Vitamin E). *organic ingredient
My comments:
I find this to be an excellent pre-shave oil.  Like some other reviewers I do find I need to use a bit more compared to some of the other oils on this list.  Mild citrus scent.
Other Reviews:
"Shaving my sensitive neck area can be brutal but this pre-shave oil made the difference. At first I tried two pumps but after several shaves, it looks like four pumps works best for my shaves. Highly recommend."
"When shaving with this oil applied, it provided moderate comfort. The slickness from the oil helped to allow the razor blade to glide along the surface of the skin with very little irritation."
"If you are looking for a good pre-shave oil that does the job without trying to be the star of the show, then this is a good pick. Two or three squirts will do the job nicely, giving the razor a smooth glide over your skin, and the very light citrus scent won't interfere with your after shave or cologne scent. "
Rated 4.4 out of 5 stars on Amazon with over 660 ratings and an 86% positive sentiment.
The Art of Shaving Pre-Shave Oil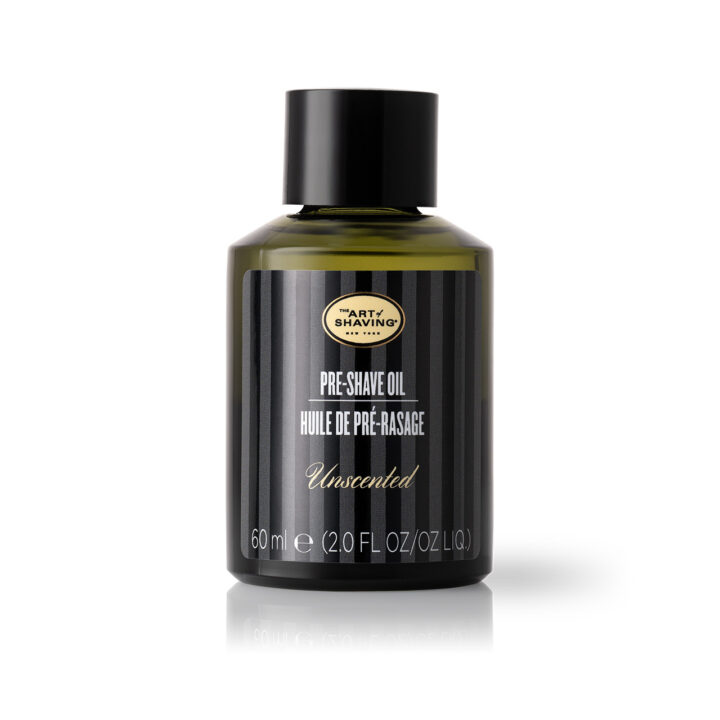 "As the first step of The Perfect Shave™, The Art of Shaving Unscented Pre-Shave Oil softens facial hair and reduces tug and pull, all with a lightweight feel that leaves no oily residue. Pre-Shave Oil helps protect against irritation and razor burn by promoting razor glide and is suitable for all beard types, including men with tough beards. It is formulated with a unique blend of botanical ingredients and Essential Oils."
Ingredients: Ricinus Communis (Castor) Seed Oil Olea Europaea (Olive) Fruit Oil Lavandula Angustifolia (Lavender) Oil Eugenia Caryophyllus (Clove) Leaf Oil Fusanus Spicatus Wood Oil Piper Nigrum (Pepper) Seed Oil Water/Aqua
My Comments:
The "unscented" version I tried most definitely has a (relatively mild) scent: I get cloves.  But The Art Of Shaving offers a number of different versions of their pre-shave oil and I'm sure you will be able to find one to your liking.
Of the pre-shave oils with heavier consistencies on this list I like The Art Of Shaving pre-shave oil the best: while it is on the heavy side I notice that it not only provides a boost to lubrication (like other pre-shave oils) it also seems to help with protection/cushion for me as well.
Other reviews:
"This is definitely not unscented however, if I were to choose a scent to accompany this shaving oil, this would be it. It's definitely on the very pricey side, but it's worth the money. "
"My husband had never used a pre-shave oil before, but I purchased this as a gift for him. He's usually a minimalist (it's hard to even get him to apply sunscreen on his face!) but this is now a "must-have" for him. He uses it before every shave and it helps to give a smooth shave and prevent nicks…."
"I was hoping for an unscented pre-shave oil as I'm trying a sampler pack of shaving creams. This oil has a definite scent, which one review, I read after purchase :(, described as a hybrid of eucalyptus, pine and clove. To me the scent is leans more towards clove…. The oil is very thick and remains on the skin even after shaving is complete."
"The best thing I can say about this oil is I know when I've forgotten to use it because my skin feels harsher after shaving without it. The oil makes my skin soft and pliable for the razor. No cuts or burn. The scent is mild and pleasant. A little goes a long way so it's a great value."
"At first it seems odd that you should actually wash your face first, then dry it completely before you put on the Pre-Shave Oil. I guess that prepares the face and gets rid of any unwanted dirt or face oils. Then lather up with your favorite shave cream / brush. The Oil under the Shave creme is definitely noticeable on the first pass. The Pre-Shave Oil also allows you to set your razor at a more aggressive angle for a much closer shave."
Rated 4.7 out of 5 stars on Amazon with over 2700 ratings and a 94% positive sentiment.
Truefitt & Hill Ultimate Comfort Pre-Shave Oil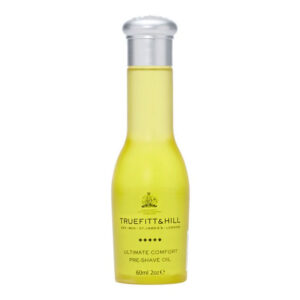 "Our Pre Shave oil contains ten essential oils for glide, moisturising, healing and conditioning. Use before shaving to help protect your skin and soften your beard. Essential for a comfortable shave."
Ingredients: Hellanthus Annuus (Sunflower), Seed Oil, Cyclopentasiloxane, Persea Gratissima (Avocado) oil, Simmondsia Chinensis (Jojoba) Seed Oil, Glyceryl Oleate, Limonene, Aleurites Moluccana (Kukui) Seed Oil, Laureth-4, Aloe Barbadenssis (Aloe Vera) Leaf Extract, Cocos Nucifera (Coconut Oil), Prunus Amygdalus Dulcis (Sweet Almond) Seed Oil, Amica Montana (Amica) Flower Extract, Tocopherol, Citrus Aurantium Bergamia (Bergamot) Peel Oil, Citrus Nobilis (Mandarin Orange) Peel Oil, Citrus Grandis (Grapefruit) Peel Oil, BHT, Linalool, Citral
My Comments:
One of my favorite "lighter" consistency pre-shave oils.  Very mild (but pleasant to me) fragrance, easy to apply, performs very well indeed.
Other reviews:
"Would recommend, easy to use, clean shave"
"Wow 'O Wow is this shave oil good. It is by far the best fragrance out there and it applies great! Yeah, I know it is pricey…. It does last a good long time and the effects it gives you preshave are fantastic."
"Tried quite a few preshave oils but none as good as this one. It has a light non-oily feel with a pleasant lemon smell to it. It is a small bottle however you just need 2 or 3 drops to rub into your face so I anticipate it will last a long while. It really makes a difference in my shave. "
"Thought I'd give this a go. Really glad I did. …[I]t doesn't make your face slick as such, but it seems to put a protective barrier between the blade and your face. Even on slightly rougher shaves, this keeps irritation and pain at bay! Smells awesome too. Pricey but worth trying, may change your experience."
Rated 4.7 out of 5 stars on Amazon with over 470 ratings and a 92% positive sentiment.
Shaving Oils That Can Be Used On Their Own Or As A Pre-Shave Oil
There are also shave oils that can stand on their own for shaving.  I'm listing some specific shave oils here that can also be used as a pre-shave oil under traditional shaving lather.  Used together one of these oils plus shaving lather can provide some spectacular results.
Pacific Shaving Company Oil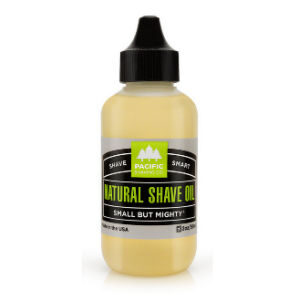 "Our shaving oil provides a consistently smooth shave that leaves your face conditioned and moisturized, not oily. It also applies clear so you can finally see where you're shaving – particularly great for shaving around blemishes, sculpting a beard or moustache – even shaving your head! (Ladies – say goodbye to those cuts around your ankles."
Ingredients: Helianthus Annuus (Sunflower) Seed Oil, Coco-Caprylate/Caprate (Plant Derived), Sorbitan Oleate (Plant Derived), Polysorbate-20 (Coconut Derived), Citrus Aurantium Bergamia (Bergamot) Fruit Oil, Persea Gratissima Oil, Limnanthes Alba (Meadowfoam) Seed Oil, Cucumis Sativus (Cucumber) Fruit Extract, Aloe Barbadensis (Aloe Vera) Leaf Juice, Aleurites Moluccana Seed (Kukui Nut) Oil, Tocopherol (Vitamin E), Citrus Tangerina (Tangerine) Peel Oil, Menthol (Analgesic), Citrus Grandis (Grapefruit) Peel Oil)
My Review:
This oil was the first shave oil I became aware of early in my wet shaving journey (back in the early 2000's).  Often mentioned in the forums at that time as a pre-shave (when there were no shaving cream and soap as good as they are now).  "PSO," as it is often known by, has a stellar reputation and can walk-the-walk as well as talk-the-talk.  I detect no scent, though others get a very mild citrus note.
Other Reviews:
"Good overall, with nice ingredients."
"I would recommend the shaving oil to anyone who tends to shave more frequently and who does not have very thick facial hair."
"An excellent shaving lubricant, especially if you don't want a product with a strong scent or that 'tingling' sensation that you get with most other shaving oils. Highly recommended."
Rated 4.5 out of 5 stars on Amazon with over 180 ratings and a 85% positive sentiment.
Shave Secret Deluxe Shaving Oil
"Shave Secret Shaving Oil provides the most comfortable, smooth shave ever! It dramatically reduces dry skin, rashes, nicks, cuts, ingrown hairs and shaving bumps. Shaving bikini lines is a breeze. Shave Secret takes the place of all shave creams, soaps, gels, aftershave and moisturizing lotions."
"Our SHAVE SECRET DELUXE shave oil infuses two additional expeller pressed base nut oils from the South Pacific providing superb moisturizing and conditioning properties to protect, heal and nourish sensitive skin for men and women. Our shave oils are a non-foaming proprietary blend of 100% natural seed and nut base oils (no peanut oil), essential oils, menthol and vanilla oil. No preservatives or artificial ingredients"
My Review:
You'll notice no ingredient list above.  Shave Secret says it's "[a] proprietary blend of base oils (cold pressed seed and nut oils), essential oils, RX grade menthol and natural fragrance oil."
Shave Secret is fairly widely available in the US including many of the "big box" grocery stores and "megamarts."  There are a couple different versions of Shave Secret: I definitely prefer the "Deluxe" version which adds a couple additional oils to the mix, though the standard Shave Secret is very good and surprisingly inexpensive.  I only need a couple drops of this stuff.  Both are very usable on their own and when combined with traditional shave lather can provide an impressive experience.
Other Reviews:
"My husband started using it on his neck and face to help with ingrown hairs, he absolutely loves it!! Great price to boot."
"This product is the best you'll ever buy! Once you try it, I promise you'll be hooked! Ok, so your first couple uses will be awkward because you think you need so much but you really only need a few drops. Massage it in and just keep it wet. That's it! You'll feel and smell fresh and clean! My razor glides across my face, no drag! Important: you don't need to add more oil, just add more water to your face or area you are shaving. It really is that easy."
"I bought this product after recommendations from my son and son-in-law, who both swore by it. I was planning to use it for travel, as it is quite a bit smaller than typical shaving cream. I was surprised to discover that I liked it better than shaving cream. It provides lubrication for a clean, smooth shave using standard blades…."
Rated 4.7 out of 5 stars on Amazon with over 275 ratings and a 92% positive sentiment.
Village Barber Shaving Oil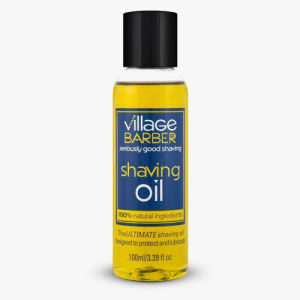 "The ultimate in shaving oil designed to protect and lubricate your skin for the ultimate shaving experience, leaving your skin feeling nourished, moisturised and silky smooth – Guaranteed!"
Ingredients: Sweet Almond Oil (Prunus amygdalus dulcis), Avocado Crude (Persea gratissima), Lavender (Lavandula angustifolia), Juniper (Juniperus communis), Patchouli (Pogostemon cablin), Geranium (Pelargonium graveolens), Chamomile (Anthemis nobilis), Benzoin (Styrax benzoin), Sandalwood (Santalum album), Myrrh (Commiphora myrrha), Eucalyptus (Eucalyptus globulus), Frankincense (Boswellia carterii), Clove (Eugenia caryophyllus), Cypress (Cupressus sempervirens), Peppermint (Mentha piperita), Thyme (Thymus serpillum)
My Review:
I first used Village Barber oil ten years ago and I still keep it stocked in my shave den.  Developed by Iain, a barber in the UK.  I think it's a bit thicker than "PSO" but still very effective as both a pre-shave and shave oil, and easy to rinse.
Other Reviews:
"Great shave oil,stand alone or as a pre shave. Great shave and bbs to boot. I would definitely purchase again! "
"I switched to wet shaving several months ago and as the learning process has evolved I learned I needed some extra added protection for my neck area. I learned about this product and it's very high marks…. If you have sensitive skin or just a few problem areas, like i did, this will get you over the hump for the best shaves of your life. Shave oils seem a bit pricey at first but a little truly goes a long way. The scent is mild but makes you think of a barber shop and it works, do not hesitate if you need a little extra glide."
"Have tried other shaving balms but, as I have very sensitive skin, this product really works."
[Not enough reviews on Amazon for a realistic rating.]
How To Use A Pre-Shave Oil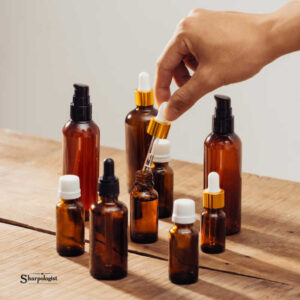 Very broadly speaking, using a pre-shave oil is fairly straight-forward.  The most important idea is to thoroughly rinse the area to be shaved with water before applying the pre-shave oil. One of the main benefits of the best pre-shave oils is to "lock in" moisture on the skin, amping up the ability of shave cream/soap lather to lubricate and soften the stubble to be shaved, thus also providing the possibility of a close shave.
Apply the pre-shave oil by adding a few drops to the palm of one of your hands, rubbing your hands together, then using circular rubbing motions to massage the oil into the skin.  It can be very beneficial to wait a short time (30 seconds?) for the oil to fully penetrate the skin before applying shaving cream/soap lather over it.
When it comes to pre-shave oil, "less is more."  Avoid applying too much–just a few drops should be enough. And only apply just before you start shaving. If you shave in multiple "passes" do not re-apply the pre-shave oil: just rinse the skin well to re-activate the oil before applying lather again.
Of course, when it comes to specific directions be sure to follow the product's instructions.
What Is Pre-Shave Oil?
Pre-shave oil is applied to the skin before shaving in order to soften the hair, retain moisture on the skin, provide additional lubrication properties, and allow for a closer shave. Quality pre-shave oils are designed to help the razor glide smoothly over the skin and prevent nicks and cuts, thus securing a comfortable shave. While shaving, pre-shave oil can help to reduce the occurrence of razor burn, skin irritation, razor bumps, and lessen the chance of getting an ingrown facial hair.  Men with sensitive skin also claim that pre-shave oil greatly reduces irritation after shaving.
Best pre-shave oil are typically made up of a blend of essential oils and carrier oils, so they can be beneficial for your skin even after you shave.
Background
For years I had been in the "pre-shave oils are a crutch" camp of traditional shaving. Then back in 2019, I had a bit of an epiphany: I tried a pre-shave oil that a sponsor had asked me to use. And I discovered that, under certain conditions, a pre-shave oil could actually be pretty useful to me.
So I've spent the last couple of years researching and trying pre-shave oils to determine the good ones.
The Great Shave Prep Debate! Warm Water And Cleanser vs Non-Oil Pre-Shave vs Pre-Shave Oil
I think we can all agree that some kind of preparation before a shave can make the shaving routine much easier.  But what kind of preparation?  There are three approaches most shavers can take: cleansing and rinsing, using a non-oil pre-shave product (like pre-shave creams), and using an oil-based pre-shave product.
Each method has its own benefits and drawbacks, so it can be difficult to decide which one is right for you. Let's take a closer look at each of these methods and help you decide which one is best for you.
Warm Water And Cleanser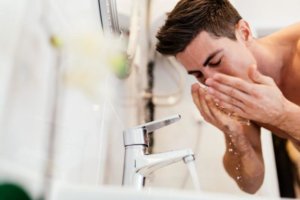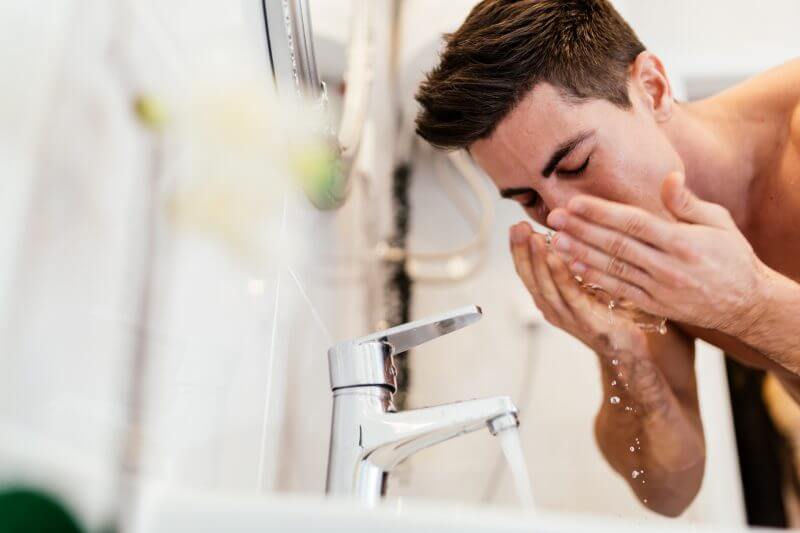 I still firmly believe that some kind of skin cleaning and rinsing prior to shaving is really important.
In a 1937 paper for the American Medical Association by Lester Hollander (MD) and Elbridge Casselman (MD), "Factors Involved In Satisfactory Shaving" the effect of water was one of the factors examined.  The most relevant quotes from the paper:
"The tensile strength and consequently the hardness of hair are lessened by water absorption.
"Hair also takes up sebacceus secretion, which retards water absorption–an important factor in shaving, because in hair covered in sebacceus secretion there is a delay in water absorption during lathering."
Donald Deem (MS) and Martin Eiger (PhD) published a paper for the Society Of Cosmetic Chemists (available at library.scconline.org) in 1976 studying the use and temperature of water for shaving.  The summary:
"Synopsis: Device is described which permits measurement of the force required to CUT a BEARD HAIR FIBER under a variety of conditions. Studies with this device show ​that the force required to cut wet beard fibers with commercial razor blades is about 65 per cent less than that of dry fibers. Beard hair is almost completely hydrated by exposure to water for about 2 minutes at room temperature, and this hydration is accelerated by an increase in temperature."
So the process of cleaning and hydrating the skin before shaving can be scientifically proven to improve the shave.  The downside is that this process takes time.  Doctors have told me it can take up to three minutes to properly hydrate hair for shaving, depending on temperature and other factors.
Non-Oil-Based Pre-Shave Products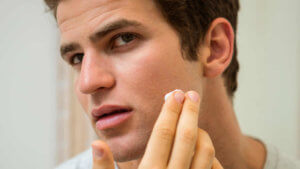 Pre-shave oils get all the buzz in shaving circles, but what about pre-shaves that are not oil-based like a pre-shave cream? There are actually quite a few, and they can work a little differently than oils.
There's an old saying that "oil and water don't mix." I think that's the key (albeit perhaps over-simplified) difference between oil and non-oil pre-shave products such as pre-shave cream: oils form a layer of lubricant between the skin and lather. Non-oil pre-shaves seem to either mix with the existing shave cream or soap to create a more effective lather, or to (intentionally) create an additional protective layer between the skin and blade.
Broadly-speaking, non-oil products can provide a little more protection to the skin while oil-based pre-shaves provide more lubrication for shaving allowing for a smoother shave.
For a full discussion and recommendations of these pre-shaves click/tap here to read "11 Non-Oil Pre-Shaves"
How To Choose The Best Preshave Oil Product (For Your Razor And Your Skin)?
There is no one-size-fits-all answer to this question, as the best pre-shave oils for you will depend on your skin type, the razor you use, and other individual factors. However, some tips on how to choose the best shaving oils for a comfortable shave include:
– Consider your skin type. Generally, those with oily skin or prone to ingrown facial hair should consider a pre-shave oil with a "lighter" consistency. Those with problems with skin irritation like razor burn should consider a pre-shave oil with a "heavier" consistency.
– Consider your stubble/hair type. Those with thick/heavy stubble usually find that a "heavier" pre-shave oil more beneficial.
– Read reviews. You should be able to find relevant comments from shavers with similar circumstances to yours.
– Try a few different oils to see what works best for you. After you narrow down the type of pre-shave oil that may be most beneficial to you, some experimentation may be necessary.
When it comes to choosing the best pre-shave oil, product information is key. By reading the section on the brand's website devoted to their product, you can find answers to many of your questions: what the oil is made of, how it should be used, and what its benefits are. You may also be able to learn about any potential drawbacks or side effects that you should be aware of before purchase.
A customer Q&A section is another valuable resource for finding information about a particular pre-shave oil or others like it. Here, customers have already purchased and used the product in question and can offer their firsthand insights and advice. This information can be extremely helpful in making your decision when you're choosing the best shaving oils.
Ingredients to Look For In Pre-Shave Oil
When looking for a pre-shave oil, it is important to know what to look for in the ingredients. The best products will have all-natural and organic ingredients that are beneficial for the skin. Among the ingredients will be various types of oils used for their different properties: carrier oils, vitamin oils, etc.
Carrier Oils
Carrier oils help to penetrate the cells and soften them up before shaving. They come in a variety of thicknesses and can be helpful for people with coarser skin or hair. Some popular carrier oils include jojoba oil, grapeseed oil, and argan oil.  Castor oil and apricot oil are two others you'll find in the best pre-shave oils.  These oils will help moisturize your skin and provide a close shave.
When looking for a carrier oil, it is important to consider the following:
-The oil's viscosity or thickness
-How well the oil is absorbed by the skin
-The oil's shelf life
-The oil's fragrance (or lack thereof)
Oils with a longer shelf life will last longer once opened. Fragrance-free oils are ideal for those with sensitivities to smell.
Essential Oils
Essential oils are also beneficial for the skin and can soothe any irritation. They usually have a pleasant scent that can help you relax before shaving. Some common types include lavender oil and sandalwood oil.
An essential oil that is adulterated or of poor quality will not provide the benefits that natural oils of high quality would. When selecting one, be sure to find one that is 100% pure.
Other factors to consider when selecting an essential oil include:
-The botanical name of the plant
-The part of the plant from which the natural oils were extracted
-How the plant was grown ( organically or conventionally)
-The distillation method used
For more information on essential oils and shaving creams made from them click/tap here to read "Essential Oils, Aromatherapy, And Shaving Creams And Soaps".
Vitamin Oils
Vitamin oils are another important ingredient in pre-shave oil products. They help to nourish and protect the skin from damage. Some good examples include vitamin E oil and grapeseed oil.
Some natural oils are better suited for certain needs than others. For example, if you are looking for an oil that will help to improve the appearance of your skin, you may want to choose one that is rich in vitamins A, C and E. These vitamins are known for their antioxidant properties, which can help to protect your skin (especially sensitive skin and dry skin) from damage caused by free radicals. Additionally, vitamin C is beneficial for collagen production, which can help keep your skin looking young and healthy.
If you are looking for an oil that will help to improve the condition of your facial hair, like a dual-purpose pre-shave oil/beard oil product, you may want to choose one that is rich in vitamin E or B complex vitamins. These vitamins can help to strengthen and nourish your hair shafts, making them less likely to break or fall out.
Ingredients to Avoid
When looking for a pre-shave oil, it's important to be aware of which ingredients to avoid. Some products contain harsh chemicals and synthetic ingredients that can damage your skin in the long run.
Ingredients ending in "-cone" may be particularly harmful not only to sensitive skin but also in general, as they strip your skin of its ability to naturally balance oils. Look for products with high-quality, beneficial ingredients instead- these will have nothing to hide and proudly boast their contents on the label.
DIY Pre Shave Oils
Want to try a "do it yourself" solution?  Here are some recipes to try:
Rich's oil:
1. Castor Oil – 2 oz.
2. Grape Seed Oil – 1 oz.
3. Olive Oil – 1 oz.
4. Avocado Oil – 1 oz.
5. Apricot Oil – 1 oz.
6. Vitamin E Oil – 1 oz.
7. Lanolin – 1⁄2 – oz.
8. Glycerin – 1⁄2 – oz.
9. Almond Oil – 1 oz.
10.Tea Tree Oil – 10 drops.
It makes an 8 ounce batch.
Joe's oil,
as ratios:
3/5 of castor oil,
1/5 of oil from grape seeds
1/5 of olive oil
about 10 drops of mint and lavender oils.
Mike's oil
Equal amounts of:
oil from almonds
avocado oil
olive oil
coconut oil
plus:
about 20-25 drops of tea tree oil
a spoonful of glycerin
20 drops of peppermint oil.
Donald's oil:
3 oz oil from almonds,
1 oz castor oil,
a tsp or two of your favorite essential oils for scent as desired.
Maybe add a dash of glycerin for extra glide if you want.
Summing Up
When it comes to the best pre-shave oil, there is no one-size-fits-all solution. The best pre-shave oil for you will depend on your unique shaving needs. However, all of the products compared in this article are of excellent quality and will provide you with a great shave.
Have your own tried-and-true list of the best pre-shave oils? Make sure to share your findings in the comments below.