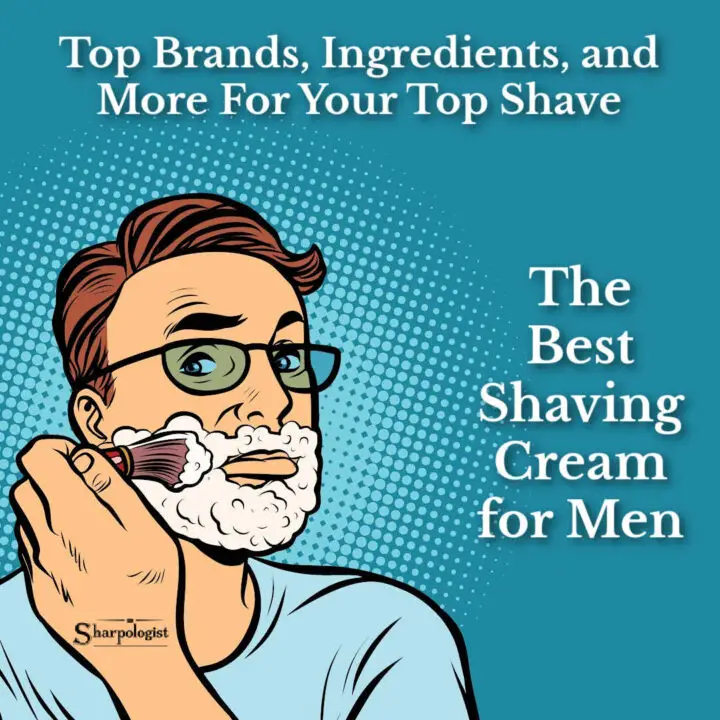 [Updated July, 2023!] Welcome to the exciting world of shaving cream!
This might not be the most thrilling topic, but it is an important one. After all, your face is one of the first things people see when they meet you. So why settle for a subpar shave?
There are a lot of different factors to consider when choosing a high-quality shaving cream. In a major update this article I'll go over some of the most important ones: brands, ingredients, and more.
The Best Shaving Cream For Men
Takeaway Summary (Alphabetical Order)
Amazon links are Sharpologist affiliate. Geni.us links may be affiliate.
Mass Market:
Shopping Mall:
Specialty:
Skip To:
What Is The Best Shave Cream In Specialty Distribution?
What Is The Best Shave Cream At The Mall?
What Is The Best Shave Cream In The Mass Market?
What Factors Should You Consider When Choosing A Shaving Cream? A Buying Guide
Disclosures
There are three broad categories of results: products available in the mass market, "the mall," and the high-end available at specialty retailers and online.
Why Trust Sharpologist?
Unlike a lot of other "best shaving cream" lists from large consumer or fashion websites that concentrate on sponsorships or just what is available on Amazon, Sharpologist specializes in getting the best, most enjoyable shave possible.
This list is based on the personal experience of Sharpologist's editor (me!), contributors, and readers who have actually purchased and used the products–plus over ten years of research from review sites and specialty discussion forums. Generally-speaking, shaving facial hair is the primary objective.
Looking for the best shaving soap? Click/tap here for that article.
What Are The Best Shave Creams For Men In Specialty Distribution?
Here you will find most of the best shave cream for men available, especially if you're looking for the best shaving cream for safety razor users. Most are designed to be lathered with a shaving brush–so if you're looking for the best shaving cream for brush enthusiasts you're in the right place–though they can be used brushless as well (you just have to use more of the product).
The Shaving Brush
Why should you use a shaving brush? Simply put, a shaving brush is the perfect way to prepare stubble for shaving. And not just for a single reason–there are a number of ways in which using a shaving brush benefits the shaving process including hydration, cleaning and exfoliation, lather coverage, and a better overall experience.
Shaving Cream Performance
Many traditional shaving creams are light years ahead of mass market shaving foam and shaving gel items, and provide an excellent sensory experience as well. Don't let the cost put you off: they are so concentrated that a tub will last for months and months of daily use. Some of these are available on Amazon. I think some of "the best of the best" shaving creams include (in alphabetical order):
Captain's Choice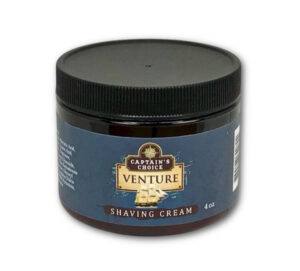 Captain's Choice – The scents of old-school Captain's Choice shave creams can be a bit inconsistent but performance has always been excellent (with lather stability being a stand-out).
Castle Forbes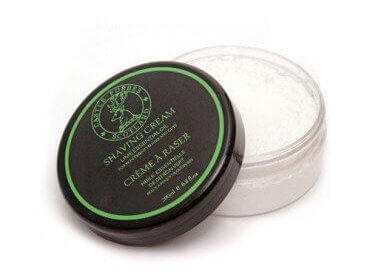 Castle Forbes shaving creams have a reputation of being strongly-scented: I like to say that using their Limes shave cream is like getting hit in the face with a key lime pie 🙂 . Without a doubt a luxurious product with outstanding performance (at a commensurate price).
eShave
eShave had cut back on their offerings and tweaked some of their formulations a few years ago. But things have stabilized and eShave shave creams continue to be excellent.
Nancy Boy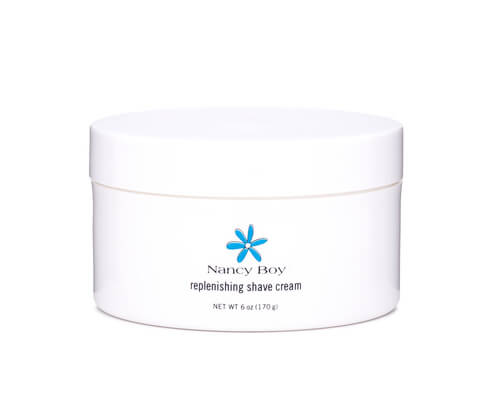 Nancy Boy – Originally formulated with only a single scent, Nancy Boy added a couple additional scents a few years ago (all scents are very mild). Nancy Boy is advertised as a "brushless" shave cream but it is brush friendly (and seems to work best with a synthetic-fiber shave brush). This shave cream is great for those who want to avoid nicks while shaving. Availability is limited to the Nancy Boy website but performance is stellar and they have an excellent reputation in the wet shaving enthusiast community.
New York Shaving Company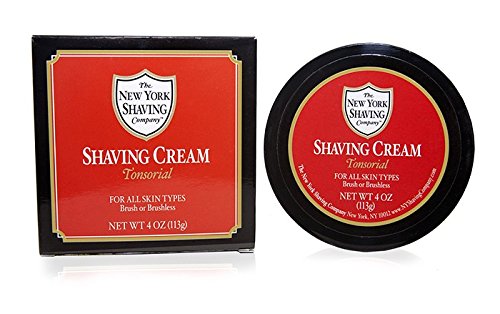 New York Shaving Company (NYSC) shave creams scents are a mix of classic European, "old timey" American, and natural scents. They also have a sample pack.
OneBlade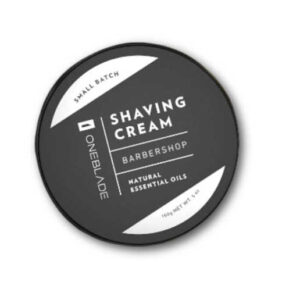 OneBlade – OneBlade's "Black Tie" shave cream had been available in a single, moderately-strong lavender scent but recently added another scent, Barbershop! Performance is really excellent: it can build a thick, rich lather and the 'cushion' aspect is particularly noteworthy.
St. James Of London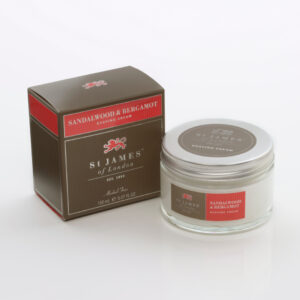 Another British brand now in the US. Some refer to St. James of London shave cream scents as "traditional with a twist:" Mandarin & Patchouli, Cedarwood & Clarysage, Black Pepper & Lime, Sandalwood & Bergamot, etc. They also boast an "all natural" and nourishing ingredient mix. Performance is excellent across the line.
Taconic Shave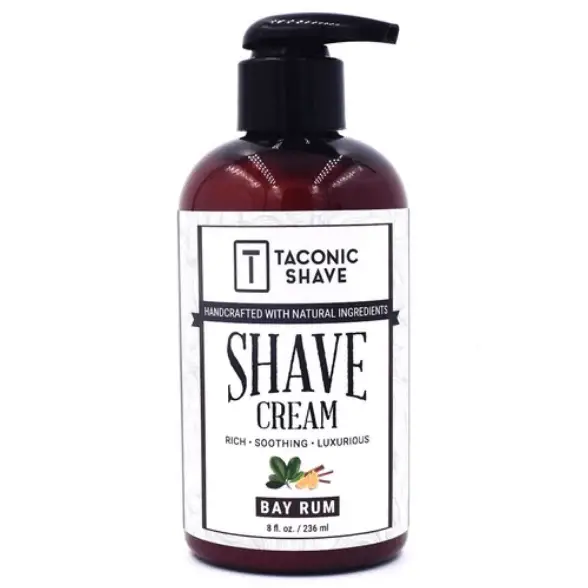 Taconic Shave has line of shave creams in a pump bottle that performs especially well. Taconic shave creams are also an exceptional value. It is made in small batches by a knowledgeable artisan. Their original shave creams are quite good as well.
Taylor Of Old Bond Street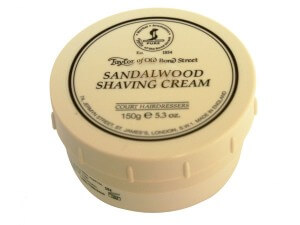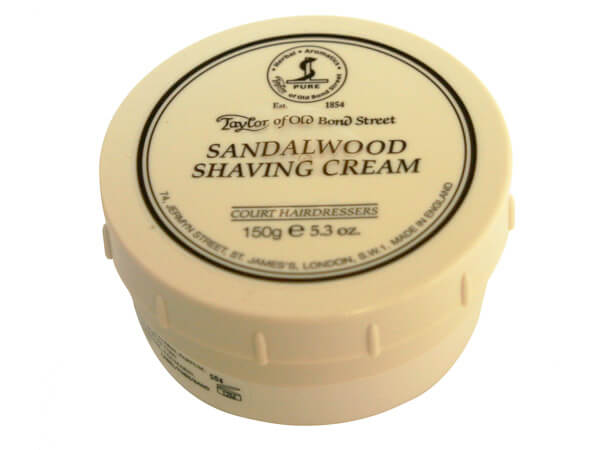 Taylor of Old Bond Street – Taylor Of Old Bond Street has a wide variety of both classic and modern scents and some versions are formulated specifically for sensitive skin. Their sandalwood shave cream is a often listed as a favorite shaving cream on Amazon.
Truefitt & Hill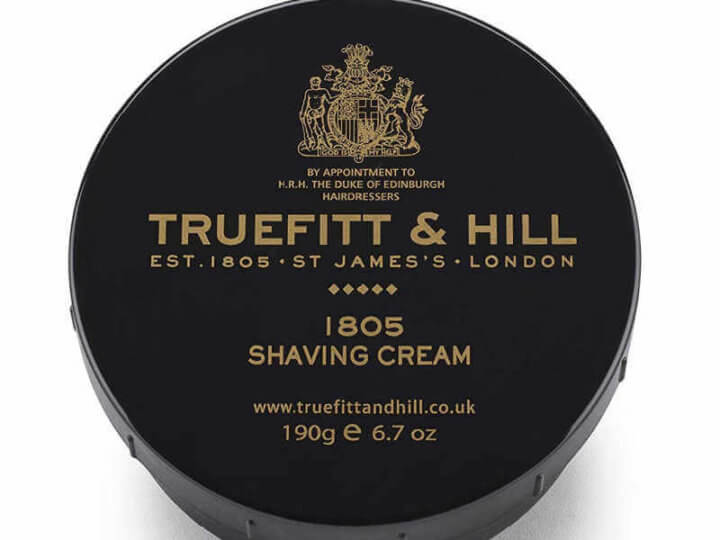 Truefitt & Hill shave creams are a good mix of "natural" and cologne-like scents, some popular with younger men (1805, Ultimate Comfort) while others are more classic (Trafalgar and Grafton are considered by some as "old man" scents). The No. 10 cream is meant to be used brushless but is "brush friendly" anyway. Truefitt and Hill creams may be ever-so-slightly less cushioning than others in this category but the difference is subtle: most agree the performance is excellent.
Trumper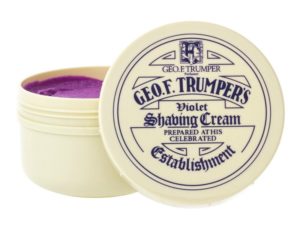 Trumper shave cream scents tend to stay in the classic, conservative realm. Some scents may seem a bit foppish but you might be surprised how downright masculine a Rose or a Violet scent can smell. In any event, almost everyone considers these shaving creams as superior in their performance.
What Is The Best Men's Shaving Cream At "The Mall?"
A step up from the "mega-mart" but not quite at the level of a high-end, specialty brand, the typical enclosed shopping mall in the U.S. may have some outlets for the shaver looking for a good shave cream. Amazon is a good alternative here as well.
Jack Black Supreme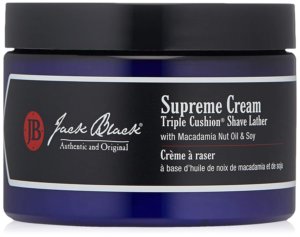 Jack Black Supreme – Is available in a single scent from some mid-tier department stores in the mall. It can be used with or without a brush, Jack Black Supreme consistently gets excellent reviews. Jack Black Beard Lube is a very good alternative.
Kiehl's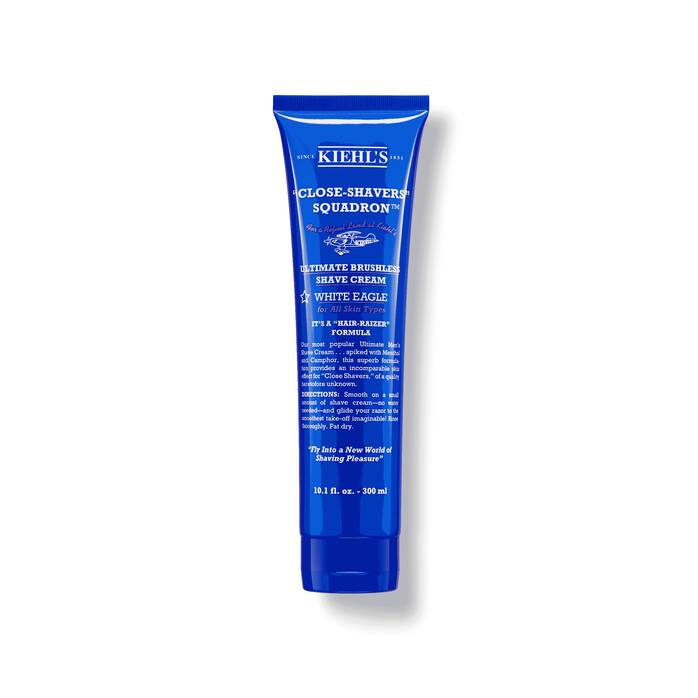 Kiehl's offers two excellent brushless shave creams (Mentholated and sensitive). The "White Eagle" version with menthol and camphor gets most of the buzz.
The Body Shop Maca Root & Aloe Shave Cream
The Body Shop Maca Root & Aloe shave cream was on Sharpologist's Best list a few years ago but a reformulation dropped its performance noticeably. I guess they re-reformulated because performance is now very good again.
The Art Of Shaving
The Art of Shaving – Most The Art Of Shaving-branded stores have closed due to COVID. However the line is still available at many mall retailers such as Bloomingdales, Nordstrom, and Macy's, as well as online.
The line-up recently expanded to include more interesting scents (and they have an unscented version made for those with sensitive skin). The Art of Shaving shave creams are more-than-solid performers and their fairly wide availability makes them a "gateway drug" into good shaving.
What Is The Best Shaving Cream In The Mass Market Or Drug Store?
Finally a look at mainstream products you might find in your local supermarket, "big box" retailer, drug store/chemist chain (particularly in the United States), and on Amazon. Unfortunately, most mainstream shaving products are, relatively speaking, poor performers (all other things being equal). Many are foam in pressurized cans and filled with chemicals that try to compensate for the skin-drying effect that propellants can have. If you have no other choice than to use a mass market shaving product, at least try to use a drugstore shaving cream that comes out of a squeeze tube.
Only a few brands in this category rise above the rest (in alphabetical order):
Barbasol 1919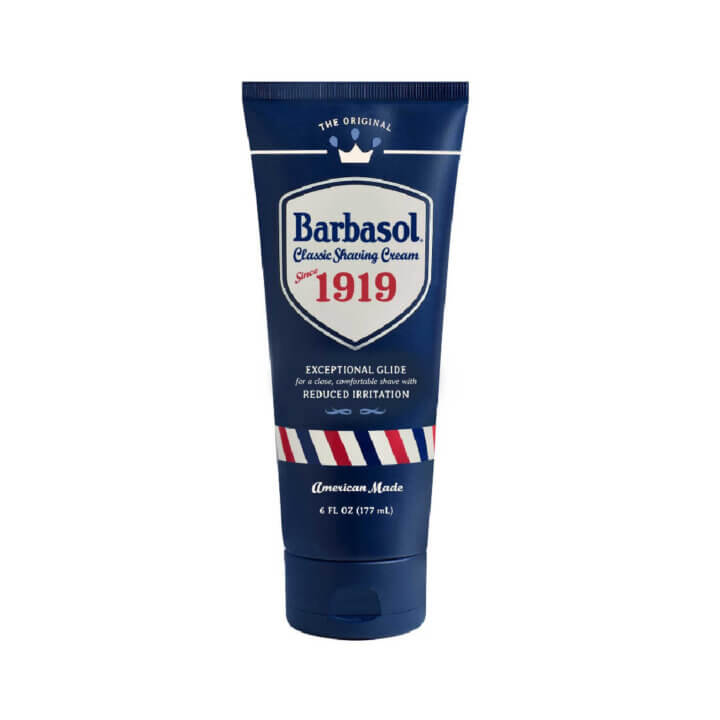 Barbasol 1919 shave cream is in somewhat limited distribution: it's available on the Barbasol website; Wegmans, Food City, Menards, Winn Dixie, Marc's, Shop Rite, and Brookshire Brothers grocery stores; and Amazon.
The shave performance of Barbasol 1919 Classic Shaving Cream is excellent.  Post-shave moisturization is good but lubrication/glide is exceptional (especially for its class) and cushion/protection is excellent (particularly considering how little you need to use). 
Cremo Shaving Cream Products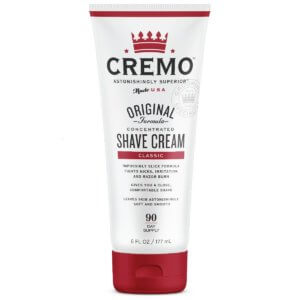 Available in a variety of scents (the Peppermint, Menthol and Tea Tree Oil version is particularly excellent for the summer) and unscented, Cremo shave cream is widely available, found in many national drug store chains, grocery stores, and "big box" or "megamart" outlets.
Nivea Men Sensitive Calm Liquid Shaving Cream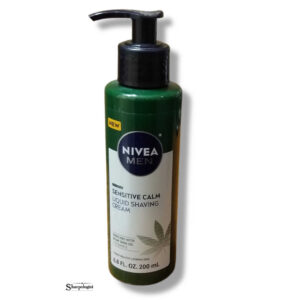 Nivea Men Sensitive Calm Liquid Shaving Cream is new to the US market and in somewhat limited "brick and mortar" distribution right now (Amazon link for convenience). It comes out of a pump bottle and it's quite a bit "runnier" that the typical shave cream–I would call it a lotion, like a lot of aftershave balms.
From the bottle I get a mild, vaguely soapy/citrus scent into my admittedly very insensitive nose.  Lathered on the face I get nothing–it's basically scentless to me.
The lather itself is very good when applied by hand and improves a bit more with a shave brush.  I would classify this as a "brush-friendly" cream.
Performance is surprisingly good for me, almost to the level of the best traditional creams and it easily holds its own with other good, widely available brushless shave creams like Cremo, Pacific Shaving, and Jack Black.  Lubrication/glide and cushion/protection are both excellent.
Pacific Shaving Caffeinated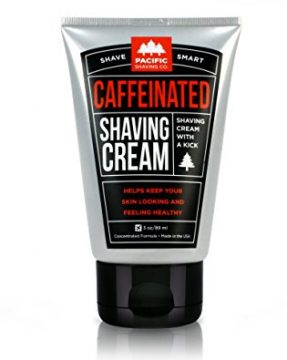 Pacific Shaving was originally known for their Shaving Oil. They later added several shaving creams. However the star is their Caffeinated Shaving Cream. Although promoted as a "brushless" shave cream it is "brush friendly" and many report the performance of Pacific Shaving Caffeinated improves even more when lathered with a brush. Pacific Shaving is also notable for their use of natural ingredients. "Brick and mortar" distribution is available at Hy-Vee, Savemart, Giant Eagle, Big Y, and some Stop & Shop stores.
Proraso Lather Shave Cream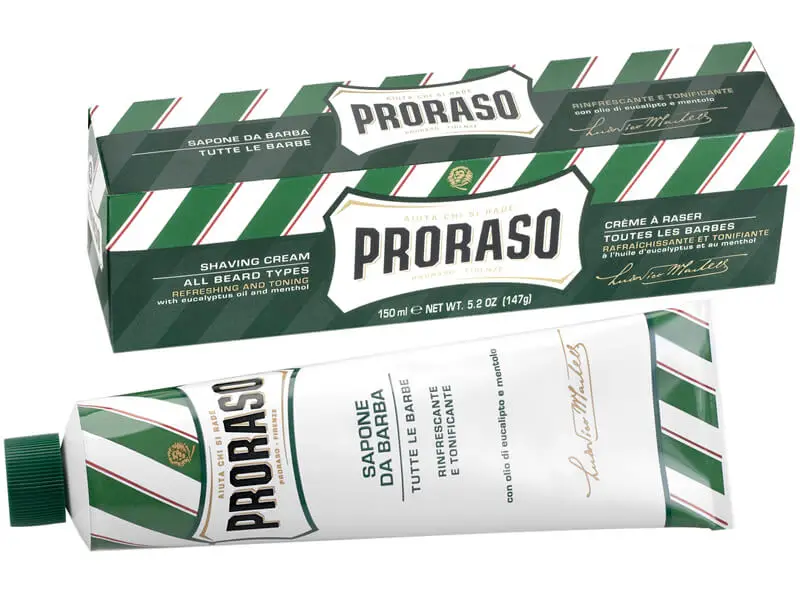 If you happen to find a Proraso shaving cream in a local "brick and mortar" store (sometimes seen in stores that specialize in over-stocks or inventory of "distressed" businesses–TJ Maxx, TK Maxx, Marshalls, etc.), snatch one up. Proraso is very good!
Available in a number of scents/formulations, you will probably most commonly find the "Refreshing And Toning" cooling shave cream, with eucalyptus oil and menthol, in the green tube. But all versions are comparatively inexpensive and perform very well.
Keeping An Eye On
There are a number of other shave creams that I'm keeping an eye on for possible inclusion in a future update. Some are relatively new to the market. Others have had a recent change in their business circumstances. Some have recently changed their formulation. And some are here simply because there is not enough information for a full evaluation yet.
What Factors Should you consider when choosing The Best Men's Shave Cream? A Buying Guide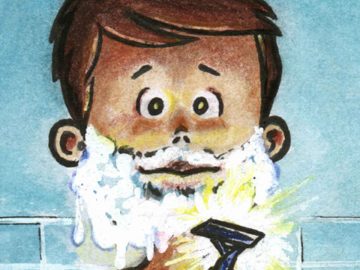 Shaving cream can be pretty important: it can make using shaving with a blade a pleasant, fragrant diversion–or a painful, bloody chore. So what is the best shaving cream? There are some good shaving products, but are also a lot of ghastly ones.
Here is Sharpologist's criteria for determining which may be the best shaving cream for men (it could be the best shaving cream for women too of course, but some of the scents may be unappealing to women):
Quality of ingredients and avoiding things like parabens
In every shaving cream formulation, each ingredient plays a role. While some ingredients are essential, others only have a minor effect. The performance of the cream serves as the ultimate test for the formulation and indicates whether the correct formula blend of ingredients and concentrations has been used.
High tier shaving cream formulas have a common structure that includes carefully selected ingredients that have been optimized for years. Deviations from these general guidelines results in poorer performance, a less comfortable shave, and the possibility of razor burns on the skin.
Determining performance from ingredient lists is often complicated because the actual contents of the product are not listed. Furthermore, ingredient lists do not include the concentration of each ingredient or their purity. This can also be problematic when troubleshooting allergic reactions.
It is important to realize that the process of selecting shaving products is not an exact science and several factors, including glycerin content, scent and other additives can modulate performance. Personal preference, allergies, skin type, etc. can be important factors in the selection process. However, the best high fat shaving cream covered here that use this foundation rank among the finest in the market and are known for their performance and the best shaving experience.
When evaluating the quality of ingredients in shaving creams, it is important to compare different brands and their ingredient lists. Some of the ingredients to look out for include:
Hydrating agents such as aloe vera, glycerin and oatmeal which help support the skin barrier and reduce inflammation.
Antioxidants such as vitamins A, C and E which help fight free radicals that can lead to premature aging of skin.
Emollients like lipids and shea butter which restore the skin barrier while humectants like glycerin and aloe vera hydrate the skin by pulling water into it.
However, it is important to note that not all shaving cream formulations will have these beneficial ingredients. Some may contain fragrances or alcohols which can cause skin irritation; sulfates which can lead to dryness; mineral oil which clogs pores; emulsifiers like polysorbate 20 that may cause allergic reactions in some individuals; or other potentially harmful additives that may be found in lesser known brands or products without labels specifically for sensitive skin types. Do your research thoroughly before making a purchase decision so that you know what ingredients are included in each formula of shaving cream out there!
Price
Price is always something that is important to consumers when choosing a shaving cream. Generally, the price of shave creams varies between brands and can be found online or in stores. Some higher-priced shave creams may include more product, special scents or promise skincare benefits while also being more concentrated and requiring less product with each use.
However, there are also cheaper options available that may not provide as many benefits but still provide an effective way to shave without breaking the bank. It is important to compare prices between brands before making a purchase decision so that you can get the most value for your money while still getting a quality product that meets your needs.
Scent (Or Fragrance-Free)?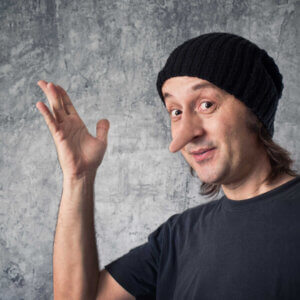 When choosing a shaving cream based on its scent, it is important to consider the fragrance itself, the length it will last, and how it will interact with your skin and other products. You may also want to consider whether you prefer a more subdued scent or something bolder.
It is also important to note that if you have extremely sensitive skin or react easily to products with added fragrance, you may want to opt for an unscented option. Additionally, some brands allow you to make a statement with your shave cream while others provide more subdued scents that are less likely to clash with other products used during your morning routine.
Texture Or Consistency (No Foam Or Gel, Please)
When choosing a shaving cream, it is important to consider the texture or consistency of the cream. A rich shaving cream may require mixing with water or some level of lathering before application (while gels and liquids can be applied directly with less preparation). It is also important to consider your skin or hair type when selecting a texture as certain consistencies seem to perform better with certain types.
Lubricity
Lubricity is important because it helps prevent irritation and inflammation caused by friction between the skin and blade of the razor. Additionally, it can help reduce wear on both the razor and skin which can extend its lifespan – therefore saving you money in the long run.
Skin And Hair Hydration And Moisturizing
Hydration is an important factor to consider when choosing a shaving cream. The cream keeps moisture in your beard hair during the shave, which helps keep your beard softer and easier to cut. Additionally, it can provide additional lubrication to the razor and prevent it from gouging into the skin. Hydration can also make it easier for you to track where you've shaved due to lather visibility.
Availability of product variety
Product variety is an important factor to consider when choosing a shaving cream because it allows you to find one that meets your specific needs. Some products may be higher priced due to their special scents or skincare benefits, while others may be more concentrated and require less product per use. Additionally, many shaving creams are available online or in stores so that consumers can compare prices and quantities of different products.
Ability to provide protection against razor burn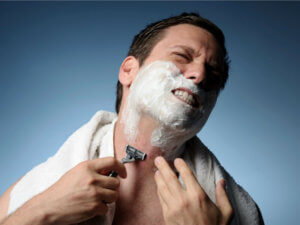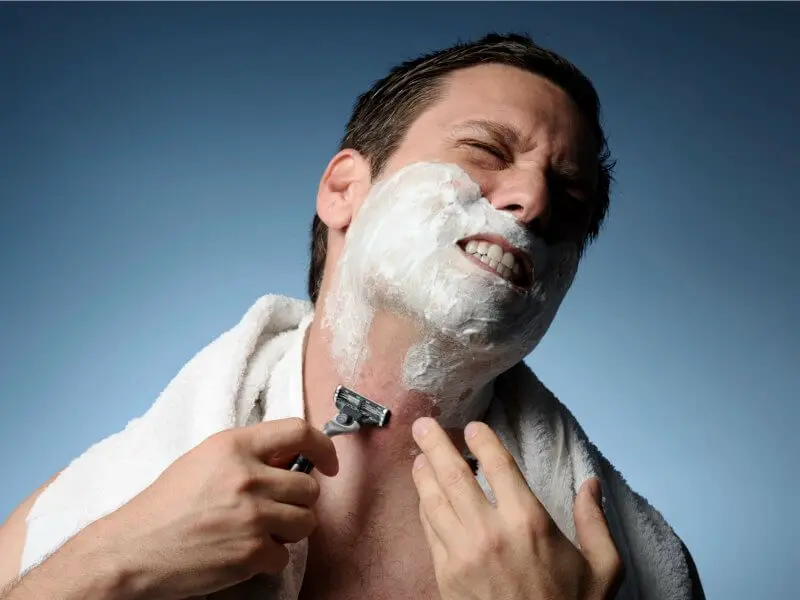 Razor burn is a common side effect of shaving. It occurs when the skin is exposed to a sharp blades without enough protection on the shaving area, causing it to become inflamed and red. Razor burn can also be caused by using harsh ingredients such as alcohol.
It is important to consider razor burn protection when choosing a shaving cream because it can help prevent skin irritation and reduce the risk of developing infections due to cuts in the skin. The right cream will moisturize your beard while you shave, lubricate your razor so it glides easily over your face without causing additional damage, provide soothing ingredients for sensitive skin types, and add aesthetic.
Ability to provide protection against razor bumps
When choosing a shaving cream, it is important to consider its ability to provide protection against razor bumps. A good shaving cream will protect your skin from abrasions while keeping it hydrated, preventing redness and razor bumps from developing. It can also help reduce the risk of getting ingrown hairs which can lead to painful infections if left untreated. Additionally, certain ingredients can help prevent acne breakouts and other skin conditions associated with shaving. Therefore, it is essential to look for products that offer these benefits when selecting a suitable product for your shave needs.
The razor type is a factor here, too. Fewer blades are better.
Summing Up
In conclusion, the best shaving cream for men in 2023 is a product that caters to individual needs, provides a comfortable shave, and offers lasting results. The right cream can help make the morning ritual more enjoyable while delivering soft, smooth skin. With so many products on the market today, it's important to do your research and pick the one that's right for you. Don't hesitate to try out different formulas or read customer reviews before making a purchase.
Did I miss something? Disagree with a rating? Leave your suggestions and comments below!
(Find this article useful? Please share it!)