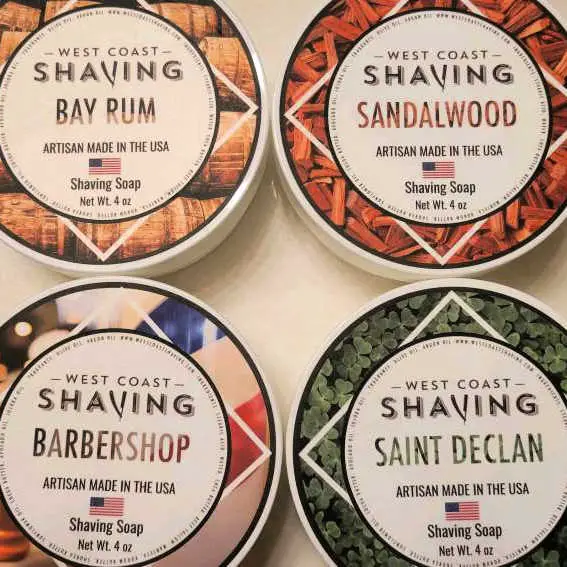 Some emails you delete immediately. "Fast loans", "You've been selected!" and "You've won a prize!" are instant delete. 
An email about a new line of shaving soaps from West Coast Shaving? Heck no! I opened that sucker faster than cheap lather drying out. 
West Coast Shaving And Peter Charkalis 
[Ed. note: West Coast Shaving links are affiliate.]
West Coast Shaving (WCS) holds a special place for me in my wet-shaving journey. Way, way back in 2011, when I had just discovered my love of wet-shaving, West Coast Shaving was one of the first websites I found that sold a solid lineup of shaving goods. I have spent many an hour slobbering over the pages of stuff to order. 
Over the years, West Coast Shaving is one of the sites I continually go back to, seeing what is new and I always open their emails. 
I'm glad I kept up that tradition!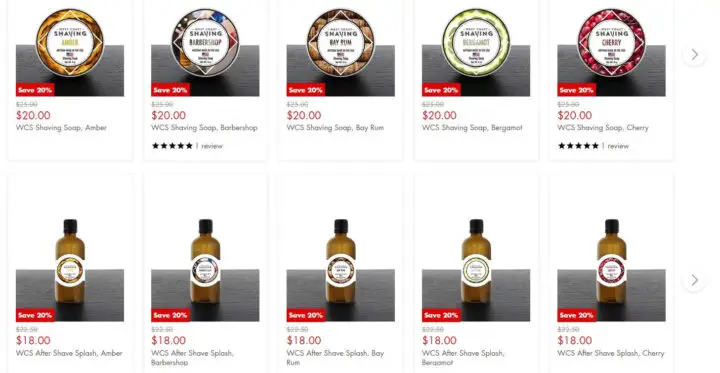 This is what greeted me and let me know a couple of things. #1, I wouldn't be doing anything else for the next hour but going over each selection. And #2, that I would be ordering!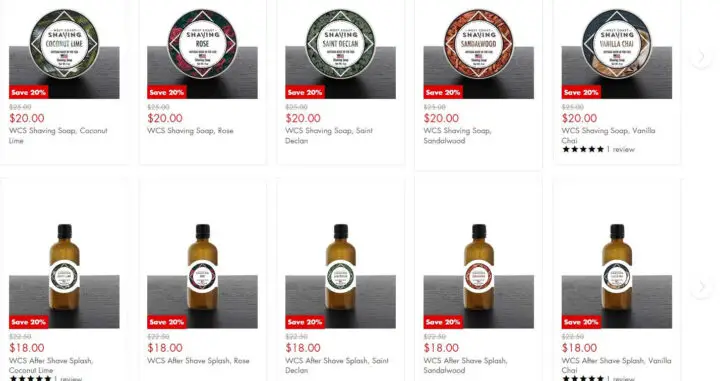 I counted, and they offered ten new scents with accompanying aftershaves! I thought I was in heaven…until I clicked on the first one. Then it got even better. 
Here's what it said: "Join West Coast Shaving and Peter Charkalis on this wet shaving adventure."
For those of you who don't recognize the name, Peter Charkalis is the man behind "Ariana & Evans", one of the best shaving soap makers on the planet. I own about a dozen of his creations and each is wonderfully scented and has excellent shaving qualities – from slickness to moisturizing. 
But seeing as how my collection of just tallow-based soaps has almost outgrown my shave den, I had given myself a strict rule: "No more purchases!"
Of course, that went right out the window when I saw who West Coast Shaving had paired up with. 
I agonized over each choice, mentally going through what scent I already had in my den, but knowing that with Peter Charkalis involved, the scent would not be ordinary.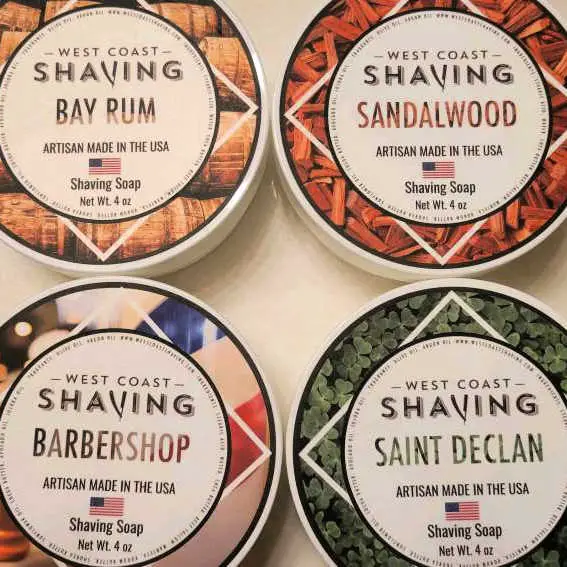 These are the four I chose: Bay Rum, Sandalwood, Barbershop, and Saint Declan. I have the first three scents from different companies and I wanted to see what Peter could come up with. As for the fourth, I don't have anything of the "green of Ireland" scent and have been intrigued for a while. 
For this review, I'll focus on Sandalwood. 
The Review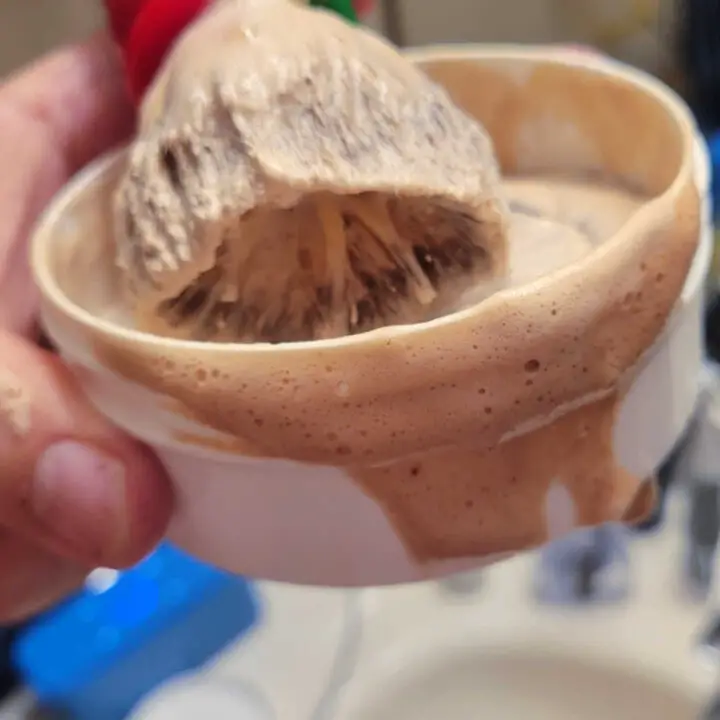 I used my synthetic Italian banded brush. This shot shows the color of the soap. I had soaked the brush and loaded for about 15 seconds. This is not a tremendously hard soap but harder than a "croap." It loads onto a brush quite easily.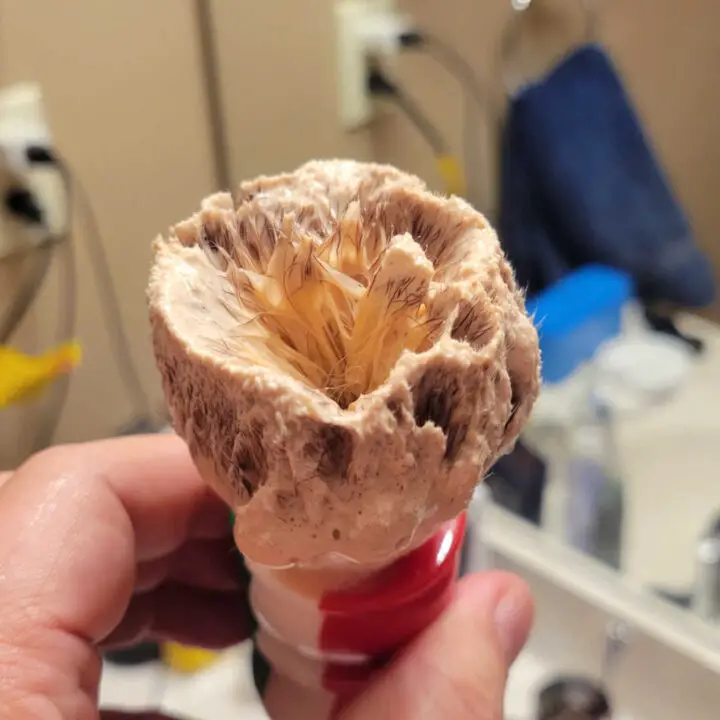 You can see the soap is all the way into the core of the brush. Now to hit the scuttle!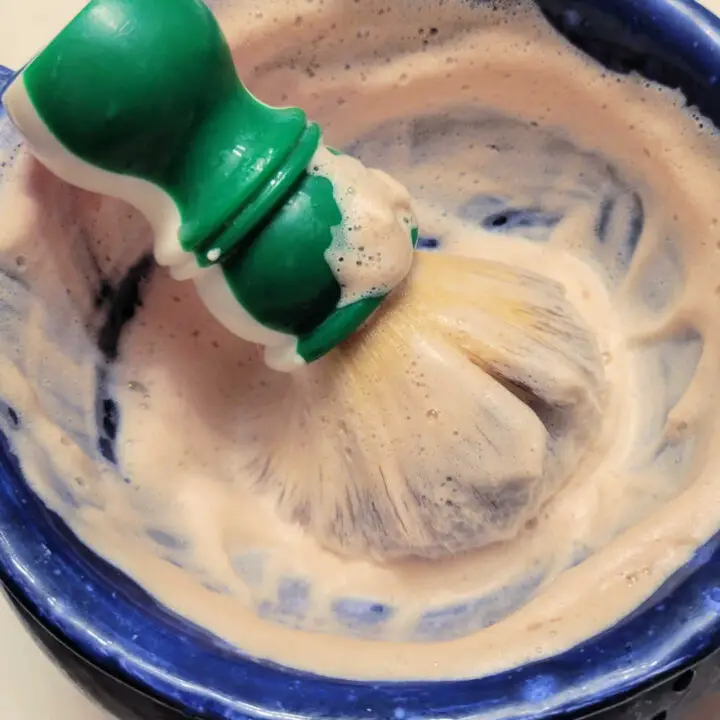 Within a minute, the lather started to form and the smell from the sandalwood started to really fill the shave den. This is not a traditional sandalwood scent. This is more complex, with notes of orange and a little cinnamon. It has a very pleasant scent.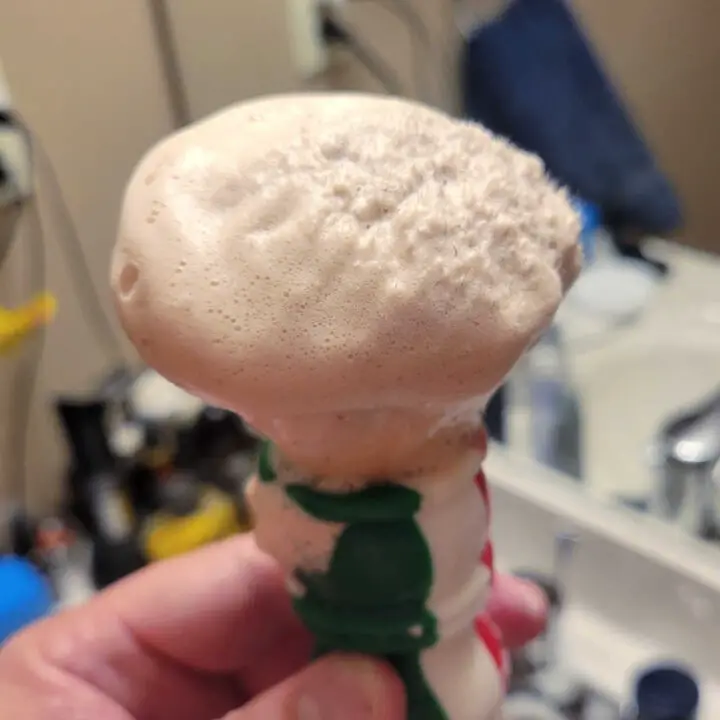 Yep, there are some medium-sized bubbles in the lather. I added water throughout the process, so that's why. But this is a thirsty soap. I shave in the shower so I don't go for the "meringue style" lather much anymore.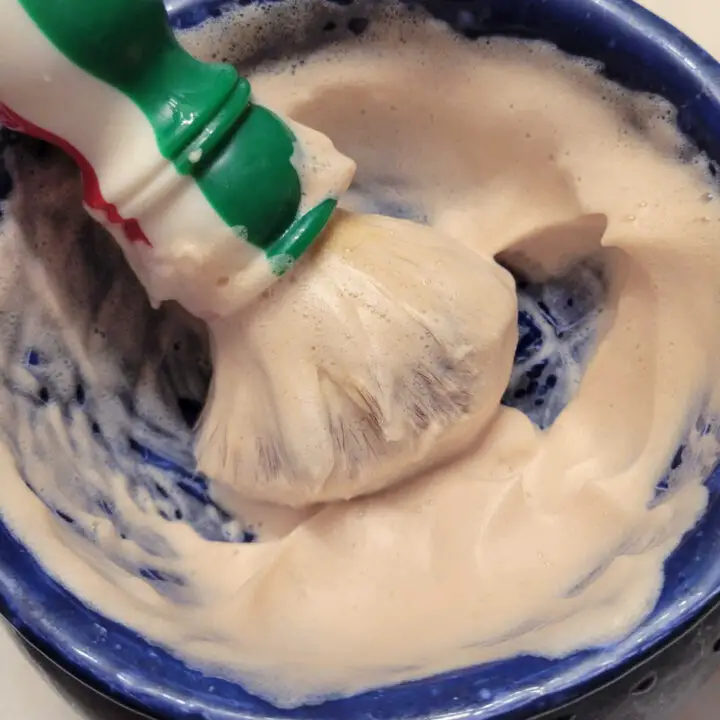 After another minute, the lather really started to form in the bowl and a lot of the bigger bubbles burst.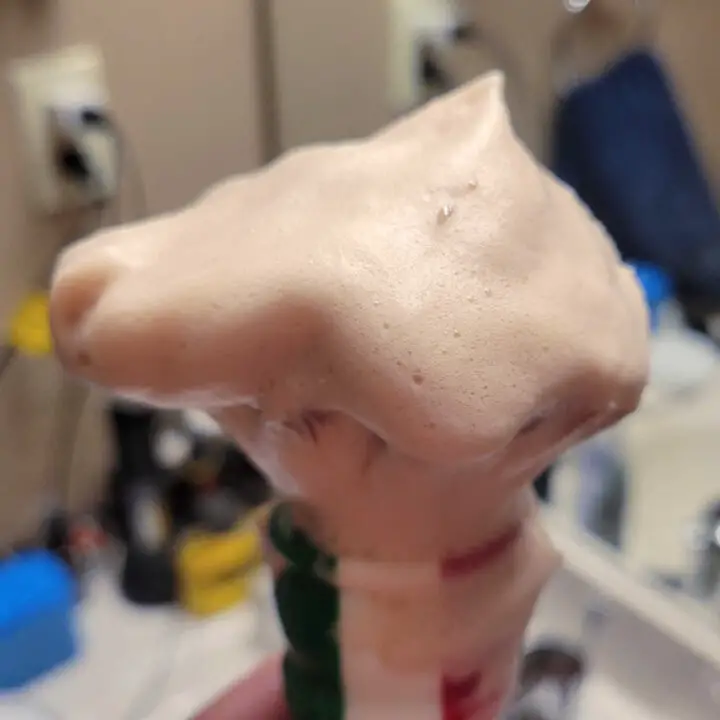 Yep, it can produce the "whipped" type of lather! It still has a few bubbles in it, but that's a pretty good amount for a 15-second load time. 
That was enough lather to shave my head, do four-passes, touchup, and still have some to wash out of the brush. I used the Gillette "Baldly" handle with the Fusion 5-blade for my head and a new Astra Platinum blade in my Fatboy. 
The lather provided excellent protection, slickness and was everything I've come to expect from A&E. 
Taking a look at the ingredients, it was easy to see why: Stearic Acid, Water, Shea Butter, Beef Tallow, Manteca, Kokum Butter, Shorea Butter, Sunflower Oil, Cocoa Butter, Avocado Oil, jojoba Oil, fragrance, Olive Oil, Argan oil
That much butter and tallow, you know it's going to be a good shave! 
All the while, the scent of the sandalwood filled the bathroom. Talk about an enjoyable experience. While A&E soaps are known for usually being pretty scent-forward, I feel like these are a bit more subdued. You still get a lot of scent from each but it's not overpowering.  Even better was the way the soap left my scalp feeling moisturized. I've found tallow-based soaps are good for this and only a few makers excel at it. Peter Charkalis' A&E is one. 
Finding Out More
I wanted to find out more about the process. How the heck did West Coast Shaving get Peter to collaborate on a set line of soaps? 
I reached out to WCS and I talked with Abraham, from their marketing department. He said this is actually the fourth time WCS has paired with a soap maker. 
I actually have four varieties of their collaboration with Oleo Soapworks. Their duck fat base is what actually sent me down the path of tallow-based soaps. 
Abraham said they reached out to Peter about teaming up for a line of soaps and aftershaves. 
They went back and forth on scents and ideas and came up with the ten best scents. 
Abraham says that artisans love creativity and they let Peter loose. 
Each one, Abraham said, is different from your typical scent you may be familiar with, but not so much that you can't recognize it. 
Peter also created a specific soap base for this lineup and in the end, said it was as good as his original. 
I had a great time picking Abraham's brain over the process of getting the scents right and experiencing what Peter came up with.
He asked me which ones I picked and I told him. He said "oh, there's a couple more you should try!" And he shipped me these two!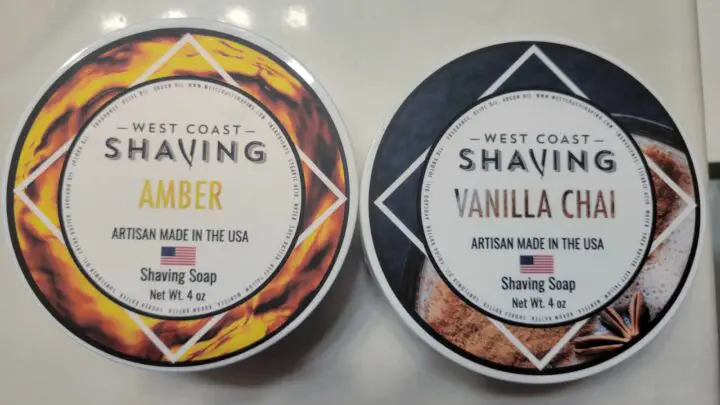 I was grateful for his (and WCS's) generosity. The Amber has a very nice scent, very warm and sweet but not overpowering. The Vanilla Chai, though, is one of my favorites. Abraham told me how great it was scent-wise and now I am a believer. Sweet and spicy in all the right amounts. 
Of course, I picked up the aftershave pairing to each soap and it is the icing on the cake! Each is alcohol-based and does a great job moisturizing the skin. 
Summing Up
All in all, I'm glad I didn't follow my self-imposed rule of "no new purchases." Each soap and aftershave has done more than expand my shave den, it's helped me realize these products are so good – that I'm looking to pare down what I own to just what I really enjoy – and these selections from West Coast Shaving and Peter definitely fit the bill.