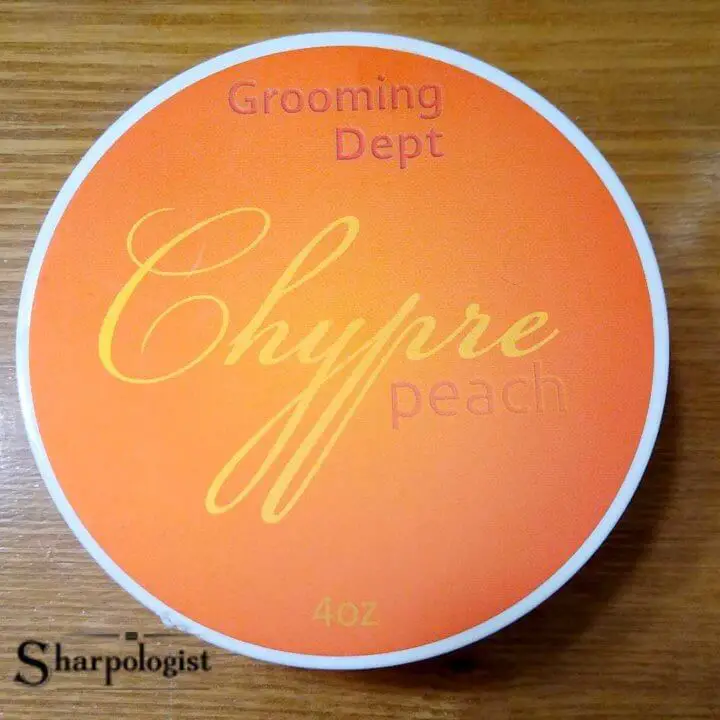 Grooming Dept. is an artisan (Mohammad ) with an excellent reputation in the traditional shaving community.  Mohammad also has a reputation for making traditional shave soap with non-traditional ingredients.  I recently purchased a jar of Chypre Peach shave soap.
Grooming Dept. Chypre Peach
From the Grooming Dept. website:
Scent Notes: Citruses, Maillette Lavender, Rose, Peach, Osmanthus, Spices, Amber, Oakmoss, Leather, Labdanum, Vetiver, and Patchouli.
Ingredients: Water, Stearic Acid, Beef Tallow, Sodium Lauroyl Lactylate, Kokum Butter, Castor Oil, Tucuma Butter, Avocado Oil, Glycerin, Coconut Milk, Goat Milk, Cupuacu Butter, Shea Butter, Safflower Oil, Collagen Peptides, Whey Protein, Betaine, Fragrance, Lauryl Laurate, Jojoba Oil, Lanolin, Colloidal Oatmeal, Rice Bran Wax, Meadowfoam Oil, Linoleic Acid, Ethylhexyl Olivate, Hydrogenated Olive Oil, Isostearic Acid, Allantoin, Sodium Lactate, Caprylyl Glycol, Ethylhexylglycerin, Sodium Gluconate, Tetrasodium Glutamate Diacetate, Tocopherols, Silk Peptides.
This is Grooming Dept's "Kairos" formulation. Note the inclusion of Lanolin in the ingredient mix, as some folks are sensitive to it.
My Experience With Grooming Dept. Chypre Peach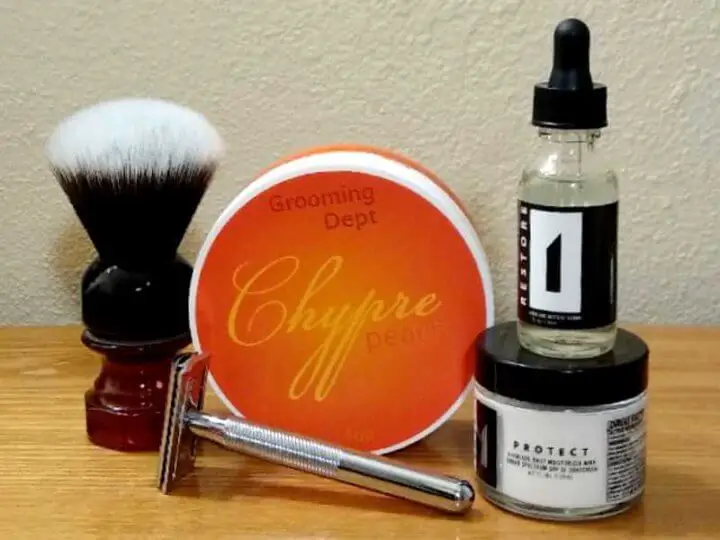 I find the scent strong (a good thing for me, as my nose is notoriously insensitive) and persistent.  This is definitely not your father's Chypre.  I don't get any of the classic wood notes (like oakmoss) of the typical Chypre scent: it's quite "peach forward" for me, with a spice note competing.  I get the citrus notes, too.  I like it.
Lathering Grooming Dept. Chypre Peach is stupid-easy for me: I get a thick, voluminous lather quickly and easily, even in my "hard" water.  I find it's also pretty tolerant of the water ratio so it shouldn't be difficult to dial into a good lather.
But of course performance is the key to any shave product.  Grooming Dept. has a reputation of having really well-performing shave products, and Chypre Peach shave soap does not disappoint.  I find post-shave moisturization very good; both lubrication/glide and cushion/protection are outstanding!  Easily among the "elite" products in its class IMHO.
You'll be seeing Grooming Dept. added to Sharpologist's "best shave soap" list soon.
Conclusion
Grooming Dept. has a bit of a problem common to shave soap artisans: too much success.  As excellent products are developed the word gets around and soon supply can't keep up with demand.  And a complicating factor is finding reliable outlets for their product. Luckily Grooming Dept. products are found not only on their own website but West Coast Shaving (WCS) as well.  In fact, WCS now has stock of Chypre Peach (affiliate link).  If you're a fan of shave soaps with strong, interesting scents and excellent performance, give this one a try.