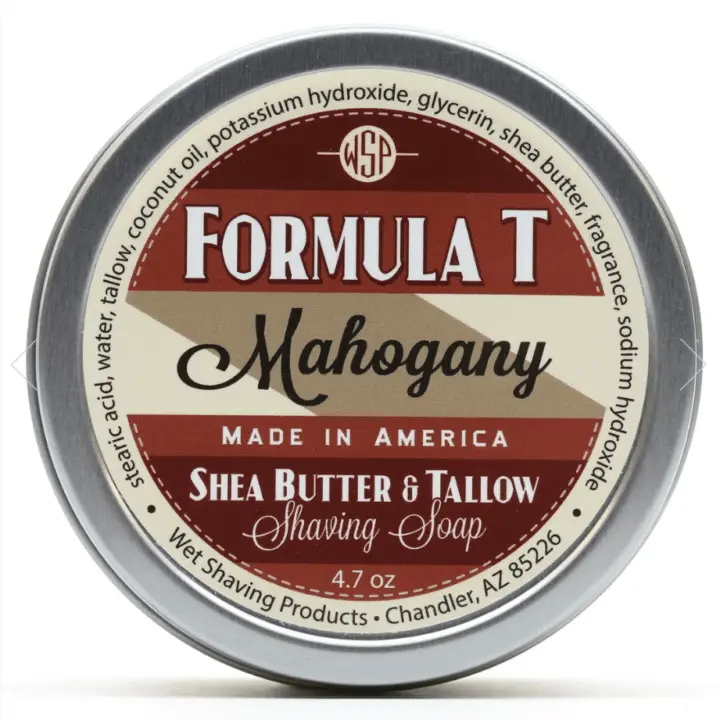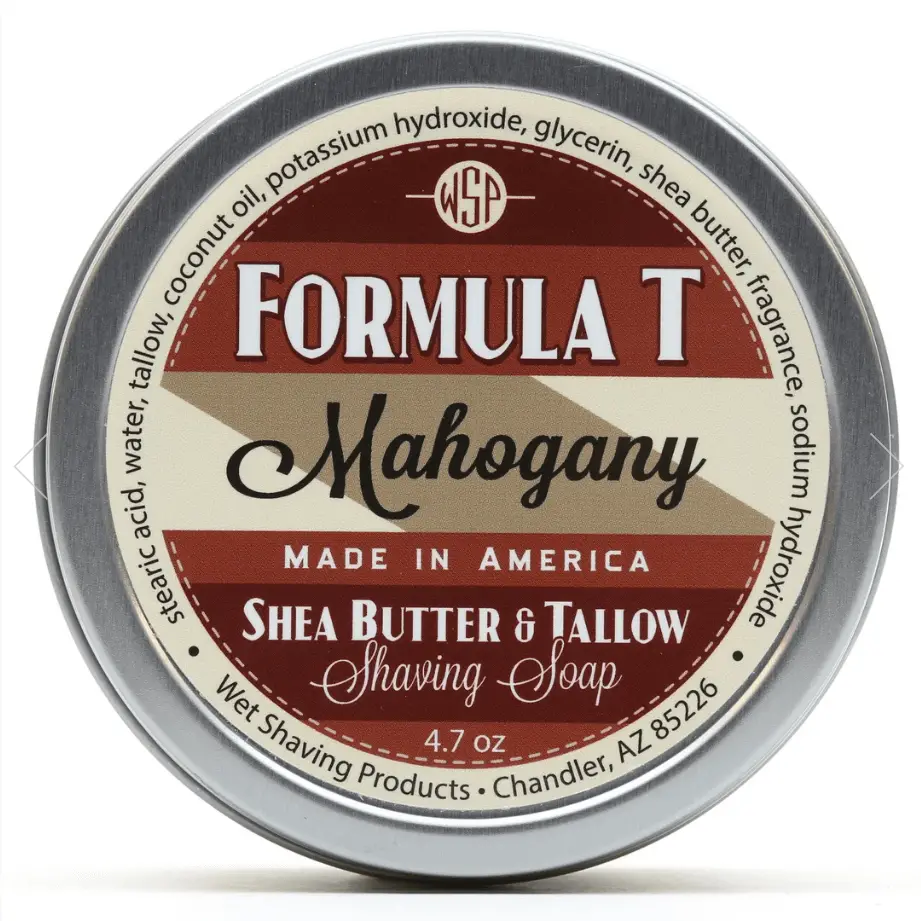 A while back I got a sample of Wet Shaving Products (WSP) Mahogany shave soap.  Now it's in my regular rotation.
WSP Mahogany
From the WSP website:
"Mahogany – It's a little sweet, a little spicy, and a lot of sexy. Sensual, woody, and spicy is how one customer's wife described it. "It reminds me of walking through a forest." is how another customer put it. "A perfect blend of sweet, spicy, &; woody". I started with a base note of mahogany and then accented it with bergamot, vanilla, cedar and allspice notes. Then I threw in some cedar, vanilla, & patchouli to round it out."
Mahogany is available in WSP's "Rustic" vegan minimalist ingredient formulation and their tallow-based "Formula T" formulation.  This article specifically looks at Formula T:
"Fomula T is a homage to classic Americana. We named it after the iconic Ford Model T. The goal was to create the best shaving soap possible. We wanted it to be slick, super easy to lather, have great cushion, and give you a great post shave feel. Made with tallow, shea butter, and a long cure time, we think this is the best shave soap for your money!"
Ingredients: Stearic Acid, Water, Tallow, Coconut Oil, Potassium Hydroxide, Glycerin, Butyrospermum Parkii (Shea Butter), Fragrance, Sodium Hydroxide
My Experience With WSP Mahogany (Formula T)
I bought a generous one ounce sample of WSP Mahogany shave soap in Formula T and transferred it to a lathering mug.
The puck consistency is quite soft.  Maybe not "croap" soft but close.  I've had it in an unlidded shaving mug for some time and it's still relatively soft, too.
I've sniffed a lot of shaving soap in my time and it's easy to spot the same old scent profiles (that's not a knock on the shaving artisans, it's just that there are some pragmatic limitations.  See The Lack of Depth and Complexity in Men's Shaving Scents for a more thorough discussion).  So when a scent "stands out" to my insensitive nose I tend to take notice.
WSP Mahogany is a curiously provocative scent note to me: deep and woody, as expected…but with a really interesting "sweet" note in the mix as well.  I don't get any of the spice note mentioned in the WSP web page but, hey, my insensitive nose….  On the other hand, I think the "sexy" part of the description is apt.
The scent is moderate off the puck, softening even more when lathered on the face–but still quite pleasantly noticeable to me.  Lathering is quick and easy, but the lather is a bit thinner than other tallow-based shave soaps in my "hard" water.
However, the minimalist tallow-based ingredient list doesn't seem to affect shave performance for me: WSP Mahogany Formula T shave soap is excellent across the board.  Lubrication/glide, cushion/protection, and after-the-shave moisturization/skin feel are all top-shelf.
Conclusion
After working on Sharpologist for going on 10 years now (!), I admit I've become kind of jaded to the vast assortment of really excellent shave products that are available now.  With that, along with my insensitive nose, it's rare when something "raises my eyebrow" in a good way.  WSP's Mahogany shave soap packs a great scent, a good lather, and great performance…and for a price that's quite competitive (or lower) with other premium artisan shave soaps.
My sample is almost used up.  When it's gone I will be getting a full-size puck of WSP Mahogany in Formula T.  And I may just get a puck in the Rustic formulation to compare it against, too.
Do you have WSP Mahogany or another WSP "Formula T" shave soap?  What do you think of it?  Leave a comment below.