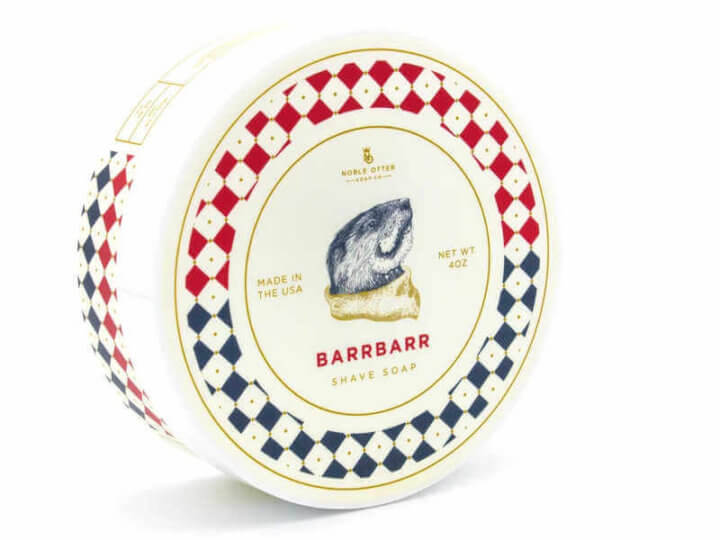 I've been hearing lots of great things about Noble Otter shave soaps, and they're now easier to find.  I decided to pick up their most popular scent, Barrbarr.
Noble Otter Barrbarr
Barrbarr is Noble Otter's take on a barbershop scent.  From their website:
"I remember as a kid visiting my grandparents in small town USA. Eagle Lake Texas to be exact. The post office is the center of town. Around it are buildings that back in their glory days would have been filled with shops that provided so much to their community. Today though, many are empty. The barbershop is still there though. When I was a kid my dad would take us to the barber that cut his hair when he was growing up. Walking in you could just smell that classic scent. The shop filled with powdery oakmoss, rosemary and lemon."
Notes: Lemon, Rosemary, Basil, Oakmoss, Sandalwood, Patchouli
Ingredients: Stearic Acid, Beef Tallow, Coconut Milk, Aloe Vera, Glycerin, Potassium Hydroxide, Castor Oil, Coconut Oil, Avocado Oil, Lanolin, Tucuma Seed Butter, Kokum Butter, Sodium Hydroxide, Fragrance, Bentonite Clay, Tocopheral Acetate, Citric Acid, Watermelon Extract, Whitewillow Bark Extract, Tussah Silk.
My Experience With Noble Otter Barrbarr Shave Soap
I get mostly a pleasant, moderately-strong woody, leathery scent off the puck (with my admittedly dull sense of smell).  Perhaps not quite a barbershop scent to me, at least in the "classic" sense, but I can definitely see it as one.  The scent softens quite a bit when lathered on my face.
This is a tallow soap with Lanolin, and a fairly "thirsty" one at that, so while I find it pretty flexible to water content, don't be surprised if it may take a bit more work with the brush.  But that extra work is rewarded with an excellent, yogurt-like lather, even in my "hard" water.
In my shaves with Noble Otter Barrbarr I find lubrication and protection aspects excellent.  I get a really nice over-all shaving experience.
The ingredient list shows Bentonite Clay and my skin is sensitive to it but apparently there isn't enough to cause a problem as I did not experience any post-shave redness or irritation.  Though perhaps not quite as good as some of the best top-shelf shave soaps, the post-shave feel is very good for me.
Conclusion
[Note: West Coast Shaving links are affiliate.]
Shave soap artisans these days have built a high bar for performance and Noble Otter doesn't disappoint.  The ingredient base is evolving to keep up with the competition and their line of scents continue to be interesting and popular with wet shaving enthusiasts.  Noble Otter being a fellow Texan doesn't hurt, either.  😉
Noble Otter soaps are available at the Noble Otter website and "the usual suspects" including Maggard Razors, West Coast Shaving, and other wet shaving vendors (a simple search engine query will help you out).
Noble Otter Barrbarr is a Texas-take on the ubiquitous barbershop scent, just different enough to stand out in the crowd, with performance that does not disappoint the "shave nerd" in me.  I give it 4 out of 5 stars.
Have you tried Noble Otter Barrbarr?  What do you think of it?  Give it a rating and be sure to comment below!