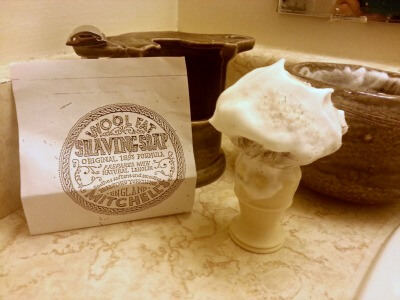 Baa baa black sheep, have you any wool? Yes Sir, yes Sir, three shaves full.
Mitchell's Wool Fat soap is so-called because it contains lanolin, a waxy-substance obtained as a side-effect of washing wool for processing prior to spinning it. That having been said, I'm not sure how much of this is a matter of a little going a long way, and how much is marketing gimmick, as it really doesn't contain much lanolin, being 14th on the ingredient list, behind even the perfume and other scents, which considering that this is designed to be an extremely lightly-scented product suitable for those with sensitive skin, is saying a lot.

That having been said, this product gives a damned fine shave. As outlined in our fine host's video on the subject:
It can be difficult to lather if you have hard water, but it can be well worth it if you wish to put in a bit of effort. Personally, I have quite soft water, so I ended up ignoring most of the recommendations made, with the exception of the "load the brush quite a lot" point, and the admonition to add water as you lather instead of up front.
But, taking those steps, and putting in a bit of elbow grease, yielded a wonderful shave. Just top notch, and left the face feeling great. Still probably not the best shave I've ever had, as I think that honour is currently held by Mike's Natural Soaps (which funnily enough appears to have far more lanolin than MWF does, being 7th on the ingredient list instead of 14th), but I think this stuff is good enough to share the 10/10 Lather Quality score.
The scent, as I mentioned, is quite light, seemingly by design. It'd be best described as a clean scent. I can't really pick up any individual elements within, beyond a bit of a woodsy aroma. It was strong enough when I was sniffing the baggie the sample I'm using came in, but neigh undetectable when on the face.
7/10 Scent Pleasantness
3/10 Scent Strength
10/10 Lather Quality
A puck of MWF soap (125g) goes for $13.99, however the sample I used was $3.00 for a half ounce sample (currently not in stock at the time of writing).
Overall, my recommendation depends upon whether or not you view the scent of the soap as an integral part of the experience, as I do, or not. If so, I wouldn't recommend it. 6/10. Far too weak of a scent, there's other soaps out there that still give great shaves while smelling good. If however you don't care, or have rather sensitive or dry skin, do yourself a favour and try some. 10/10.
Ingredients: Sodium Tallowate, Potassium Stearate, Sodium Cocoate, Sodium Stearate, Aqua, Potassium Cocoate, Glycerin, Parfum, Alpha-Isomethyl Ionone, Hexyl Cinnamal, Limonene, Linalool, Hydroxycitronellal, Lanolin, Titanium Dioxide, Sodium Chloride, Sodium Gluconate, Sodium Silicate, Tetrasodium EDTA, Magnesium Sulphate, Tetrasodium Etidronate.