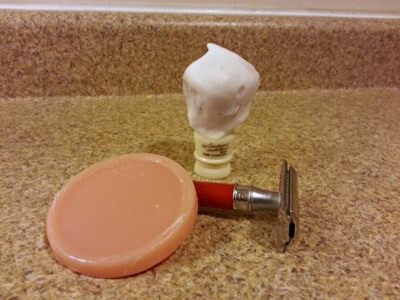 Dragon's Blood is a rather sweet spicy concoction. It's got a base to it that's rather reminiscent of vetyver, but I can't quite identify what the spices are. Personally, I think it's a bit too sweet, creeping towards the border of "sickly", but the girlfriend rather seems to enjoy it.
It's rather good strength-wise, coming on fairly strong, without any significant fading. In fact, it's noticeable for a fair while after the shave is done.
As for the lather, it's a rather thirsty soap, so don't be too stingy with the water. It'll be put to good use, making boat-loads of wonderfully thick & slick lather. Provides a "damned fine shave" indeed.
7/10 Scent Pleasantness
8/10 Scent Strength
9/10 Lather Quality
The 1oz sample puck went for $1.59, whereas a 3.5oz puck is $4.49; also available in tubs or in shaving sticks.
Overall, I'm giving this one a 7/10. Not my favourite scent, but I could certainly see others liking it a lot more.
Ingredients: Coconut Oil, Palm Oil, Castor Oil, Hempseed Oil, Safflower Oil, Shea Butter, Glycerine (vegetable origin), Vitamin E, Water, Sodium Hydroxide, Sorbitol, Sorbitan Oleate, Soybean Protein, Wheat Protein, White Kaolin China Clay, Cosmetic Color and Fragrance Oil.