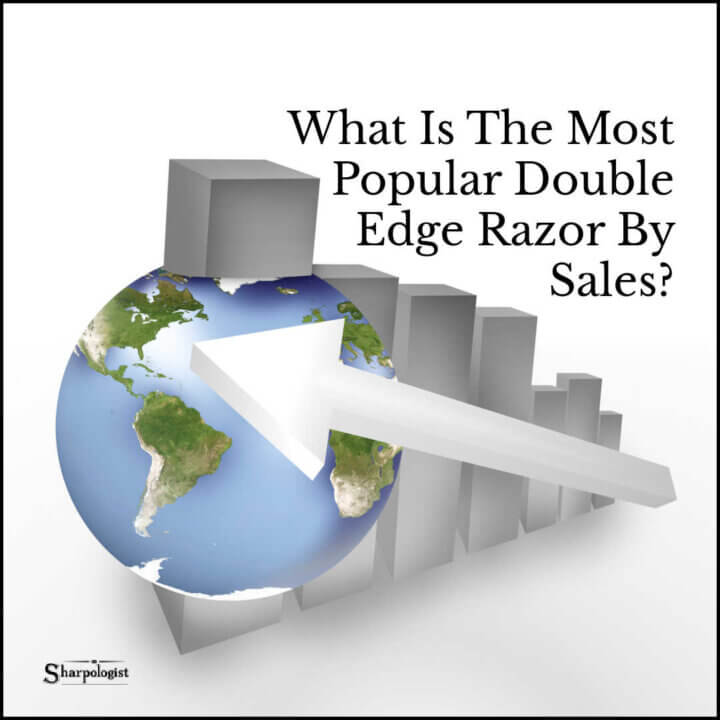 There are lots of articles about the "best" double edge razors (even on Sharpologist). But what is the most popular double edge razor by sales in today's market? There are more choices than ever, from small artisans to big, multi-national businesses. I did some research. This is a major update to my original article of 2019!
TL;DR – The Most Popular DE Safety Razors Now
Research Methodology
For the purpose of this article I researched the major wet shaving retailers in the North America and Great Britain, and I also factored in product availability at major "brick and mortar" stores (CVS, Boots, Target, Tesco, Walgreen's, Walmart, etc.), since that's where most Sharpologist readers reside. While not including all world-wide sales may skew my results somewhat I am reasonably confident that I have the bulk of the most interested demographics. The data was collected between mid-October, 2022 and late February, 2023.
I have not included "house brand" razors for this article. Don't get me wrong, there are a number of excellent, popular razors from smaller sources, but I'm looking from the wider perspective of over-all sales across the wet shaving niche'.
Relative Popularity
I can't get exact numbers of units sold. It's just unrealistic to expect vendors to share that information (I asked a couple vendors I've had long relationships with about it, just for the heck of it, and got turned down flat so I didn't even bother asking the others).
What I could do is get an idea of relative sales volume. In fact, many of the vendor's razor lists can be sorted by "popularity" or "Best Sellers." Most of the ones that did not have the list feature did share a relative ranking with me.
So I gathered the popular models from these sources and looked for commonalities and general positions on their list to come up with a "top ten."
The Amazon Factor
There is no doubt established wet shaving businesses like West Coast Shaving, Maggard Razors, Shave Nation, and Connaught Shaving, etc. sell a lot of razors. Brick and mortar franchises may sell even more! Mainstream grooming businesses like Grooming Lounge sell their fair share, too. But Amazon–in all its versions around the world–is a retail juggernaut that just cannot be ignored.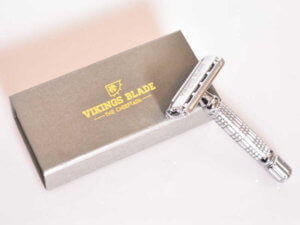 In the grand scheme of things, no double edge razor makes the top 20 of their "Best Sellers in Men's Shaving Razors & Blades" list (US list for example; each Amazon country storefront has their own list. Some Amazon storefronts do have a separate "safety razor" list: here is Amazon US's list). But based on those lists and reports I can get as an Amazon Associate I can make some additional sales estimates to help validate Amazon's influence.
It all boils down to this: vendor X's top-selling razor may have sold 100 units of Razor A, while Vendor Z's top selling razor may have sold 1000 units of Razor B. I have to consider a range of possibilities to determine the "top."
So What Is The Most Popular Double Edge Razor?
(Specifications below are approximate. Amazon links listed for convenience: Amazon and geni.us links are affiliate but unaffiliated links for most of these products can be found with a simple search engine query.)
Remember, I'm listing my estimate of the most popular double edge razors, by sales volume, not necessarily the "best" double edge razors on the market. Since it's not possible for me to obtain a definitive answer I am going to list what I believe are the top ten based on the methodology I described earlier.
What A Difference The Years Make!
Before a few years ago the most popular DE razor list was pretty stable. The original list I made in 2019:
Merkur 34C
Edwin Jagger DE89
Merkur 23C
Merkur 39C
Merkur Futur
Rockwell 6S
Parker 99R
Parker 96R
Weishi
Vikings Blade Chieftain
Then in 2021 all hell broke loose: there were some dramatic changes and half the razors on the list appeared for the first time. Some popular razors, like the Edwin Jagger DE89, dropped on the list–or disappeared altogether. The top spot, previously perennially held by the Merkur 34C, has been overtaken by the Gillette juggernaut's King C. Gillette Double Edge Razor.
And in one case, the Henson AL13, hit the list after being on the market for less than a year–a remarkable achievement.
The 2021 list:
King C Gillette
Merkur 34C
Merkur 23C
Edwin Jagger DE89
Parker 96R
Merkur Futur
Merkur 38C
Bevel Safety Razor
Vikings Blade Chieftain
Henson AL12
The Latest List
My most recent research suggests few major changes at the top but some interesting shake-ups further down.
10. Van Der Hagen Short Handle TTO
New to the list this year is the Van Der Hagen (VDH) short handle twist-to-open (TTO) razor. Its appearance is due to its wide availability in "brick and mortar" stores in the US (such as Target and Walmart) and on Amazon.
Quality-wise, this razor does not compete well with any of the other razors on this list, but it is also the least-expensive razor on this list. Visually it looks like a throw-back to Gillette TTO razors of the 1960's but do not expect the same kind of ruggedness.
9. Edwin Jagger DE89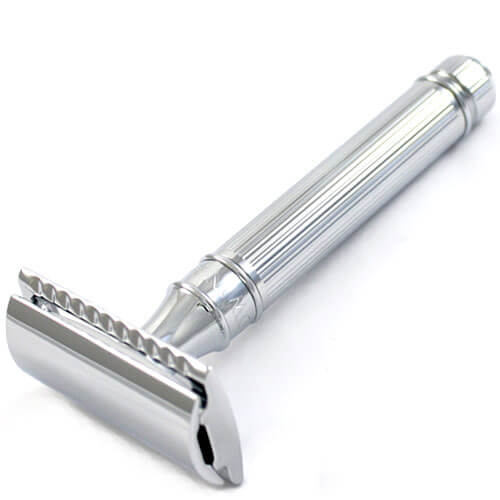 The Edwin Jagger's DE89 series of razors have a number of different handle styles but share the same head design. The DE89's popularity seems to have dropped noticeably over the past few years.
Handle Length: about 3.5″ but varies slightly depending on version.
Weight: around 2 oz but varies slightly depending on version
Head style: three piece with safety bar
Shave: mild side of middle-of-the-road.
Check out my in-depth review of the Edwin Jagger DE89 razor series here.
8. Rockwell 6S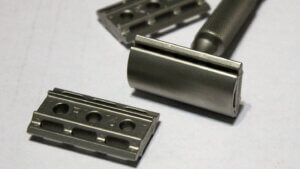 The Rockwell 6S returns to the list this year. The 6S is an "adjustable" razor in that it comes with three two-sided base plates, each with a different blade exposure so it can be set to six different settings:
R1: 0.008″ (0.20 mm)
R2: 0.014" (0.35 mm)
R3: 0.019" (0.48 mm)
R4: 0.024" (0.61 mm)
R5: 0.027" (0.69 mm)
R6: 0.031" (0.79 mm)
General specifications:
Handle Length: 3.34″
Weight: 4.16 oz
Head style: three piece with safety bar
Shave: customizable with different base plates.
The Rockwell 6S is manufactured out of stainless steel, though a less expensive chrome alloy version, the 6C is also available.
For a more detailed look at the Rockwell 6S click/tap here.
7. Merkur Futur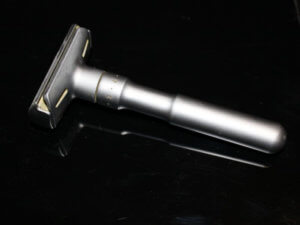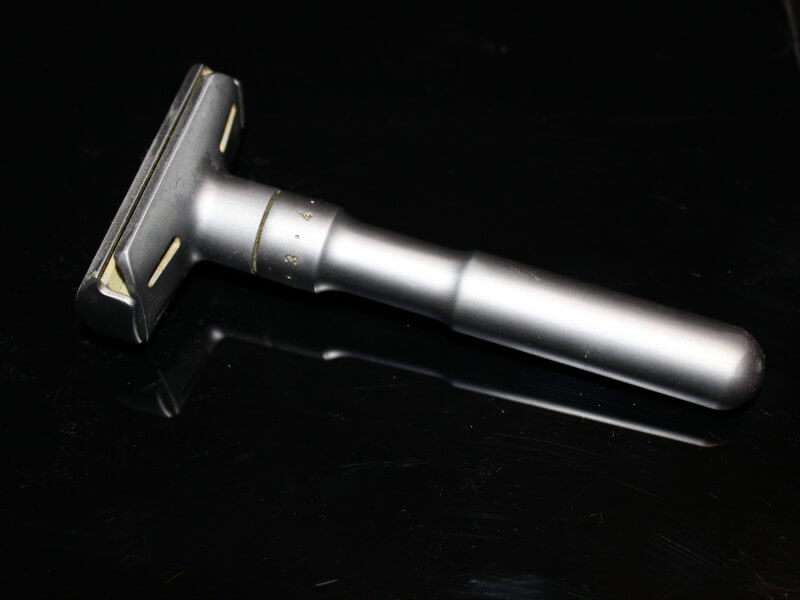 The Merkur Futur adjustable razor is available in several finishes, including matte chrome, polished chrome, and gold tone. As someone who likes adjustable razors in general I am always surprised at the Futur's popularity: the smooth finish can make it difficult to hold and the adjustment range is not as wide as many other adjustable razors. But I admit it "looks cool" and I imagine that can be a major influence on purchasers.
Handle Length: 4″
Weight: 3.8 oz
Head style: two piece adjustable with safety bar
Shave: adjustable
Here is a closer look at the Futur: A Popular Razor – Merkur Futur.
6. Henson AL13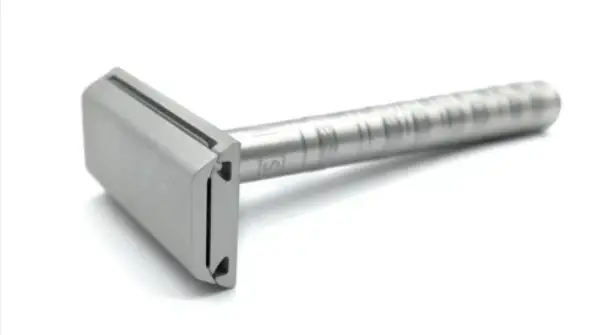 Handle Length: 3.75″
Weight: 1.3 0z.
Head Style: 3 Piece
Shave: Mild
The Henson AL13 aluminum double edge razor has been making waves for its engineering design, mild shave, and popularity which continues to climb compared to previous years. There are lots of little things here that indicate a quality, though lightweight, razor. Check out Sharpologist's review of the AL13 here.
5. Parker 96R
The Parker 96R razor features a black resin-coated handle with a knurling that some find works particularly well for a sure grip with wet hands. While I have listed the 96R here, all of Parker's Twist To Open razors share the same head so they should all provide similar shaves.
Handle Length: 4″
Weight: 3 oz
Head style: TTO with safety bar
Shave: more toward the aggressive end of middle-of-the-road
Check out my review of the Parker 96R here.
4. Merkur 38C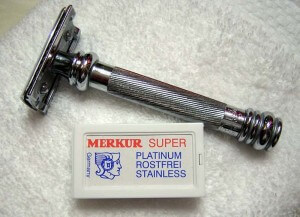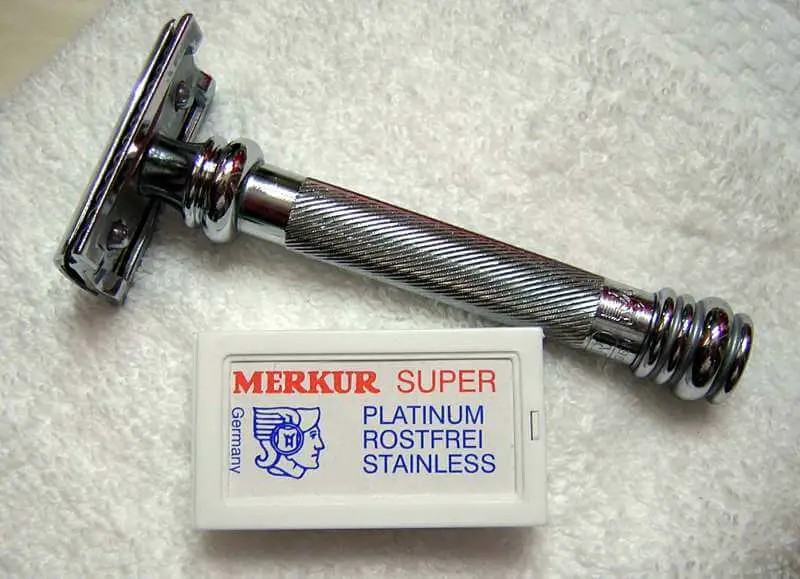 Overall Length: 4.2″
Weight: 4.25 oz
Head Style: 2 Piece
Shave: Middle-of-the-road
The Merkur 38C "Barberpole" razor is essentially a 34C (see above) with a longer handle.
3. Merkur 23C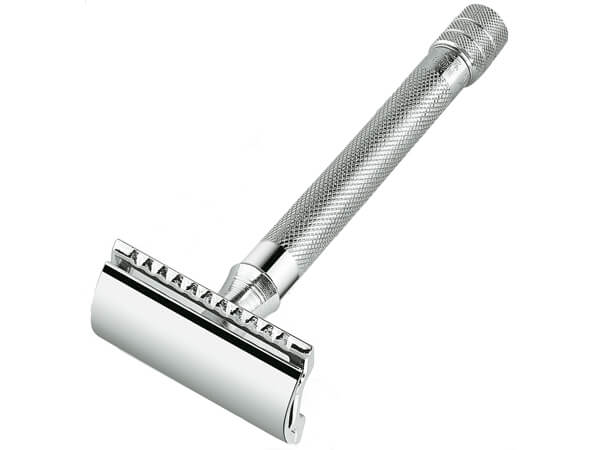 The Merkur 23C (sometimes referred to the the model 180) is a frequent selection of "newbies" because of its relatively low cost, long handle, and generally middle-of-the-road shave characteristics.
Handle Length: 4″ (though smaller in diameter compared to many other razor handles)
Weight: 1.7 oz
Head style: safety bar
Shave: middle-of-the-road
Click here for a more detailed review of the Merkur 23C razor.
2. King C. Gillette Double Edge Safety Razor
Length: 3.75″
Weight: 3.6 oz.
Head Style: 3 Piece
Shave: Moderate
Losing its "King Of The Hill" (ahem…) status of double edge razor sales is the King C. Gillette double edge razor. Launched in 2020, Gillette had been aggressively placing this razor, along with the rest of the King C. Gillette product line, into many brick and mortar businesses–particularly drugstore franchises in the US and the UK (Walgreens, CVS, Tesco, etc.)–plus the usual online sources like Amazon. See Sharpologist's coverage here.
1. Merkur 34C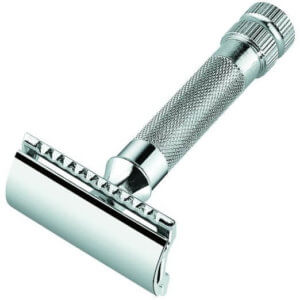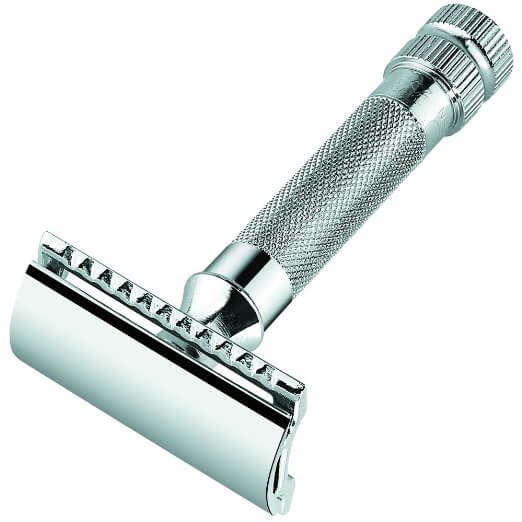 Appearing on the most vendor lists–and usually at or near the top–the Merkur 34C (also known as the "HD," "Heavy Duty," or "Heavy Classic") is practically a legend in the old school wet shaving community. There may be "better" razors now, but not too long ago (early 2000's) it was pretty much "the only game in town" for someone looking for a new, well-built, double edge razor (for the record, the current design has been around since at least the mid 1960's and previous designs go back further). And according to my research it is still very popular.
Handle Length: 3″
Weight: 2.8 oz
Head style: two piece with safety bar
Shave: middle-of-the-road
Click/tap here for my more detailed review of the Merkur 34C.
Conclusion
There are so many really good double edge safety razors on the market now that it is amazing for me to remember a time when the choices were much more limited. But my research has shown me that, while the established product brands are still very much in demand, large corporations have taken notice. If I had to make an educated guess I would say that the Merkur 34C returns to "rule the roost" with enthusiasts as one the most popular widely available double edge razor. The King C. Gillette double edge razor dropped a spot probably because of supply chain challenges but is still popular by virtue of it's wide distribution (when in stock).