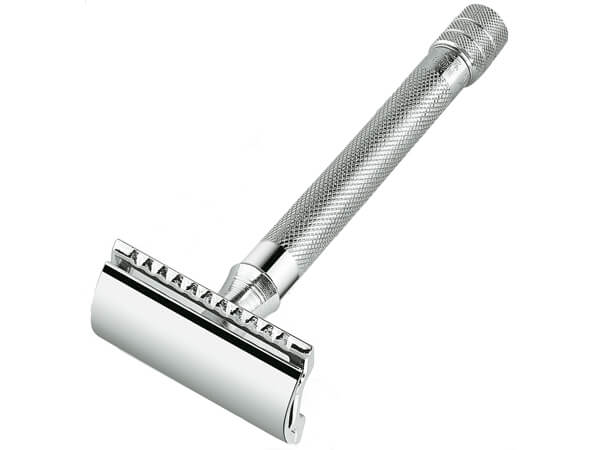 [Updated May, 2021] Sharpologist's recent article on the most popular double edge razors by sales included the Merkur 23C. Here is my take on that razor.
Merkur 23C Razor Background And Specs
[Note: Amazon, Genius, and West Coast Shaving links are affiliate.]
According to the Merkur/Dovo website:
"The MERKUR 23C was originally developed in the '20s. Its reliable quality makes it a timeless classic: the long handle and straight foam edge ensure a particularly smooth shave. The MERKUR specific spacious blade gap allows a high soap flow and also makes cleaning noticeably easier."
Material :Brass handle, die-casted zinc razor head, galvanized surfaces, bright chrome-plated
Closed comb, Short screw, three-piece safety razor
4.1 cm x 2.5 cm x 10.6 cm
Weight: 2.2 oz (62 g)
Length: 4″ (10 cm)
1.5″ wide x 1″ x 4″ long
Blade Gap: 0.64mm
My Experience With The Merkur 23C Razor
My experience with the Merkur 23C, probably unsurprisingly, echos a lot of the other reviews.  It's one of those "two sides of the coin" reactions.  The handle is long, which can be good if you have big hands, but is lighter and has a smaller diameter which is may not be good if you have big hands.  It's relatively light…if you like light razors–if you prefer a heavyweight razor, then the 23C is probably not for you.  It's reasonably well constructed…but the top cap threaded screw is a weak point in the design.  The shave is entirely "middle of the road," and finding the "sweet spot" angle is easy, which will be fine for most people…unless you like really mild or really aggressive razor.
For me the Merkur 23C is a good, solid, all-around razor.  But if you are looking for a GREAT razor, it may not for you.
Conclusion
The Merkur 23C razor (also known as the model 180 at some vendors) is a value-priced, middle-of-the-road razor razor that may be particularly good for someone transitioning from cartridge razors to the double edge razor world.  Nothing about it stands out as an exceptional feature: it just goes about its business with a minimum of drama.  And with a 4.5 out of 5 star rating on Amazon (with over 2500 customers rating it), that's not a bad thing.  It is also widely available from other vendors such as West Coast Shaving, Maggard Razors, Fendrihan, Bullgoose, etc.
Do you have a Merkur 23C? What do you think of it?  Leave a comment below!