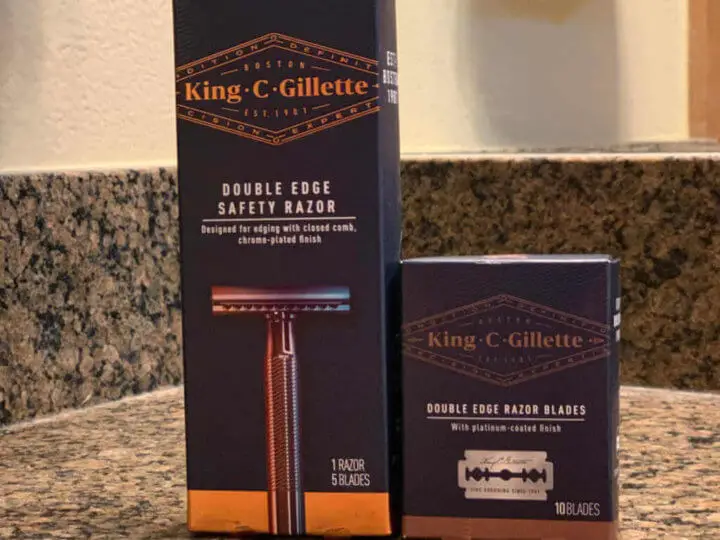 [Updated July, 2022] In mid-2020 the wet shaving world became abuzz much like the mainstream of social media becomes when a Kardashian goes on to a red carpet wearing a new dress. (or almost wearing one). This was the first double edged, safety razor Gillette will have mass produced and sold in retail stores in North America in several decades: the King C. Gillette Double Edge Safety Razor.
Rumors
Facebook groups and shaving forums had multiple posts, YouTube shavers made special videos breaking the news. All of them discussing the rumors about new razor being created by Gillette. Not that Gillette rolling out a new razor is not groundbreaking news: Gillette seems to introduce a new multi blade razor every few months.  The only mention they receive in the wet shaving world is a few snarky comments and they move on with the usual topics.  But this razor was different.
The rumor of this new razor spread like wildfire.  It was like the razor Gods had heard the wet shavers' prayers.  So many forums, Facebook groups, and shaving videos have shouted out to Gillette asking them to make a safety razor for the American market again for a long time. And it looked like its time had come. Even before the details of this new razor were released it was already being compared to the Gillette Heritage razor (affiliate link) sold exclusively on Amazon.
I am no marketing expert but when the Gillette Heritage razor was introduced (much to same excitement in the wet shaving world) I thought to myself that this was a test of the viability of selling a safety razor to the younger generation and whether there was such a massive market as we wet shavers were promising. After the Heritage sold out online, several times, I believe told Proctor and Gamble a DE razor was worth further testing.
The Dust Settles
As the dust clouds settled and things became clearer we discovered the new razor under the Brand name "King C Gillette." Named after the company's founder, it would be sold at Walgreen's pharmacies across the country along with other men's grooming products such as beard balm, cartridge razors trimmers, shaving gel, and double edge blade refills for the DE razor.
Almost like a starting pistol at a race, wet shavers have been visiting Walgreens stores across America searching for these razors.  Some searching in multiple stores until they can find this new razor.  When one is found it is displayed on social media like Wonka's Golden ticket. Within a week several YouTube shavers (Including Kevy shaves in Scotland where they haven't even been released yet) were giving reviews on the new shaver.
I myself tried to find one several times before I was able to purchase mine.  I even ordered one online through Walgreens.com. I kept checking the status until after a week I received an email from Walgreens telling me my order was canceled because they had run out of stock.  Even though I was a bit upset I consoled myself by the thought that the fact these razors were flying off the shelves in stores and selling out online was beneficial to the hobby.
While at dinner over the Memorial Day holiday I happened to check the Walgreens app on my phone and to my surprise it read there two in stock locally.  Putting my suspicious nature aside after dinner I told my lady I had to stop at Walgreens.  After I explained why I got that "not another razor" look but being the understanding lady she is she went with me.
When I arrived at the shaving aisle at Walgreens in my small Oklahoma town, I could not believe my eyes! It was here! After checking various Walgreens in Dallas and Oklahoma City without luck here it was in Southern Oklahoma! I snatched the box and a box of 10 blades and went to the register with a feeling of satisfaction (and a bigger satisfied feeling when I saved $20 by using my rewards points).
First Impressions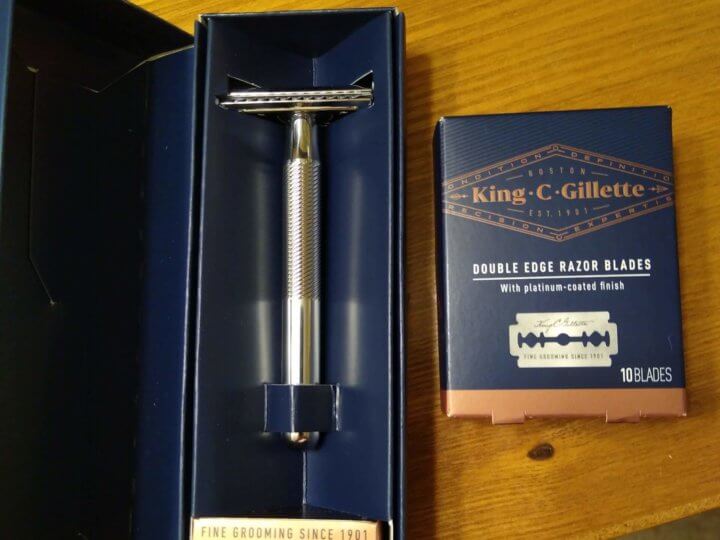 My first impression of this three piece razor was in my hand it felt solid and well built. The handle was heavy and well balanced.  The head and bottom cap fit together well, and the entire shaver was plated very well.  I thought King C. Gillette's monogram on the top of the head cap was attractive and a nice touch.
I decided since Memorial Day weekend is the unofficial start to summer, I would use Stirling's Coconut and lime shaving soap applied with a Mojo handcrafted shaving brush for this King's maiden voyage.  The blade in play was a King C. Gillette which I purchased with the razor.
I will admit I did find loading the blade into the razor a bit challenging.  This is no fault of the razor or Gillette's.  I only have partial vision in one eye (In other words I am blind in one eye and can't see out of the other) so placing a blade into a three piece razor is a bit daunting for me.  Under normal circumstances, I usually stick with one piece TTO razors for this reason. I hope they will consider trying a TTO razor again in the future. Without too much trouble (or blood) I got the blade installed and the blade alignment was perfect, and I began my shave.
The razor felt well balanced in my hand and heavy, allowing the razor to work efficiently without much effort from me.  The King C. Gillette blade was amazingly comfortable, to my face the Russian made blade felt much like a Gillette Nacet blade, smooth and relaxing. No tugging with limited blade feel. It cut through my three days of growth with little effort.
I had noticed some reviewers had issues with the knurling on the handle, saying they had trouble gripping it with wet hands.  Personally I had no issues with this whatsoever.  It felt fine and my hand and I had no issue with slippage or with the handle's diameter.
As for aggressiveness, I would have to personally say King C. Gillette is a fairly mild razor.  Of course, as the old saying goes "Your mileage may vary" but in my opinion given this will be a starter razor for many younger men (and women) who might use this as their starter safety razor I personally think that is a good thing.  If a first time wet shaver was to buy something extremely aggressive (especially in a retail store) for his first shave he might be turned off on trying to use it a second time. So, in my mind, it might be like a modern day Blue tip super speed.
Conclusion
I know a lot of shavers are turned off about this razor for many reasons before they ever even see it in person.  Some are mad because some of its parts are made in China, or Gillette farmed out the production to third party vendors or others are upset because of the "Toxic" commercials a year or so back.  I get and understand all those feelings.  I am not here to defend Gillette or anyone else (these are my own personal feelings no one else's). But if we want to see DE razors made in the USA (or at all for North American consumers) we have to look past the country of origin of these razors. Sadly, not everything is American made anymore like they once were. If you are going to insist on buying American made razors you will just have to go out and purchase ones made by Merkur, Yaqi, Parker, Edwin Jagger or others like this (see what I am getting at?) and typing your displeasure on a mobile device manufactured in China is not going to further the hobby in a positive way. Who knows if this razor sells well Gillette may expand its distribution into other retail outlets which can be nothing but a positive step for wet shaving? It would also be a great razor to recommend to someone who wants to ditch the cartridge and join our community.  I believe this would make a perfect razor for a father to give his son (or daughter) as a first razor.
Now if we can convince Gillette to recreate the Fatboy…
The King C. Gillette razor is available from a wide variety of sources, both "brick and mortar" stores in the U.S., and online.