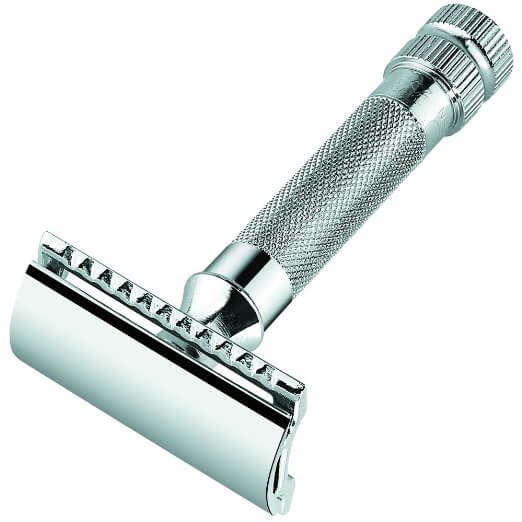 [Updated March, 2023] Sharpologist's recent article on the most popular double edge safety razors by sales included the Merkur 34C. This Merkur 34C review is everything you should know about that razor, probably the most popular "modern" double edge razor on the market now.
What Is The Merkur 34C?
The Merkur 34C is a classic safety razor, made in Germany by DOVO Solingen, which has been popular with wet shavers for over 80 years. This razor is often the first choice for many men who are exploring traditional wet shaving due to its performance and design. It is a closed comb safety razor that features a short handle and diamond knurled grip, making it easy to hold and maneuver while providing a close shave. The Merkur 34C is known for its good weight and solid build quality, making it a great choice for both beginners and experienced wet shavers alike.
Merkur 34C Review Research
The number of articles and reviews on this Merkur razor is extensive. Here are the most common discussion points:
Most Commonly Mentioned Positives
"Middle of the road" shave, suitable for most shavers.
Good handle texturing and grip.
Good engineering design, build quality, and durability.
Simple, two piece design (razor blades easier to replace).
Affordable.
Most Commonly Mentioned Negatives
Short handle compared to other razors.
Some non-visible parts are not polished (but does not affect the performance of the razor).
Product recommendation from Cut Throat Club
Merkur 34C Safety Razor
Price $39.95
The Merkur 34C has a classic design, looks fantastic, but is also highly functional. If you want a safety razor that offers superb performance, but also has a timeless style, this is the perfect choice.
Learn more about the Merkur 34C by clicking here
My Experience With The Merkur 34C Safety Razor

[Note: Amazon, Grooming Lounge, OneBlade, and West Coast Shaving links are affiliate.]
My Merkur 34C review experience goes back almost as far as my experience with the Merkur Progress adjustable safety razor (in other words, about 15 years). I decided to get a 34C even though I had a Progress because I was doing shaving reviews and tutorials and I wanted to make sure my experience took into account the performance of a very common razor.
Is The Merkur 34C Aggressive?
Eventually I discovered the setting on my Progress that replicated the 34C for me (about 3.5 on my Progress' dial), and later the equivalent settings for other razors I use. Though I still do pull out my 34C occasionally to verify my perceptions.
Most users consider the 34C's shave "middle of the road" but I think it's nearer the high end of the average range. Unless I'm careful I may get a few "weepers" by the end of my shave.
But I freely admit I prefer "mild" razors like the Feather AS-D2, adjustable razors at a fairly low setting, OneBlade Genesis, etc.
What About The Handle?
Some reviewers gripe about the comparatively short handle. That has never been a problem with me, as I use my "pinky" finger underneath the handle to support it better.
The Merkur 38C has the 34 head on a longer, heavier "barberpole" handle.
Quality
While I haven't seen a Merkur 34C safety razor fresh from the latest production run, all the examples I have seen have had rock-solid build quality. It is generally a great product.
The Merkur 34C Review Background And Specs
Merkur as a company dates back to 1896, when Emil Hermes registered the brand in Germany. His preferred name for the company (Hermes) was already taken, so he used the German word of the Roman messenger god equivalent, Mercury.
One hundred years later Merkur was acquired by the Dovo company (itself established in 1906).
The Merkur 34C  has a number of aliases. You may see it listed as "Merkur HD," "Merkur Heavy Duty," "Merkur Heavy Classic," or even "Merkur Model 178." The "C" in the model number denotes a chrome plated finish. A gold-tone finish version, the 34G, is also available. The Merkur 34C safety razor is the closest thing to a "bog standard" safety razor for modern times, though over the past few years other razors such as the Edwin Jagger DE89 series of razors have made inroads.
Merkur's time in the market and this razor's general reputation and reliability have made it a major name in the industry. However even that reputation has not insulated the company from economics: Dovo/Merkur declared bankruptcy in 2020. However it appears that due to the way the company is structured the Merkur brand is not affected by the bankruptcy.
What is the blade gap on the Merkur 34C? The razor head has a 0.71mm blade gap (but keep in mind blade gap is only one factor in determining how a safety razor shaves) and features a "scalloped" skin guard, a design that is supposed to improve the flow of shave lubricant through the razor to reduce clogging.
The razor's weight is 77 grams (about 2.7 oz.) and the handle is 3 inches long.
Conclusion And Pricing

The Merkur 34C double edge safety razor has been around for a long time and continues to dominate the "old school" wet shaving landscape. It's engineering design and build quality have become a baseline on which other razors are compared. And its shave is suitable for a wide variety of people.
The Merkur 34C safety razor is widely available from numerous sources online, from large outlets like Amazon to niche' specialty sellers like Maggard and New England Shaving Co., plus the usual sources for used razors.
Do you have a Merkur 34C razor?  What do you think of it?  Leave a comment below!