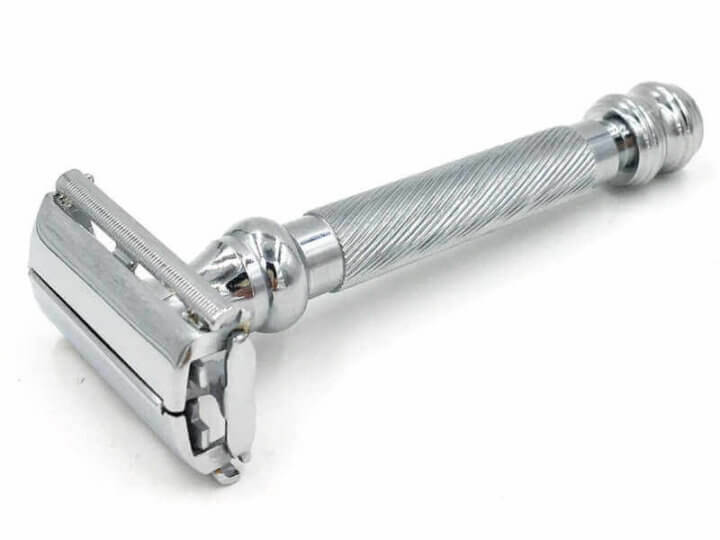 [Updated August, 2020] My recent article on the most popular double edge razors by sales included the Parker 99R. Here is my take on that razor.
Parker 99R
From the Super Safety Razors website:
"The Parker 99R is an extremely popular safety razor. Launched in 2008, this hefty razor was an immediate success because of the awesome shave quality it delivered. The razor has a distinguished knurled handle, heavyweight feel and a unique butterfly door mechanism which is activated by turning the knob at the bottom of the razor. It is a great razor for both new and seasoned wet shaving enthusiasts.
Razor type: Butterfly open safety razor
Weight: 4.0 oz.
Length: 3.8 in.
Handle material: Genuine brass framed, chrome plated"
My Experience With The Parker 99R Razor
(Amazon and West Coast Shaving links are affiliate.)
The Parker 99R (along with the 65R, and 91R) are all called "Super Heavyweight" razors, coming in at around 4 oz. (the 98R, a three piece razor, is called "ultra heavyweight" at 4.3 oz. ).  All Parker TTO razors use the same head design (with minor changes in TTO hardware depending on the type of handle used), much like how Edwin Jagger uses the same three piece head for their DE89 series. Differences in shave-feel between Parker TTO models will come from variations in weight, balance, and grip, depending on the handle.
I find the 'height' of the Parker TTO head small enough not to cause a problem when negotiating tight spots like under the nose (YMMV). Some other TTO razor heads have given me problems with that.
(I should note that I think all TTO-style razors, including Parker's, have some inherent design characteristics that can make the opening and closing process something that you need to pay attention to.)
The full-length texturing of the 99R's handle is appreciated by many. While I've never had a problem with it slipping out from between my wet fingers during a shave I personally prefer the grip and balance of the resin-coated 92R.
For the shave itself, I find the Parker 99R, like other Parker TTO razors, to be just a bit more aggressive than average, with a fair amount of blade exposure, but not so much that I can't enjoy using it. And I think it has a fairly generous razor/blade angle range–in other words I can hold the razor at different angles and still get a 'safe' cut on my stubble.  Still, this razor is perhaps "too much" for a beginner.
The razor's weight makes it a good example of how a shaver should "let the weight of the razor do the cutting." Pressing down on a 99R may provide undesirable results!
Conclusion
All-in-all I find the Parker 99R to be a predictable, value-oriented twist-to-open double edge (DE) safety razor. If you're looking for a heavier razor the 99R would certainly worth getting.
The 99R comes with a pack of Parker double edge razor blades (which I like).
And the 99R (like many Parker razors) is widely available at online outlets like Super Safety Razors, Amazon, Maggard, and West Coast Shaving. You might even find them some "brick and mortar" stores.
Do you have a Parker 99R razor? What do you think of it? Leave a comment below!