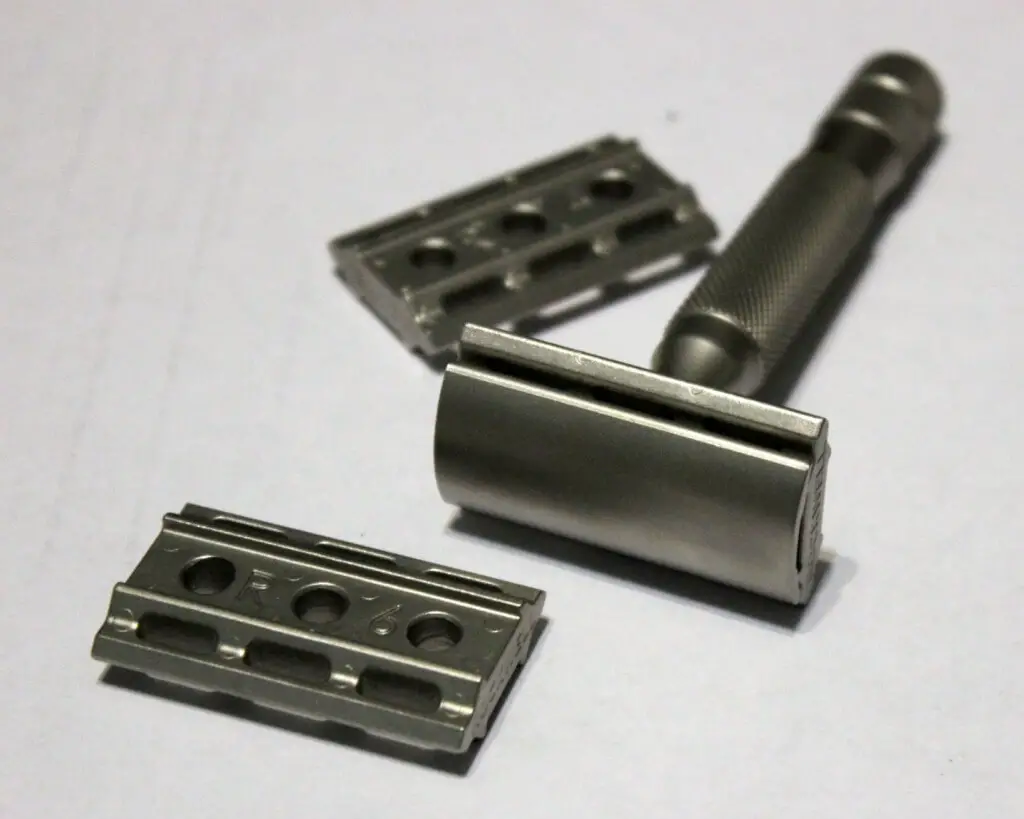 Sharpologist has highlighted Rockwell Razors before, starting with their Kickstarter project, an interview with the founders, examining their prototype, and finally looking at their first production version.  I think it's safe to say that Rockwell–like many young start-up companies–has had its share of challenges, particularly with production control.  Hopefully they are able to move past many of these challenges with the release of "version 2" of the 6S.  The new 6S started shipping in quantity recently and I just got mine.

Version 2 Vs. Version 1
There have been several changes to the "version 2" 6S razor.  The original design's blade support bar was not in contact with the blade across the whole width of the plate, which could result in a slight warping of the blade in the razor.  Version 2 has a consistent support surface so a blade is predictably held straight for every plate of the razor.  A support between the safety bar and the rest of the plate has been added to avoid any warping of the safety bar in the cooling stage of manufacturing.  The base plates are also a bit thinner.
The surfaces of Version 1 were left untreated so there was a different in the coloring of the handle versus head, the cap, and plates. Version 2 has been bead blasted all over for a consistent matte finish.
The blade gaps of the base plates and the dimensions of the razor have also been changed a bit:
R1: 0.008″ (0.20 mm)
R2: 0.014" (0.35 mm)
R3: 0.019" (0.48 mm)
R4: 0.024" (0.61 mm)
R5: 0.027" (0.69 mm)
R6: 0.031" (0.79 mm)
An assembled Rockwell 6S weighs: 3.99 oz (113 grams); the Rockwell 6S handle weighs 2.4 oz (68 grams); and the entire razor is 3.74" (9.5 cm) long from cap top to handle bottom,
The most significant difference is that cap and plate of the the new 6S razor's cap and plate are made by metal injection moulding (MIM), while the old 6S was made through investment casting. Tolerances on MIM are much tighter than investment casting, allowing Rockwell to quickly produce large numbers of razors without compromising quality.
Well…that was the plan, anyway.  Like I said, a company manufacturing with a new production method is bound to bring up some challenges.
The first production run of Version 2 of the 6s was scheduled for mid-December (2015).  Unfortunately the first "in quantity" batch from the manufacturer had cosmetic flaws through a significant portion of the inventory.  After taking some heat about manufacturing and quality concerns from customers of the Version 1, and pledging those customers a free Version 2, Rockwell decided to hold the entire Version 2 production run up to that point for review.
As you might imagine, re-reviewing several thousand razors individually, along with putting some additional quality control processes in place for future production, took some time.
Now it looks like those challenges have been addressed and razors are being shipped.  And from first reports, Version 2 of the 6s is meeting or exceeding expectations!  Here is one example.  Michael "Leisureguy" Ham has also posted several updates on his blog: Link 1, Link 2, Link 3, Link 4.  He also posted a summary on Reddit.
What do I think?  I'm in agreement with the others mentioned here.  My shaves with the 6S have been excellent.  And like other "adjustable" razors I have tried I can use a wider range of blade brands than nonadjustable razors.
It may take a while for Rockwell to "catch up" with all the pending orders, but I think they're on their way to a successful business.  It will be interesting to see what else Rockwell may have up it's sleeve for the future….
FLASH: I just received this email from Gareth at Rockwell: "I have great news! After last week at the manufacturing facility, we've approved all the Rockwell 6S's needed to fill the remaining pre-orders! We'll be shipping them out as quickly as possible over the upcoming weeks (all of them will be shipped out by March 9th or 10th, based on our maximum shipping speed capabilities). We'll be switching the Rockwell 6S and all products over from pre-order to regular order on our site…. "
Addendum–here is a video I made showing the prototype, version 1, and version 2:
Do you have a Version 2 of the 6S?  Leave a comment with your impressions of it below!