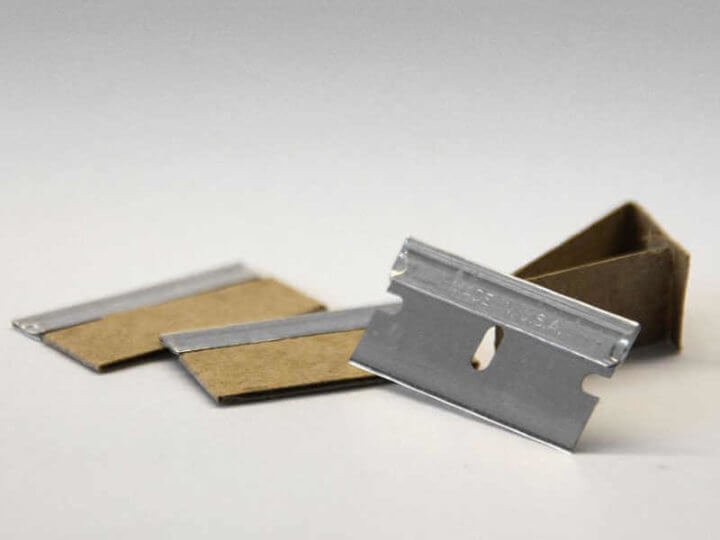 What is the best single edge razor today? Single edge ("SE") razors have taken a back seat to double edge razors for years.  But despite the obscurity some have endured and a couple are even thriving.  I'll offer some perspective.
(Amazon, APShaveCo, OneBlade, and Supply links are affiliate.)
Contents – Jump To:
The Single Edge Blade Conundrum
Generally speaking single edge razor blades are thicker and stiffer than their double edge cousins.  Some people, particularly those with thicker stubble, believe these blades provide a more efficient shave with a lower chance of nicks compared to the design of DE razors.
But I think one major issue that single edge razors face is the physical shape of the blade.  Unlike double edge (DE) razor blades that have evolved into a "standard" shape, single edge blades come in a number of different formats: GEM, Injector, FHS/Autostrop, barber style (AKA "Artist Club," "shaper," "nape & body," "Shavette"), etc.
I think the lack of blade shape standardization has held back the evolution of the single edge razor.
Related to blade shape, and perhaps more important to wider consumer acceptance, is the problem of loading a single edge blade.  GEM and FHS/Autostrop blades are large enough to be more confidently-handled.  Injector blades are much smaller but have the advantage of being housed in a magazine that provide a "hands off" method of blade changing.
Barber-style blades can present some challenges to the "every-guy" consumer because their shape can make safe blade handling problematic.
Complicating the issue further is the fact that some artisan-made single edge razor designs do not take advantage of blade shape to make changing blades easier.  For example the original GEM razors (now vintage) had a pop-up head design that made blade loading easy. Modern, artisan-made GEM-style razors are generally three piece designs that can make blade changes more fussy.
I think there are only three modern single edge razors that make blade changing reasonably easy, the Supply SE, the OneBlade, and–a special case–the Penny Shaver (a single blade cartridge compatible with Gillette Fusion handles).  More on those razors later in this article.
So What Is Available Now?
There are actually more single edge razors available now since I first wrote about them in 2015. Back then most of them took either GEM or barber style blades. Now other formats have surpassed those razors. Here is what is available as I write this. I'll update the article as other razors enter and leave the market.
Injector Razors
The Schick (and later PAL) Injector single edge razor was the perennial "number two" competitor to Gillette's double edge razors, back in the day.  Injector razors had a unique "hands off" blade loading mechanism, where the blades were loaded in a magazine and fed through the razor. And it had a devoted following too, before Schick also switched to cartridge razors and joined the "blade wars."
Supply SE
The Supply SE razor is a modern follow-up to the Injector style razor and a follow-on to their popular "2.0" razor.  
Perhaps just as importantly, the Supply Single Edge razor uses the same blade loading system as the original Injector razors–"click…slide…slide…click" and you're done.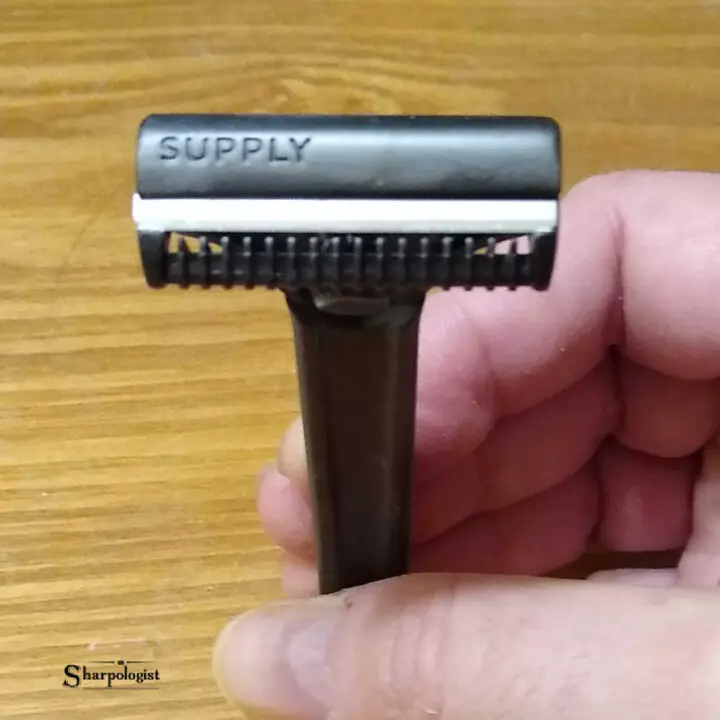 The razor is solidly-built and hefty but well-balanced. The finish of the razor is smooth but there still is enough grip for the razor to feel secure in my hand though Supply offers a silicon grip that slides over the handle.
Visually it looks like there is a lot of blade exposure but in actual use the razor/blade combo is actually fairly mild (though still quite efficient). There is essentially no "blade feel" with the SE. I simply don't feel the blade's cutting edge across my skin. I find the Supply SE razor to be forgiving, drama-free and very effective.
For a detailed look click/tap to read The Supply SE Single Edge Razor May Not Be What You Expect!
Supply Pro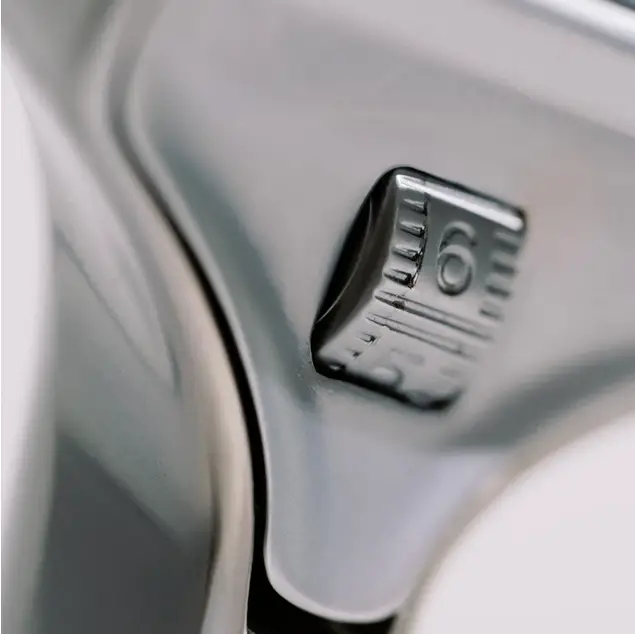 Supply also offers the Supply Pro razor, an adjustable version of the Supply SE. Aimed at the "enthusiast" market the Supply pro has 6 broad settings (and 30 "micro-settings" that adjust how much blade edge is exposed to the skin.
I think the holding angle range on the Pro is a bit narrower than other Injector-type razors (and noticeably narrower than the Supply SE razor, which I find to be quite generous!). Nothing deal-breaking, mind you, but I do find myself having to pay a bit more attention to the way I hold the Pro.
I find the Supply Pro excels at knocking down heavy, multi-day stubble at the higher adjustment settings, and is equally adept at dealing with overnight stubble and sensitive areas of skin at lower settings. I'm a big fan of adjustable razors generally and things like this are one of the reasons why.
For a closer look at this razor click/tap here for The Supply Single Edge Pro Adjustable Razor Review
Parker Adjustable Injector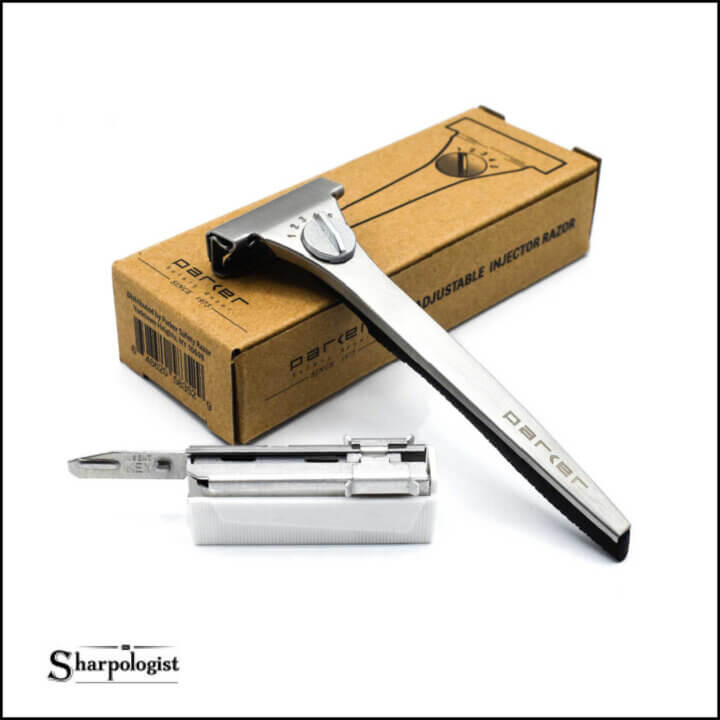 Another modern take on the Injector is the Parker Adjustable Injector razor.  Parker's implementation of an adjustable Injector is quite different (and less expensive) than Supply's but I find it works very well. The low end of the adjustment range is quite low; the high end is not insanely high but still requires some focus while shaving to avoid a nick or cut. And I think the razor holding angle range is more generous than Supply's adjustable.
For a closer look at the evolution and use this razor click/tap here for Parker Adjustable Injector Razor (Now In Version 3!)
Bullgoose Asylum Injector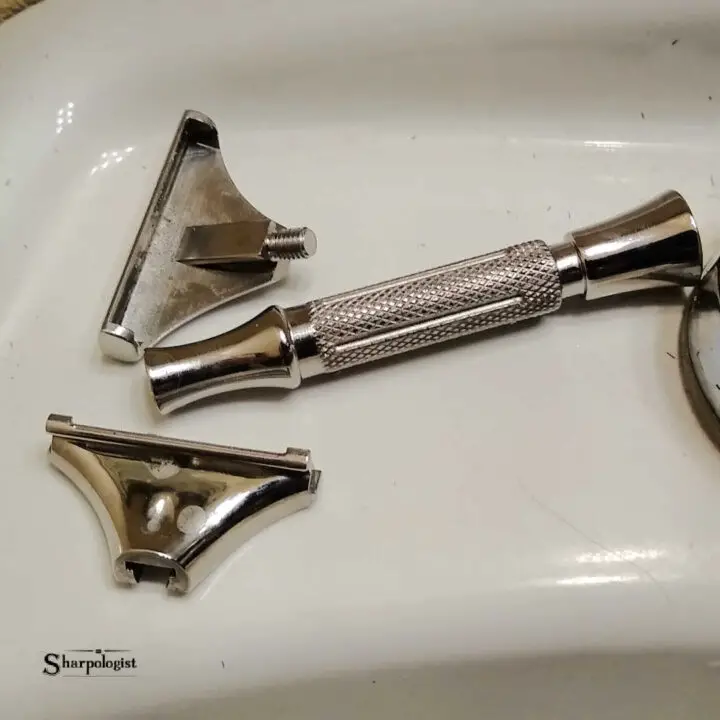 Bullgoose offers the Asylum Injector razor. The razor is gorgeous-looking razor, hefty (but not tiring), and well-balanced in my hand. This is a three piece razor that does not take advantage of the Injector blade's magazine system.
As for the shave itself, I find the Asylum Injector, like the Asylum Rx (see below), to be rather aggressive–maybe a seven on a one-to-ten scale. 
Hype X1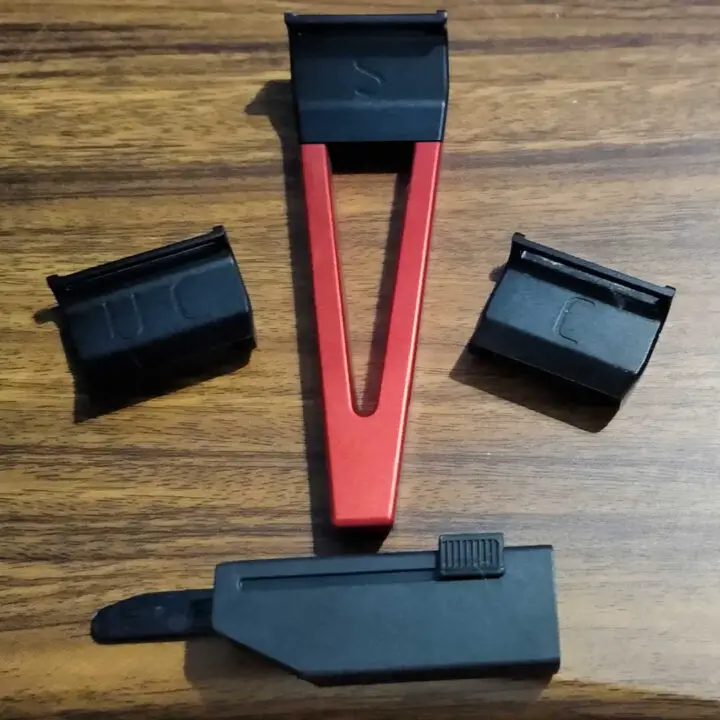 The Hype X1 razor is a safety razor with some intriguing design elements: it uses Injector-style blades from a blade magazine, has an unusual (and possibly impairment-friendly) handle, and three shave setting base plates that are held in place by a magnet. I think the stylish look is for attracting someone who wants to move away from the modern cartridge razor for something that looks a little out of the ordinary. After a bit of a learning curve my shaves with the X1 have been excellent.
For more on this razor click/tap here for Hype Razor Or Razor Hype?
Autostrop/FHS Single Edge Razors
The vintage Autostrop razor is long-since out of production but Feather makes their FHS blade that fits the same form factor.  The FHS design could be considered a relative of the GEM blade, having many of the same characteristics but without the GEM blade's "spine."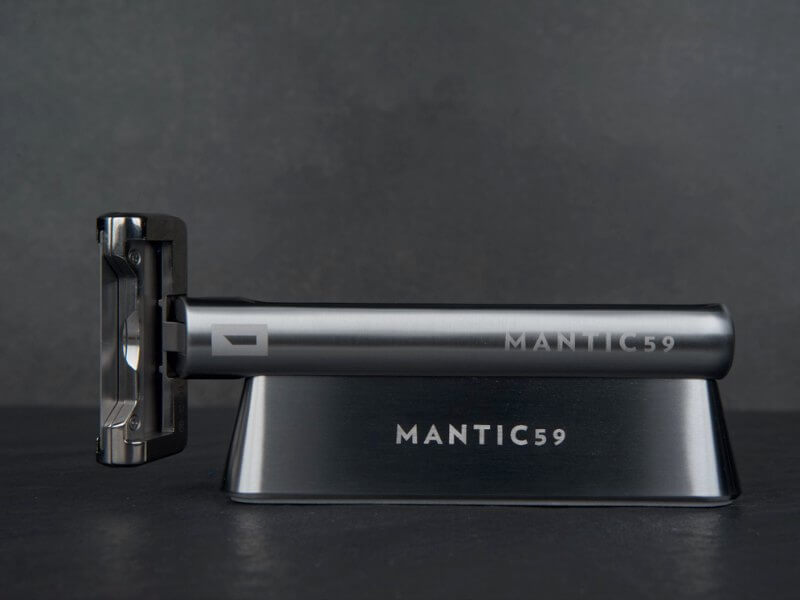 These blades are used in the modern OneBlade razor.  It's no secret that I love shaving with the OneBlade. To me it's the best of both worlds: a single blade razor that uses modern pivot technology.  It's my favorite razor–when I'm not testing some specific product but shaving just for the enjoyment of the process it is usually with my OneBlade Genesis.
Some consider OneBlade razors too mild but for me it can't be beat for an effortless, consistently close shave.  
There are three versions of the OneBlade at different price points: the introductory-priced, resin-molded Core; the mid-priced Hybrid; and the all stainless steel Genesis.  Blade loading is reasonably easy (though helps to rinse the blade briefly to get a thin drop of adhesive off).
By the way, some have had success using modified GEM blades in the OneBlade, so there is some greater blade choice possible with it.
GEM Style Single Edge Razors
I think artisan single edge razors that take GEM style blades appeal more to the nostalgic side of the wet shaving enthusiast.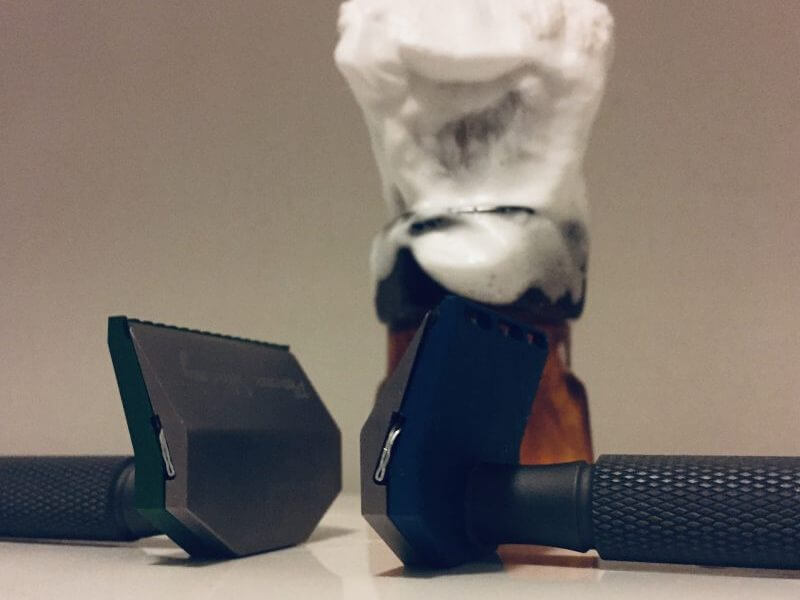 Phoenix Artisan Accoutrements (PAA) offers their Starling GEM single edge razor. I find blade loading of the Starling a bit fiddly. My own use and the other reviews generally regard the Starling as a fairly aggressive razor.  
For more info click/tap here for The Phoenix Artisan Accoutrements Starling – Versions 1 and 2
Blackland offers their Sabre GEM single edge razor.  Blackland offers it with two different base plates, "L1" for a (very) mild blade gap and "L2" for a more middle-of-the-road feel.  
Blackland has a reputation for top-notch build quality (at a commensurate price) and the Sabre is no exception. The razor feels solid and well-balanced in my hand, though it does have this quirky rectangular top cap post, threaded on two sides, that can make razor reassembly after blade insertion interesting (for me, anyway).  I think the blade angle "sweet spot" is quite narrow on the Sabre but after you get a handle on it the razor works well.
Barber Blades
Some artisan-made single edge razors these days use blades typically found in barber blade razors.  A number of have come and gone through the years but they just keep plugging away.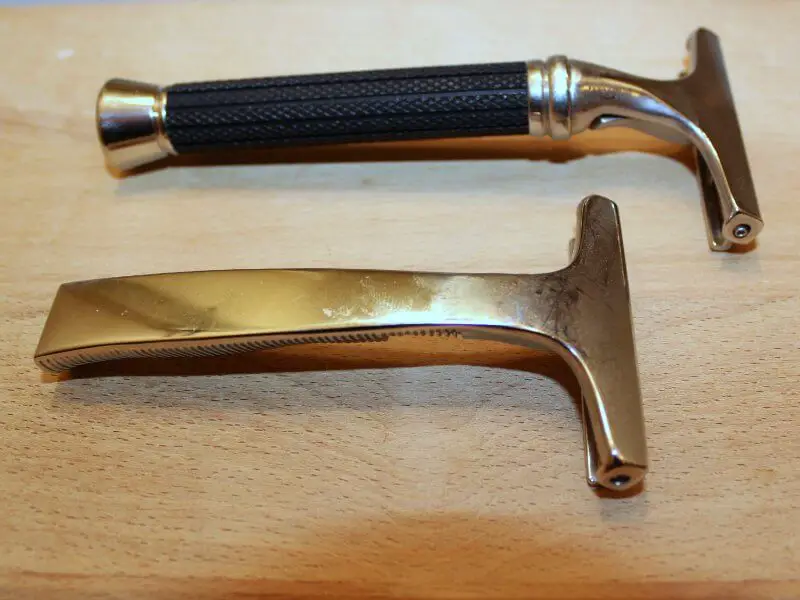 The first artisan single edge razor was the Cobra Classic, followed by the King Cobra Classic, from Classic Shaving.  The Cobra's inspiration came from some hardy shave nerd's discovery back in 2005 that a modern barber blade could be cut down to fit in a vintage Injector razor.  That idea was twisted on itself and an Injector-like razor that accepted unmodified barber blades was created.  That idea begat a number of other products, with varying degrees of success.
These days there are still some razors that use barber blades:
Bullgoose offers their Asylum RX (v2) single edge razor.
Blackland has a barber blade single edge razor called the Vector.  
RazoRock takes a bit of a different tack with their Hawk single edge razor: while other artisan razors are sold at an artisan (read: expensive!) price point, the Hawk is more value-priced, being made from aluminum. It's lighter in weight compared to others but I think it's quite nicely balanced and it shaves me well.
There are other single edge razors: I've left many that are listed as "out of stock" on artisan websites off this list.  I'll add/edit to this article as needed.
A Single Blade Cartridge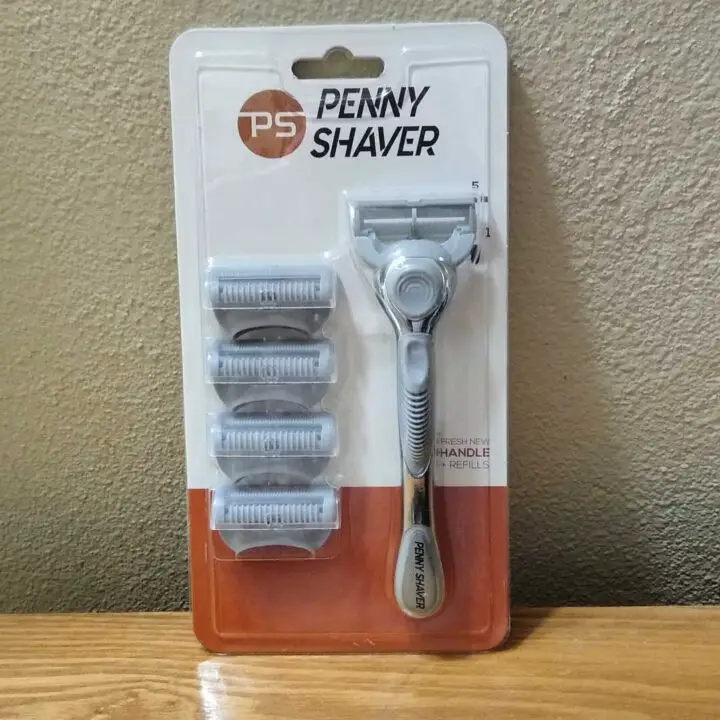 APShaveCo's Penny Shaver razor is a cartridge razor with a single blade mounted on a head that is compatible with Gillette Fusion cartridges. This makes it one razor that should make going through airport security much less of a problem.
The Penny Shaver head/cartridge reminds me a little of the Supply SE, with a guide comb and a fairly large (but not unwieldy) head.  One interesting aspect of the comparatively large cartridge size is that lather flow through is very generous–possibly the best I've seen.
Beyond the single blade and the cartridge comb the Penny Shaver does not offer any of the other bells and whistles of the typical razor cartridge: no pretensioner, no lubrication strip, no trimmer blade, etc.
The size of the cartridge was not a problem for me when shaving detail areas like under my nose.
As mentioned on the Penny Shaver webpage, I found the first shave with a new cartridge definitely more aggressive than I expected.  Shaves two and three were transitional and the shaves beyond that were quite nice for me: a smooth shave finish was readily achievable.  On a ten point scale I would consider the shave's aggressiveness as a 7 for shave one; dropping to a solid middle-of-the-road 5 for shaves 4-10; and falling off gracefully beyond that.
Razors that use a double edge blade snapped in half?
There are a few "single edge" razors that are actually a kind of a hybrid: they use double edge blades that have been snapped in half. So these razors may not have the same characteristics of those that use a thicker, "true" single edge blade. Some of these razors include:
Conclusion
Single edge safety razors continue to capture the curiosity of shave enthusiasts, with both artisans and small businesses vying for their attention.  Most are well-made and offer alternatives to the classic razor formats. However I believe some single edge razor designs will be relegated to a niche' within a niche' until problems with blade loading are solved.
What do you think of single blade razors?  Leave a message below.