The Starling is a machined aluminum razor from Phoenix Artisan Accoutrements (PAA). What makes it unique is that it's one of a handful of modern GEM safety razors. Most modern single edge razors are either the OneBlade using the Feather blade, or razors that use the AC "Shavette" style blade. The modern GEM is much less common, and PAA and Above the Tie are the two long-established vendors even attempting it.
PAA launched the Starling version 1 a year ago. It was a limited run intended to collect feedback from users. It shipped on a handle modeled on the Wade Butcher / Durham Duplex handle of the 1920s. There was a blue baseplate intended to be standard comfort, and a gold baseplate that came with a card warning it was more aggressive. At the time, my impressions were that neither were very comfortable. After a week's worth of shaves with both, trying different blades and different angles, I put them away.
Then, months went by, and PAA issued a Starling V2. They sold out quickly, and I waited for a second production run to order it. PAA claims on their product page for it,
"Lets put it this way, if you didn't like the V1 base plates, you will love these! Or, even better,  if you did like the V1 base plates…you will Absolutely LOVE the V2s!"
Both plates are a combination of the version 1 A & B plates, attempting to take the best of each with tweaks. Unfortunately, it wasn't for me. I like the GEM Jr. razors and the 1924 Shovelhead, and am no stranger to single edge razors. The PAA is more aggressive than I care for, and requires both attention to angle and the lightest of pressure, with no forgiveness, no mercy.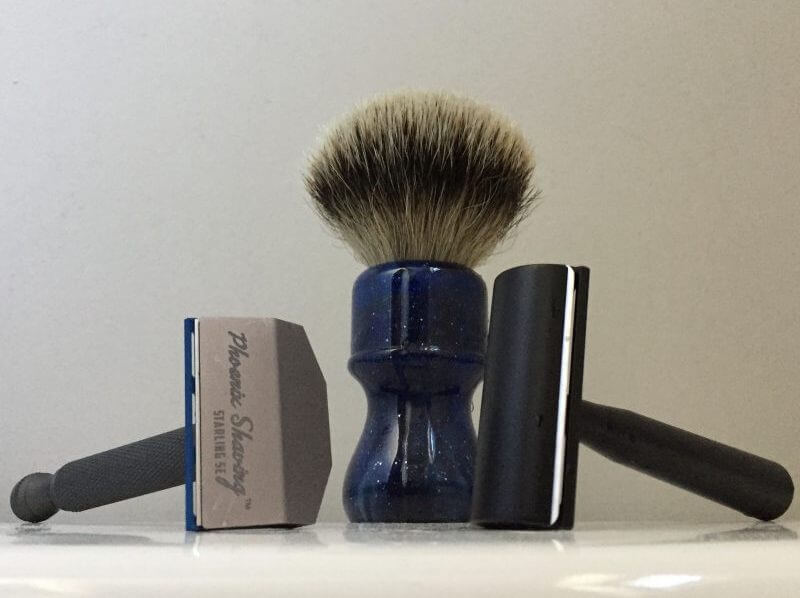 Here's what's giving me trouble: At the sides of the sharp edge of the blade on the base plate is a thin spike. It seems unnecessary since alignment is done by the hole in the center of the blade. With the slightest pressure or incorrect angle, these spikes scratch the skin as you shave, and are horrible. They are present on the V1 but to a much lesser degree. With the V2, the second base plate is an open comb. The geometry is exactly the same as the solid bar plate, but in comb form. The edges of the comb teeth are sharp and similarly cause discomfort on the skin.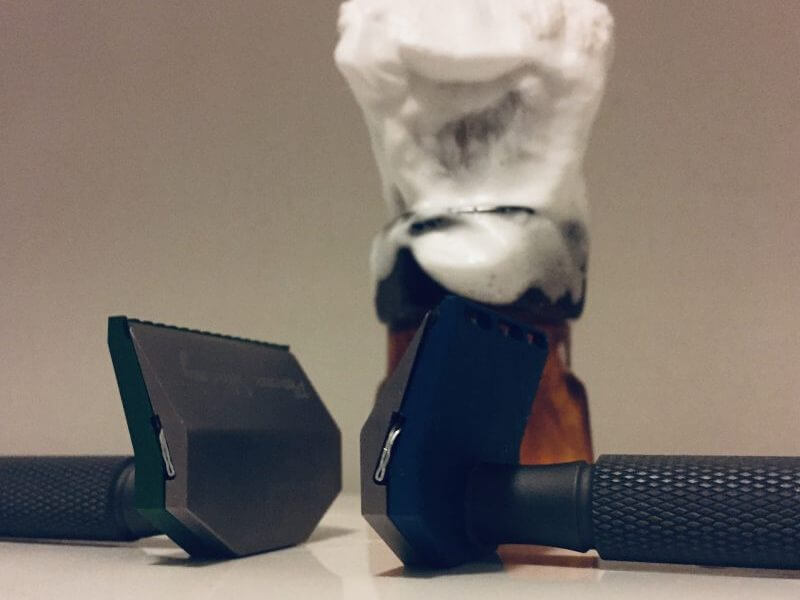 The shame of it is, it's such a nice looking razor. The plates and cap are anodized aluminum, in bright purple, brilliant green, and silver. I'm pretty certain that if I filed off the spikes and smoothed the teeth of the open comb plate, that it would become an easier-to-use razor – but that's not how it's made.
Shaving with the V1 and V2 solid bar plates back to back actually reveals something I wasn't initially aware of: the version 1 is easier to work with because it doesn't have nearly as pronounced spikes on the base plate. It's really frustrating. This razor was designed based on feedback from the V1, making it the first razor designed by a decently large community of users. It was a great experiment, and resulted in a razor that, anecdotally, people like. If you decide you want to try the Starling, my advice is to be mindful of angle, use lighter pressure than you might normally, and experiment with different blades. When it works, it leaves the face very smooth. The PAL stainless blade may be different for you from the GEM stainless or Teflon coated blades. The razor is currently sold out, but both plates without a top cap are available for $24.99 at phoenixartisanaccoutrements.com