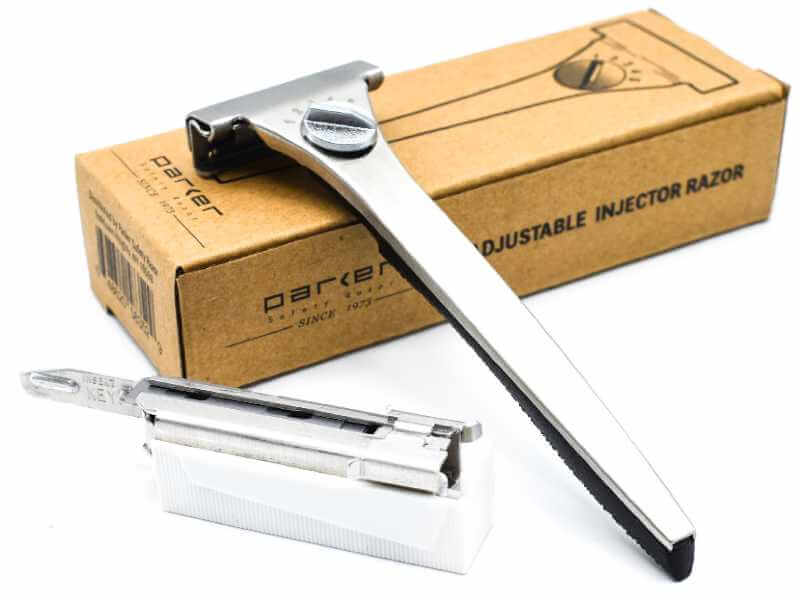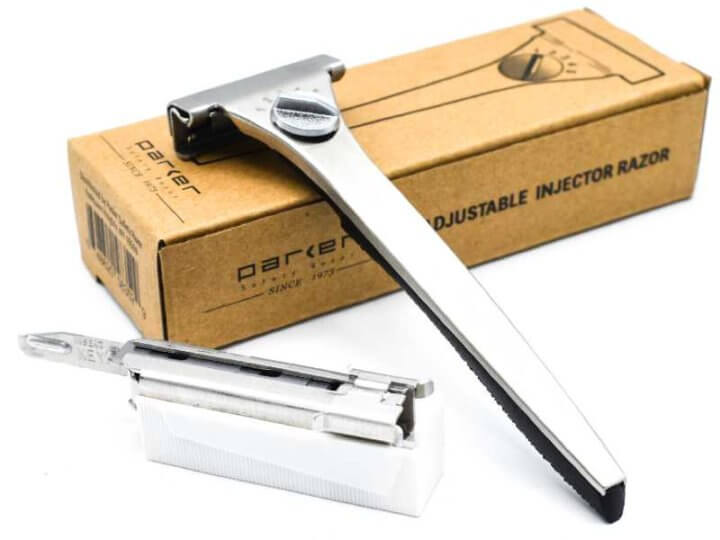 Parker Razors has just launched an adjustable Injector razor!
Parker Adjustable Injector Razor
I recently wrote about the differences between double edge (DE) razors and Injector razors. In that article I mentioned the relative dearth of new-production Injector-style razors, compared to DE razors.
As of today there is a new choice: the Parker Adjustable Injector razor.
Specifications
Weight: 1.24 oz./35g
Length: 4.96 in./126mm
Handle material: Stainless Steel & with Ridged Plastic Grip
A Few Questions
I reached out to Howie at Parker Safety Razor with some questions about the razor.  My questions in bold, his answers in italics:
Why did you decide to make an Injector razor?  What was your inspiration?
Several years ago, I was talking with an older friend who asked if I could obtain injector razor blades for him. He explained to me that his favorite razor was his old injector razor and he was having a hard time finding blades (not to mention that the razor could not easily be replaced). He found his vintage injector razor less intimidating than a double edge razor and he liked the lighter weight and the overall shave.
I couldn't convince him to go with a double edge safety razor. I guess that conversation is what planted the seed. I always tell our customers that there is no right or wrong when picking a razor. Different people like different razors and it really is a personal preference. Since I couldn't find a new injector razor, I purchased a vintage model on eBay. I did enjoy the shave and found that it felt mild but it delivered a BBS shave. Additionally, over the past 15 years we have consistently had customer requests for an injector razor. We were confident that it was a product that would be a great addition to the Parker line.
How long did it take you to go from idea to finished product?
We have been working on this razor "on and off" for several years. It was a much harder product to manufacture than we ever imagined. I have many prototypes that just didn't make the grade.
What are some facts or details about Injector razors you discovered that most people don't know?
The thing that I was most surprised with are the number of different styles and models that existed when these razors were in their heyday. Injector razors use an interesting no-touch blade loading mechanism which is very unique. It can feel a little tricky in the beginning, but once you get the hang of it, it's quite simple and there is less chance of cutting yourself when loading the blade. People who have used injector razors know these design components, but for those who never tried an injector, it's very interesting to note these differences.
Are there any differences in shave technique with an adjustable Injector razor compared to a DE or regular Injector?
Our injector razor is lighter in weight and I also find it milder than our DE razors. We recommend using a shallower shaving angle (about 10-15 degrees) with the injector razor and to put the flatter portion of the razor head to your skin. Also, the head of our adjustable injector razor is smaller than many double edge razors, so it's easy to navigate in tighter spots.
Still, I have shaved in a similar fashion as I do with a DE razor. I personally like a mild shave, so I usually set the adjustment mechanism to a lower setting. Many people who use adjustable razors shave with multiple passes, utilizing different settings. Unlike adjustable double edge safety razors, the way this razor works is by moving the safety bar, which is a horizontal adjustment. Adjustable safety razors usually have a vertical adjustment – moving the cap up and down. I find that moving the safety bar as we do with the injector razor provides an extremely wide range between the mildest and most aggressive settings. I encourage most people to experiment and find a technique that works for them. For example, I do not like to shave against the grain with any razor because I find it uncomfortable. Many in the wet shaving community do prefer to go against the grain. 
One thing I cannot stress enough is the prep before shaving. No matter what razor you use, great prep is critical. I always recommend shaving right after a hot shower and lathering with a great shave soap or cream, and of course, using a shave brush.
Do you have any plans for other versions of this razor?
Right now, we have some ideas, but nothing definitive.

First Impressions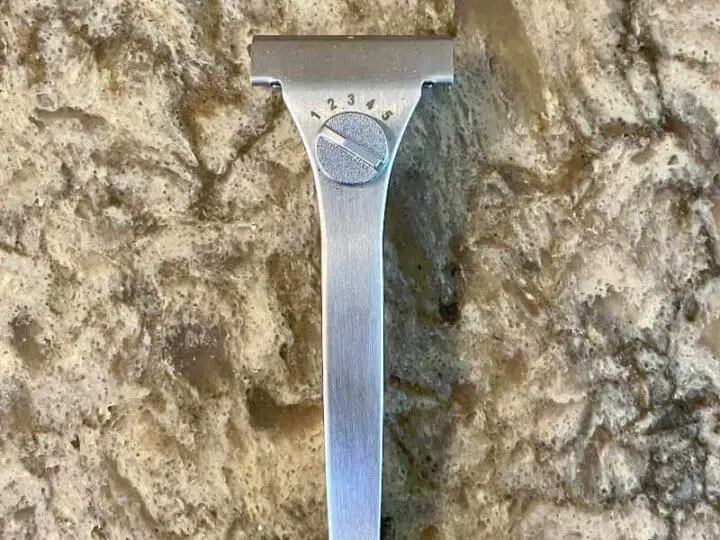 I tested a late prototype of the razor earlier this year.  The adjustment range is continuous and quite wide: it can go from very mild to very aggressive!  I found the adjustment dial to be smooth and it didn't shift unintentionally.
As for the shave itself, Injector blades by their nature are thicker and stiffer than a DE blade so the shave does "feel" a bit different.  But I got  excellent shaves and it's much easier for me to get into tight areas like under the nose with an Injector razor than it is with a DE razor.
I have a production razor coming, but I don't anticipate any significant difference between the late prototype I tried and the production version.  I will update this article when I do get a production sample!
Conclusion
The Parker Adjustable Injector Razor is available in limited quantities for $32 with a 20 pack of blades. Use coupon code MANTIC59 at checkout for an additional package of 20 blades!