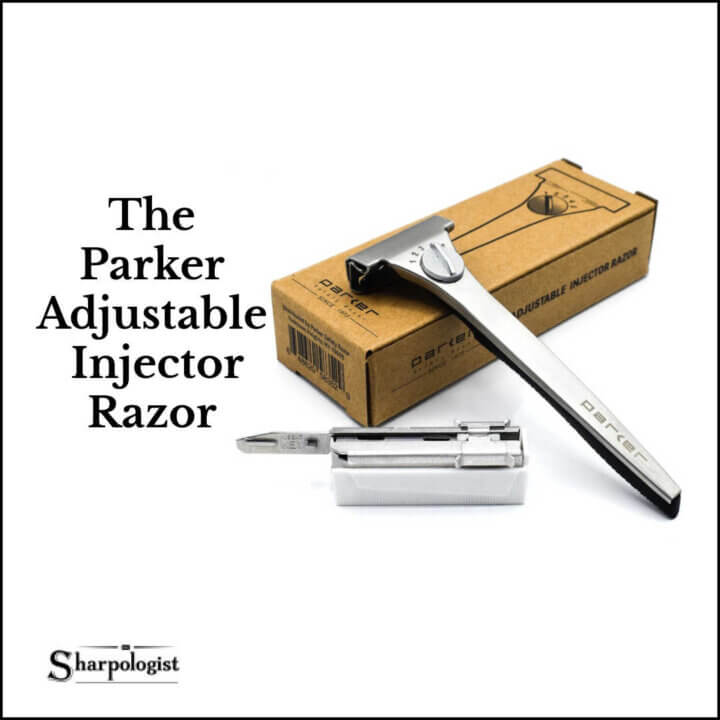 Parker has again tweaked the design of their adjustable Injector razor. Here's the low-down on "V3!"
Parker Adjustable Injector Razor
Back in 2020 I wrote about the differences between double edge (DE) razors and Injector razors. In that article I mentioned the relative dearth of new-production Injector-style razors, compared to DE razors.
While Supply Pro gets a lot of buzz for their adjustable Injector-style razor, and the Hype razor was just launched, there is another choice: the Parker Adjustable Injector razor. Parker just released their latest update to the razor.
Version 3
Cosmetically, version 3 looks the same as version 2 (below): a stainless steel spine (with "Parker" etched in the metal) and a plastic belly.
Mechanically, v3 is similar to v2 but with some subtle-but-noticeable improvements. The adjustment range has been widened slightly, with the upper end of the range more symmetrical and predictable. Blade loading is even smoother than v2.
Maybe it's my imagination but it seems to me that v3 is a little more "agnostic" on blade choice: while v2 worked best for me with the Japanese Injector blade (the one sold by Supply), v3 seems to work just as well with any of the three Injector blade sources (USA, China, Japan).
My shaves with the new Parker adjustable Injector razor have been quite smooth and predictable. There is enough blade feel to know you're shaving but not so much as to be dangerous. I settled on the "2" setting (I prefer mild razors) and I have been getting effortlessly baby's butt smooth (BBS) shaves.
Version 2
Parker gathered feedback from their adjustable Injector users for "Version 2." I think the changes in the latest revision to be fairly modest:
The low end of "adjustability" was been biased upward a bit, making it a little less mild at the low end–though it was still quite mild. The high end of adjustment seemed to be about the same to me (high enough to cause a nick if you're not being mindful, but not "R41" levels of insane).
The blade loading mechanism seemed smoother to me.
The Parker logo has been etched into the metal part of the handle. While the handle itself remains the same the process they used for etching seemed to give the handle a slightly better grip for me.
My shaves with "Version 2" were as good as the prior revision. I think these were relatively subtle changes that I would characterize as 'evolutionary' improvements.
Prototype and Initial Release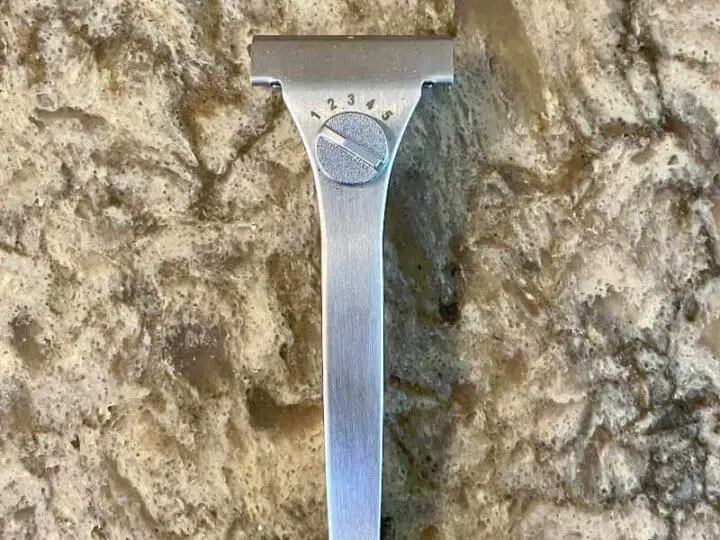 I tested a late prototype of the razor in early 2020. The adjustment range was continuous and quite wide: it could go from very mild to very aggressive! I found the adjustment dial to be smooth and it didn't shift unintentionally.
As for the shave itself, Injector blades by their nature are thicker and stiffer than a DE blade so the shave "feels" a bit different. But I got excellent shaves and it's much easier for me to get into tight areas like under the nose with an Injector razor than it is with a DE razor.
The production razor was launched in November, 2020.
My experience with the production razor was just a little different than the prototype: the low end of the adjustment range was even lower (to the point of being almost unusable, even for a guy like me who prefers mild razors) and the blade loading/holding mechanism was a bit tight (though it loosened up a bit after some use). I would consider the high end of the adjustment range to be roughly equivalent to a "moderately aggressive" DE razor–not crazy aggressive but still able to "bite you" if you weren't careful.
All-in-all it enjoyed a very positive reaction from the wet shaving community.
A Few Questions
I reached out to Howie at Parker Safety Razor with some questions about the razor. My questions in bold, his answers in italics:
Why did you decide to make an Injector razor? What was your inspiration?
Several years ago, I was talking with an older friend who asked if I could obtain injector razor blades for him. He explained to me that his favorite razor was his old injector razor and he was having a hard time finding blades (not to mention that the razor could not easily be replaced). He found his vintage injector razor less intimidating than a double edge razor and he liked the lighter weight and the overall shave.
I couldn't convince him to go with a double edge safety razor. I guess that conversation is what planted the seed. I always tell our customers that there is no right or wrong when picking a razor. Different people like different razors and it really is a personal preference. Since I couldn't find a new injector razor, I purchased a vintage model on eBay. I did enjoy the shave and found that it felt mild but it delivered a BBS shave. Additionally, over the past 15 years we have consistently had customer requests for an injector razor. We were confident that it was a product that would be a great addition to the Parker line.
How long did it take you to go from idea to finished product?
We have been working on this razor "on and off" for several years. It was a much harder product to manufacture than we ever imagined. I have many prototypes that just didn't make the grade.
What are some facts or details about Injector razors you discovered that most people don't know?
The thing that I was most surprised with are the number of different styles and models that existed when these razors were in their heyday. Injector razors use an interesting no-touch blade loading mechanism which is very unique. It can feel a little tricky in the beginning, but once you get the hang of it, it's quite simple and there is less chance of cutting yourself when loading the blade. People who have used injector razors know these design components, but for those who never tried an injector, it's very interesting to note these differences.
Are there any differences in shave technique with an adjustable Injector razor compared to a DE or regular Injector?
Our injector razor is lighter in weight and I also find it milder than our DE razors. We recommend using a shallower shaving angle (about 10-15 degrees) with the injector razor and to put the flatter portion of the razor head to your skin. Also, the head of our adjustable injector razor is smaller than many double edge razors, so it's easy to navigate in tighter spots.
Still, I have shaved in a similar fashion as I do with a DE razor. I personally like a mild shave, so I usually set the adjustment mechanism to a lower setting. Many people who use adjustable razors shave with multiple passes, utilizing different settings. Unlike adjustable double edge safety razors, the way this razor works is by moving the safety bar, which is a horizontal adjustment. Adjustable safety razors usually have a vertical adjustment – moving the cap up and down. I find that moving the safety bar as we do with the injector razor provides an extremely wide range between the mildest and most aggressive settings. I encourage most people to experiment and find a technique that works for them. For example, I do not like to shave against the grain with any razor because I find it uncomfortable. Many in the wet shaving community do prefer to go against the grain.
One thing I cannot stress enough is the prep before shaving. No matter what razor you use, great prep is critical. I always recommend shaving right after a hot shower and lathering with a great shave soap or cream, and of course, using a shave brush.
Do you have any plans for other versions of this razor?
Right now, we have some ideas, but nothing definitive.
Conclusion
By the way, the v2 razor has been out of stock for some time, so any time you see a new listing this razor it will be the latest version. The Parker Adjustable Injector Razor is available on Parker's Super Safety Razor website and on Amazon, with availability from other vendors coming soon.