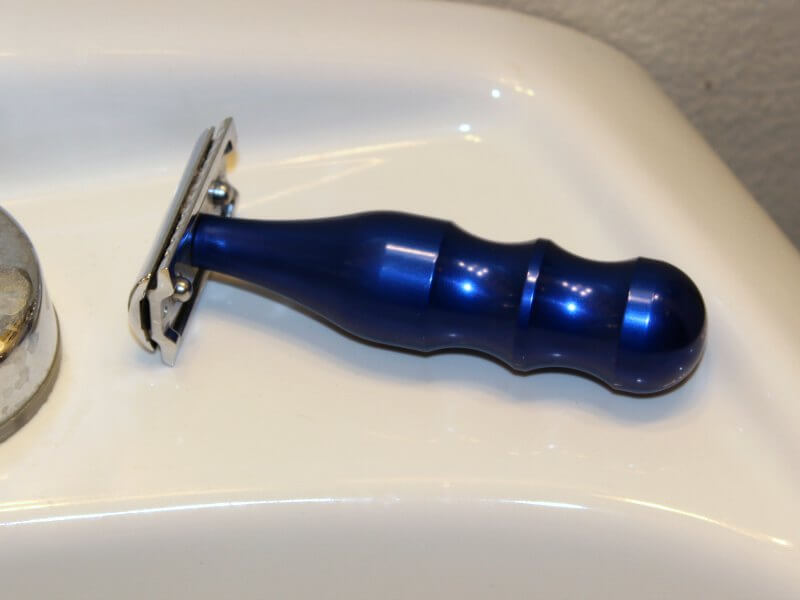 A short while back I wrote an article about Merkur's line of DE razors.  Most of them have been around for ages, with lots of information and reviews available with a simple search engine query.  A few are relatively new though.  One of the new breed, the Merkur 40, is an odd-looking razor with hardly any reviews available.  I think it's time to give the '40 some love, particularly if you happen to fall into some specific circumstances.

Merkur 40 Barrel Handle
First, the statistics.  The razor weighs 3.6 oz (as measured on my digital scale), with a 3.75 inch metal handle that measures a full inch in diameter at the widest point.  The handle shape is obviously…unusual and (as far as I can tell) unique–and you can get it in either a red or a blue color.  There is no texturing on the handle; it's smooth.  It relies on its odd shape for grip.
The Head

The head design is three piece and thin.  I don't have any tools to measure it accurately with but subjectively it looks thinner than a Merkur Heavy Duty two piece head or the Edwin Jagger DE89 three piece head.  The thick handle makes it appear even thinner.
The Shave
The shave for me is very good!  I think it is milder than the Merkur HD or the DE89.  I pair it with a Polsilver Iridium blade that I consider fairly high performance and I get excellent beard reduction–three passes–without irritation.  Of course the usual "YMMV" caveats come this those comments!  🙂
Special Considerations
Even though the razor handle surface is smooth, the shape lends itself to multiple hold points in multiple positions (holding the razor "downward" or "upward") with an easy, comfortable grip.  I think this razor would be particularly beneficial to those with large, meaty hands or even someone with a touch of arthritis (or another mild physical disability of the hand) and who have difficulty using razors with shorter, thinner handles.
I like the Merkur 40.