[Updated June, 2020] No doubt about it: some shavers want to "turn it up to 11."  They use razors with tons of exposure and high-performance blades.  They embrace the challenge.  But what if you have sensitive skin?  What if you don't have quite the time (or the mental focus) to concentrate on your technique?  Or what if you're just starting to learn your technique in the first place?  Then a milder, gentler razor may be for you.  Luckily there are quite a few options.

There are gentle razors across all price points, from the very inexpensive to the very luxurious.  I'm a fan of mild razors so I've tried my fair share.  I've trawled the shaving forums and blogs for their confirmation and I've used all these razors.  The tl;dr, in alphabetical order:
What Is The Best Mild Safety Razor?
[Note: Amazon and OneBlade links are affiliate.]
Let's take a deeper dive into them.
Dorco PL-602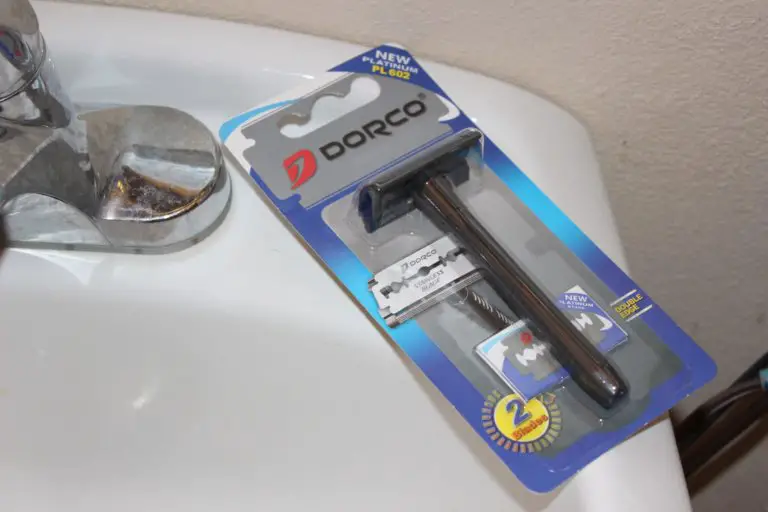 Sharpologist has written about the Dorco PL-602 before.  This very inexpensive, all-plastic razor actually delivers a surprisingly good, mild shave for many people.  For something a little more sturdy, Dorco also offers the Dorco Prime DE razor set.  It's performance is on-par with the Weishi & clones mentioned later here.
Feather AS-D2
In most respects the Feather AS-D2 razor couldn't be further from the Dorco PL-602: the AS-D2 is a deluxe, Stainless Steel razor.  They do share one trait, though–a mild, gentle shave.  In fact, a lot of shavers complain the AS-D2 is too mild.  I was one of those people: when I first bought the razor I was disappointed and considered selling it off.  Then I took the advice of others who use it and tried it with a Feather blade.  The scary-sharp Feather blade, a tiger in most razors, becomes a kitten in the AS-D2.  It's "mild" but "efficient" at the same time.  Now enjoy using the AS-D2…as long as I use a Feather blade.
Merkur 15C
The Merkur 15C is an "open comb" razor that is quite mild when compared to other open comb razors.  If you like to maintain a multi-day beard growth but need to "clean up" once in a while this razor may do the trick.  Be aware that some shavers don't care for the thin handle though.
OneBlade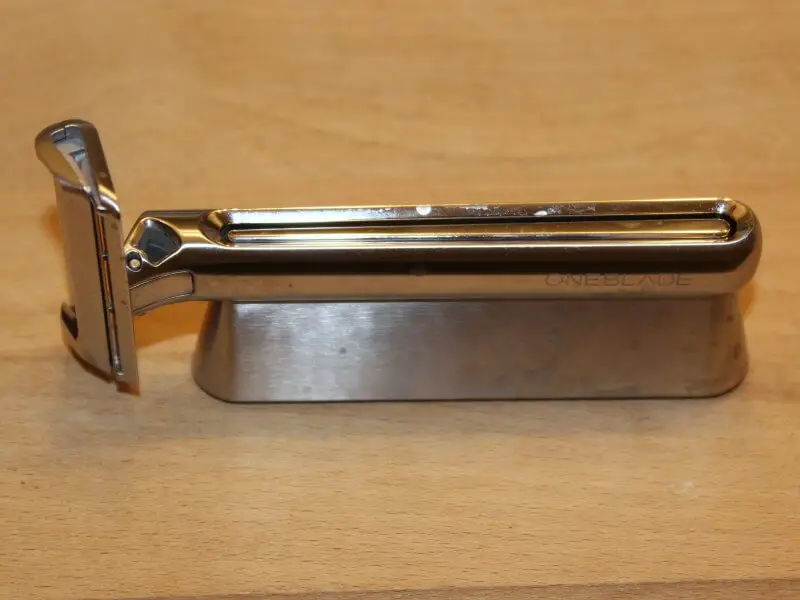 I make no secret that the OneBlade is one of my favorite razors.  Though it is a single edge design (vs. the double edge design of the rest of the razors on this list) and in the "luxury tool" category, it uses a pivoting head design and a stiff Feather SE blade to great effectiveness.  It's almost as if the stubble is simply wiped away.
Parker TTO
Parker "twist-to-open" (TTO) or "butterfly" razors are considered by most as moderate razors–the high end of what people usually think of as "mild" (their three-piece razor designs are generally more aggressive–though not by much, well into the middle-of-the-road territory).  The Parker 92R is a favorite of many but there is enough variety to satisfy almost anyone.  Parker razors are good values for the money, too.
PAA Original DOC
Like the Merkur 15, the Phoenix Artisan Accoutrements (PAA) original "Double Open Comb" (DOC) razor is another open comb design that bucks the trend and is quite gentle.  For me it does live up to the "mild but efficient" moniker.   It certainly looks aggressive but it is actually quite mild.  Beware though that the "Evolution" version of the DOC really is aggressive so be sure you are buying the correct razor!
RazoRock Baby Smooth
The RazoRock "Baby Smooth" razor is another safety razor considered both "mild" but "efficient" by it's fans.  It has been in limited production but quantity shipments are expected soon.  Luckily Italian Barber recently got an order in and I was able to score one before inventory was depleted again.
I found the Baby Smooth less mild than what I was expecting.  It's still a relatively mild razor but I would say it is near the top range of what most people consider "mild."  At 37 grams it's rather lighter than I expect too.  Still, this razor is designed to be "forgiving" of razor angle, and I indeed found I could get a completely acceptable shave with a range of hand and arm grasps.
Weishi (& Clones)
The Weishi razor from China uses a design based off the Gillette Superspeed razor of the 1960's.  In some respects it was the original low-cost, mild razor "duplicate" (though some would say "knock off") until the market exploded over the past few years.  Now others have gotten into the act, duplicating the duplicate (the Dorco Prime above as an example)–some even speculate they're all made in the same manufacturing facility.  Nevertheless, though quality control can be spotty among the clones, the original Weishi razor has a reputation as an inexpensive, mild razor good for the beginner on a budget.
So Which Is Best?
All these razors provide a consistently mild shave so it would be hard to go wrong with any of them from a performance perspective.  If you're looking to try something on the cheap, the Dorco PL-602 can start you off with a minimum of cash.  On the other end of the spectrum the OneBlade is a terrific razor for someone looking for a luxury shaving tool that is also forgiving on the face.  The PAA Original DOC is a mild razor in a category usually reserved for the more assertive crowd.  But….
Why Not An Adjustable Razor?
As I mentioned in the introduction, a razor's "mildness" is based largely on edge exposure: the gap between the blade edge and the razor's guard.  "Mild" razors have a smaller gap.  But if you are worried about the razor's aggressiveness, why not consider a razor that can change the gap?  There are actually a number of adjustable safety razor that can be, well, adjusted, from mild to mad.  So like Goldilocks you can find a setting that's juuuuust right:
Parker Variant
New on the scene is the Parker Variant adjustable razor.  Taking inspiration from the Merkur Progress (below) the Variant addresses most of the nagging quirks of the Progress and provides a great shave for virtually any shaving circumstance.  The Progress was one of my all-time favorite razors until the Variant came along.  Now it's been sitting in a drawer for a while….  The Variant is currently in limited production but quantity shipments are ramping up.
Merkur Progress
The Progress used to be my all-time favorite ("pry it from my cold, dead fingers") razor until the Variant (and the OneBlade) came along.  Very flexible and more widely available than the other adjustable razors, there is still a lot going for it.
Rockwell 6S/6C
The Rockwell 6S is one of the new breed of "adjustable" razors: it's not continuously adjustable like the Variant or Progress.  Rather it uses a set of base plates to provide six different blade gaps.  Use plate 1 for the mildest shave, plate 6 for a more assertive shave.  The 6S is made of Stainless Steel and reasonably widely available.  A chrome version (the 6C) should be available later in 2017.
Supply Single Edge
The Supply Provision Single Edge is another razor that is "adjustable" in the sense of multiple base plates.  The Single Edge has three base plates for different blade gaps and also uses "Injector" style blades.
So there is no reason to put up with the pain of an overly-aggressive razor!
Is there a mild razor that you recommend?  Leave a comment below!
(Did you find this article useful?  Please share it!)