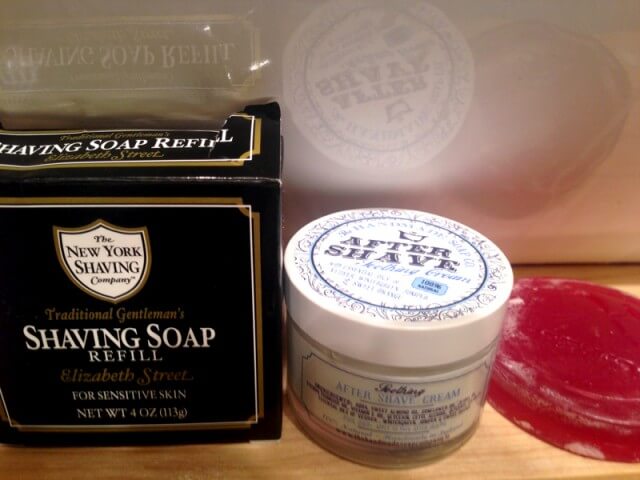 One of the cooler parts of working with our host, Mantic59, is that I get shaving advice from the Shave Tutor, himself. But the coolest part is that, occasionally, Mark sends me a goodie box of stuff that he presumably can't get around to trying himself (hey, I've seen photos of his shave den – let's just say Mark is well stocked for the Shavepocalypse.) So, even though I now have enough product to last me well into the next decade, I made time to work my way through this latest haul.
Here are a few quick-hitter reviews of the soaps, creams and aftershaves that have further, awesomely, filled up my bathroom.
Handmade Soap Co. After Shave Soothing Cream: That's a long name for a small jar of Irish aftershave. The artisan maker was panned on the message boards for its shaving soap, but people seem to like the aftershave balm. The packaging is top notch, and the smell is divine. It claims it's vetiver, lime, basil and sweet orange, but I get a whiff of something familiar, maybe like L'Occitane Cade. The stuff is very thick, and it's easy to over apply. It does nothing for my razor burn, and leaves my skin feeling very moisturized and supple. It's quite good on a frigid, dry winter day. But I wouldn't touch this in warmer weather.
The Strop Shoppe Pomegranate Shaving Soap: I love the smell of this soap. It's not sweet like you might expect, and I wish it was even a little stronger. The performance is quite good on my face, though it's thin and watery by the third pass. Still, I like it a lot, and it's now in my regular soap rotation.
Trumpers shaving creams: It's hard to find much to complain about from the three samples Mantic sent me (Almond, Coconut Oil and GFT). These are among the best, most cushioning creams you'll find. Some might not like the lemonade scent of GFT, and the coconut is quite mild, but the almond is great. Just excellent product.
Arko Shave Stick: Cheap, great performance with an unusual scent. That's pretty much all you need to know about this excellent Turkish product. The packaging is problematic, since it's basically paper and foil. But it costs about $2. Hard to complain about anything at that price.
Raz*War Modern Shaving Soap: This European soap says it has a bergamot scent. I just get soap smell from this red glycerin-based puck. Nothing special.
The New York Shaving Company Elizabeth Street Shaving Soap: This is a nice soap with a perfume-y strong scent that I don't love. I found it performed well but not enough to stay in my rotation. I wouldn't buy it for its $18 price tag.
DR Harris Naturals Shaving Soap: I wanted to like this organic soap with coconut oil. It has a mild scent and seemed promising, but it made my face sting by the second pass. It also didn't hold a lather especially well. I can't use this again.