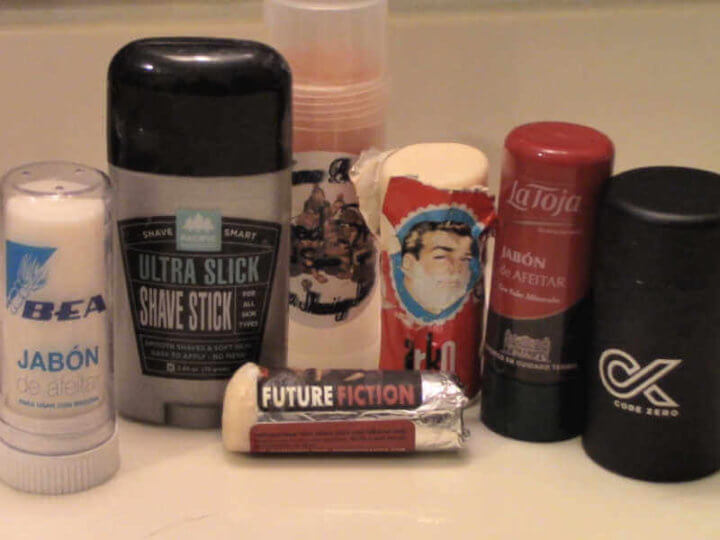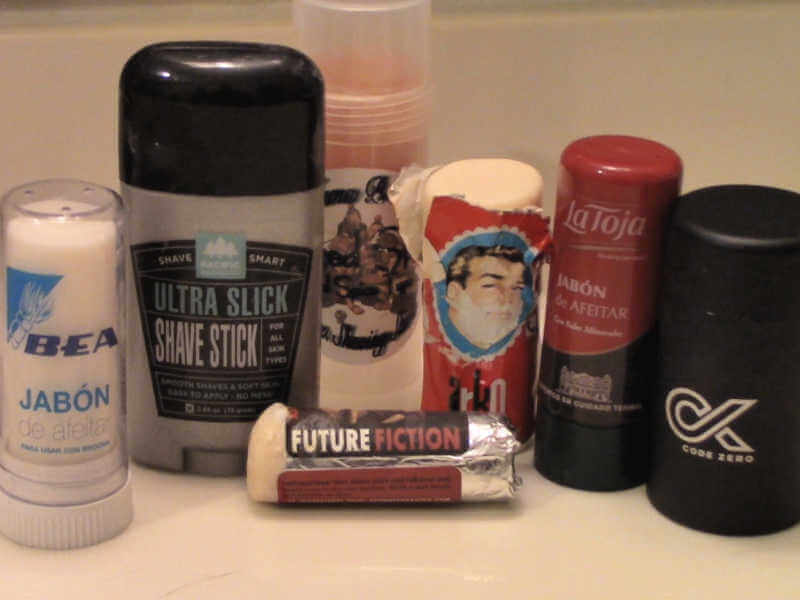 Shave sticks are a specialized shave soap designed to be applied directly on the skin.  Here are four different ways to use a shave stick.
What Is A Shave Stick?
(Note: Amazon, and PAA links are affiliate.)
A shave stick is a shaving soap that is shaped and packaged in a way that can be easily applied with a hand directly onto the skin, like a magic wand for shaving.  Here are some commonly available shave sticks:
A search at your favorite online wet shaving store will undoubtedly find more!
(Yes, you could probably use any shave soap as a shave stick if you were able to hold it correctly.)
When using a shave stick be sure to apply it to very wet skin for best performance.
Technique #1 – Direct Application
(Note: Amazon and PAA links are affiliate.)
The first way to use a shave stick is to simply apply it completely and evenly over the area to be shaved, which should be properly prepared and very wet.  This method is particularly useful with shave soaps that have a relatively high concentration of glycerin, like Pacific Shaving's Ultra Slick Shave Stick.
One advantage of a full coverage direct application is that because the application is fairly thick you may have more protection and can use a razor that is more "aggressive" (by blade count, blade angle, blade exposure, etc.) with a lower chance of nicks or irritation.
The disadvantage is you will need to use more product than other alternatives so it may end up costing more per use.
Technique #2 – Hand Lathered
The second way to use a shave stick is to build up a lather with your hands.  While you need to apply generously on the area to be shaved, you don't have to make sure it's completely and evenly covered like direct application.  Use wet hands with vigorous circular motions on wet skin to build the lather.  In the video I used an Arko shave stick for this pass.
Technique #3 – Brush Lathered
The third way to use a shave stick is basically like any other shave soap, using a shave brush.  Most users apply the shave stick casually over the (wet) skin and use a brush to cover and build lather.  Some rub the shave stick inside a bowl or scuttle and build the lather there, then use the brush to cover the skin.  I think doing everything on the skin is a more thorough application but of course it's personal preference.  In the video I used a PAA Future Fiction shave stick for this pass.
Technique #4 – The After-The-Shave "Touch & Cut"
The final way to use a shave stick is to use it at the end of the shave.  The strategy is similar to the first technique of applying the shave stick in an "undiluted" layer, but just over those rough patches that may still have a bit of stubble staying behind after the bulk of the shave.  Again, the idea is that you can be a bit more aggressive with blade technique if you have a thick layer of something to cushion against irritation.
But this technique must be used judiciously: over-done this can cause more trouble than it cures.
Conclusion
Shave sticks can be a convenient, flexible addition to your "shave den" and can be in used a number of different ways depending on individual circumstances.
Do you use shave sticks?  How do you like them?  How do you use them?  Leave a comment below.