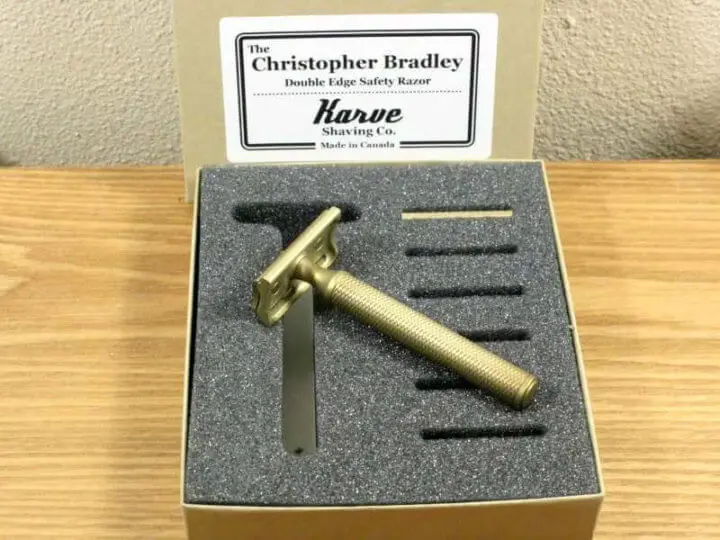 The "Christopher Bradley" DE razor from Karve Shaving Co. has made a bit of a splash in the wet shaving nerd world, getting a lot of positive buzz.  And not without reason: it's reputed to perform well, heavy but well-balanced, available in a number of configurations, and not overly-expensive (for an artisan razor).  I bought one to try for myself.

The Background Of The Karve Razor
The Karve Christopher Bradley razor takes it's inspiration from a number of different directions.  On the one hand it is following the recent trend of some single edge razor manufacturers by offering different base plates that provide an "adjustable" or "customizable" blade gap.  That lets the shaver tailor the razor more closely to their specific shave desires and circumstances.
On the other hand, the razor is made out of brass instead of the more common "pot metal" alloys or the more expensive stainless steel materials.  This may attract customers who may like the "patina" that brass can form over time.
More background from the Karve wetbsite:
…[T]he handle is decorated with a pattern that is inspired by the centuries-old guilloche technique commonly used in watch making.  The pattern is cut into the body of the handle, instead of formed, which ensures that all of the edges of the pattern are smooth and clean, while still providing plenty of friction for wet fingers.
The razor is available with any one of 5 different solid bar guards, each with increasing aggressiveness, to tailor your shave to your face and style. The levels range from AA (the least aggressive) to F (the most aggressive).  Optional guards, sold separately.
The blade gap of each guard are as follows:
AA – gap = 0.47mm / exposure = negative 0.07mm
A – gap = 0.60mm / exposure = negative 0.02mm
B – gap = 0.73mm / exposure = zero
C – gap = 0.85mm / exposure = positive 0.09mm
D – gap = 0.98mm / exposure = positive 0.13mm
E – gap = 1.10mm / exposure = positive 0.17mm
F – gap = 1.23mm / exposure = positive 0.22mm
G – gap = 1.36mm / exposure = positive 0.25mm
The entire razor is constructed from solid brass and is bead blasted for a subtle matte finish.  As is the case with all uncoated brass items, a patina will form over time and the surfaces will darken.
The razor is complete and only requires a blade to be ready to use.
The handle is available in 3″, 3.5″, and 4″ lengths to suit your style.  All handles employ a #10-32 thread.
95g x 83mm long / 110g x 98mm long / 120g x 108mm
I purchased a version with a 3.5″ handle and the "A" plate, and I also ordered a "B" plate (as I prefer mild razors generally).  That version has a weight of 3.8oz (109 grams) without blade.  The base price is $99 CAD: my order was $117.45 USD.
A Short Conversation
I got with Chris Kirchen of Karve by email with a few questions I had:
When did you personally get interested in 'old school' shaving and when did you decide you wanted to make shave products?
I guess I always wondered if there was a better way than cartridge razors (because I was always left wanting), but the first time I really thought about it was when I saw that scene in 'Skyfall' (yeah, yeah…corny, but that was the spark).  I kept using a cartridge razor for about a year after I met Brad…I just didn't know where to start, so I stayed put.  Then one day, I came across a Rockwell razor on Massdrop or Touch of Modern and I started doing some research…which turned out to be a deep rabbit hole.  I asked Brad for some help and he turned around and sent me a care package.  I was converted after the first shave.  Actually, it was the scent of the soap that hooked me…it had the same scent as the soap that my dad used when I was a kid.
I'm not sure that there was actually ever a moment when I decided to make shaving products.  'Maker' is such a large part of my personality and my interests, so I tend to approach just about everything I encounter with the attitude of "Can I make that?".  If there was a decision, it was made subconsciously that day that I saw the Rockwell razor for the first time.  And then, when I enjoyed my first wet shave so much, it was only a matter of time.  When I told people in my life that I was making brushes and razors, their answer was 'of course'.
Why is it called the "Christopher Bradley" razor?
"Christopher" comes from me…that's my proper first name.  "Bradley" is @brad_melling…he's the one that got me into wetshaving a couple of years ago.  He found my machine shop on instagram (@karvemachine), and reached out.  At first to see if I would be interested in making a razor, but I didn't have the time unfortunately.  We ended up becoming friends.
Why did you choose brass for the razor?
The two primary reasons I chose brass are:
I like the weight of

brass

products (

brass

is heavier than steel)
I love the patina that forms over time with

brass

.
I also wanted my first razor to come in at a reasonable price point (approximately CAD$100) and brass does not consume tooling like stainless steel does.
My Experience With The Karve Razor

I find the "fit and finish" and ergonomics of this razor excellent.  It just seems to fit naturally in my hand in a way that some other artisan (and a lot of Chinese clone) razors don't.  The handle's slightly-larger-than-usual diameter combined with it's weight, balance, and mild texturing make it easy to hold in my hand.  I probably would have been just as happy with the three inch razor instead of the three-and-a-half inch that I got.
As I mentioned earlier I prefer mild razors so I tried the "A" plate first.  I was able to get a "darn fine shave" (DFS) easily, though a "baby's butt smooth" (BBS) result was elusive.  Switching to the "B" plate got me much closer to the BBS level, though portions of the lower jawline on my right side is still a bit rough unless I work at it a bit.
I bought the "C" base plate to see if it would be closer to my preference but it was just a bit too much for me: the "B" plate turned out to be my preferred option.
While the Christopher Bradley razor by Karve may not be a favorite of mine "out of the gate" in terms of intuitively getting my best possible shave right away, I find it to be a really comfortable, well-made razor that has enough options to suit just about everyone.