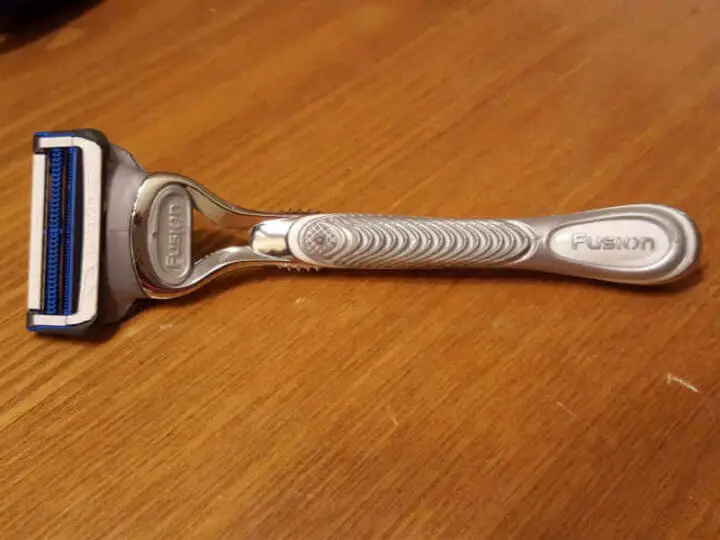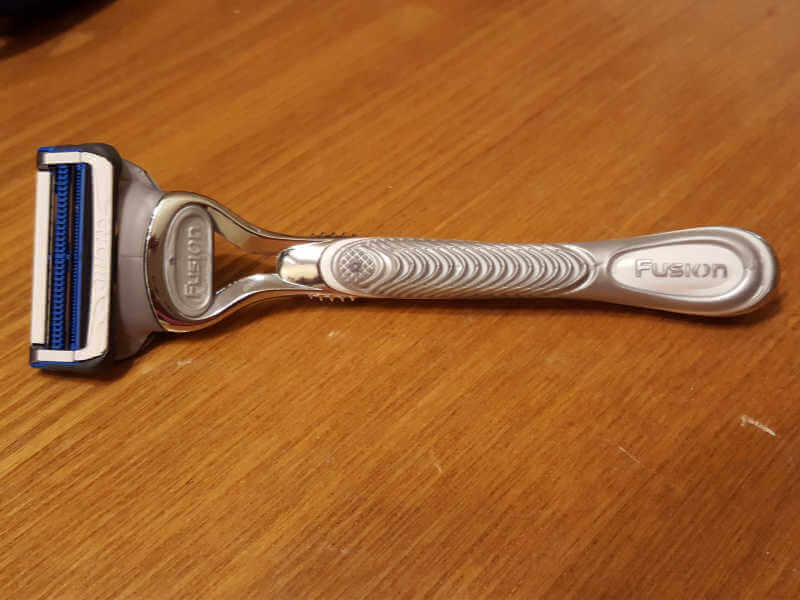 [Updated October, 2022] Gillette recently launched a razor with a two-blade cartridge, the Gillette SkinGuard, specifically designed for men with sensitive skin and prone to razor bumps. Has Gillette made a strategic retreat from the "razor blade wars?"  Is this new Gillette razor for you? I picked one up to try for myself.
Razor Bumps And The Gillette SkinGuard Razor
This Gillette Skinguard review and buying guide has several elements to it.  Here are some navigation shortcuts.
Skip To:
The Gillette website describes the SkinGuard like this:
"Gillette® SkinGuard is our first razor specifically designed for men with sensitive skin and razor bumps. The razor shaves hair and protects the skin thanks to its unique SkinGuard positioned between the blades. It works to minimize tug and pull and cut hair at skin level, helping to prevent irritation."
What Are Razor Bumps?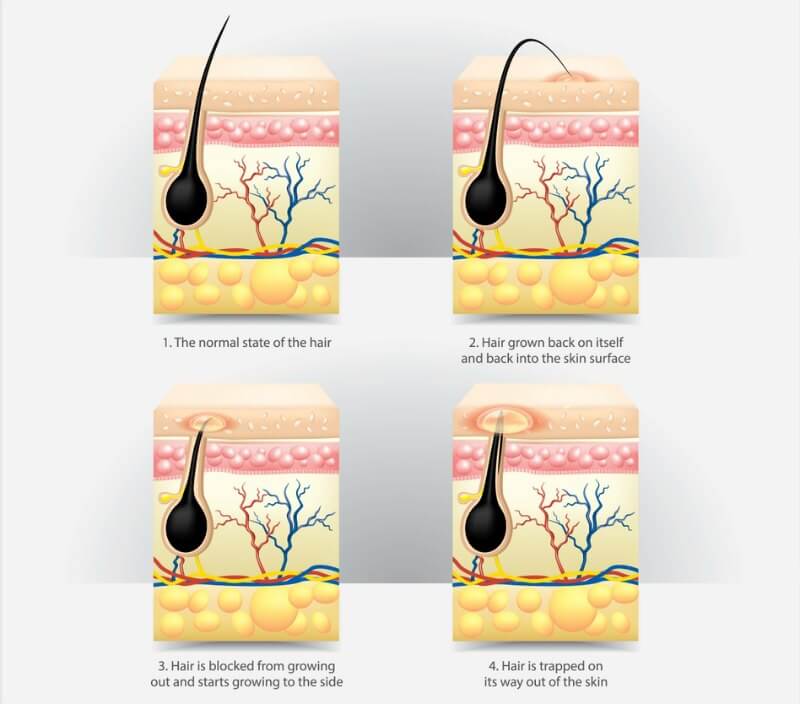 If, after shaving, hair curls back into the skin instead of straight out the follicle as it grows (this can happen in several different ways as shown in the image above) it can make a raised red bump (Pseudofolliculitis barbae) on the skin, often looking like pimples if it becomes infected.
An occasional razor bump or ingrown hair will probably happen to every shaver at some point.  But some people get them all the time, over a larger area.  If it's not treated, over time it could result in Keloid scarring: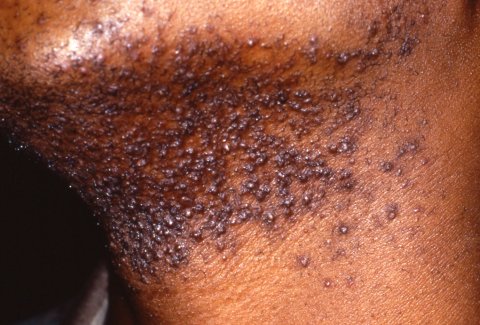 There are a number of factors that can lead to razor bumps.  One is genetic: if you have thick, curly hair you are much more likely to experience razor bumps.  Not practicing good shave technique, like using too much pressure on a razor or over-stretching the skin during a shave, can also cause razor bumps.
The modern multi-blade cartridge razor is also a major cause of razor bumps: they use "lift and cut technology," known as hysteresis in the industry.  The first blade is designed to tug on the hair and the following blade(s) cut it.  As the razor passes, the hair then retracts back under the skin line.  Curly hair or blockages of the follicle may not allow the hair to exit the skin properly, causing a bump. So using a razor with fewer blades (or just one!) can be a good strategy.
The Gillette SkinGuard Blades And SkinGuard Strip
(Note: Amazon links are affiliate.)
While the Gillette SkinGuard uses a two blade cartridge, the blades are spaced too far apart for the hysteresis effect mentioned above.  I asked a Gillette representative why they chose two blades for the Gillette SkinGuard blade cartridge instead of just one like the Gillette Guard or Treo.  This was the response:
"As a blade edge engages a hair it both cuts and lifts.  In multi blade products, with progressive geometry, successive blades engage with and elevate hairs, lifting and cutting. In SkinGuard specifically, blade 1 engages with the hair, cuts and lifts. 
"In regards to why we decided to move forward with a two blade razor, the final design of the razor we launch is always based on the design that performed best in our consumer testing. That includes (but is not limited to) the number of blades, the sharpness of the blades, the coatings on the blades, the distance between the blades and the distance between the blades and the skin."
So…marketing.
Visually the Gillette SkinGuard cartridge is very similar to a Gillette ProShield cartridge with three blades removed: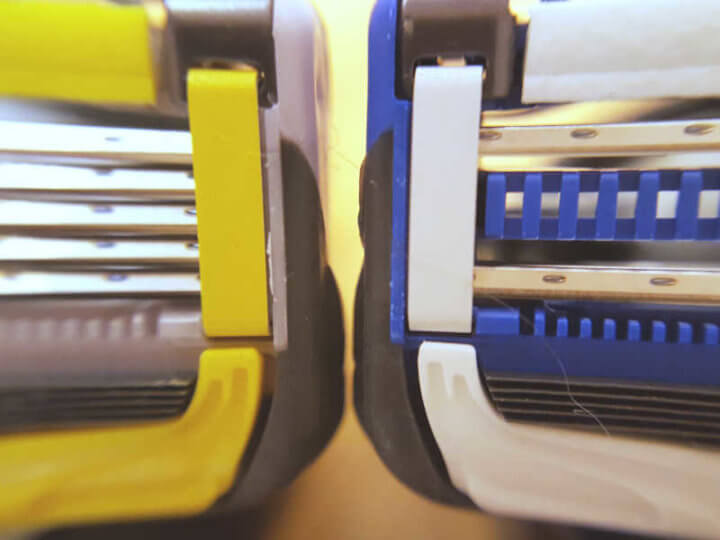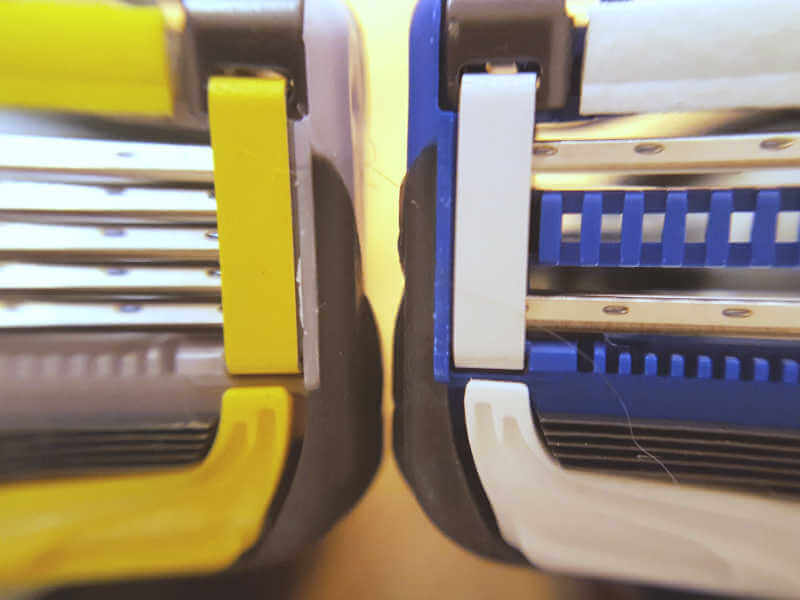 Lubrication strips before and after the blade sets
Five pre-tensioners ("fins")
Lather channels
Trimmer blade on reverse (not shown)
Of course the main differentiator is the "SkinGuard" of the Gillette SkinGuard cartridge, a plastic strip in place of the middle three blades of the typical Fusion cartridge, essentially providing a skin-flattening surface while the strip's thickness raises the blade level slightly (in relation to the skin).  From Gillette's website: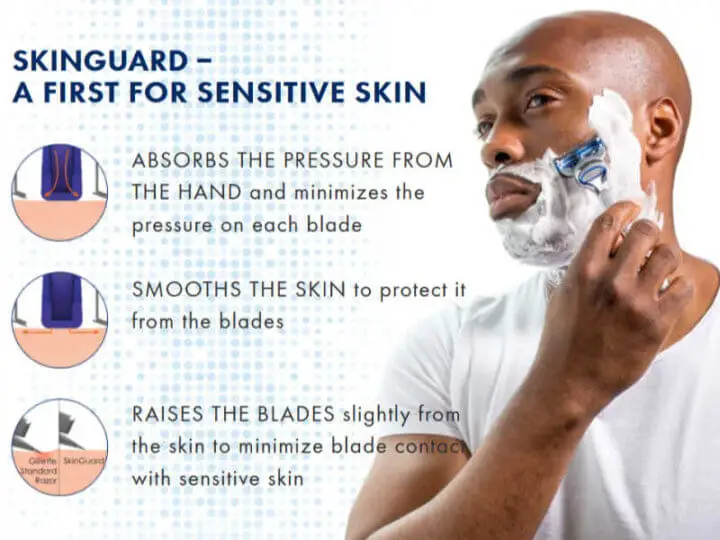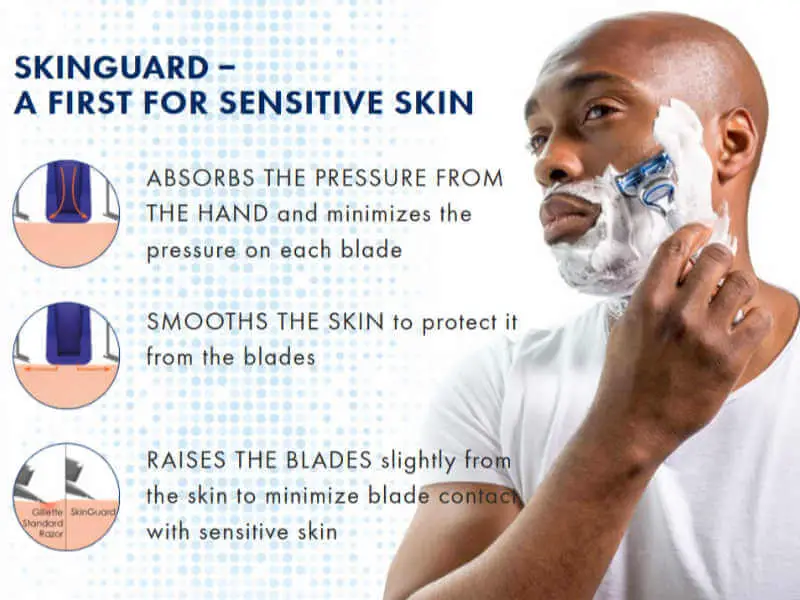 Subjectively it also looks like the two Gillette SkinGuard blades are set to milder angles than the blades in the ProShield cartridge but I reached out to a Gillette rep. for comment on this and they said the blade angles are identical.
The Gillette SkinGuard razor with two cartridges is just under US $10 at my local megamart.  Like most modern shave systems, there's a fairly low up-front cost but the back end will add up in the long run: an 8 cartridge refill pack runs about US $30 for example.
My Experience With The Gillette SkinGuard Razor
The Gillette SkinGuard cartridge works on any handle that accepts Fusion cartridges, so if you have a Fusion handle laying around, you're good to go.  If you don't have a Fusion handle you can get the SkinGuard with a handle.  The handle looks like a different design to me but I'm told it's just a different color scheme of the original Fusion handle (but it's not a FlexBall handle).
So here is my Gillette SkinGuard review. My first couple of shaves with the Gillette SkinGuard were decent, if a little messy: I used traditional shave cream with a shaving brush and the lubricant on the cartridge mixed with the lather in an odd way, creating little "tendrils" and generally not shaving with a clean track (I've seen this happen with other lubricated cartridge razors too, especially the lubrication "gel" in some Schick Hydro cartridges).  However, the results of those shaves were actually quite decent–solidly in the "Darn Fine Shave" (DFS) range, though not "Baby's Butt Smooth" (BBS).
I switched to more mainstream, brushless shave creams, including Cremo, Pacific Shaving, Nancy Boy, and Gillette's PURE shave cream or Planet Kind shave cream – I added a pre-shave oil to the PURE product and it performed much better) and got a less messy shave with a cleaner razor "track" across the skin.
There is virtually zero "blade feel" from this razor–to me it feels like a piece of plastic is being drawn over my skin.  On the other hand, I think the shave is actually quite comfortable.  It just doesn't feel like shaving to me.
My shaves quickly and easily reach DFS territory using Gillette SkinGuard, without a whole lot of focus or energy attached to the process, though BBS shaves are more elusive.  Considering how the "SkinGuard Strip" works, and how this razor is marketed, I do not find it particularly surprising that I can't get that glass-like, BBS finish.
Frequently Asked Questions
Conclusion
Of course you can also avoid razor bumps by practicing good shave technique with a razor that just has one blade (ahem…).  And if you're looking for an "easier" shave with a single blade you can even get one with a pivot.  But the Gillette SkinGuard razor seems to do what it set out to accomplish–an easy, quick, "good" shave with a lower chance of getting shave bumps.
Have you tried the Gillette SkinGuard razor?  What do you think?  Leave a comment below.
Like this post?  Please share it!