[Updated October, 2020] My recent article on the most popular double edge razors by sales included the Feather AS-D2 razor.  Here is my take on that razor.
Feather AS-D2 Razor Specs
(Amazon, Smallflower, and West Coast Shaving links are affiliate.)
Feather's own website is pretty skimpy when it comes to specifications for the AS-D2.
Amazon's description is full of puffery but no real specifications, either.
Seki Edge, Feather's North American distributor, offers a bit more detail:
Razor Length: 98mm/3.9″
Razor Head Length: 43mm/1.7″
Razor Head Width: 25mm/1″
My digital kitchen scale shows the AS-D2 coming in at about 3.2 oz (90 grams).
So it's essentially a three-piece double edge razor with a 3.5 inch handle.
The AS-D2 is fully stainless steel, handle and head (not just the handle like some razors that advertise themselves as "stainless steel").
My Experience With The Feather AS-D2
I was initially disappointed with the performance the Feather AS-D2 double edge razor.  I knew it had a reputation as a very "mild" razor but at first it was difficult for me to get any kind of decent shave out of it (and I like mild razors) and I considered selling it off.  Then I tried it with a Feather Hi Stainless double edge blade.  The scary-sharp Feather blade, a tiger in most razors, becomes a kitten in the AS-D2.   The AS-D2 matches perfectly with a Feather blade!  It's "mild" but "efficient" at the same time.
The combination of the razor's small blade gap and the blade's highly efficient edge gives me the feeling that I'm hardly shaving at all: it almost feels like I'm shaving without a blade but the stubble still disappears.  I do have to be somewhat mindful of my shave using this razor but for a leisurely, luxurious double edge experience the AS-D2 works well.
I find the fit-and-finish, weight and balance of this razor excellent: enough "heft" to feel solid in my hand, with the balance weighted toward the head where I like it.  Speaking of the head, I think the design and engineering of the Feather AS-D2 head is noteworthy.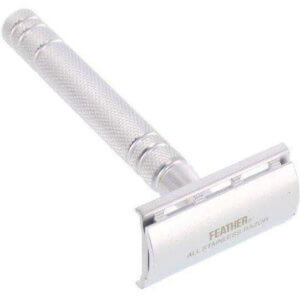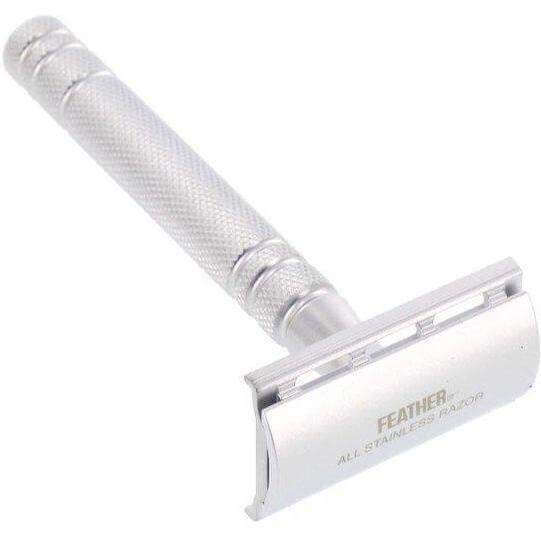 Pricing
The Feather All Stainless is in it's second generation now (that's where the "D2" comes from).  You may find a range of prices for the AS-D2 set.  This is partly because there are slight variations in the "kit"–some include a custom stand or a special gift package for example.  You can find the razor alone for less but be sure you're comparing applies-to-apples when shopping.
Conclusion
Not long ago the Feather AS-D2 All Stainless Steel razor was considered the high-end double edge razor.  Now it's practically "bargain basement" in its class: the past couple of years have seen an explosion of artisan-made, luxury-priced razors with premium materials (like stainless steel or titanium).
This razor is well-designed and well-built but has a reputation as being very mild.  You will want to use a high performance blade for best results.
This razor is widely available from many online retailers including Amazon, Bullgoose, Smallflower, Fendrihan, Maggard, and West Coast Shaving.