My article and video about wet shaving as a ritual generated a lot of interest so I thought I would discuss some of my ritual highlights a little more.
Elements Of A Ritual
I'm once again reminded of Leisureguy's blog post about the Japanese Tea Ceremony:
"Special room – check
Special mode of dress – check
Contemplative, unrushed mindset – check
Cleanliness and order – check
Practice of technique requires focused attention (aka flow) – check
Use of special tools, often old – check
Tools both functional and aesthetically pleasing – check
Suspension of mind chatter, critical judgments – check
Senses—sight, hearing, touch, smell—fully engaged – check
Physical enjoyment of sources of warmth – check
Awareness and enjoyment of aromas arising from hot water – check
Definite sequence of steps – check
Specific structure for the entire experience, repeated each time – check"
For me the keys here are the use of special tools and engaging the senses.  I mentioned some of these ideas in a different context in my articles "5-4-3-2-1 Favorites" and 3 Things That Make A Difference In My Shave.  But here are some relevant comments on three specific elements that make a difference in my "ritual" (other than using a single blade razor, which is probably pretty obvious to anyone reading this article).
Face Wash Power Brush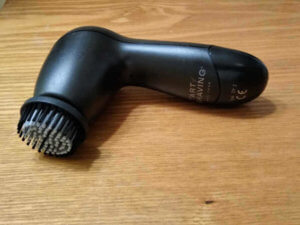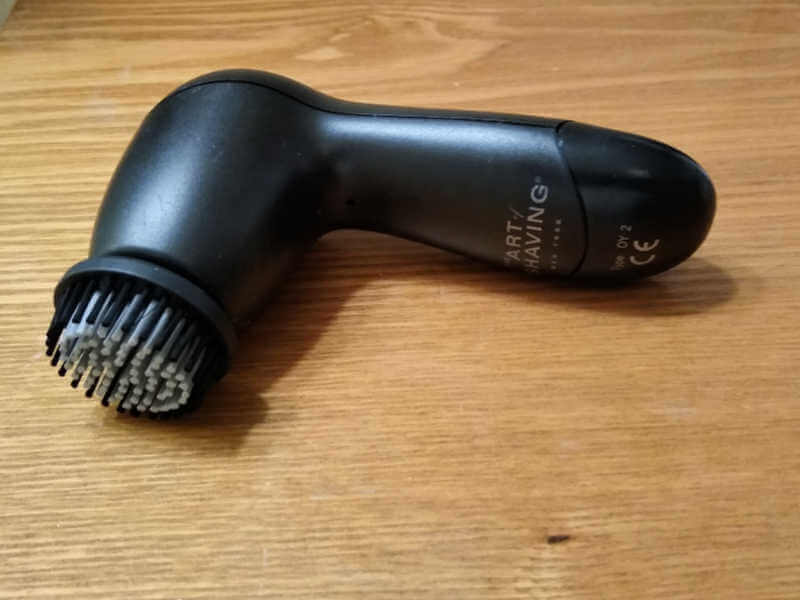 [Note: Amazon, OneBlade, and West Coast Shaving links are affiliate.]
Clean skin is essential to a good shave.  But I have discovered that using a powered cleaning brush actually forces me to slow down and be a little more focused on my cleaning, at least compared to throwing some soapy water on my face with my hands. The powered brush has become part of my "ritual" if I'm not shaving immediately after jumping out of a shower (which is becoming more often these days, as I seem to be shaving in the evening more).
I use a The Art Of Shaving (AoS) Power Brush (AoS markets the brush a razor bump/ingrown solution but it works great as a pre-shave tool for me), and I've seen the Clarisonic Mia Men cleaning brush on Amazon get some good reviews, but any decent brush should do.
Lather Scent Selection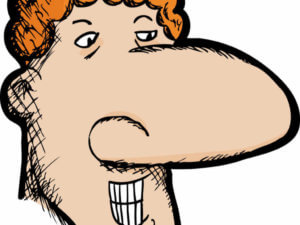 I don't know about you but scent is a huge part of the enjoyment I get out of 'old school' shaving for me.  And selecting the appropriate scent for my mood or goal is definitely an important part of my shave ritual.  I have two opposing dimensions when it comes to lather selection: I want something either calming and relaxing or something energizing.  I find that floral or cologne scents tend to relax me, and citrus or spice scents tend to energize me.
In this crazy time I find myself gravitating towards the calming/relaxing end of the scent spectrum.  Lavender is a scent well-known for its relaxing properties and I do find it works as intended on me, as long as the scent is strong enough (regular Sharpologist readers know I have a notoriously "dull" nose).  My favorite lavender shave products these days include:
Other florals like Trumper Violet and Salter Rose are also in my mix.  Cologne scents I enjoy and relax with include:
When the day finally comes that I want to get back to being energized I'll turn to:
After Shave Wipedown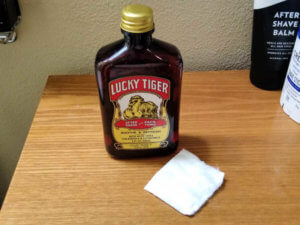 I soak a cotton pad (you can find them in the cosmetics isle of your favorite department store, drugstore/chemist, or grocery store) with a toning product and generously wipe down the shaved area.  My personal favorite is Lucky Tiger's After Shave & Face Tonic but any good, thin consistency toner (even Witch Hazel) works fine for me if I'm out.
I've done this bit for so long that I miss it if I don't do it–my shave feels "incomplete."  So it has definitely become an important element in my shaving ritual.  And again it forces me to take a moment to reflect.
Conclusion
Making your shaving routine a "ritual" will probably generate several benefits for you, as these highlights of my ritual have hopefully shown you.
What elements of your shave do you consider an essential port of your ritual?  Leave a comment.