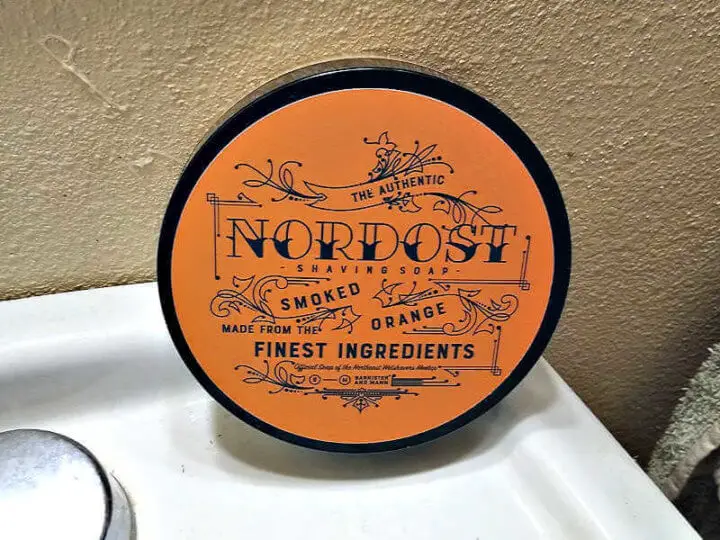 I got a jar of Barrister and Mann Nordist shave soap when I attended the 2019 Northeast Shave Meetup in November at Foxwoods in CT.  The soap/aftershave set became available to everyone afterward and has been released as a winter seasonal offering. Here's my take on it.
Barrister And Mann Nordist Shave Soap
From the Barrister And Mann website:
"Rich and elegant, with undertones of dusky sweetness, Nordost is the smell of smoked oranges, their peels made leathery by the heat, their juice darkened and concentrated and wonderful. This is no weak, muddled orange scent, handicapped by the fragility of the fruit's natural oil, but instead an intense, distinctly authentic fragrance so deeply luscious that you'll swear you've buried your face in a basket of the real thing. We consider Nordost to be one of our crowning achievements, a glorious, impassioned love letter to the warmest and friendliest citrus. Enjoy, and long live the orange.
Orange oil is famously frustrating to work with, highly unstable and prone to oxidation, and extremely weak unless you use the stuff by the bucketful, which can disturb the chemistry of soap and presents skin allergen problems. We've searched for years for a safe way to produce an orange scent that properly reflects the rich warmth of the genuine article, and, at long last, we've finally found it."
Ingredients: Aqua, Glycerin, Potassium Stearate, Potassium Tallowate, Sodium Stearate, Sodium Tallowate, Cocos Nucifera (Coconut) Milk, Potassium Kokum Butterate, Methyl Gluceth-10, Xanthan Gum, Sucrose Cocoate, Potassium Ricinoleate, Sodium Kokum Butterate, Allantoin, Butyrospermum Parkii (Shea) Butter, Lanolin, Simmondsia Chinensis (Jojoba) Oil, Sodium Lauroyl Oat Amino Acids, Fragrance, Sodium Ricinoleate, Tetrasodium EDTA, Tocopheryl Acetate
My Experience With Barrister And Mann Nordist Shave Soap
The scent of Nordost has been called "elegant," with a mid-strong natural orange note and an additional smoke note, that is the same for me both from the tub and lathered on the face. One reviewer described the smell as "…an orange peel that's been hit with a flame before being a garnish for a high end cocktail." I agree with that assessment.
The soap uses Barrister And Mann's excellent "Excelsior" base that I've mentioned before. It loads very easily onto the brush and is the consistency of yogurt when dialed in (it actually reminds a little of PAA's CK6 formulations), though I don't get big "peaks" in my hard water.  Like other Excelsior-based shave soaps from Barrister And Mann I think lubrication is outstanding and cushion very good.  I find post-shave moisturization excellent as well, leaving my skin soft and supple.
Conclusion
There is a matching aftershave splash (in Barrister And Mann's "Deltus" base formula).  Admittedly I am not a big fan of alcohol-based aftershaves but if you're looking for a complementary aftershave this is certainly it.
My experience with Barrister And Mann Nordost shave soap gives me an understated elegance kind of vibe.  The scent is simple in one respect, with a pure citrus scent that other shave products have, but with a an unusual and I think up-scale scent note that sets it apart.  Lathering is easy and the performance top-notch.
Nordost is a seasonal scent for Winter and will be made until March 2020.