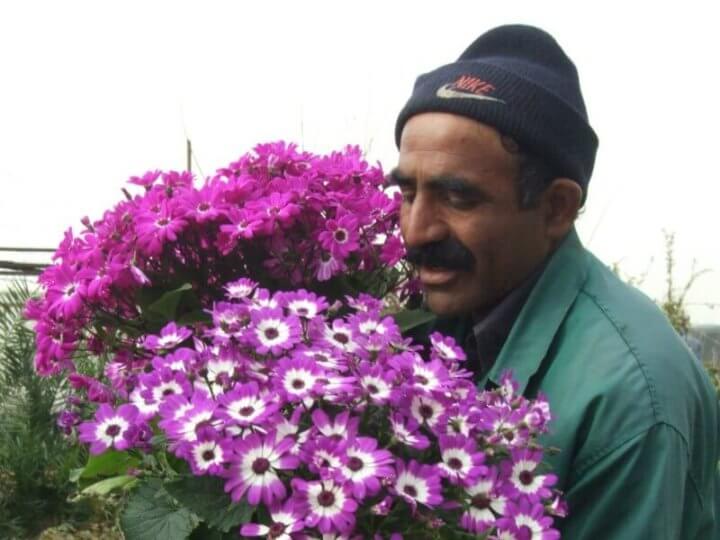 [Updated July, 2020] Can floral scents in a shaving product be considered "masculine?"  There are some specific products that I think are!

What Is A Masculine Floral Scent?
I think a masculine floral scent is stronger, more "earthy," and less "powdery" than its more feminine counterpart.  Sometimes a scent's masculinity can be enhanced with some other complimentary scent(s) but the dominant scent should be floral.  And of course it should almost go without saying that the product itself should work well, regardless of scent.  Here are the top three masculine floral shave products that I have enjoyed.
[Note: Amazon links are affiliate.]
Violet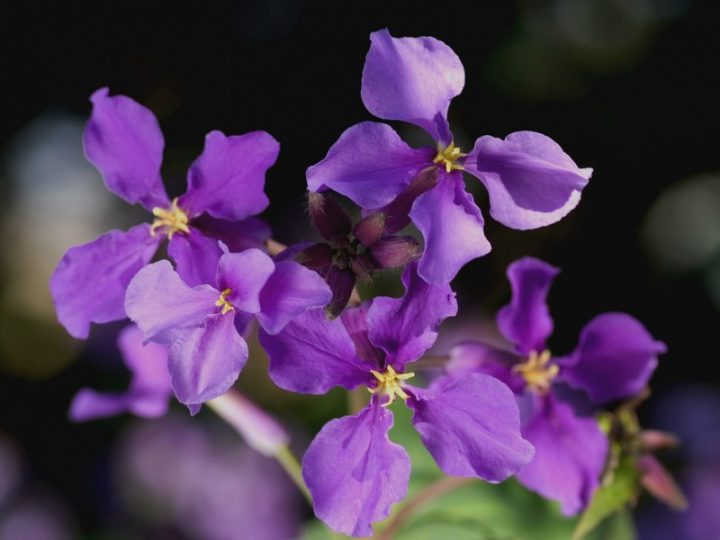 Wikipedia describes the violet plant as "is a genus of flowering plants in the violet family Violaceae. It is the largest genus in the family, containing between 525 and 600 species."  So there is obviously some leeway on just what "violet" smells like, but if you have smelled it before you will know it when you come across it again.
"One quirk of some
Viola
is the elusive scent of their flowers; along with terpenes, a major component of the scent is a ketone compound called ionone, which temporarily desensitises the receptors of the nose, thus preventing any further scent being detected from the flower until the nerves recover." –
Wikipedia
Trumper's Violet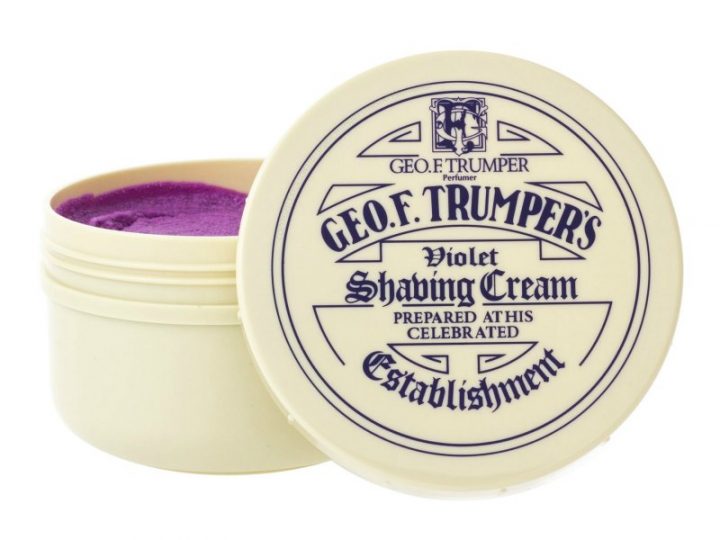 My first exposure to a masculine floral scent in a shave cream was when I tried Trumper's Violet (Amazon affiliate link).  Back when I was first getting into old school wet shaving Corey Greenburg, a semi-regular guest on technology subjects on the NBC television "Today Show," did a segment on old school shaving in 2006.  Corey was also active on the early shave forums on MSN (now long defunct) and described how the "burly" studio stage hands were taking "big, dreamy whiffs" of the shaving products he brought in, including Trumper's Violet (I may not be getting the exact quote correct but you get the idea.  Corey has a great writing style.  He is no longer in active in the shaving niche' but his legacy is undeniable).
That was right about the time I got a sample pack from Trumper that included their Violet shave cream.  The scent is described as "subtle," "earthy," and "powdery."  For me it is earthy, a bit powdery, but definitely not subtle: I like relatively strongly-scented shave products and–while it's not overwhelming–I think Trumper's Violet shave cream's scent is quite noticeable and persistent throughout my shave.
Performance is, like most all of the Trumper shave creams I have used, excellent (soaps? Ehhhh, less so…).
Ingredients: Aqua (water), Stearic Acid, Myristic Acid, Potassium Hydroxide, Coconut Acid, Glycerin, Parfum (fragrance), Triethanolamine, Sodium Hydroxide, Methylparaben, Propylparaben, CI 17200 (D&C Red 33), CI 42090 (FD&C Blue 1), Alpha-Isomethyl Ionone, Citronellol, Eugenol, Hexyl Cinnamal, Hydroxycitronellal, Butylphenyl Methylpropional
Lavender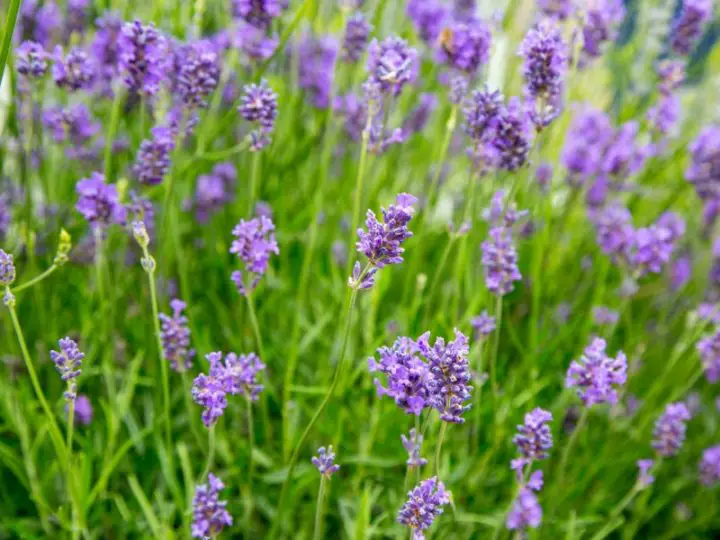 According to Wikipedia, lavender is "…a genus of 47 known species of flowering plants in the mint family, Lamiaceae. It is native to the Old World and is found from Cape Verde and the Canary Islands, Europe across to northern and eastern Africa, the Mediterranean, southwest Asia to southeast India. Many members of the genus are cultivated extensively in temperate climates as ornamental plants for garden and landscape use, for use as culinary herbs, and also commercially for the extraction of essential oils. The most widely cultivated species, Lavandula angustifolia, is often referred to as lavender, and there is a color named for the shade of the flowers of this species."
Lavender is reputed to have calming and relaxating properties.
There are many fine shave products with a lavender scent: Castle Forbes, DR Harris, and Fine to name just three (Amazon affiliate links).
Dr. Jon's Flowers In The Dark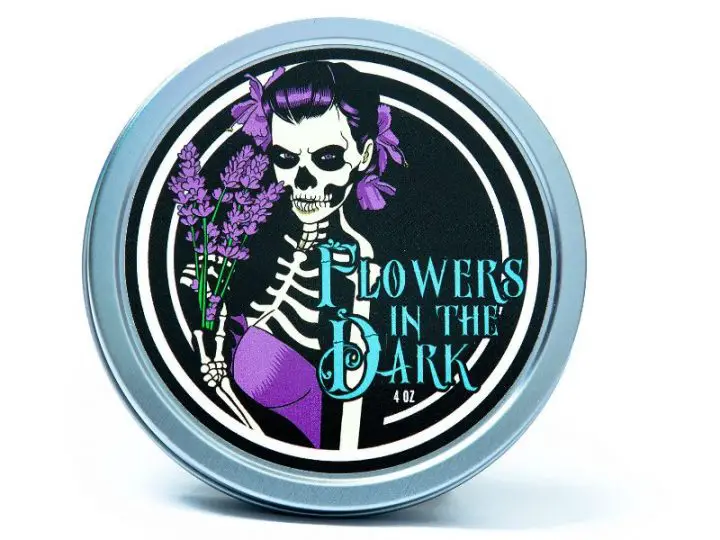 I recently wrote about about Dr. Jon's Flowers In The Dark shave soap (West Coast Shaving affiliate link; also available at Maggard.  It's back, and a great example of a masculine lavender scent.
Dr. Jon's describes the scent as "…lavender with a soothing undertone that is somehow familiar yet unnatural at the same time. After the lavender fades all that remains is something resembling coffin wood and ozone, a disturbingly pleasant combination."
To me this is a deep, "dark" lavender base, with an "old wood" note that really complements the lavender well.  I think "disturbingly pleasant" is actually a pretty accurate description!
I also think this shave soap performs very well, especially for a "vegan" soap.
Ingredients: Stearic Acid, Water, Castor Oil, Potassium Hydroxide, Shea Butter, Mango Butter, Babassu Oil, Essential/Fragrance Oils, Sodium Hydroxide, Sunflower Oil, Avocado Oil, Evening Primrose Oil, Meadowfoam Oil, Aloe Vera, Soy Wax, Slippery Elm Bark, Citric Acid.
Rose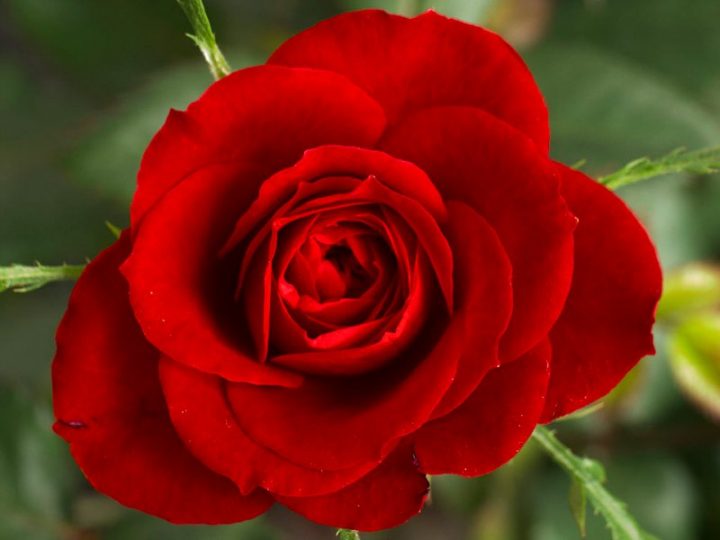 Wikipedia says rose is "a woody perennial flowering plant of the genus Rosa, in the family Rosaceae, or the flower it bears. There are over a hundred species and thousands of cultivars."
Besides the obvious common ornamental uses for roses, rose hydrosol is reputed to have antiseptic properties.
Cyril Salter Wild Rose
Like lavender, rose could be considered as a "classic" traditional wet shaving scent: for example, Trumper's Coral Skin Food (Amazon affiliate link) is actually a rose scent and has been around for ages.  There are many examples from both the old-line, established manufacturers and the new, up-coming artisans: Taylor Of Old Bond Street, DR Harris, Simpsons, LA Shaving Co, and Wholly Kaw get a lot of mentions from the aficionados (Amazon links are affiliate).
But of the rose-scented shave creams I have tried I like Cyril Salter Wild Rose shave cream (Amazon affiliate link).  I think it has a deeper, stronger rose scent than many other similar products.  Performance has been outstanding for me, too.

Embrace The Flower!
So don't be afraid to try a floral-scented shave product.  You might be surprised how downright manly they can be!