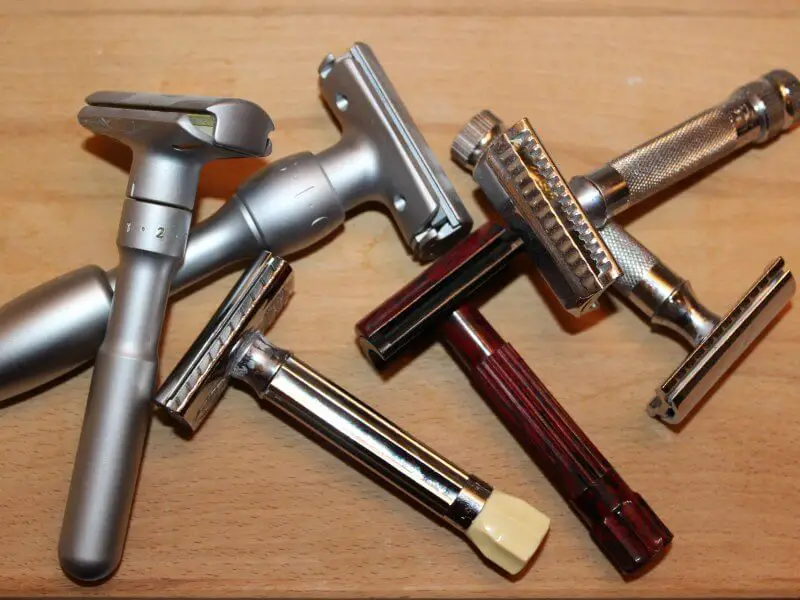 New to the idea of shaving with an old-school safety razor with a single blade?  You may have discovered that there are actually a dizzying variety of "safety razor" types, without much explanation of the differences.  Let's try to correct that.

The "Safety" Part Of A Double Edge Safety Razor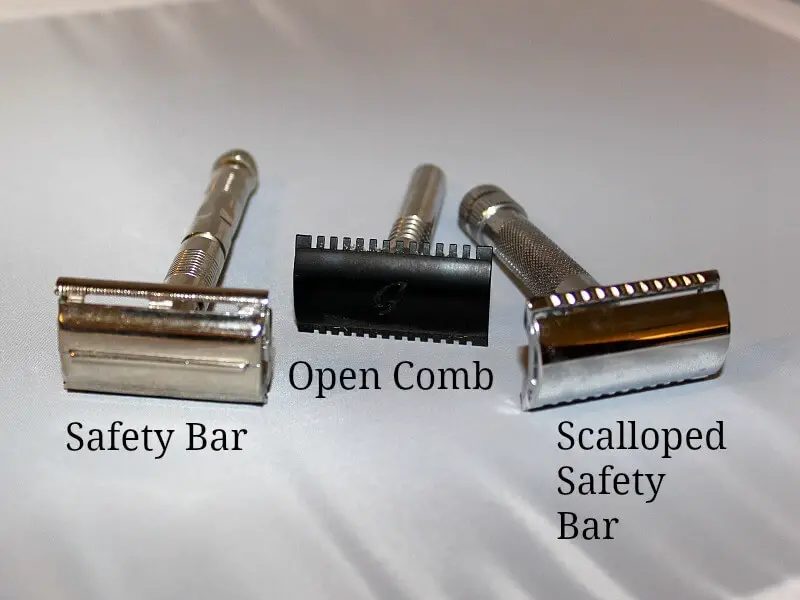 Double edge ("DE") razors have heads that can be divided into two broad groups: Open Comb and Safety Bar. Open comb razors have obvious "teeth" that help guide heavy stubble and shaving cream into channels. Safety bar razors have a bar (solid or scalloped) that provides some additional protection to the skin from the blade's edge. Generally, Open Comb razors will not be as gentle on the skin as safety bar razors (the Muhle R41* notoriously so!), though there are exceptions (such as the Parker 24C* or 26C*). Most older vintage razors will have an Open Comb.
Within those two broad head groups are various design and engineering aspects, mainly the amount of exposed blade edge, that can give a specific razor model "gentle" to "aggressive" (or "efficient" to "uncomfortable" depending on which articles you read) characteristics.
Three Piece vs. Two Piece vs. One Piece ("Twist To Open")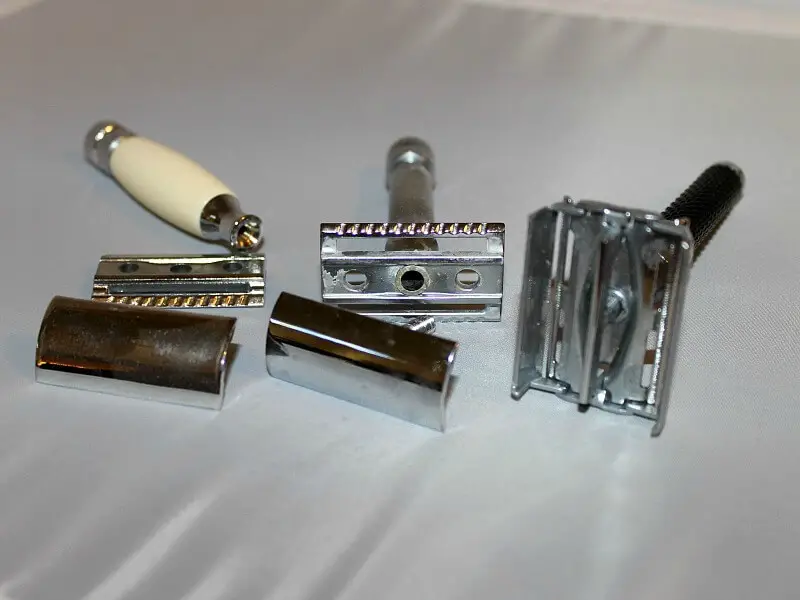 DE razors as a unit are typically constructed in one of three ways. Three piece is the "classic" (and easiest to manufacture) type, consisting of a handle, a base plate, and a head or cap. Another advantage of a three piece design is that you can sometimes "mix and match" the three pieces from different manufacturers, creating entirely new razors (you'll sometimes see this referred to as a "frankenrazor" after Frankenstein's monster).
Two piece have the base plate permanently mounted to the handle.
A one piece "twist to open" (TTO) razor is the type that was most common just before the advent of cartridge razors: the Gillette SuperSpeed is the razor most people think of when they think TTO:
TTO razors are still widely available though many shavers say the over-all quality of many are not as high as those vintage razors.
The material for making these razors can range from high-priced Titanium or Stainless Steel down to plastic, though they are most commonly made out of a chrome-plated zinc alloy called Zamak (or Zamac).
Slant Razors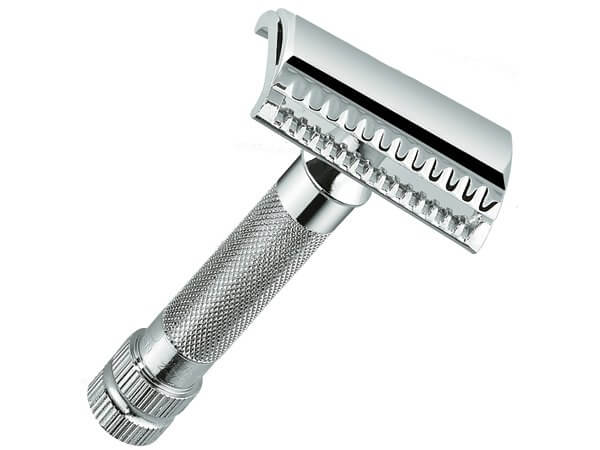 A slant-bar razor ("slant" for short) is a sub-class double-edged (DE) safety razor whose blade is mounted in such a way as to strike the stubble at an oblique angle, since a slanted blade cuts more easily than a straight-on chop—think of the slanted blade of the guillotine and of many kitchen mandolins, such as the Swissmar Borner V-Slicer.* If you want to learn more about slant-bar razors take a look at THIS Sharpologist article.
Set Gap vs. Adjustable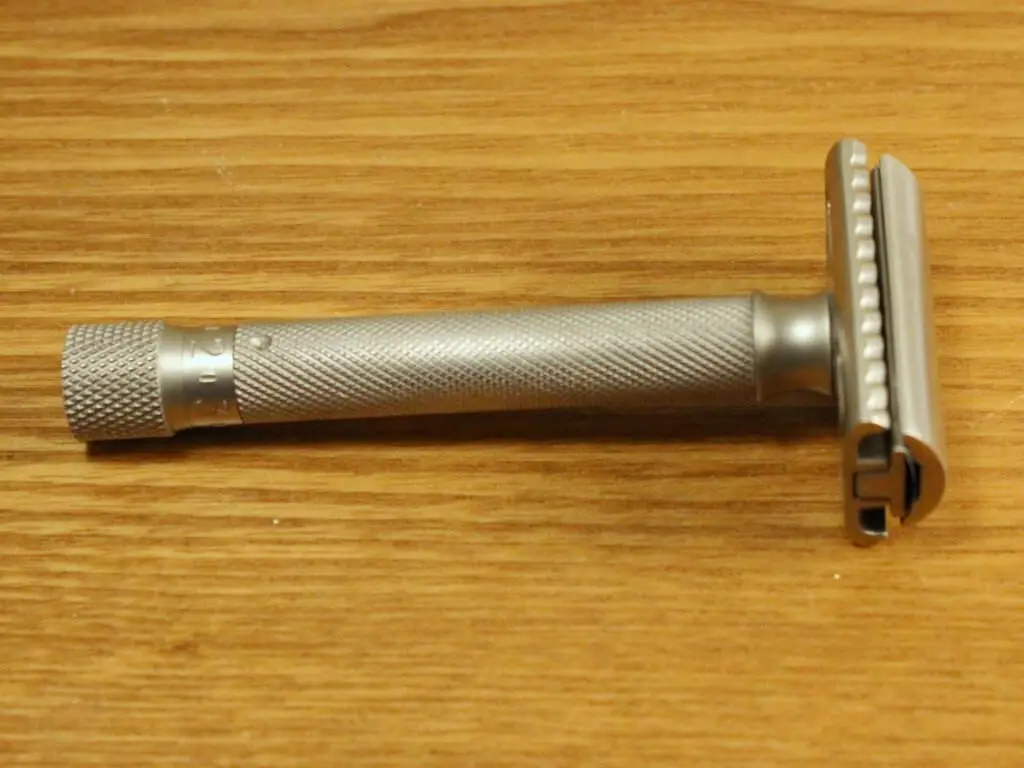 The vast majority of razors have a set blade gap: the amount of the gap distance between the blade edge and the bottom of the razor (with safety bar) is determined by the manufacturer for a particular model of razor. However "adjustable" razors can change the gap to make them more gentle or more aggressive. There are only a few fully adjustable razors currently made, mostly from Parker* and from Merkur* (there are low-cost clones* of some of these razors beginning to enter the market.  Quality control is an issue with these razors though, exercise caution). There are also some vintage adjustable razors.
There is also the Rockwell 6S (and it's lower-cost brother, the 6C).  It is not an "adjustable" in the normal, continuously-variable sense, but rather they offer different base plates with each plate having a different amount of blade exposure.
Double Edge vs. Single Edge?
No discussion of double edge razors would be complete without mentioning the single edge razor.  Still one blade, but instead of having two blade edges, these razors have a single "side" to shave from.  While double edge designs dominate the safety razor world, single edge razors are enjoying a bit of a come-back lately, with new models appearing based on early vintage models.  Perhaps the best known single edge razor is the Schick Injector, Gillette's primary competitor through the 1960's.  Although Schick no longer manufactures the Injector, there have been cheap far-eastern clones produced.  More recently a much better Injector-style razor, the Supply Single Edge, has launched, with an "adjustable" design similar to the Rockwell DE.
Another early vintage design to get a modern make-over is the GEM razor.  Artisans such as  Above The Tie, Blackland, and Rocnel are producing razors for the single edge GEM-style blade.
Finally, the OneBlade razor uses an established single edge blade that is a variant of the GEM blade.
Some shavers consider single edge blades designs to double edge because the blades are thicker, stiffer, and may provide a more efficient, comfortable shave for those with very heavy stubble.
Hopefully you know have a better understanding of just what a "safety razor" is and what kinds of variations might appeal to you.
*affiliate link
Still have a question?  Leave a message below!