There are a lot of great wet shaving products.  A few have become "legends" in one way or another.  But is the reputation (and price) of some of them deserved?  Here are five wet shaving products that I think are over-rated.
Note: Amazon, Grooming Lounge, Smallflower, and West Coast Shaving links are affiliate.
1. Martin de Candre Shave Soap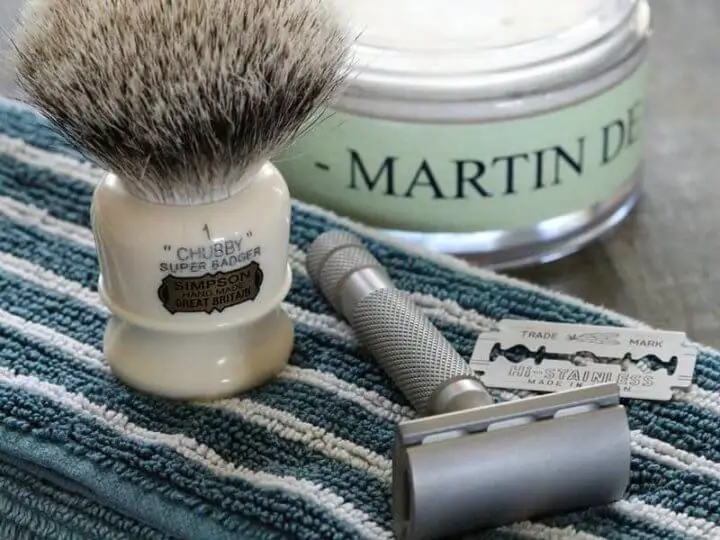 Martin de Candre ("MdC") shave soap may be the first "super premium" artisan shave soap, at least in the modern sense, having started in the 1970's.  Insanely expensive and sometimes difficult to get (MdC website, Maggard Razors, and West Coast Shaving for example), MdC is often regarded as a luxury shave soap with an almost-mythical reputation.
The thing is, it doesn't really deserve its reputation anymore, IMHO.
Oh, it's an excellent shave soap all right, don't get me wrong.  But there are plenty of other shave soaps that are equal (or better) in quality and performance, for a (sometimes much) lower price.
2. Merkur Futur Razor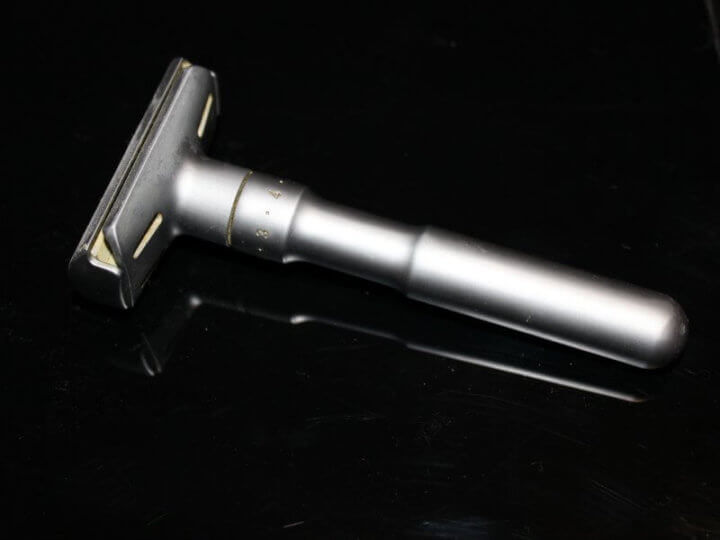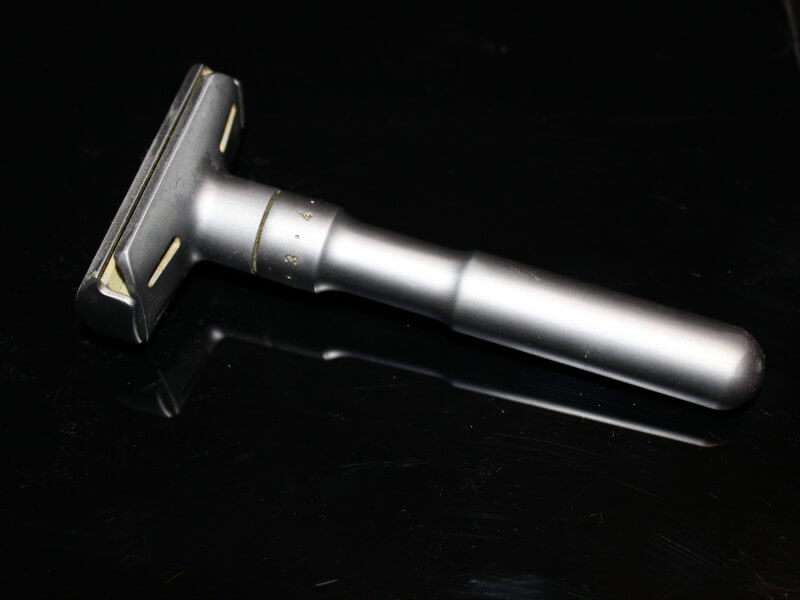 The Merkur Futur has been around since about 1985.  And, as the name suggests, the design goal was to make a futuristic-looking razor.  Personally, I think a lot of this razor's popularity owes itself more to the futuristic design than to its actual performance.  As I mention in my review of the Futur:
"I think the head is too large, the adjustment range is biased too far on the "aggressive" side, and the smooth handle is slippery in my wet fingers (a common complaint mentioned in other reviews)."
Recently Qshave started selling a Futur clone, the Qshave Adjustable.  As you can see from the image below, the Qshave Adjustable (right) is very similar to the Merkur Futur (left):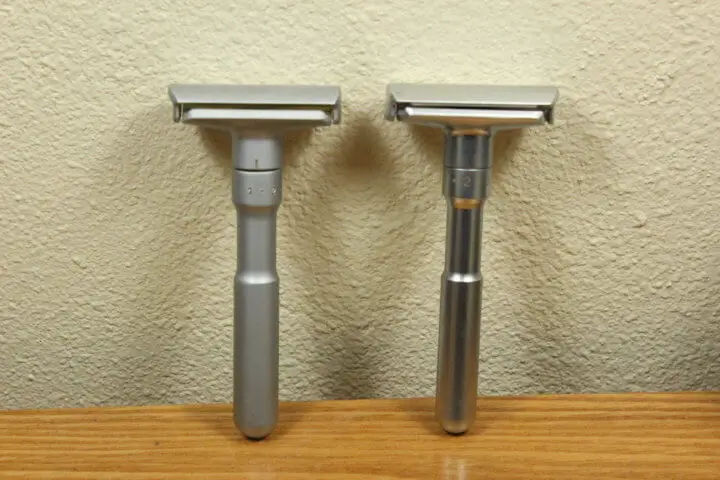 I'm amazed that Merkur has not publicly and aggressively pursued some kind of litigation against Qshave.
The thing is, for me, the Qshave Adjustable shaves me better than the Merkur Futur!  The adjustment window is less biased toward the "aggressive" end of the range and the handle seems to fit better in my hand.  Plus the Qshave is a fraction of the price of the Merkur (to be sure, design and engineering shortcuts have obviously been taken with the Qshave, calling its long-term durability into question).
Plus, if you're looking for an adjustable double edge razor and can do without the futuristic-looking design, there are a number of excellent alternatives.
3. Muhle R41 Razor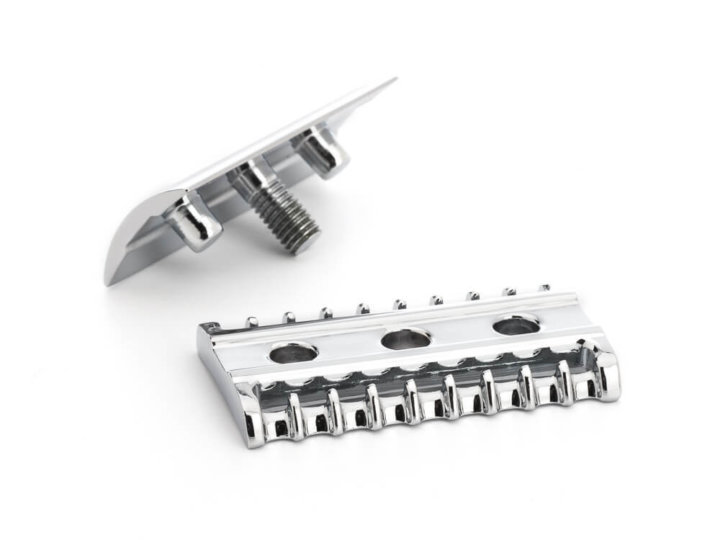 Sometimes I think that using the Muhle R41 open comb razor is only good for manhood-measuring contests.  Most examples of the R41 are just ridiculously aggressive–though a design tweak in 2011 did "tone it down" slightly.
I'm sure there are a few hardy souls out there who have facial hair so tough that only the R41 can deal with it.  But for most everyone else it just brings on one of those "WTF" moments in their wet shaving interest.
It is a well-built razor and if you genuinely need a really aggressive razor this is it.  But for 99.999% of the shavers in the world a less aggressive razor will be just fine.  If you want to explore the open comb design take a look at early vintage double edge razors, or better-suited models like the Parker 24c.  Or if you're looking for a generally more aggressive razor look at adjustable or slant razors.
4. "Plisson-style" Synthetic Brush Fiber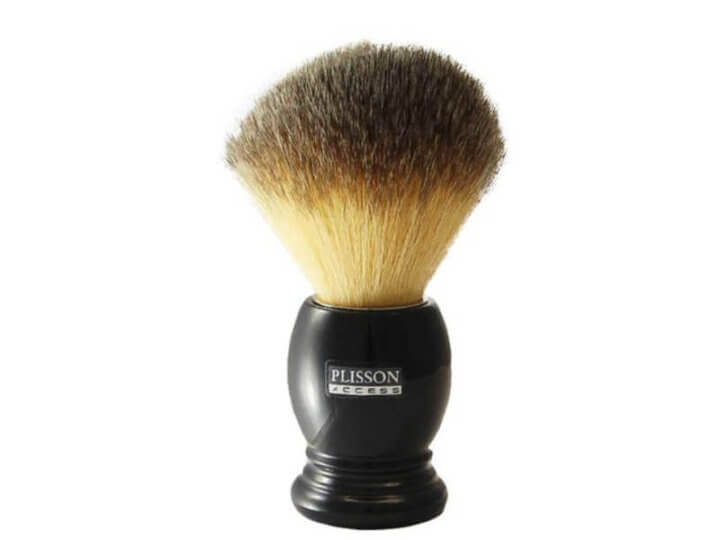 I think it's safe to say that Plisson's introduction of their synthetic shave brush material around 2016 revolutionized the synthetic shave brush niche'.  Shave brushes with synthetic fibers of one type or another have been around for years but the Plisson fiber was the first to reasonably compete with animal hair brushes in terms of performance.  And artisans are still making shave brushes that use that fiber (or a close version): you'll often see a variation of the Plisson name–words like Plissy, Pliss-like, Pliss-esque, etc.–on these brushes to "ride the coattails" of the brand.
The thing is, I think anyone selling a brush with this fiber is being lazy.  Synthetic shave brush fiber technology has grown leaps and bounds since 2016 with many new fiber materials that are superior in performance and competitive (or better!) in price.  Personally, I think the fiber of the PAA Peregrino brush is competitive with the higher grades of badger hair, at a much lower price-point.
5. Simpson "Chubby 3" Shave Brush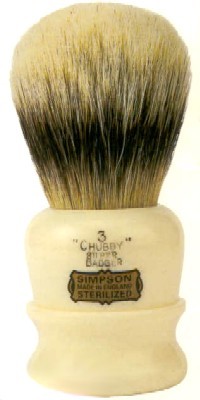 Ahhh, the Simpson Chubby 3 shave brush with "Manchurian" (or "High Mountain White") grade badger hair.  Considered by many enthusiast wet shaving "old timers" to be the pinnacle of shave brushes.  And obscenely expensive for the time (and still expensive now).  Those who subscribed to "Method Shaving" years ago were told this was the only brush to use.
But this legendary brush has long since lost its luster.  There are now many more choices, both by source/brand and by fiber.  Any of the best shave brushes on the market can compete favorably with this brush based on performance.
Conclusion
It can be fun to fondly look back on the products that made traditional wet shaving history.  The legacy of some products will be remembered for a long time.  But don't let "old school" prevent you from checking out some of the newer, yet traditional in spirit, items on the market.
What wet shaving products do you think are over-rated?  Leave a comment below!