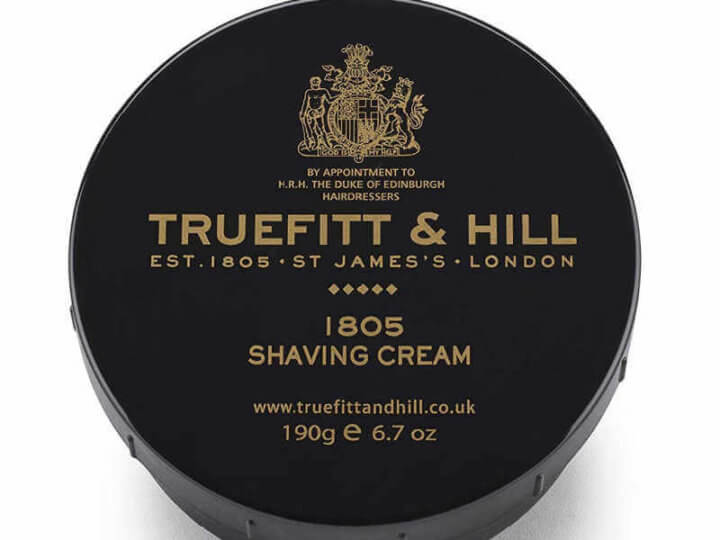 Truefitt And Hill 1805 is their most popular shave cream.  Let's take a closer look at it.
Truefitt And Hill Background
Truefitt And Hill is one of wet shaving's classic brands…often referred to as one of "the three T's" (Truefitt, Trumper, and Taylor) by the wet shaving enthusiast community.
Note: Amazon, Smallflower, Truefitt and Hill, and West Coast Shaving links are affiliate.
From the Truefitt And Hill (North America) website (though it refers to the UK "home office"):
"For over two centuries Truefitt & Hill, recognised as the finest traditional gentlemen's barber and perfumer in London, has provided discerning gentlemen with only the finest in grooming products and services. Our offering truly gives men the opportunity to look and feel their very best.
"Established in 1805, we remain the world's oldest barbershop as stated in the Guinness Book of records and are barbers and Royal Warrant holders to H.R.H. The Duke of Edinburgh. Today's product offering is the result of over 212 years of research and intimate customer relationships. Our knowledge and experience provide today's man with an offering that is both sophisticated and practical. Gentlemen deserve the best in everything they do. If you are looking for the finest in men's grooming, we are confident you will find Truefitt & Hill's unmatched product quality and prestigious tradition unrivaled."
Truefitt And Hill 1805 Shave Cream
Again, from the Truefitt And Hill (NA) website:
Scent: A fresh oceanic fragrance with top notes of Bergamot, Mandarin and Cardamon, combined with a Lavender, Geranium and Clary Sage heart resting on a Sandalwood, Cedar Wood and Musk base.
Ingredients: Aqua (water), Stearic Acid, Myristic Acid, Potassium Hydroxide, Coconut Acid, Glycerin, Parfum (Fragrance), Triethanolamine, Sodium Hydroxide, Methylparaben, Propyparaben
Interestingly, Truefitt And Hill's UK site describes the scent differently:
"…employing notes from our 1805 cologne such as bergamot, lily, jasmine, and musk…."
The UK site doesn't list the cream's ingredients.
Do the North American and UK creams have different blends?
More On The Scent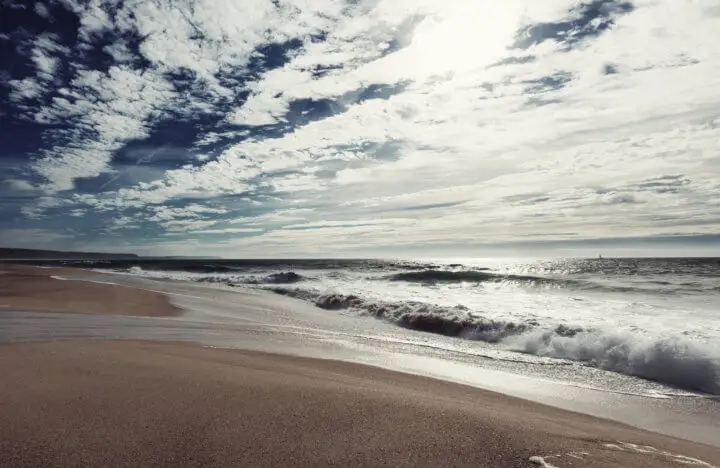 While those individual scent notes may not overtly say "oceanic" to me (Mandarin? Lavender? Geranium?), taken together there is definitely an ocean "vibe" to the smell.
Tailor And Barber likened it to a brine-like element.
Comments on Basenotes about the oceanic/marine/aquatic element include "a salty lavender note," "line-dried linen," and "maybe an tinge of ozone."  The salty lavender comment kind of piqued my curiosity.
For me (and my frustratingly insensitive nose) I think a salty floral note followed by a musk note is as close as I can get to a description.  I find the scent moderately strong and pretty persistent in the shave cream (comments about the 1805 cologne indicate it's not as long-lasting as some would like.  But for a shave product it's nice to have it last through the shave but not much longer if you're going to use an aftershave fragrance).
The 1805 scent is also available in a shave soap, aftershave balm, cologne, and bath products.
Performance
Of course, scent doesn't count for much if the product doesn't perform.  Truefitt And Hill shave creams have a general reputation as "top-shelf" and the 1805 shave cream doesn't disappoint.  Building lather is quick, easy, and voluminous.
While lubrication/glide is excellent, cushion/protection is just a bit below the other two "T's," at least in my hard water.  Truefitt And Hill's most recent shave cream, Apsley, works a bit better for me in the cushioning department (Apsley Ingredients for comparison to 1805's listed above: Aqua, Stearic Acid, Myristic Acid, Potassium Hydroxide, Coconut Acid, Glycerin, Parfum, Triethanolamine, Sodium Hydroxide, Mthylparaben, Parpylparaben, Limonene, Hydroxycitronellal, Citronellol, Hexyl Cinnamal, Butylphenyl Methylpropional).
Most shavers will find the performance differences subtle, though.
Conclusion
Personally I've long preferred Trafalgar but Truefitt And Hill 1805 shave cream is a popular "classic" wet shaving product that helps cement Truefitt And Hill's reputation as one of the premier brands.  It's also widely available as well, including their own websites in North America and the UK, and online outlets like Amazon, Maggard, Smallflower, The Stray Whisker, West Coast Shaving, and many others.  You might also be able to find it in select brick and mortar stores!
Have you used Truefitt And Hill 1805 shaving cream?  What do you think of it?  Leave a comment below!