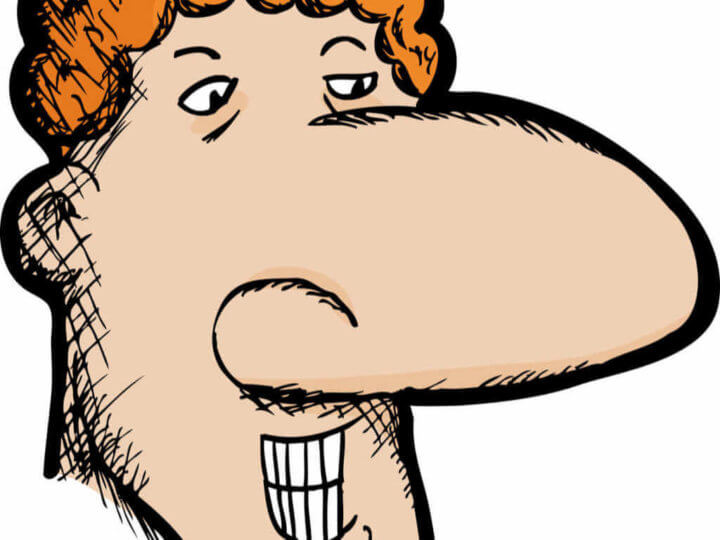 I have mentioned on more than one occasion that I have a poor sense of smell.  I take some consolation in the fact that I'm not alone, so here are 7 suggestions for strongly-scented shave soaps and creams to enjoy.
Sometimes shave soaps and creams smell strong in the container but soften considerably when lathered on the face.  I have found the products below stay strong throughout the shave (though they may not persist much after the shave–which can be a good thing if you wear a cologne fragrance that might clash with the shave fragrance.
All these products were selected not only for the strength of their scent but their performance as well.  For the actual shave I don't think you could go wrong with any of these!
[Amazon and West Coast Shaving links are affiliate.]
Castle Forbes Limes Shaving Cream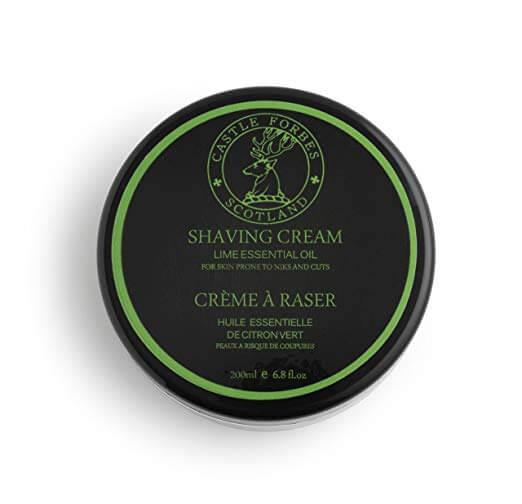 For me (and many others), the classic strongly-scented shave cream.  I often say using Castle Forbes Limes shaving cream is like getting smacked in the face with a Key Lime pie, with a lime scent that is both sweet and strong, both in the tub and lathered on the face.
Ingredients: Aqua, Stearic Acid, Aloe Barbadensis, Myristic Acid, Potassium Hydroxide, Glycerin, Coconut Acid, Dipropylene Glycol, Citrus Aurantifolia, Citric Acid, Triethanolamine, Phenoxyethanol, Sodium Hydroxide, Methylisothiazolinone, Potassium Sorbate, Limonene, Citral, Gerniol, Linalool
It's worth noting that Castle Forbes other scents (Cedarwood/Sandalwood, 1445, Lavender) are also strong, though I think slightly less-so compared to Limes.
Tabac Shaving Soap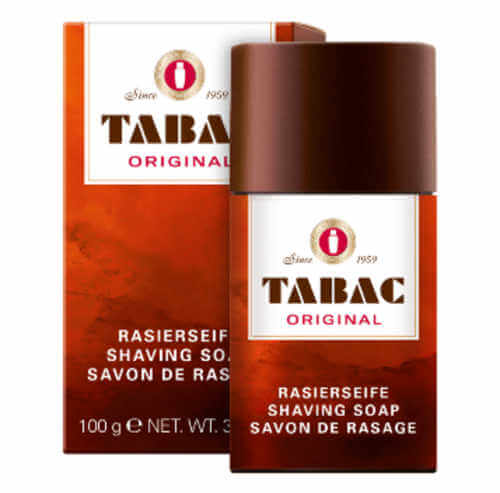 Another "famous" (though some might say "infamous") strongly-scented shave soap.  One recent reviewer on Sharpologist described the scent of Tabac as "Eye-watering, headache-inducing strong perfumes wafting off the soap. Aroma may be strong enough to peel wallpaper off the walls." The actual scent is described as "plenty of flowers beneath and hints of aquatics and traces of leather, light woodiness plus a miniscule amount of the namesake tobacco and light vanilla in the background. It has an odd, musty undertone to it that is ironically sweet and not entirely disagreeable."
Like the reviewer, personally I am not a big fan of the scent of Tabac.  But it is strong!
Ingredients: Potassium Stearate, Sodium Stearate, Potassium Tallowate, Potassium Cocoate, Aqua, Sodium Tallowate, Parfum, Sodium Cocoate, Glycerin, Potassium Hydroxide, Tetrasodium EDTA, Tetrasodium Etidronate, Sodium Hydroxide, CI 77891, Limonene, Hydroxycitronellal, Linalool, Citronellol, Coumarin, AlphaIsomethyl Ionone, Benzyl Salicylate, Geraniol, Cinnamyl Alcohol, Isoeugenol, Benzyl Alcohol, Citral, Eugenol.
Taylor Of Old Bond Street Sandalwood Shaving Cream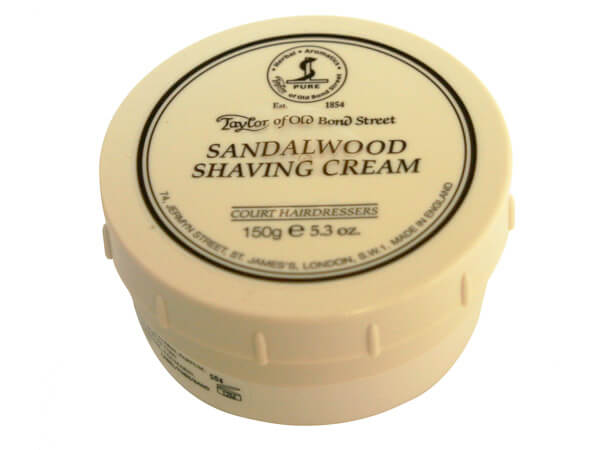 Consistently rated near the top of the most popular shave creams on the market, Taylor Of Old Bond Street Sandalwood shave cream is fairly strongly-scented as well, though it may not be a "genuine" Sandalwood scent (personally, I think it comes admirably close).
Ingredients: Aqua (Water), Stearic Acid, Myristic Acid, Potassium Hydroxide, Coconut Fatty Acid, Glycerin, Parfum (Fragrance), Triethanolamine, Sodium Hydroxide, Benzyl Alcohol, Methylchloroisothiazolinone, Methylisothiazolinone, (Parfum Contains: Linalool, Geraniol, Benzyl Salicylate, Citronellol, Eugenol, Benzyl Benzoate, Benzyl Cinnamate, Evernia Furfuracea Extract, Evernia Prunastri Extract, Limonene, Coumarin).
Some other Taylor Of Old Bond Street shave creams are reasonably strongly scented too, including Almond, Grapefruit, and Tobacco Leaf.
Shannon's Soaps Botanica Shaving Soap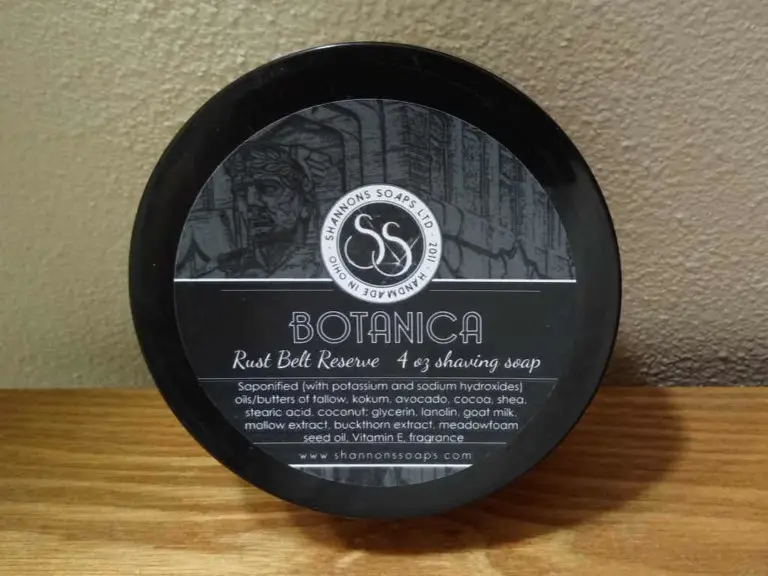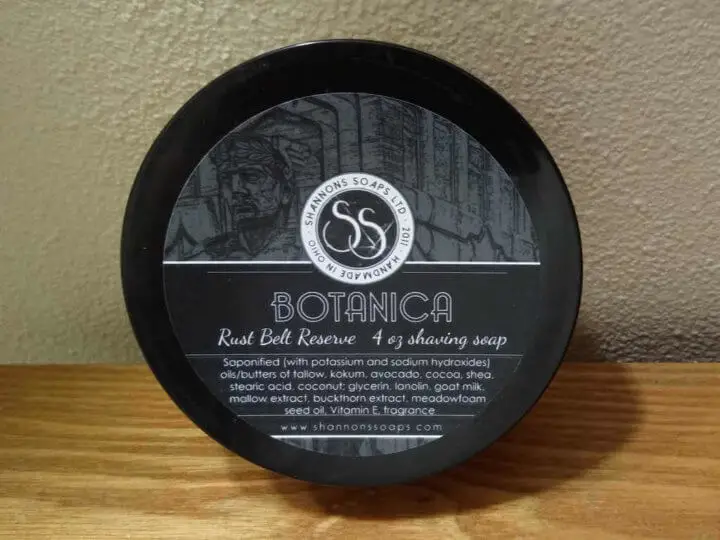 From Shannon's Soaps website, "My take on a modern chypre, with atlas cedarwood, tuberose, oakmoss, and a host of florals, with a hint of vanilla and a fruity top."
I think the scent out of the tub starts out fruity, then the floral notes hit with a powdery (almost effervescent) quality. I don't get the wood notes: there is something after the florals but it's like an herbal note to me. However when lathered on the face more of the effervescent floral and wood notes come out for me.  The strength is not quite as intense as others on this list but it's definitely there!
Ingredients: Tallow, kokum butter, avocado oil, cocoa butter, shea butter, stearic acid, coconut, glycerin, lanolin, coconut oil, goat milk, mallow extract, buckthorn extract, meadowfoam seed oil, Vitamin E, essential oils, fragrance oils, potassium hydroxide, sodium hydroxide (made by hot process)
Truefitt And Hill Apsley Shaving Cream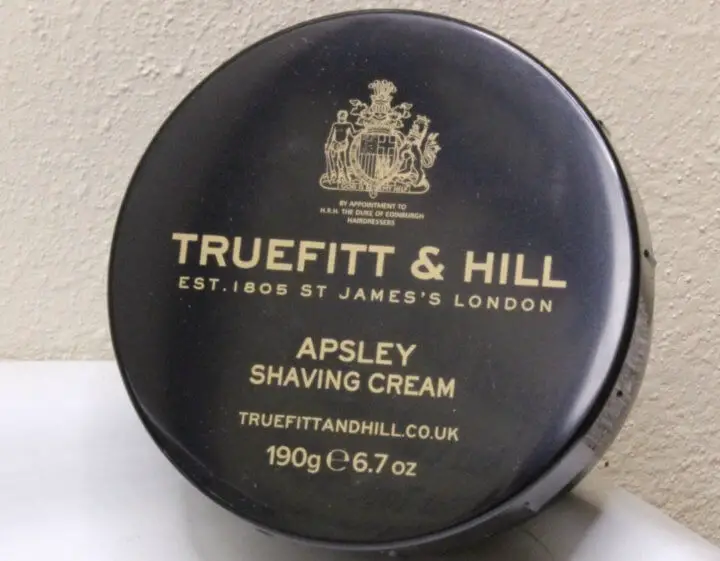 Truefitt And Hill describe Apsley as "…a refined blend of smouldering woods accentuated by light citrus notes. The harmonious overtones of woody vertivert are lifted with a refreshing essence of grapefruit and are accentuated by notes of pepper, while its heart of cedar- wood and patchouli, which has been enriched by sensual notes of musk…."
Probably the "weakest" of the strongly-scented products here, Apsley is "moderate" both off the tub and on my face.  I get mostly grapefruit and cedar scent notes.
Ingredients: Aqua (Water), Stearic Acid, Myristic Acid, Potassium Hydroxide, Coconut Acid, Glycerin, Parfum (Fragrance), Triethanolamine, Sodium Hydroxide, Methylparaben, Propylparaben, Limonene, Hydroxycitronellal, Citronellol, Hexyl Cinnamal, Linalool, Butyphenyl Methylpropional
Most of the other "classic" scents from Truefitt And Hill (Trafalgar, Grafton, 1805) are also reasonably strong.  Trafalgar was one of the first traditional shaving creams I used when I started shaving "old school" in 2004 and I still use it.  Some say it's an "old man" scent (Grafton, too) but I think it's a great cologne-like scent that I can smell both off the tube/tub and lathered on the face.  The newer scents (Ultimate Comfort and No. 10) much less so.
St. James Of London Lime & Black Pepper Shaving Cream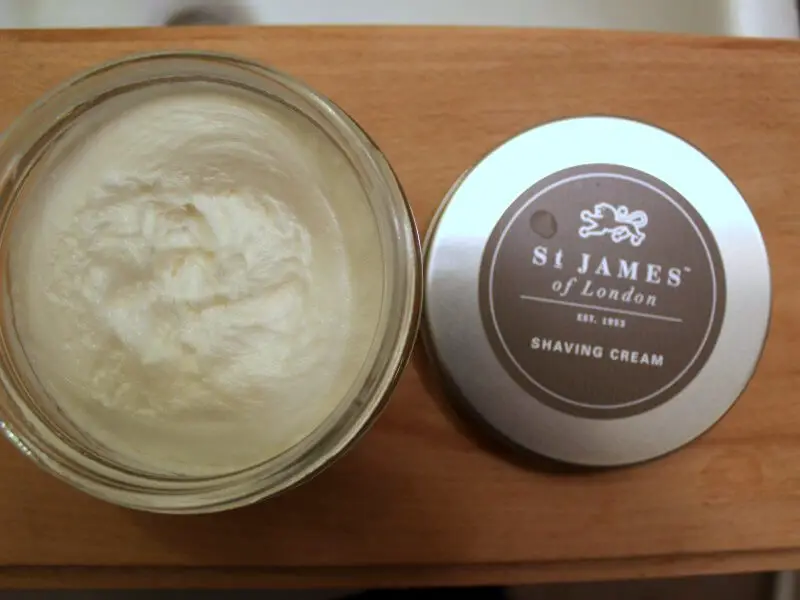 The scents of most St. James Of London shave creams are more subtle compared with some of the other British shaving creams but I think the Lime and Black Pepper shave cream has the strongest scent of the line and a worthy addition to this article.
The scent is spicy-citrus and I think the performance is right up there with the best.
Edwin Jagger Sandalwood Shaving Soap
Like Taylor's Sandalwood above, Edwin Jagger Sandalwood shave cream is fairly strongly-scented but not at the top of the scale.  And like TOBS the "sandalwood" scent may not be entirely accurate, depending on what variety of "sandalwood" you are interested in.
The EJ soap may not perform quite as well as others on this list but it works solidly for me, even in my hard water.
Ingredients Potassium Palmate, Sodium Palmate, Potassium Stearate, Potassium Palm Kernelate, Sodium Stearate, Sodium Palm Kernelate, Glycerin, Water, Palm Kernel Acid, Parfum (Fragrance), Sandalwood Oil, Hexyl Cinnamal, Hydroxyisohexyl 3-Cyclohexene, Carboxaldehyde, Limonene, Butylphenyl Methylpropional, Pentasodium Penetate, Tetrasodium Etidronate
Conclusion
If you don't have a sensitive schnoz (like me), you still have options to fully appreciate your shave beyond the product's performance.
What shave creams and soaps do you find exceptionally strong?  Leave a comment below!