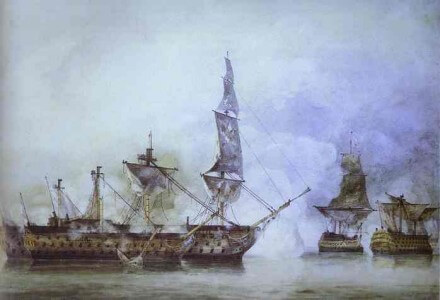 The battle of Trafalgar was the most decisive British naval victory of the War of the Third Coalition.  It was a sea battle fought between the British Royal Navy and the combined fleets of the French Navy and Spanish Navy: 27 British ships of the line led by Admiral Lord Nelson aboard HMS Victory defeated 33 French and Spanish ships of the line off the south-west coast of Spain, just west of Cape Trafalgar.  Truefitt and Hill celebrates the victory with it's Trafalgar line of products.  This is my review of the shaving cream.

Scent
Truefitt's site describes Trafalgar's scent as "top notes of cedar and sandalwood complemented by subtle hints of jasmine and spice."  However basenotes describes it as top notes of jasmine with a spicy middle and basenotes of cedarwood and sandalwood.  For myself, I get the jasmine and spice notes.
Lather
Trafalgar lathers well, though it perhaps needs a bit more mixing time than other creams in my hard water.  It tends to stay a bit on the foamy side for me so I often start with a dryer-than-normal brush and add a few drops of water at a time to get the ratio right.
Performance
Performance is very good: lubrication is excellent though cushion may be just a tad less than comparable creams.
Value
Trafalgar is one of Truefitt's premium creams and is priced comparably to other high-end creams.  A tub of Trafalgar (6.7oz.) lists for $30 (2.6oz.tube, $22).
The Bottom Line
Truefitt and Hill Trafalgar shaving cream is one of my favorite creams, perhaps my top favorite scent.  I give it an 8 out of 10.
Ingredients: Water, Stearic Acid, Mystric Acid, Potassium Hydroxide, Coconut Acid, Glycerin, Fragrance, Triethanolamine, Phenoxyethanol, Butylparaben, Ethylparaben, Isobutylparaben, Sodium Hydroxide, Methylparaben, Propylparaben