I've been called many things in my life: cheap, thrifty, economical. I carry the title proudly of being tight with my money. One place where I saw myself not struggling to justify my spending was on shaving products. Some are economical and good performers while others are cheap and are terrible.
[Ed. Note: Amazon, OneBlade, and The Art Of Shaving links are affiliate.]
Over the years I've gradually come to realize that, most times, you really do get what you pay for when it comes to shaving cream. While there are some great performers that are inexpensive, like Marlowe, or DSC there are some that are higher up in the price range like Edwin Jagger, or Geo F. Trumper that are worth the extra moola. I don't know if I had ever considered The Art of Shaving ("AOS") to be in that "higher-priced and worth it category." but after getting a tub of the Sandalwood scent for Christmas, I thought I'd see if it was a deal or a dud for the price.
The company made shaving news when it was bought in 2009 by Proctor and Gamble. The company had shelled out $57 billion….BILLION for Gillette in 2005, so what they paid for AOS must have been small potatoes. But there was some worrying in the wet-shaving world that the company would be gobbled up and forgotten. Or watered down to the point that it was selling goo and not real shave cream.
It's now eleven years later and after trying their sandalwood cream for three months, I can say they are still a player in the shaving world.
The ingredients (Water/Aqua, Palmitic Acid, Myristic Acid, Stearic Acid, Potassium Hydroxide, Coconut Acid, Glycerin, Triethanolamine, Fragrance/Parfum, Sodium Chloride, Sodium Hydroxide, Lauric Acid, Propylene Glycol, Tetrasodium Edta, Disodium Edta, Phenoxyethanol, Methylisothiazolinone, Coumarin, Hexyl Cinnamal, Alpha-Isomethyl Ionone.) seem to be the usual mix of things I can recognize and others I can't. I'm not too worried about what's in it, but rather how it performs.
The Lather
As is my custom, I loaded my Semogue brush and went to town in my scuttle.
While this didn't create pillows and pillows of lather, it did a respectable job of making a definite brushful, with more in the bowl.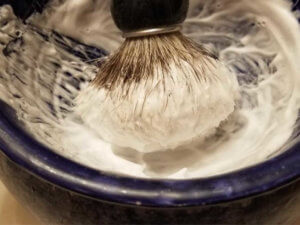 Having used this product many times in the last three months, I knew a well-loaded brush would be enough.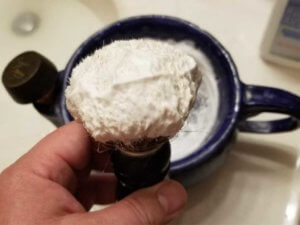 The Shave
I was able to spread a thick layer of lather on my face. I used a new blade in my Oneblade razor to start. I hadn't shaved in a couple of days and although the Oneblade is fairly aggressive to me, the lather had good cushioning and slickness. I did a four-pass shave and it was BBS. For the record, there was enough lather that I ended up shaving my head as well, but not with the Oneblade. I'm not that brave! But again, the lather was cushiony and very slick. I had enough left in my brush that I had to lightly squeeze the excess out.
The sandalwood scent doesn't come across as artificial and while it lingers on the skin, it isn't overpowering. It is a bit stronger than the Geo F. Trumper that I also use, but is milder than Edwin Jagger's offering. It's scent is a little spicier than the Taylor of Old Bond Street but nothing that'll make you not want to use it again. Another plus for AOS is that my face and scalp don't feel dry after using AOS. That's turning into a new test for me when it comes to shaving cream or soaps, how does it leave my scalp feeling? With AOS, it feels great.
Conclusion
Now, going back to price. This sells for $25 on The Art Of Shaving Website, which is the top of my price point (ed. note: slightly less on Amazon). If you're going to add a solid performer to your lineup, I would definitely consider The Art of Shaving sandalwood shave cream. While it's an upper-tier priced cream, it performs like it. AOS isn't a deal in the classic sense, but it's definitely not a dud. Even the economical (cheap!) guys like me like to get a solid product for the money.