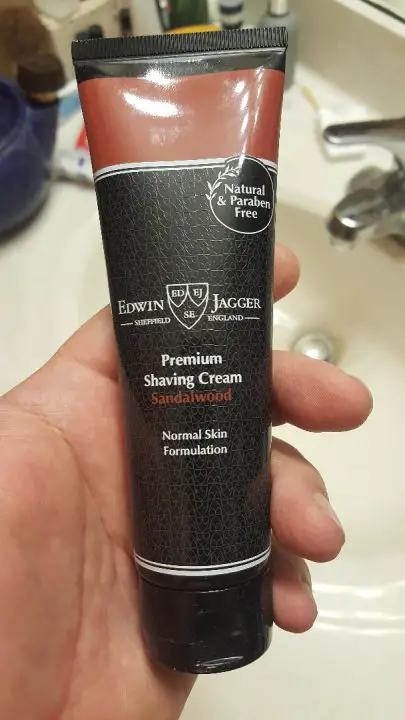 I've been going through various samples of different types of shave butters, gels, some products that defy a category and even some green goo lately, all to give you, avid wet-shavers, a good idea of what works and what doesn't. Ah, the sacrifices I make! So it was with real and unconfined joy that I turned my attention to the tube of Edwin Jagger. Sharpologist sent me this product to review. This is one of the semi higher-end brands that I've looked at purchasing but have never quite pulled the trigger on. No reason against it, just never did. And I say "semi higher-end brands" because a 75 ml tube of the Sandalwood runs about $15 with the large 100ml tub costing $22. It's cheaper than Truefitt & Hill or D.R. Harris, but pricier than the British cream I use the most, Taylor of Old Bond Street. So, is it worth the money…a deal or a dud?

Edwin Jagger Shaving Cream
What the tube displays proudly is that it's "natural and paraben free." The company's website says it uses "a unique combination of organic ingredients, enhanced by plant extracts." (ingredients: Water, Potassium Stearate, Potassium Palmitate, Potassium Cocoate, Glycerin, Sodium Palmitate, Sodium Cocoate, Beeswax, Potassium Myristate, Cetyl Palmitate, Sendalwood Oil, Parfum (Fragrance), Potassium Laurate, Sodium Myristate, Sodium Silicate, Sodium Thiosulfate, Hexyl Cinnamal)
I'm a guy while I don't want be putting a lot of chemicals on my face, I'm not getting wrapped around the axle about ingredients. I figure since I stopped using canned goo, the amount of chemicals I spread on my face has gone down a lot.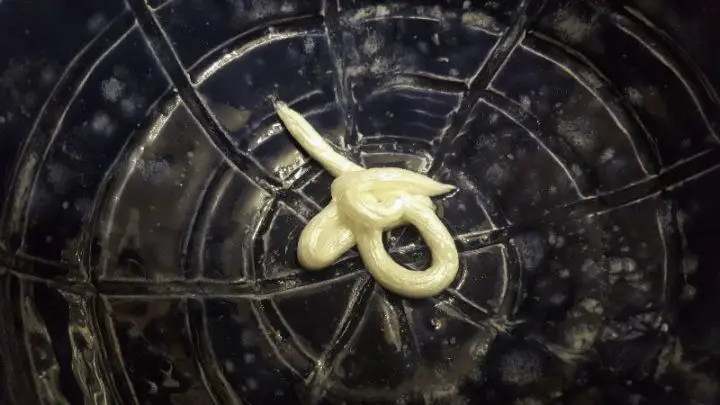 The first thing I noticed when I squeezed some out into my scuttle is that it had a shininess that I attribute to higher-end shave creams. While the picture shows it with a slight green tinge, that's because of my camera, not the cream itself. The smell of the sandalwood is faint, but there. I sometimes don't like an overpowering scent because then it conflicts with my aftershave or balm. This one didn't seem like it would do that.
I used my Semogue owner's club brush and the EJ produced lather like it's supposed to! No shave butter or goo here, just honest-to-goodness rich lather.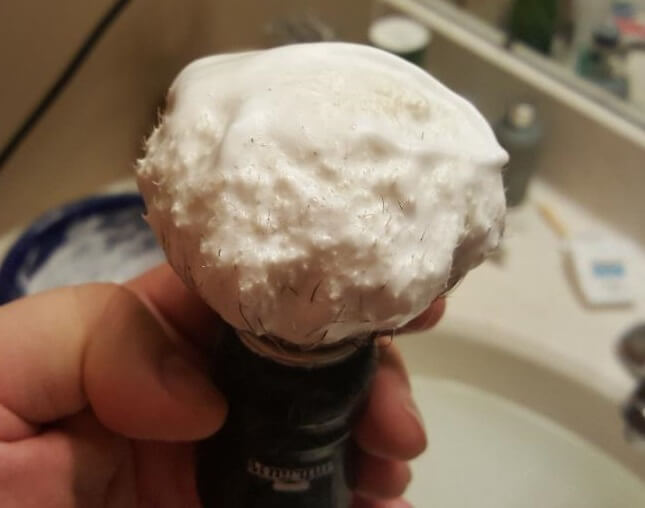 I use the same setup when I test a product so that means my Slim Adjustable with a new Astra blade. On my first pass I discovered that the EJ had very good slickness and protection. The fragrance of the sandalwood was still there, but faint.  Over three passes, it did a great job of providing a great shave. I used what I thought would be a decent-sized dollop of cream, but in the end, I used too much. When I'm brush shaving, I always gently squeeze the last of the lather and use that for a fourth pass. This is what I ended up with.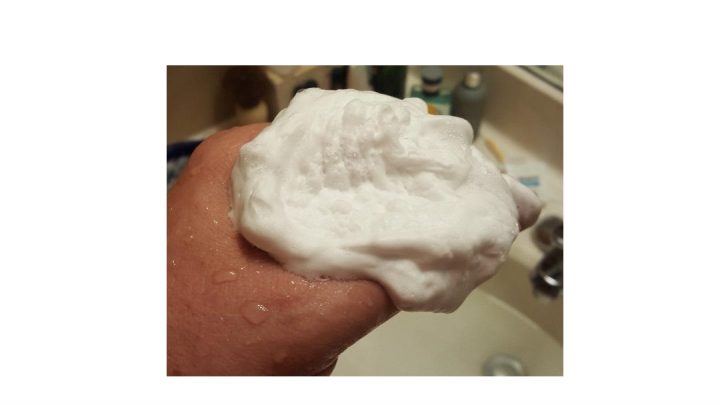 That's a heckuva lot of lather. I now know that I probably could have used a third less cream to start with.  By the end of the fourth pass, I was definitely left with a BBS face!
If you're read my other Deal or Dud articles, you know by now that I don't give it a passing grade just because I'm trying it. I figure if it sucks for me, I'll warn you.
So here's the grade. The Edwin Jagger Sandalwood shaving cream is definitely a deal. Not the least expensive cream out there but not a Castle Forbes-priced cream. But after using this product a couple of times, I feel it ranks up there with the other British creams that I have, D.R. Harris, Truefitt & Hill, Geo F. Trumper, and Taylor of Old Bond Street. Treat yourself and go British and try EJ.
Amazon links are affiliate.