Every company has an "oops" moment. Ford Edsel, Pontiac Aztek, nearly every rap album released…the list goes on and on. Rarely, though does the shaving world have such an event. Or one that, at least, is admitted to. What you don't hear much about are the ones that rather than being swept into the trash bin of history and hopefully out of the shaving community's collective memory, is reworked to try and get it right. That's what Dollar Shave Club (DSC) says they've done with their "Dr. Carter's Pillowy Shave Lather." I review this product in December and to say I was unimpressed was an understatement. After trying a healthy amount of it in my scuttle, this was the result.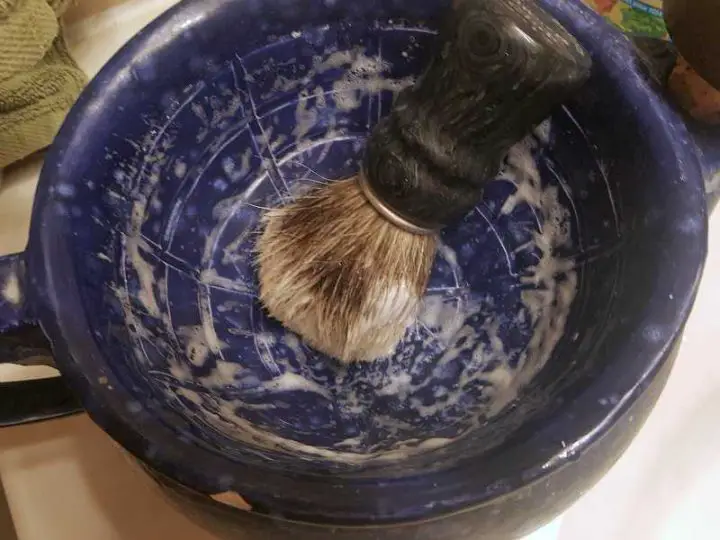 While promising "pillowy shave lather," what I ended up with is something more like a brushless cream than anything resembling a lather-producing product. A 4.5oz. tube cost $8, which isn't outrageous, but I ended the article saying that the cart shaving world may be okay with the product but that the wet shaving crowd will find them a bit wanting.
I guess that was an understatement because a few weeks ago, I received an email from DSC saying "based on our member's feedback, our original formula didn't hit it out of the park." That's a pretty honest statement from a multi-million dollar company…owned by a multi-billion dollar company. Rachel at DSC said "I'm proud to introduce our new, super easy to rinse, clog-free, pillowy-er-than-ever Shave Lather." The email ended with a statement about their 100% money back guarantee, saying "So if you don't like it (again), you don't have to pay.  " It's that "again" part that convinced me to give it another shot. DSC was admitting that it had an "oops" moment. For that, I'd plunk down $8 and try their new formula.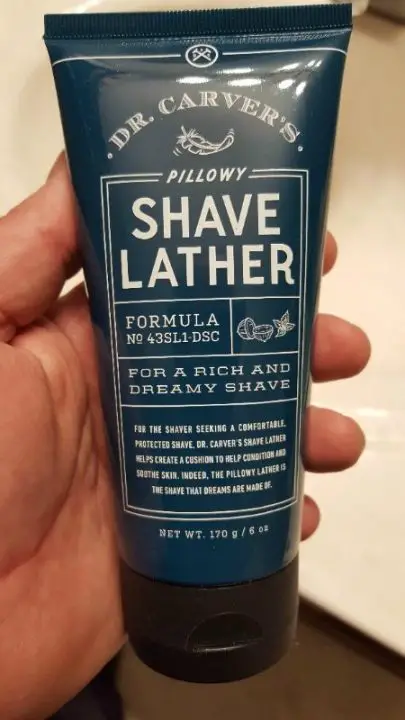 What's that old joke? "The restaurant had terrible food…and small portions!" I was wondering if the opposite could be true when I hefted the 6 0z. container. It was definitely bigger than the previous but the price hadn't changed. Could that be a good sign? The writing on the container had changed from "a rich cream for a cushioned, gentle shave" to "provides a comfortable, protected shave." They didn't seem like they were willing to go out on a limb with this edition. Gun shy? Possibly. But the proof's in the product, so I got my scuttle and brush ready!
Immediately, I noticed that the cream had a shininess that I have always attributed to very good creams. I wrote about this in a Deal or Dud on Edwin Jagger's Sandalwood cream.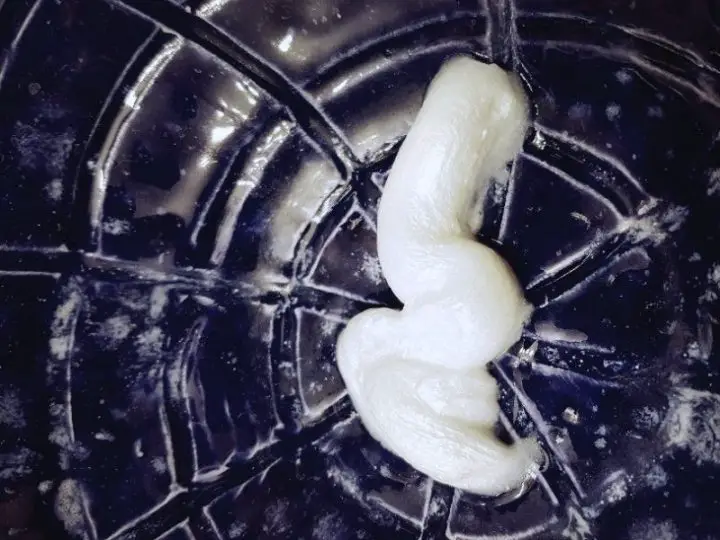 I hoped that boded well for this cream. I put what I thought was a decent amount of cream in my now-warmed up scuttle. I used my Semogue Owner's Club brush and went to town.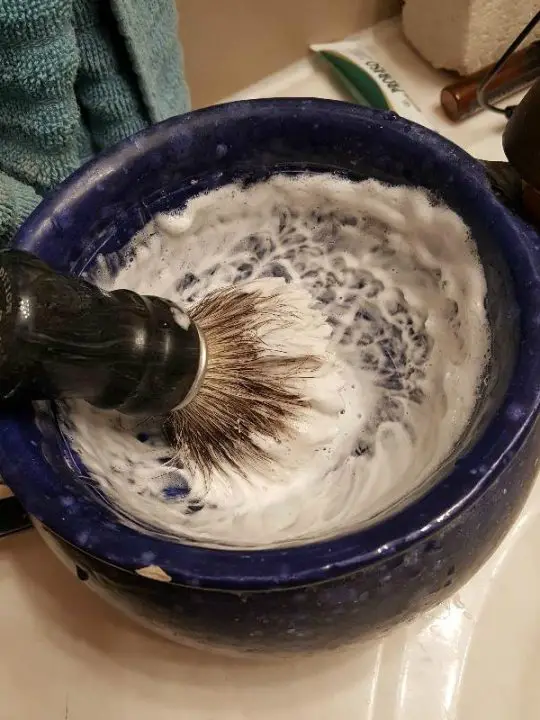 Within a minute or so, I had whipped up a pretty nice amount of lather. The smell coming off the scuttle was peppermint but it wasn't overpowering. I added a few drops of water and put the brush back to work.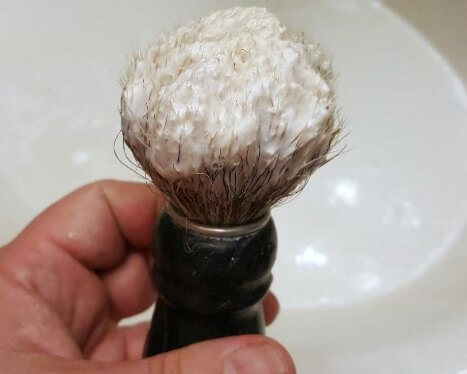 By the time I was ready to shave, my brush was fully loaded. I spread the lather over my face and got a wee tingle as I worked it in. I used my Fatboy and a new Astra Platinum and can say that this cream beats the pants off its predecessor. It gave me great cushion and slickness, never mind the fact that it was honest-to-god lather.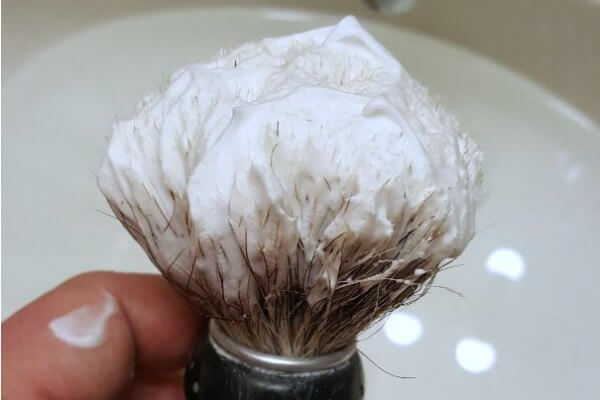 After three passes, I always squeeze the brush, gently from top to bottom to wring out the rest of the lather. To be honest, I wasn't sure how much would come out.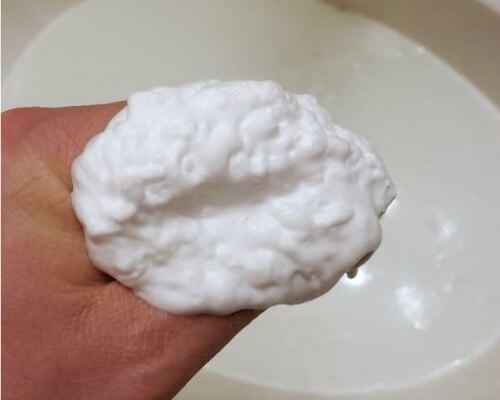 This is the result. I had enough lather for two more full passes. (I put the extra back in the scuttle.) As I shaved, I would get that tingle feeling after the blade passed over my skin. I believe that's the peppermint extract. At no point did I feel like I was dragging a sharpened blade over my skin. Isn't that what a good shave cream/soap is supposed to do?
(Shave lather ingredients: Water, Stearic Acid, Myristic Acid, Cocos Nucifera (Coconut) Oil, Glycerin, Potassium Hydroxide, Simmondsia Chinensis (Jojoba) Seed Oil, Aloe Barbadensis Leaf Juice Powder, Caprylyl Glycol, Menthol, Macadamia Integrifolia Seed Oil, Avena Sativa (Oat) Kernel Flour, Mentha Piperita (Peppermint) Leaf Extract, Mentha Piperita (Peppermint) Oil, Hydrogenated Soybean Oil, Hydrogenated Starch Hydrolysate, Ananas Sativus (Pineapple) Fruit Extract, Calendula Officinalis Flower Extract, Camellia Oleifera Leaf Extract, Carica Papaya (Papaya) Fruit Extract, Panax Ginseng Root Extract, Salix Alba (willow) Bark Extract, Boerhavia Diffusa Root Extract, Aphanizomenon Flos-Aquae Extract, Lauric Acid, PEG-23M, Menthyl Lactate, Allantoin, Disodium EDTA, Fragrance (Parfum), Hydroxyethylcellulose, Sodium Hydroxide, Lactic Acid, Propanediol, Glycolic Acid, Benzalkonium Chloride, Phenoxyethanol.)
(I checked the ingredient list and it is different than the first edition.)
The only issue I had, which was probably my fault, was that the lather dried out faster than I was used to. The result was a clogged blade, but I did shave again the next day and left a little more water in my brush before lathering and I didn't experience that problem.
In fact, I didn't experience anything that made me not want to reach for this product again. It's like the people at DSC listened to the feedback from shavers and made sure it wouldn't be a bust.
Having been burned in the past by the "We've made it better!" line, I was a little wary but decided to give them another chance. Is it a good product? Yep. Worth the money? A fairly big tube of it costs $8 which, for the quality of product you get, is a good deal. Even better if you can get free shipping with one of their plans.
The company knew they had swung and missed. Instead of pushing more mediocre product and calling it fine, they went back to the drawing board…and knocked it out of the park.
Shave by Dr Carver's at Dollar Shave Club!