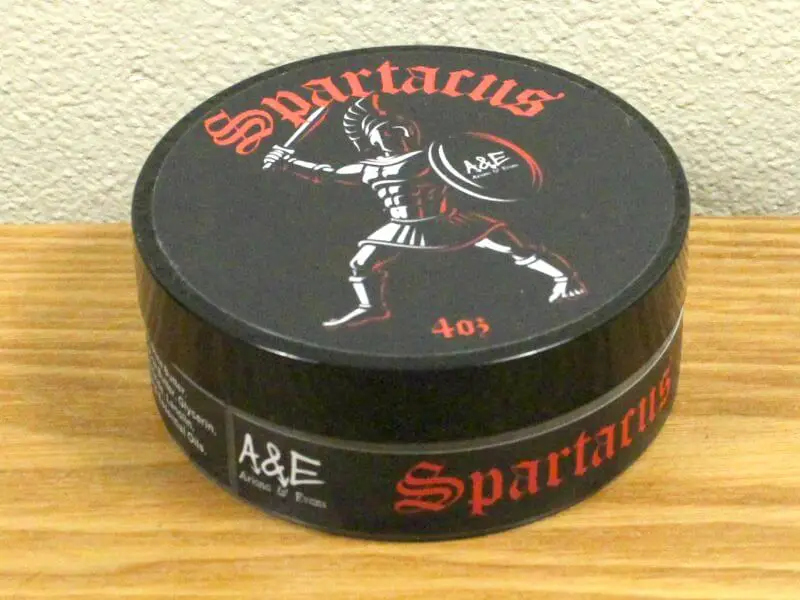 Last year I received a puck of Ariana & Evans "Spartacus" shave soap.  I gave it a quick try and set it in my ever-growing stack of shave soaps (the simultaneous blessing and curse of someone who runs a shaving website).  I recently "found" it again and discovered just what I had been missing….
Background
For those of you who don't know, Spartacus was a slave, gladiator, and the leader of a slave rebellion during the Roman Empire:
"This rebellion, interpreted by some as an example of oppressed people fighting for their freedom against a slave-owning oligarchy, has provided inspiration for many political thinkers…" (Wikipedia).
From Ariana & Evans' website:
This classic of all classic scents evokes power, masculinity, strength and success.
Notes: bergamot, blackcurrant leaves, apple, pineapple, pinkberries, birch, patchouli, jasmine, musk, oakmoss, ambergris, vanilla.
If you are a fan of Creed Aventus and our tallow base with goats milk & lanolin, you'll really love this soap. It really doesn't get much better than this.
Ingredients: Stearic Acid, Beef Tallow, Goats Milk, Shea Butter, Potassium Hydroxide, Kokum Butter, Mango Butter, Glycerin, Cocoa Butter, Castor Oil, Manteca (Pig Fat), Strangisto Giaourti (strained yogurt), Avocado Oil, Coconut Oil, Camellia Oil from Japan, Sodium Hydroxide, Lanolin, Agave, Bentonite Clay, Beeswax, Sodium Lactate, Argan Oil, Fragrance & EO's.
My Experience With Ariana & Evans Spartacus Shave Soap
On the puck I get an initial fruity (-ish) note which then recedes into much more of a complex cologne note.  On the face I think it becomes much closer to it's inspiration, Creed Aventus, which is described as:
"…a tantalising top notes of blackcurrant and Italian bergamot, blended with Calville Blanc apples and sparkling pineapple.  A woody and heady centre is complemented with notes of roses, Jasmine blossom and patchouli, while a rich base of oak moss, ambergris and a touch of vanilla…."
I get mostly mild, pleasant fruit and wood notes in my notoriously insensitive nose off the puck, but that's also about what I get from my sample of Creed Aventus.  Lathered on my face the scent actually gets a little stronger for me (unusual in my experience) and I get less of the fruit notes and more of the wood notes.
Spartacus lathers reasonably well in my hard water, and I find I need a wetter-than-usual brush to get it going–this is one "thirsty" shave soap.  It took a number of shaves to get the water/soap ratio right but when I did I get a very dense, creamy lather: more like yogurt and less like meringue.
My skin is sensitive to bentonite clay but there must not be enough of it in the ingredient mix to matter because it didn't bother me.
Like most other top shelf shave soaps with the types of fats, milks, and oils in its ingredient list, I find Spartacus has excellent lubrication and protection characteristics.
But it's actually the post-shave characteristics that are most noteworthy to me.  Really, really excellent after-the-shave moisturization.  A "BBS" shave that really feels like a baby's butt and lasts for a long time after the shave.  I find myself comparing Spartacus and PAA Oxblood as benchmarks for post-shave, from different ends of the ingredient spectrum.
Conclusion
I like to say that there is an "embarrassment of riches" of really good shave soaps these days.  It's hard for me to keep track of all the artisans and products out there.  Ariana & Evans has been on the edge of my radar for far too long: if Spartacus is an indication of the rest of the line I need to get much more familiar with it.
Spartacus is also available at online retailers like West Coast Shaving, Maggard, and Smallflower.
Do you have A&E Spartacus?  What do you think of it?  Leave a comment below.