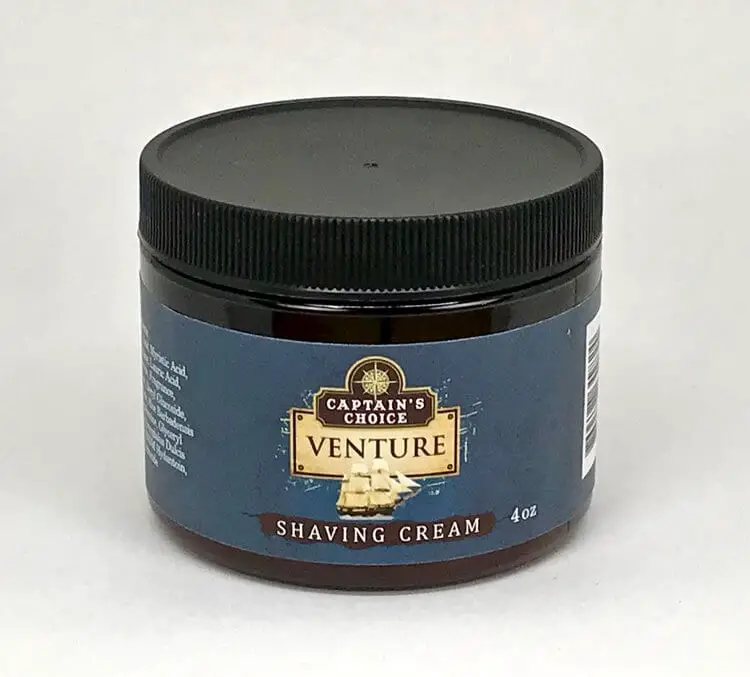 Captain's Choice has been a well-known name in the artisan wet shaving circle for some time.  After Sharpologist's recent take on Creed Aventus I decided to look at another riff on the scent with Captain's Choice Venture shave cream.
Captain's Choice Venture
(Amazon links are affiliate.)
From the Captain's Choice Website:
"The multiple layers of this scent are not only well-balanced but inspirational as a whole.  A celebration of all that is well with the world, this selection will have you wanting more and more of it.  Go ahead, unscrew the lid yet again and sniff—everyone else is doing so as well!
Designed to protect and lubricate your skin with each pass of the blade, this shaving cream ensures dependable performance and a comfortable shave that leaves your skin moisturized and nourished.   Whether you choose to face lather or, better yet, bowl lather, you will experience the cushioning and irresistible slickness that keep customers coming back for more.  For your convenience, this cream can be easily dispensed and makes an excellent travel companion!"
Ingredients: Water (Aqua), Stearic Acid, Myristic Acid, Cocamidopropyl Betaine, Lauric Acid, Potassium Hydroxide, Fragrance (Essential Oil/Natural Fragrance Blend), Glycerin, Cetyl Alcohol, Decyl Glucoside, Sodium Lauroyl Lactylate, Aloe Barbadensis Leaf Juice, Triethanolamine, Glyceryl Stearate SE, Prunus Amygdalus Dulcis (Sweet Almond) Oil, DMDM Hydantoin, Sodium Hydroxide
My Experience With Captain's Choice Venture Shave Cream
According to the Captain himself Venture's scent is based on Creed Aventus.  But personally I would call it more of a "riff" on Aventus, taking inspiration from it but making it a scent that can stand on its own.  My (admittedly notoriously insensitive) nose gets a scent that's moderate in the jar but relatively mild when lathered, with much more citrus and much less wood from Venture compared to the baseline scent.  That's not to say I don't like the scent–in fact I rather enjoy it–but it is different.
Performance-wise, I find Venture to be excellent: like Captain's Choice other shave soaps and creams I've tried, lather builds quickly, easily, an voluminously–even in my hard water.  Lubrication and cushion/protection are very good.  And, as I've mentioned before, I find the lather to be exceptionally stable.  You can take your time shaving with Venture.
Conclusion
Captain's Choice made their name on Bay Rum shave products but the line has expanded to include a modest variety of popular scents.  if you are a wet shaving "newbie" (or just someone who really wants to take their time with enjoying a shave) you will appreciate this artisan's ability to keep a good lather going for longer than normal.  You can find Captain's Choice Venture at their website, at Amazon and a number of other online vendors.
What's been your experience with Captain's Choice shave creams?  Leave a comment below so all may benefit!