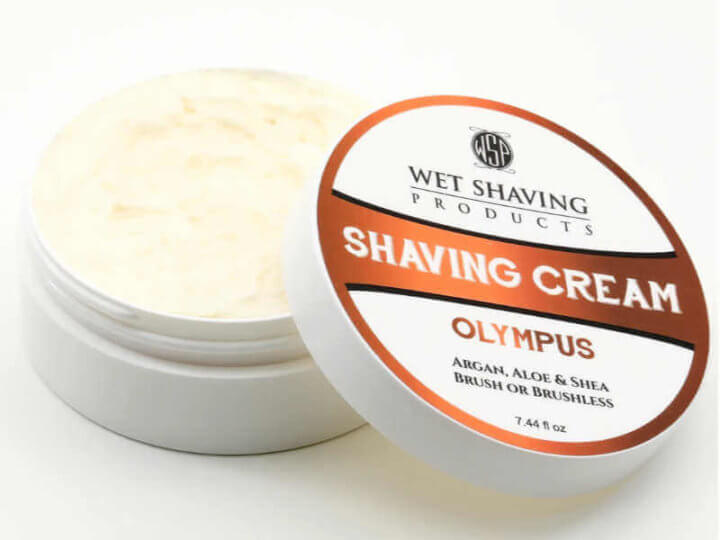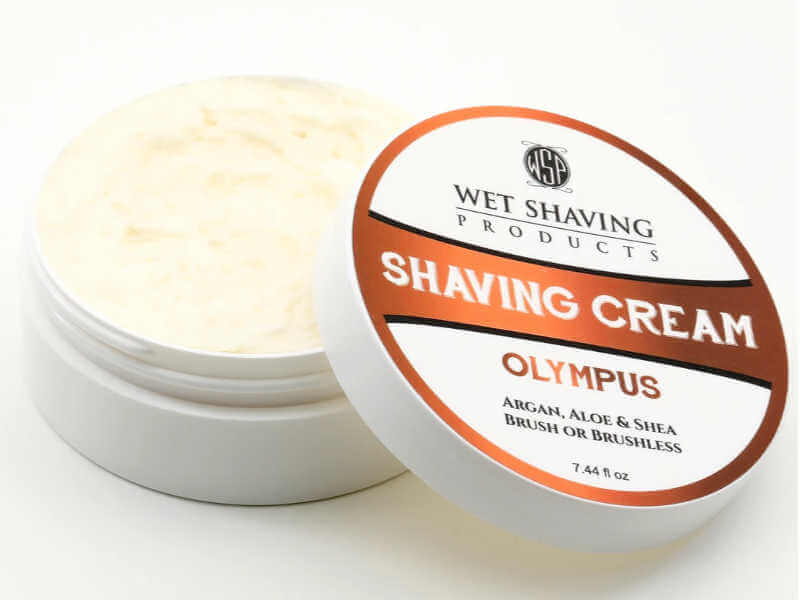 Wet Shaving Products (WSP) introduced a line of shaving creams in late 2018 to complement their shaving soap and shaving accessories lines.  I picked up a jar of Olympus to try out.
Wet Shaving Products Shave Creams
From WSP's website:
"It only took 2 years of research & development behind closed doors and hundreds upon hundreds of not quite perfect prototypes.
From the start, I had one overarching goal: to make a shaving cream that's better than what's already out there and to make it vegan and as natural as possible."
There are several scent options for the WSP shave cream:
Barbershop – "We started with a base of powdery musk, added some bergamot, orange zest, oakmoss, patchouli, and finished it with a hint of geranium."
Tobacco – "Cured tobacco leaf & flower are the stars of this blend. We started with notes of cured tobacco for the base, and added top notes of bay leaf, and fir to create an intoxicating blend of tobacco and bay leaf."
Gealic Tweed – "This is our interpretation of Creed's Green Irish Tweed. Pairs perfectly with our matching shaving soap! The fragrance is a masterful blend of an iris & violet leaf heart with a sandalwood & ambergris base."
I picked up a jar of Olympus –
"Named after the home of the Greek gods and inspired by Creed's Aventus, this is the scent fit for a king or emperor. It is creamy & smoky and crisp & fruity; provocative and masculine. The initial blast of fresh fruit will hit you sharply. The apple will give way to freshly cut pineapple. Then the smokiness will come out wrapping you in a woody, creamy cloak reminiscent of sandalwood.
A magnificent example of a fruity chypre fragrance, it opens with a burst of fresh pineapple, apple, & bergamot with a hint of blackcurrant; drying down to a woody & warm heart of birch, juniper berries, patchouli and a touch of jasmine; all built on a warm base of vanilla, oak moss, musk, sandalwood & ambergris."
Ingredients (paraphrased): Water & Aloe, Stearic Acid, Coconut Acid, Potassium & Sodium Hydroxide, Castor Oil, Glycerin, Fragrance, Argan Oil, Preservative.
My Experience With WSP Olympus Shave Cream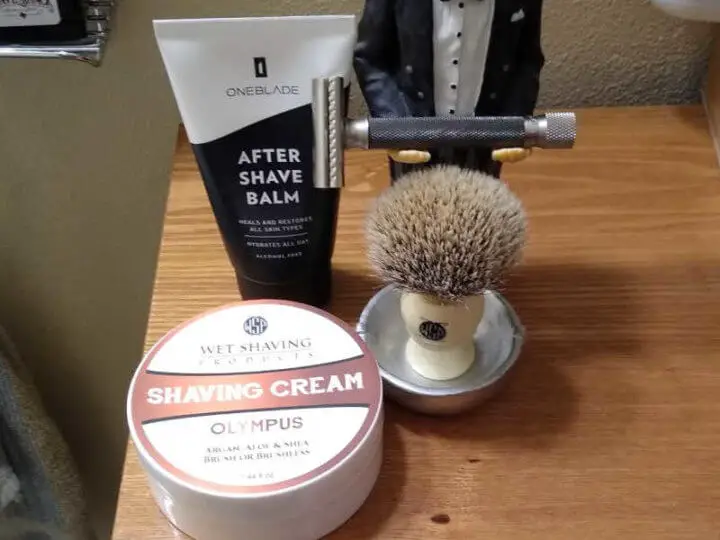 WSP fills the jar generously: my example will filled to the brim with no "headroom."
The consistency of the cream is quite firm.  It's not like most other shave creams: it looks and feels almost a little dehydrated if you're comparing it to, say, one of "the 3 T" creams (but it's not dehydrated).  Some enthusiasts might be tempted to call this a "croap" soft soap but I don't think that's right either, I think WSP shave cream is almost like a paste.
My insensitive nose gets a mild citrus fragrance from the jar: the subtleties are completely lost on me (that's not a knock on WSP–it's my nose).  The scent pretty much disappears when lathered on my face.
Speaking of lather, it looks a little unusual to me, certainly unlike most other shave creams I've tried.  It almost looks like school glue and the lather does not build quite as voluminously as other shave creams (at least in my hard water) but quite acceptably.
Anyway…performance is where it counts and WSP's shave cream performs very well for me.  The protection aspect is good (I do get a few weepers if my stubble is several days old) and the lubrication aspect is excellent (very clean and comfortable shave tracks).
But post-shave moisturization is particularly noteworthy and outstanding for me!  Seriously…my skin is soft and smooth far longer than most other shave lathers I've used, cream or soap, even with a good aftershave balm.  Mrs. Mantic59 runs her fingers along my face and is  suitably impressed (*wink*).
Conclusion
WSP's shave creams is a "labor of love" from Lee, WSP's owner, several years in the making.  The Olympus version I bought has a very mild scent but performs really well and the post-shave feel is exceptional.  If it were more strongly scented it would be a "home run" for me.  I give it a solid 4.5 out of 5.  Don't be surprised if WSP shave creams make the next update of Sharpologist's Best Shave Cream list!
WSP shave creams are available at their website and Maggard Razors, with more outlets coming soon.
Do you have Wet Shaving Products shave cream?  What do you think of it?  Leave a rating and comment below!