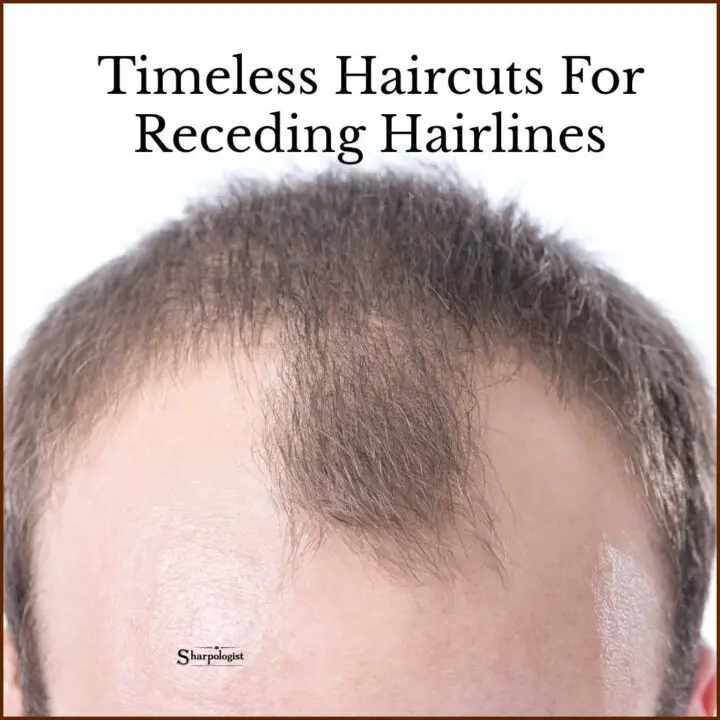 It's tough being a man with a receding hairline. You can try to hide it, but eventually it becomes too difficult and you have to face the facts. You're losing your hair. I'll give you some advice on the four best classic hairstyles to deal with a receding hairline.
What Is A Receding Hairline And What Are Its Causes?
Losing your hair is a natural process that happens to most men as they get older. But for some, the process starts earlier than expected – and that can be tough to deal with. If you're starting to lose your hair, or if you've been struggling with a receding hairline for a while, don't worry. You're not alone: I wrote an article a while back about how I go bald in the summer–but for the rest of the year I rock a short haircut because of my receding hairline.
There are different types of receding hairline, with the most common being androgenetic, which is the result of genetics; and the second being alopecia areata, which is an autoimmune condition that can leave hair loss as its only sign. A third, and probably least common type, is the result of hair follicle miniaturization, which is a result of the aging process. 
As the hairline recedes, it is often accompanied by a general thinning of the hair on top of your head. The reason why it's happening to you, rather than another, is due to the fact that you are in a certain age bracket where the rate of hair loss is increasing. Above 50, that rate increases by about 0.5% per year. At this rate, a receding hairline becomes noticeable after about seven years.  It's important to also note that receding hairline is not the same thing as hair loss. Hair loss can happen in a number of different patterns, but the most common is the "frontal hairline receding" pattern. It can happen gradually over a number of years or more quickly if you have a genetic predisposition to it.
Check out the Norwood Scale to measure the extent of a receding hairline.
General Advice For Dealing With A Receding Hairline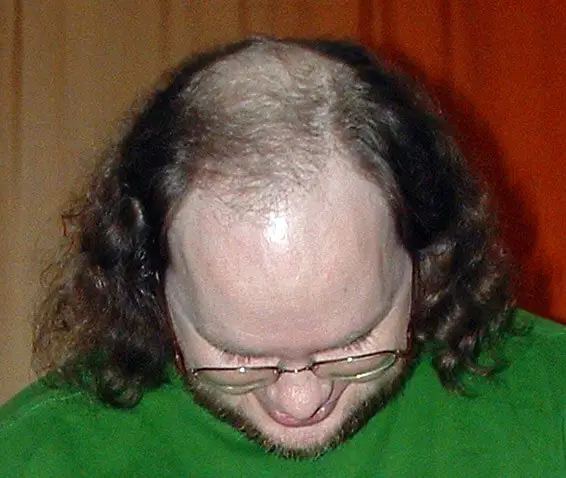 If your hair is just starting to recede, here are some general guidelines on where to begin.
Take Your Sides Shorter. 
In other words, don't let your hair hang down past your ears. This will make you look older than you really are.  Men with some hair may want to be a little more daring and try a very short fade haircut or a fade haircut with a fringe.
And go for a haircut that's shorter on the sides than it is on top. As a result, the hair on top will look that much longer and thicker.
Some men want to have a classic 'crew cut' haircut (more on this later) but with a little bit of texture to it. If your hair is receding, you can experiment with a modern fade style. It's a great way to experiment with different styles and styles that you wouldn't normally wear.
Texture May Be Your Best Friend
Texture is a really important thing to consider when it comes to men's thinning hair, not only does it help to hide the thinning hair but it also adds a lot more volume to the hair that's left. A lot of men's thinning hair starts to lose its volume when they get older and it becomes more obvious. So treating your hair with a good quality hair product, even if it's just a shampoo and conditioner is a must. Use a good quality conditioner for the scalp, leave it on for a good 5 minutes and then shampoo it out. After drying your hair try applying a leave-in conditioner, leave it on for about 10 minutes and then shampoo it out.
Don't Saturate Your Hair With Product
You can be tempted to use tons of product to try and make your hair look 'thicker'. This isn't a good idea for men with thinning hair–you need to keep as much hair as you can, and if a product makes your hair look 'thicker' then you have made it thinner. You need to find a balance between keeping the hair as thick as possible and using the products that will make the hair look the best.
Take The Time To Care For Your Hair
Men with thinning hair need to remember that it needs extra attention and care, just like any other hair type. The best way to do this is to use a good hair tonic so that you can nourish and protect the hair, and you should get this done every two to three weeks. By using a hair tonic you will also leave your hair feeling extra soft and manageable.
Related Post: Hair Tonic: What It Is And How To Use It
Use The Right Hair Dryer
The most important thing to do before you decide to get a haircut is to make sure you use the right hair dryer–if you need to use one. Some hair dryers can dry your hair too much, which can result in your hair breaking and losing its elasticity. This leads to the loss of your hair.
The Best Classic Hairstyles For Men With Receding Hairlines
The internet is replete with pictorial guides for men with receding hair, but Sharpologist is all about the classic, traditional, timeless look.  Here are four haircuts for men with receding hairlines that fit that bill.
Crew Cut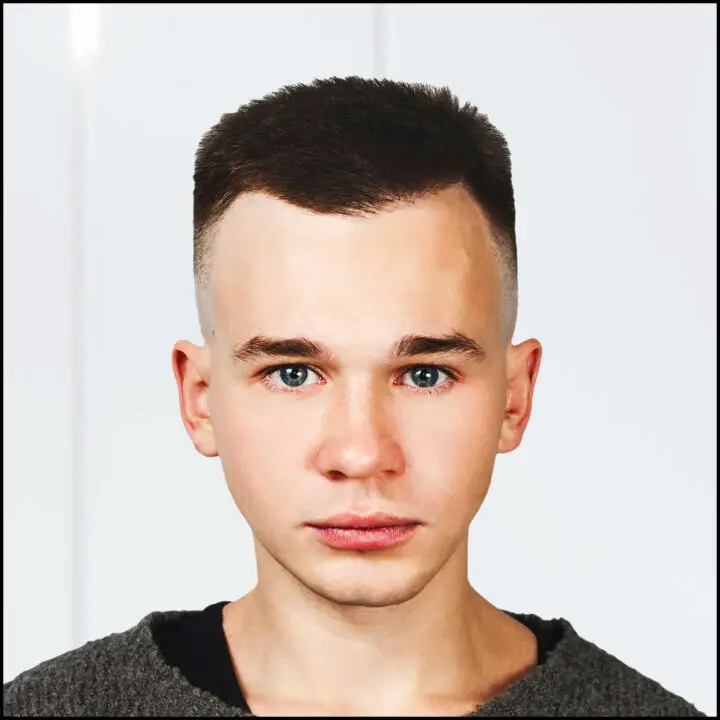 A crew cut haircut is a style of haircut that is short on the sides and back, and has a longer top. The haircut is a short, clean style that is easy to maintain. It can be styled in a variety of ways, making it a versatile option for men of all ages.
The crew cut was originally worn by Ivy League students on the crew team (rowing) but is still popular today.
Buzz Cut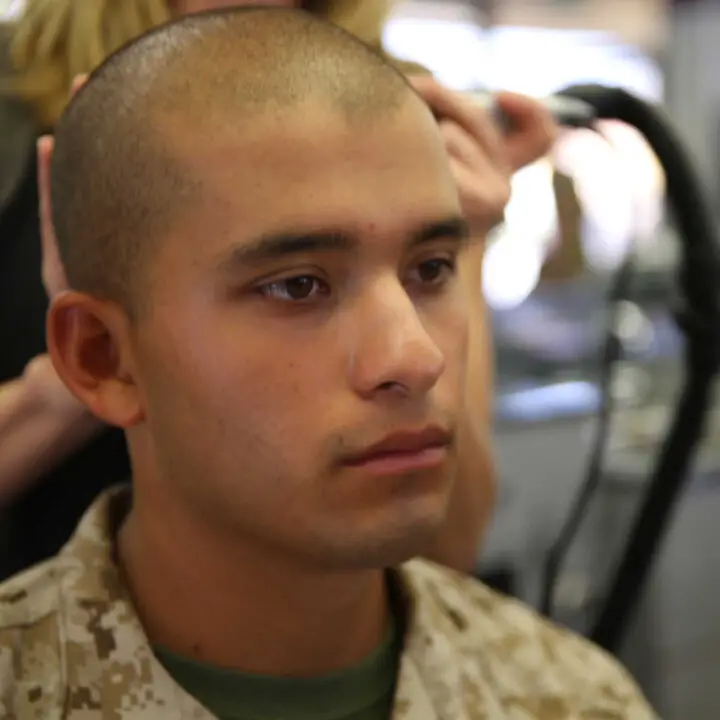 A buzz cut doesn't really have any style, the hair is all shaved off the same length. Usually quite short,1/2 to 3/4 of an inch.  An admittedly extreme example are the haircuts often given new military recruits.
 Caesar Cut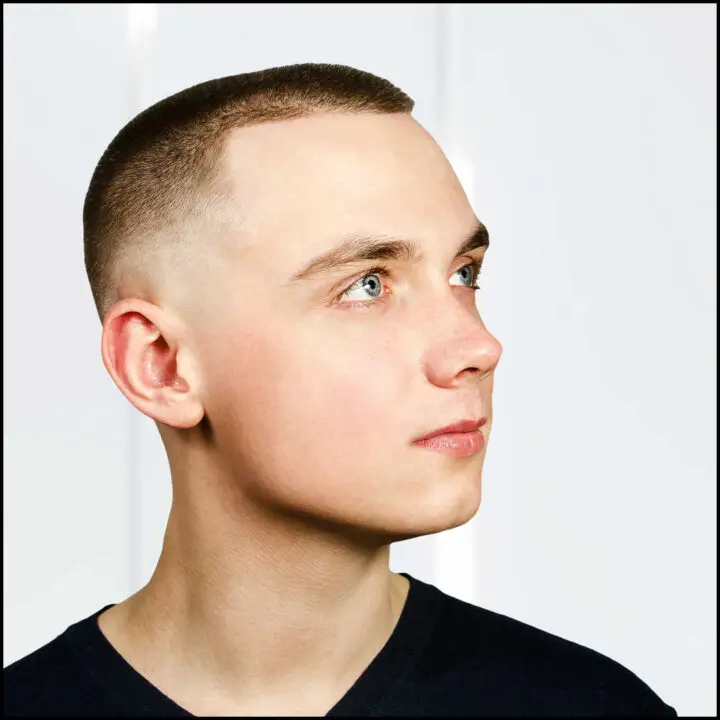 A Caesar haircut is a popular men's hairstyle that is characterized by its short length and clean lines. The haircut gets its name from Julius Caesar, who was known for his short, cropped hair. The Caesar cut is typically styled with a side part or comb over, and can be worn with or without a beard. While the look is versatile and can be tailored to fit any face shape, it is most often seen on men with square or oval faces.
Pompadour
A Pompadour haircut is a men's hairstyle that is short on the sides and long in the front. The hair is styled up and back, away from the face. A Pompadour haircut can be styled with a lot of product to create a high, sleek look, or with a more natural texture for a more casual look.
Conclusion
Choosing the right haircut is essential for men with receding hairlines. The best haircuts for men with receding hairlines are those that minimize the appearance of the receding hairline. Men can choose from a variety of haircuts, including the buzz cut, crew cut, and Caesar haircut. Ultimately, the best haircut for a man with a receding hairline depends on his individual preferences and hairstyling abilities.
About The Author: Otto Wright is a budding author and traditional wet shaver.