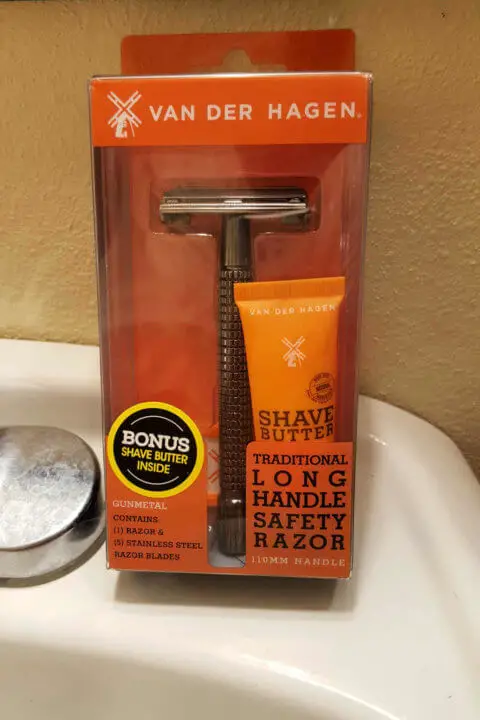 Most wet shaving aficionados are familiar with Van Der Hagen (VDH).  Although their shave soap used to be ubiquitous in brick-and-mortar megamarts and drug stores in the U.S. you are more likely to see other products from the brand on shelves now.  I recently found a long handle double edge razor in a local store that included blades and a sample of their "shave butter" and I wondered if it would make a good shave kit for a someone new to the double edge world.  So I decided to buy a pack to try out.
Looking for a review of the standard (vs. long handle) Van Der Hagen safety razor more commonly found in "brick and mortar" stores in the US?  Click/tap here for a full review.
What Is Included
Amazon links are affiliate.
Razor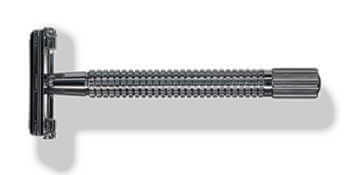 The Van Der Hagen Long Handle Razor is a twist-to-open (TTO) design with a handle length of 4 inches (about 10 cm) and 2.6oz (74 grams) on my kitchen scale.  I suspect this razor is a typical OEM import from the Far East (to me it looks similar to a Weishi long handle razor), though the Van Der Hagen name is etched on top to distinguish it from similar imports.
Blades
There are five blades included with the razor.  Van Der Hagen's website says:
Van Der Hagen blades are manufactured in Solingen, Germany, a city renowned for fine blade production. The stainless steel blades are ice tempered for sharpness and flexibility.
So, perhaps sourced from Merkur? Who else makes blades in Solingen?
Shave Butter
A small sample tube of Van Der Hagen's "Shave Butter" is included in the package (the razor version I have seen online did not include the Shave Butter sample).  This is a "brushless" and low lathering product.
Ingredients: Water, Ethyl Macadamiate, Stearic Acid, Glycerin, Cetyl Alcohol, Glyceryl Stearate, Phenoxyethanol, Titanium Dioxide (CI 77891), Fragrance, Benzyl Benzoate, Coumarin, Acrylates/C10-30, Alkyl Acrylate Crosspolymer, Aminomethyl Propanol, Butylrospermum Parkii (Shea) Butter, Ethylhexyglycerin, Mangifera Indica (Mango) Seed Butter, Theobroma Cacao (Cocoa) Seed Butter.
My Experience With The Van Der Hagen Long Handle Razor
My first shave with the razor used one of the included blades and massaged in the recommended amount ("about a quarter-sized") of shave butter.  It was reasonably good: solidly in "darn fine shave" (DFS) territory, though with somewhat of a dragging feeling.  There was enough residue from the shave butter for a second pass, though I did need to add a bit more for the third pass.
I wanted to narrow down where the dragging feeling was coming from so…
…for my second shave I used a known "good for me" blade, a Parker.  The results were much better–noticeably less dragging.  However this is not a criticism of the blades–I'm well aware that double edge razor blades are very much a "your mileage may vary" kind of thing and what works well for one person may not for another.  It's not that the VDH blades are "bad," they're just not for me.
The third shave used the same set-up.  I used the last of the Shave Butter sample so you can get an idea of how much is provided.  This shave also gave me a nick under my nose.  I took a look at the razor head and saw the blade had shifted slightly longitudinally.  Looking at the TTO mechanism I discovered I did not clamp it down hard enough.  It's a somewhat common design quirk of TTO razors: you should close the TTO doors fully then give the open/close knob an extra one-forth to one-half turn (depending on model) to fully secure the blade.  Again, my fault for not doing it but something to keep in mind.
Conclusion
Although you can certainly find competitive products online, it's nice to see the Van Der Hagen Long Handle Safety Razor available in brick-and-mortar outlets for those who need to lay their hands on a product before they buy it.  I think it would also be good for those looking to try double edge shaving without investing too much money, or for an experienced wet shaver who may be traveling and looking for an inexpensive, "buy it while on the road" solution.
Have you tried the Van Der Hagen Long Handle Safety Razor?  What do you think of it?  Leave a comment below.