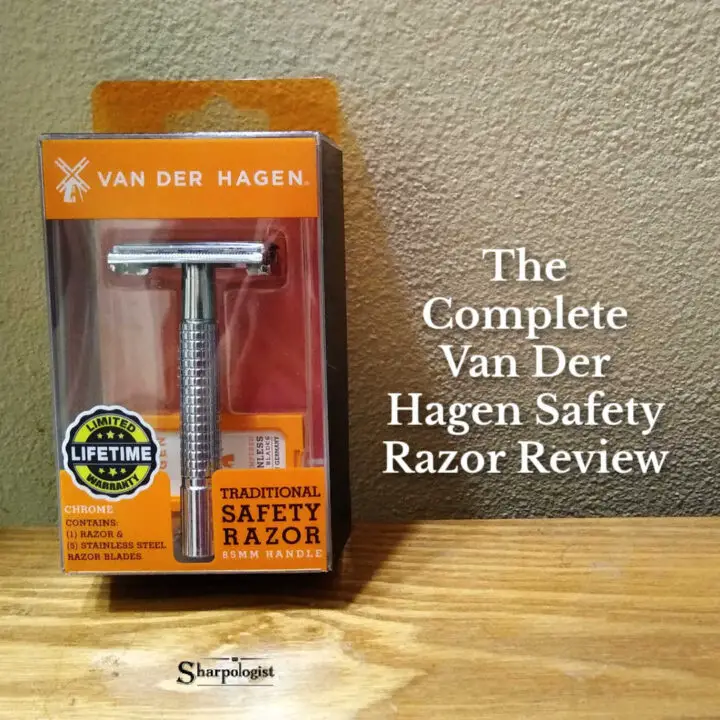 I'm going to take a deep dive into a Van Der Hagen safety razor review, sharing my thoughts and experiences with it so you can make an informed decision before purchasing one for yourself.
Van Der Hagen Safety Razor – Key Takeaways
Most commonly found safety razor in "brick and mortar" stores in the U.S.
Twist-to-open (TTO) "butterfly" design made of chrome-plated brass.
Imported from China with an acceptable quality control.
Includes 5 German-made double edge blades.
Three inch handle, 2 ounce weight.
Mild shave.
Introduction to Van Der Hagen Traditional Safety Razor And Blades
Van Der Hagen Traditional Safety Razor is a popular (and a lot of times the only) choice among those who are looking for an entry-level safety razor that is inexpensive and widely available at "brick and mortar" locations in the U.S.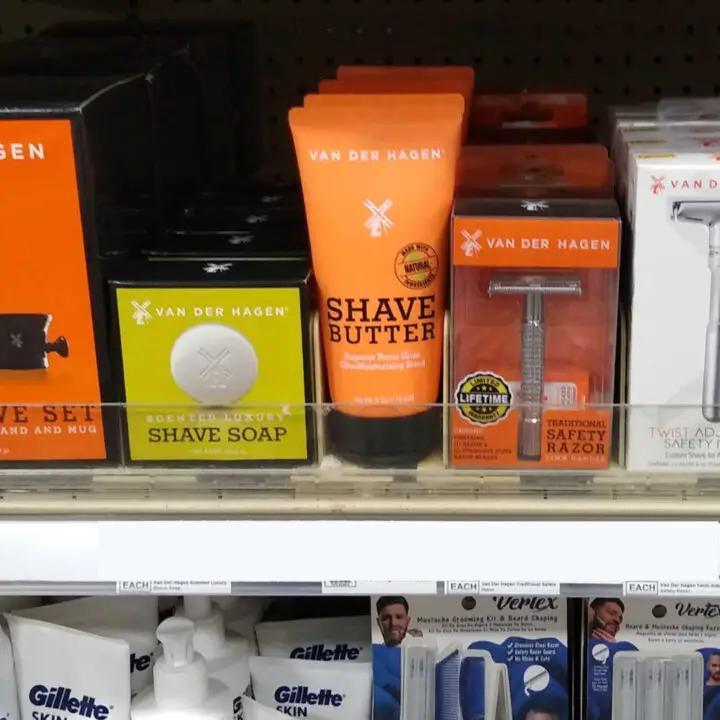 The razor has chrome-plated brass construction and a vintage look. The butterfly opening allows for a quick and easy blade change, making it a convenient option for those who are new to safety razors. The razor is a good weight (59 grams, about two ounces), with a textured three inch handle which gives a secure grip even with wet and soapy hands. This razor is manufactured in China
The razor comes with a 5 pack of stainless steel blades made in Germany. I think that although the blades are not of the highest quality, they are plenty good enough for beginners who are looking to experiment with safety razor shaving. 
Note: while all double edge razor blades may look the same, they do not necessarily perform the same. Different brands of blades may have different specifications as to edge grinding, coatings, and metallurgy. It is a really good idea to try several different brands of blades with a razor to find the one(s) that works best for you.
Specification
Material
Chrome-plated
Head opening
Butterfly
Length and weight
85 mm, 59 grams
Blade includes
5
Origin
China
Price
Check price
Quality of Material Used in Van Der Hagen Safety Razor
The material used in a safety razor is an important factor to consider before making a purchase. It not only affects the look of the razor, but also its durability and performance. 
In the case of Van Der Hagen Safety Razor, the material used is chrome-plated brass. This combination (quite common for safety razors) is known for its resistance to corrosion, which makes it good for a razor that will be exposed to water as long as the plating is thick and consistent enough. Additionally, chrome increases the surface hardness of the razor, making it more durable.
This razor may not become an heirloom passed down for generations but I find (along with most other users) the quality control of the Van Der Hagen safety razor acceptable, about typical of many Chinese-made imports.
Short Handle Design and Its Advantages (And Disadvantages) in Safety Razors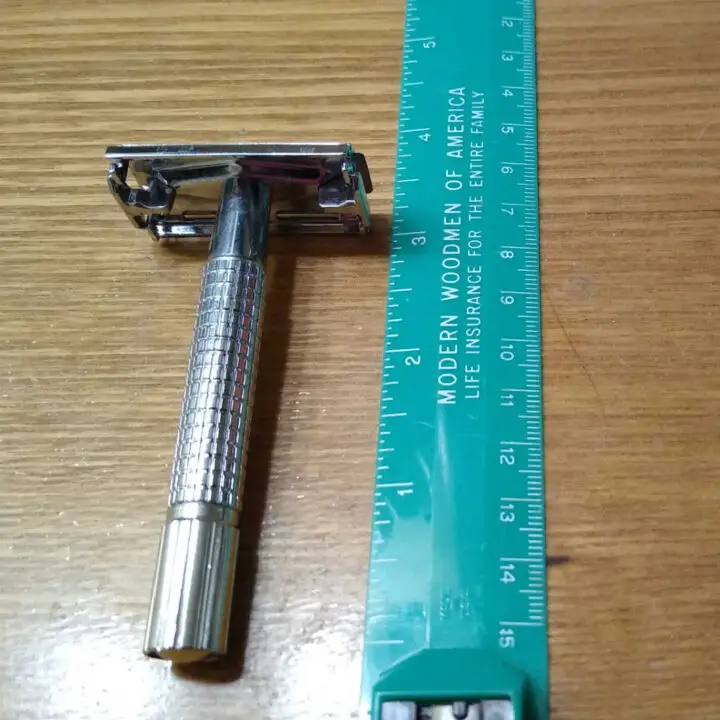 The length of the handle in a safety razor can be an important factor in achieving a comfortable and safe shave. A short handle is a common feature of many safety razors, and for a good reason. It can provide better control, allowing the user to get a more precise and closer shave, especially for people who are new to using safety razors.
This Van Der Hagen safety razor has a three inch handle. A longer handle (four inch) version is available, though not as widely found in "brick and mortar" outlets.
I find the three inch handle fine for my shaves. However those with big, meaty hands may find the size of this razor handle more of a challenge to hold.
Comfortable Shaving Experience with Van Der Hagen Safety Razor
Using a safety razor may seem old-fashioned, but it provides a comfortable and effective shaving experience. The Van Der Hagen safety razor appears to be designed with the beginner (or someone transitioning from cartridge razors) in mind.
Blade insertion and changing is straightforward with the razor's twist-to-open (TTO) "butterfly" design. Installing a blade involves rotating the bottom dial to open the TTO doors, carefully unwrapping the blade from its paper wrapper, and placing it into the razor head. The razor's dial is then turned the opposite way to close the TTO doors. Be mindful that the doors must be closed securely for proper shaving or you could wind up with a nasty shaving nick.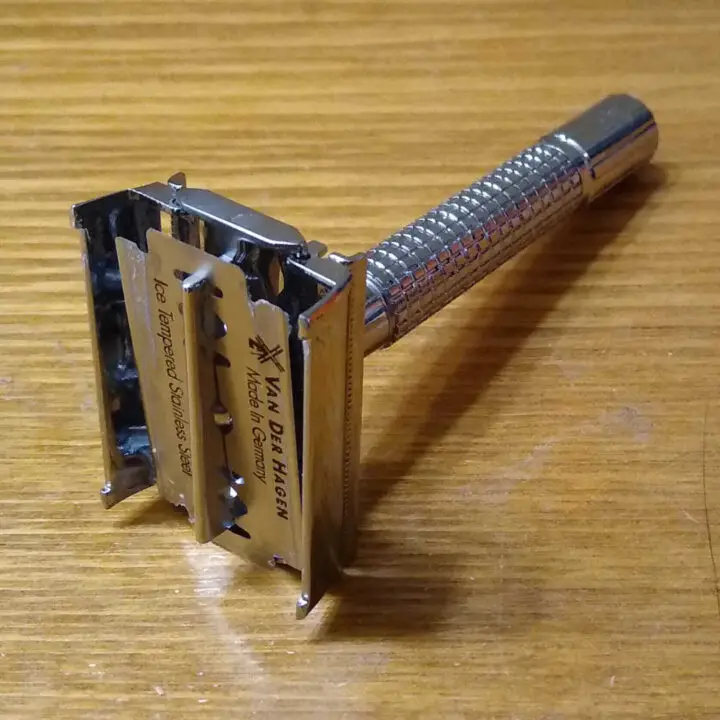 My experience with using the Van Der Hagen safety razor is generally good. There is little-to-no "blade feel" which might otherwise give a safety razor "newbie" pause. However this also makes finding the optimal way to hold the razor a little more difficult. Luckily I find the range of angles that cut stubble adequately fairly wide so there is some flexibility here.
The lack of a lot of blade feel is also indicative of a fairly inefficient, "mild" shave performance–there is not too much blade edge exposure to the skin.
Getting a closer shave with this razor will require multiple "passes" (with the grain, across the grain, etc.), like most other safety razors that use a single blade.
Switching to Safety Razor from Cartridge Razor
Switching from a cartridge razor to a safety razor can be a game-changer in terms of the quality of shave you receive. The Van Der Hagen Traditional Safety Razor can be a great option for those looking to make the switch. It provides precision shaving at a range of angles and can leave fewer razor bumps, giving you an overall more enjoyable shaving experience. 
It's important to note that using a safety razor for the first time may take some getting used to, and one may nick themselves during the first few uses so it's recommended to watch some tutorials before jumping in.
Those new to traditional wet shaving might want to go "full tilt boogie" by using a lathering cream or soap with a shave brush. However if you are not used to using all these items I recommend reducing the variables by using a good "brushless" shave cream or gel with a safety razor for a while.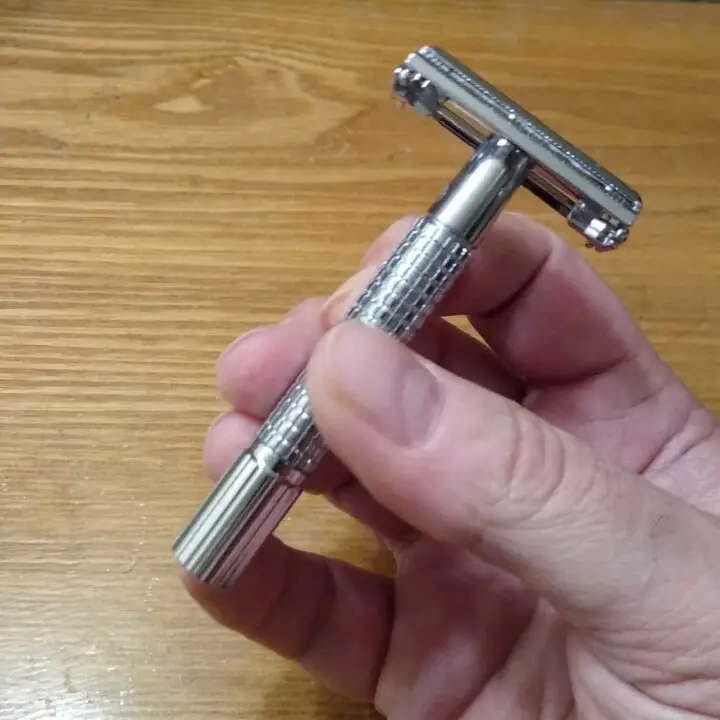 Other Van Der Hagen Safety Razor Reviews – Is it Worth it?
The Van Der Hagen men's traditional safety razor has received mixed reviews from customers, but it can be a worthwhile investment for those looking to switch from cartridge razors to a more traditional method on a budget. The razor provides a close shave, leaves fewer razor bumps than a cartridge razor, and is overall a more pleasant experience once the user gets the hang of it. 
Pros
Good value
Good grip
Comes with 5 Van Der Hagen blades
Not very aggressive
Cons
Chinese white label
Not the ideal razor for men with larger hands
Too safe for advanced shavers
Overall Review and Recommendations – Is Van Der Hagen Safety Razor Good?
After reviewing my experience and all the customer feedback and reviews, the overall consensus is that Van Der Hagen Safety Razor is a solid and affordable option for beginners in the wet shaving scene. The razor has a butterfly open mechanism that makes changing blades easy, and the handle feels comfortable in the hand. However, some users have noted that the handle is shorter than they would prefer, and the blade angle could be better.
Amazon users give this razor 4.3 out of 5 stars with a positive sentiment of 83% from over 1,100 ratings:
| | |
| --- | --- |
| 5 star | 67% |
| 4 star | 16% |
| 3 star | 6% |
| 2 star | 4% |
| 1 star | 7% |
However, it would be unfair to declare it the best razor without considering other options in the market. Some well-known brands like Merkur, Edwin Jagger, and Muhle also offer high-quality safety razors that have a loyal following among wet shaving enthusiasts.
Each brand tends to have its unique features and advantages, and personal preferences also play a significant role in determining the right razor for each individual.
It is important to note that there is a learning curve with safety razors, so newcomers should be prepared to spend some time mastering the technique and expect a few nicks and cuts along the way. While some users reported irritation, this was not a widespread issue. Ultimately, if you are looking for an affordable and reliable safety razor, the Van Der Hagen Safety Razor is a solid option to consider.