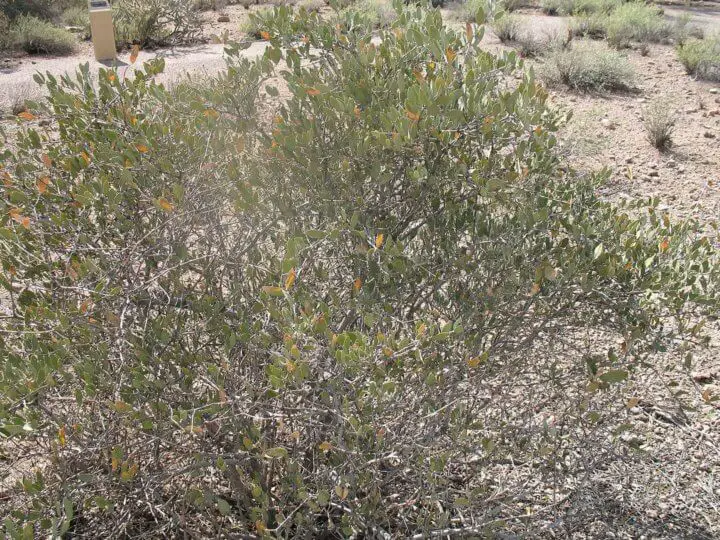 Sharpologist has previously examined several classic ingredients found in shaving products. This article discusses jojoba oil.
What Is Jojoba Oil?
From Wikipedia (https://en.wikipedia.org/wiki/Jojoba_oil):
Jojoba oil is the liquid produced in the seed of the Simmondsia chinensis (jojoba) plant, a shrub, which is native to southern Arizona, southern California and northwestern Mexico. The oil makes up approximately 50% of the jojoba seed by weight. The terms "jojoba oil" and "jojoba wax" are often used interchangeably because the wax visually appears to be a mobile oil, but as a wax it is composed almost entirely ( about 97%) of mono-esters of long-chain fatty acids and alcohols, accompanied by only a tiny fraction of triglyceride esters.
Native Americans extracted the oil from jojoba seeds to treat sores and wounds. The collection and processing of the seed from naturally occurring stands marked the beginning of jojoba domestication in the early 1970s.
In 1943, natural resources of the U.S, including jojoba oil, were used during war as additives to motor oil, transmission oil and differential gear oil. Machine guns were lubricated and maintained with jojoba.
Jojoba oil is found as an additive in many cosmetic products, especially those marketed as being made from natural ingredients. In particular, such products commonly containing jojoba are lotions and moisturizers, hair shampoos and conditioners. The pure oil itself may also be used on skin, hair or cuticles.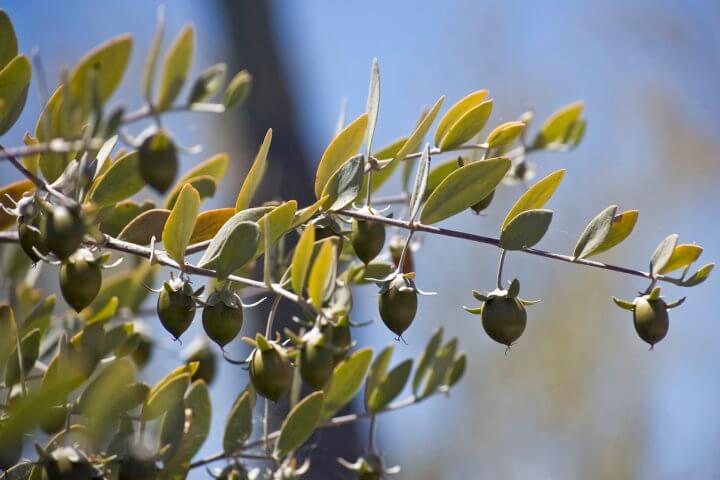 What Are the Benefits of Jojoba Oil?
Jojoba oil can reduce shaving-induced skin damage and inflammation. A report (https://education.dermalogica.com.au/Content/docs/WhenRazorMeetsSkin.pdf) by Dr. Diana Howard, Vice President of Research and Development for Dermalogica, notes jojoba oil's benefit in reducing razor burn:
"Ingredients including Wheat Germ, Yeast Extract, Tocopherol (Vitamin E and its derivatives), Soybean Oil, Shea butter, Jojoba Seed Oil, Evening Primrose Oil and Silicones will help protect the skin's natural barrier lipid layer, helping to combat the irritation, reddening and mechanical peeling associated with razor burn."
Another research report by Lin, Zhong and Santiago, "Anti-Inflammatory and Skin Barrier Repair Effects of Topical Application of Some Plant Oils," (https://www.mdpi.com/1422-0067/19/1/70/htm) also discusses jojoba oil's  benefits:
"The high content of wax esters makes jojoba oil a good repair option for dermatoses with altered skin barriers, such as seborrheic dermatitis, eczematous dermatitis, atopic dermatitis and acne. Jojoba oil also has a proven anti-inflammatory effect, with potential uses in a variety of skin conditions including skin infections, skin aging and wound healing."
Jojoba Oil in Shaving Products
[Note: Amazon and West Coast Shaving links are affiliate.]
Jojoba oil is usually not the most promoted ingredient in a shaving product so it takes some effort to identify products that include it. West Coast Shaving sells a Jojoba Shaving Cream (with versions in Cologne, Fougere, Oriental, and "Pear-Brr Shoppe" scents.  A sample pack is also available) but for other products it is a less prominent ingredient. Here is a list of shave creams and oils I was able to identify on the companies' websites or on Amazon. If you know of others, please mention them in the comments section.
Conclusion
Claims for some shaving product ingredients appear to be more wishful than proven but jojoba oil does have research supporting its healing properties.
Related Posts:
New West Coast Shaving Soaps (And Cream)!
What Is Tea Tree Oil And Why Is It In My Shaving Stuff?
What Is Sandalwood And Why Is It In My Shaving Stuff?
What Is Bay Rum And Why is it in My Shaving Stuff?
Whats Menthol And Why Is It In My Shaving Stuff?
What do you think of jojoba oil? Do you think it's beneficial for wet shavers? Leave a comment.