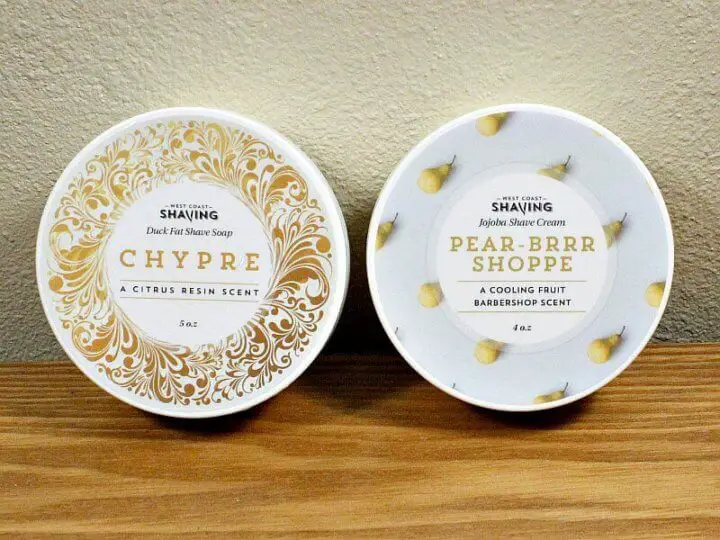 West Coast Shaving ("WCS," affiliate link) launched a new set of artisan-made shave soaps today to complement their existing line.  They sent me (and a number of other bloggers and You-tubers) a couple samples to try.

Unlike the usual nostalgic or fanciful names artisans tend to give their products, WCS decided to stick to–for the most part–somewhat generic fragrance names.  The scents are inspired by the "scent wheel" (developed by Michael Edwards over 30 years ago).
Here are the scent profiles, paraphrased from WCS's announcement.
Fougere
A fougere (fern in French) fragrance is a perfume category representing "what-scent-fern-would-have-if-fern-had-a-scent" aroma.  WCS respected the classic notes of lavender, geranium, and coumarin, but they've created an "aromatic fougere" with the added complexity of juniper, cypress, rosemary, galbanum, & woody, earthy notes of cedarwood and patchouli.
Cologne
A category of scent from the Cologne region of Germany, it sought to replicate the aroma of an Italian spring morning of "mountain daffodils and orange blossoms after the rain." The West Coast Shaving aroma has a few traditional citrus aromas in the top notes, but they are not the centerpiece. Rich, earthy, mossy notes (rosemary, petitgrain, lavender, rose, geranium, oakmoss, vetiver, & musk) have been added, providing an emphasis on citrus and floral.
Chypre
This perfume classification takes notes often found in the eastern Mediterranean island of Cyprus (Chypre is the French name for the island). The traditionally sharp scent usually boasts citrus top notes, middle notes of labdanum, on a base of earthy moss. West Coast's take on this traditional aroma has notes of lemon and lime accenting the bergamot, which creates an effervescent opening. The supporting aldehydes & florals of the heart notes contrast with the earthy, resinous base of cardamom, oakmoss, vetiver, patchouli, and musk.
Oriental
This category of perfume relies on dominate amber notes with musk, vanilla, and resins. WCS's Oriental aroma plays with both its floral and woody elements. The blending of smooth, warm, rich exotic woods and vanillic benzoin highlight a lightly spiced rose.
"Pear-Brrr-Shoppe"
An interesting twist on a barbershop scent, with pear and a "kiss" of menthol. The aroma has notes of pear, geranium, oakmoss, coumarin, vetiver, vanilla, nutmeg, and mint. The opening notes of sweet fruit gives way to a more traditional blend of geranium and light oakmoss which may evoke the barbershop aroma with which many fans are familiar. Along with a hint of spice, it is enlivened by a (mild) hit of menthol.
Pear-Brrr-Shoppe differs from the others here in another way, too.  It has a much softer consistency, like a "firm" shave cream or a very soft shave soap.
The Artisans
These soaps are a collaboration with Vida Perez from Oleo Soapworks (who Sharpologist recently profiled) and Chris of Catie's Bubbles (another artisan well known to Sharpologist readers).
The shaving soap has a duck fat base with kokum butter, palm oil, castor oil and jojoba oil. The duck fat also gives it a dense, rich lather.  The shaving "cream" includes stearic acid (provides density & slickness), coconut oil (gives voluminous lather), and jojoba (aids in post shave feel).
My Experience With The Samples
I received two samples, Chypre and Pear-Brrr-Shoppe.
I really enjoyed the scent of Chypre: as the description said it's primarily an "effervescent" citrus (lemon/lime) that pleasantly tickled my nose.  The scent is moderate and persistent (in a good way), though my (admittedly poorly-educated) nose got very little of the floral notes and just a bit of musk.
This is a "thirsty" soap and can take a ton of water (though you must add it slowly, a little at a time).  And the lathering was surprisingly quick, thick, and luxurious in my hard water.
As for performance I found it very similar to the other Oleo soaps I've tried: cushion is excellent and lubrication is outstanding!  I consistently get "BBS" shaves with this soap.
Pear-Brrr-Shoppe (PBS) is no slouch either, though!  Just a little different in character.
The scent is definitely dominated by ripe pear with woody (or perhaps herbal) elements underneath.  Like Chypre I find the scent of PBS to be moderate and reasonably persistent.  Menthol-heads will be disappointed with the cooling effect of this "creamsoap."  It's very mild–a "kiss" indeed.  I would call the effect pleasantly cool.  🙂
For some reason PBS takes a little longer to lather in my hard water, compared to Chypre, but nothing objectionable.
Like Chypre the performance of PBS is excellent for me.
Post-shave I think PBS leaves a subtly better feel on my face compared to Chypre.
In any case, West Coast Shaving's new line of shaving soaps are terrific performers and deserve your consideration!