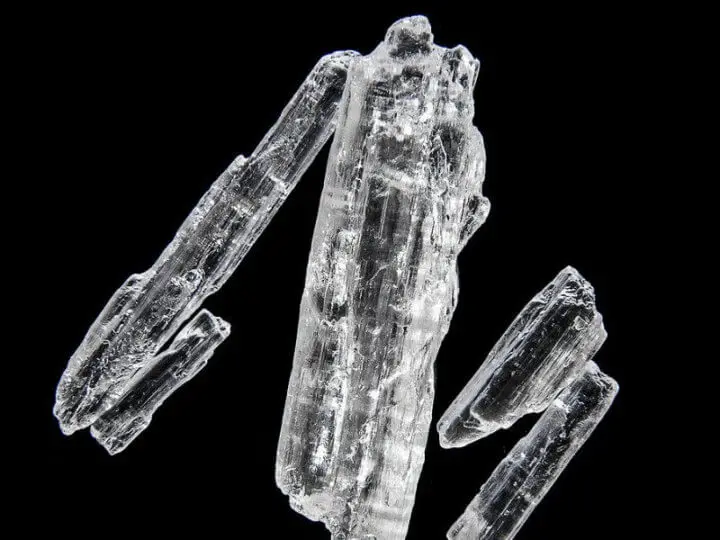 [Updated September, 2020] Menthol is a popular ingredient in shaving products.  What is menthol and why do so many shavers enjoy using it?  Why is there shaving cream with Menthol?
What Is Menthol?
Menthol is an organic compound obtained from mint oils (or it can be made synthetically). It is a waxy, crystalline substance, clear or white in color, solid at room temperature and melts slightly above.  Natural menthol is obtained by freezing peppermint oil. The resultant crystals of menthol are then separated by filtration.
Menthol is a monoterpene. Terpenes and terpenoids are a group of compounds in plants responsible for scent and taste. These compounds can also be helpful against diseases like dementia and type II diabetes. Other terpenes are powerful drugs like thujone from absinthe and THC.
What Does Menthol Do To The Body
Menthol activates the body receptor structures found in the skin and other cold sensitive areas for "feeling cold."  First found by the German anatomist Krause, menthol has been found to act in nerves by activating proteins. Both central and peripheral nerves respond to this "cold" messenger molecule. Menthol tricks these cold receptors into believing they sense cold.
Menthol has local anesthetic and "counter-irritant" qualities.  Menthol seems to activate GABA (gamma amino butyric acid) receptors, a primary neuro transmitter in the brain and spinal cord. That is how menthol interferes with pain reception. Menthol is also a weak kappa opioid receptor activator. This means it likely causes release of pain killing compounds in the brain.
While it does not actually change the temperature of the skin, it produces a cooling effect in conjunction with its local anesthetic properties. In this sense, it is similar to capsaicin, the chemical responsible for the spiciness of hot chilis (which stimulates heat sensors, also without causing an actual change in temperature).
Menthol And Shaving
Menthol and shaving may enjoy a somewhat unusual symbiotic relationship.
On the one hand there is the obvious pleasant cooling effect that is popular when the weather is hot and humid.  And many shavers appreciate the cooling effect in after shave products if they get a little too aggressive (or sloppy) with their technique and end up with some uncomfortable irritation.
On the other hand those who make shaving products (particularly in the "megamart" mass-market) sometimes take advantage of the topical anesthetic properties of menthol to mask ingredients that might cause irritation or provide less effective lubrication in the shave.
By the way, it's completely safe to use mentholated shaving products, as little is absorbed through the skin.
What About Synthetic Menthol?
A recent development is the use of synthetic cooling agents (that work like menthol) in shave products.  See On Menthol, Synthetic Menthol, And Cold for much more detail.
Shave Soap And Shave Cream With Menthol
There are many mentholated shave creams and soaps available.  Here is just a sampling (Amazon links are affiliate):
The obvious, classic shave cream with Menthol is Proraso Eucalyptus and Menthol in the green packaging.  Low-cost, mildly cooling, and popular, I doubt if there is anyone reading this who has not at least heard of (if not used) Proraso Eucalyptus and Menthol or it's near clone from C.O. Bigelow.
Another mildly cooling (and inexpensive) shaving cream with Menthol is Derby Cool.  While not as well-known as Proraso it is also inexpensive and mildly cooling.  Derby Ice Mint will provide a stronger cooling effect.
Stepping it up the cooling effect a notch by using even more menthol, Stirling Soap offers a mentholated soap in a number of their products including Gin & Tonic On The Rocks, Orange Chill, and Margaritas in the Arctic.
Then there are the face freezers, products that turn the cooling effect "up to 11" with a high concentration of menthol.  Chiseled Face Cryogen, PAA Frost Byte, and Stirling Soap's "Glacial" line (including Black Cherry, Eskimo Tuxedo, and the "Glacial" version of Margaritas In The Arctic) are examples.
Do you have a favorite mentholated product?  Leave a comment below!