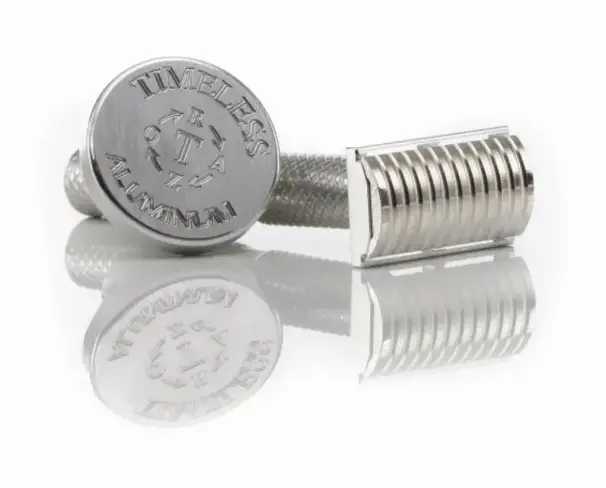 I recently purchased a Timeless ALSB45 aluminum double edge razor.  Here is my review.
Timeless Background
Timeless Razor run by a family of machinists in Ohio. They specialize in producing CNC-machined parts and plastic injection molded parts.  
When they looked at the design of some premium double edge (DE) razors they saw room for improvement.  They developed a high-quality double-edge safety razor with precision tools from their in-house machinery. 
I met Matt from Timeless at one of the Maggard Razors meetups.  I did a video interview with him but the video portion was corrupt so I put the audio portion on one of Joe Borrelli's Wet Shaving Talk podcasts:
West Shaving Talk For 23 July 2018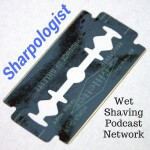 I wanted to check out Timeless' quality but I also wanted to keep my budget in mind.  So even though they're more well known for using more "exotic" materials like Stainless Steel or Titanium I opted for the lower-cost Aluminum model.
Timeless ALSB45 Aluminum
From the Timeless website:
"Our Aluminum Razor is in a league of its own. It is beautifully crafted from Aluminum material. The razor's 0.45mm blade gap is mild, perfect for those with angular faces or inexperienced shavers. If you are new to wet shaving with safety razors, this is the product for you.
What Is Included: 
Scalloped Cap
Solid Bar Base Plate (0.45 mm blade gap)
Handle
Stand
FEATURES + BENEFITS:
The Design: The aluminum razor is carefully crafted, ensuring the same quality shave as its more luxurious counterparts. It is coated with clear anodize to give it a perfect matte finish that will last a lifetime.
The Weight/Size: The Aluminum razor is lighter, so beginners will have better control as they learn to shave with their double-edge razor. The handle is 14mm x 90mm long, perfect for those with larger or longer hands.
The Material: Aluminum is 100% recyclable and non-toxic. It is corrosion resistant and does not lose durability and strength in colder environments. As a whole, aluminum is a cost efficient and solid material.
PRODUCT SPECS:
Material: 6061-T6 Aluminum
Finish: Clear Anodize
Weight: 77.8g
Blade Exposure: 0.002″
Handle thread size: M5 x 0.8mm
Note: Our Aluminum razor parts are NOT sold separately. Razor will reflect some machine marks, tool marks and/or anodizing marks. Razors are not polished or bead blasted; they are machine finished."
My Experience With The Timeless ALSB45 Aluminum Double Edge Razor
Note: Amazon and PAA links are affiliate.
The first thing I noticed about the Timeless ALSB45 aluminum DE razor is how visually attractive I think the presentation is.  It arrived in a nicely secure (foamed) box and includes a razor stand–details that I appreciate.
The razor itself is light and I freely admit I prefer more heavyweight razors (YMMV).  The handle is nicely textured, though I prefer a little more texture in a lightweight handle: if a razor is going to be light in weight it's nice to have something more to grasp onto (see my review of another lightweight DE razor, click/tap here to read Battle Brothers MkII Aluminum Double Edge Razor).  However the handle is certainly adequate.
The razor's head is scalloped, a little like a "double open comb" or "self lubricating open comb" razor (click/tap here to read Double Open Comb And Self Lubricating Razors – What They Are And How To Use Them) but it's more like the vintage Kirby razor designs of the 1930's; PAA's Prismatic razor would be a modern equivalent.  The base plate uses the raised tabs design (vs. pins) to hold the blade.  Blade tabs protrude slightly from the sides of the razor head.
Over-all I think the "fit and finish" of the razor is excellent.
The first time I used the Timeless ALSB45 I used my usual set-up for testing a new-to-me razor: I really good, cushioning shave cream; lather applied with a brush, for maximum hydration; and a blade not on its first shave, but still in its efficiency curve.
And while comfort and closeness during the shave seemed fine, I had some wicked shave burn afterward.  In fact the right side of my neck, just off the throat area, almost glowed red–something I hadn't experienced in a long time.
Doing a "post mortem" on my shave I decided it could be one or a combination of factors: the blade was more out of its efficiency curve than I thought, I used the "wrong" blade brand for the razor, I put too much pressure on the razor, the "sweet spot" of blade angle was narrower than I thought, or I unconsciously relied too much on the "self-lubricating" design of the head.
I also think this razor's aggression level is closer to "moderate/average" than it is to "mild," despite the specs listed above.
For my next shave I used a new blade of the same brand and kept everything else the same (though I did try to be more mindful of the pressure I put on the razor).  The results were better but I still had some irritation, and a couple "weepers" to boot.  After a few more shaves I realized my problem was a combination of too much pressure and a much-narrower-than-I-thought razor angle "sweet spot."  Both aspects are something I normally pay a little less attention to because I favor adjustable razors that tend to mitigate things like that.
After some continued attentive use I was able to get the pressure and "sweet spot" just right.  I discovered that Parker and Feather (?!) blades worked best for me in this razor (YMMV of course).  After getting those things locked down I started getting excellent shaves without irritation.
Conclusion
Timeless has an excellent reputation as a premium razor artisan.  Their Titanium and Stainless Steel are available in a number of different configurations, and other materials and options are available as well.  I think the Timeless ALSB45 aluminum DE razor represents their "value" product, offering a look at their quality and craftsmanship at a lower price-point.
Do you have a Timeless razor?  What do you think of it?  Leave a comment below!