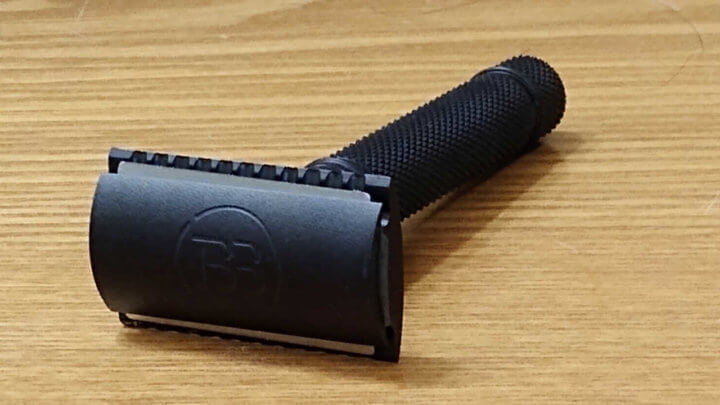 I bought a Battle Brothers MkII aluminum double edge razor some time ago but it's been laying in its box until recently.  I should have tried it sooner.
Battle Brothers, Amazon, And Assumptions
Note: Amazon and West Coast Shaving links are affiliate.
A while back I wrote about the most popular double edge (DE) safety razors, by sales (this is different than Sharpologist's "Best" DE razor list).  My research included an examination of what razors were most popular specifically on Amazon.  One of those razors was the Battle Brothers MkII Double Edge Razor. It's an aluminum razor, made in the U.S.A (Grand Rapids, MI to be specific).  For some reason looking at it on Amazon it struck me as more than just another clone DE razor so I decided to buy one (it has since dropped off Amazon's "most popular" list but it is still available on Amazon).
I received it and gave it a cursory visual examination.  My initial reaction was "meh.  Too light and it looks like it has too much blade exposure for my taste."  So I put it up in my "try this eventually" drawer.  Where it stayed.  For over a year.
I've been straightening up my shave den lately and opened the "try this" drawer.  The Battle Brothers razor box literally popped out (yeah, the drawer is a little over-stuffed) and fell to the floor.  I took it as a sign and decided to give it a closer look and maybe (finally) give it a try.
I'm not familiar with the Battle Brothers brand so I found the razor's specs (from the Battle Brothers website):
Made in the USA – birthed from an American manufacturing facility

Military aircraft-grade aluminum

Anodized mil-spec to MIL-A-8625 type II, class 2 for a smooth low friction coating

Total length is 3.7in – 1.3oz – with a blade gap of .032in

Field strip with ease with only three parts
My digital kitchen scale confirms it's a mere 37 grams (about 1.3 oz).
By the way, they have other double edge razors, too.  Andrew, Battle Brothers founder, won the grand prize in a veterans business incubator competition to start the company.
I noticed that they mention a (comparatively aggressive) blade gap of .032.  Along with the visual blade exposure when looking from the top down, the aggressiveness of this razor seemed pretty significant to me (yes, I know that blade gap and blade exposure are two different specs but they often go hand-in-hand).  When I looked at it on arrival I just assumed it was an aggressive razor.  Since I prefer both heavyweight razors and milder razors I just set it aside….
My Experience With The Battle Brothers MkII Aluminum Double Edge Razor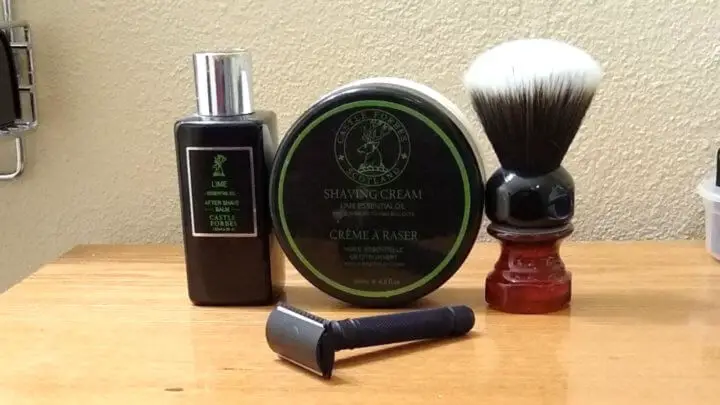 For my first outing with this razor I wasn't going to take chances.  I used a shave cream that performs well for me, particularly with the "cushion" aspect: Castle Forbes limes.  I also added Crown Shaving pre-shave to my face as an extra "belt and suspenders" idea.
I raised the razor to my face and took a first tentative stroke, being careful not to press down on the lightweight handle.  I was surprised by the "smoothness" of the stroke.  Hmmm….
The "sweet spot" for razor angle for me is reasonably wide; I could actually classify this as a "forgiving" razor in that respect.
The razor's handle is very nicely textured and "grippy."
I completed a regular three pass shave, more mindful of my pressure but otherwise using my standard technique.
And I was rewarded with an easy Darned Fine Shave (DFS) with one tiny "weeper and just a bit of irritation on my right jaw. Not quite "Baby's Butt Smooth" (BBS) but otherwise a much better shave than I expected, especially for a first shave with an unfamiliar razor….
Encouraged by this first shave I went ahead and put the Battle Brothers MkII in my regular rotation for a while, each time taking fewer precautions by not using a pre-shave and using lathers that I knew were slightly less cushioning.  And I continued to get excellent (almost-but-not-quite-BBS) shaves with comfort and little-to-no irritation.  With some additional blade experimentation I'm sure I could hit that BBS shave (but I wasn't going to "chase" BBS, either). And sure enough, after a few weeks of occasional use I hit the right combo of blade and technique and could reliably get BBS.
Conclusion
All-in-all, the Battle Brothers MkII Aluminum DE razor is a razor that I shouldn't like, but I do:  the specs say it's too light and too aggressive for my preferences.  However in practice I find it quite pleasant!  "Ken Surfs" did a video review of the MkII as well and is also pleased.
The Battle Brothers MkII Aluminum DE razor is available from the Battle Brothers website and on Amazon.