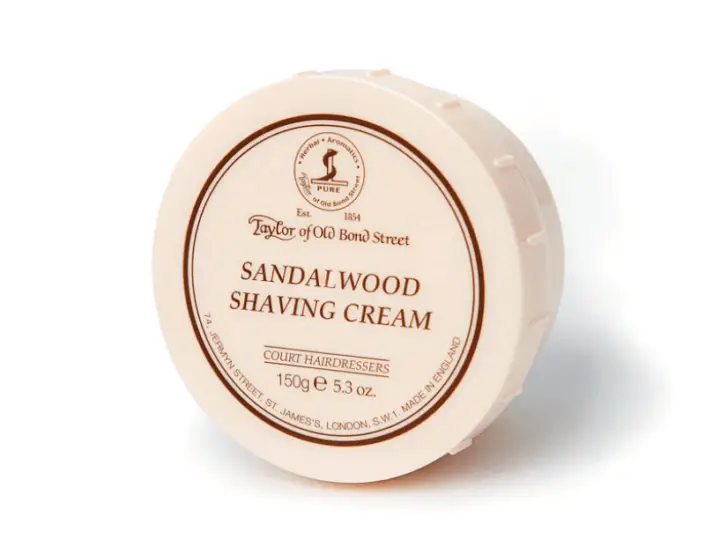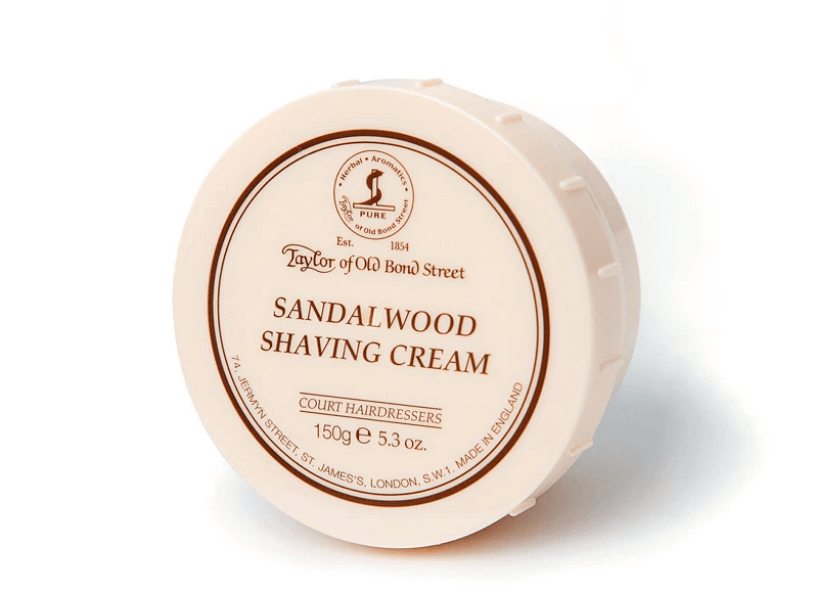 According to some previous research, Taylor Of Old Bond Street Sandalwood is perhaps the most popular "old school" lathering shave cream on the market.  Here's what you need to know about Taylor Of Old Bond Street Sandalwood shave cream.
Taylor Of Old Bond St. Sandalwood Shave Cream
The first thing that struck me about TOBS "Sandalwood" is how "Sandalwood" is actually a less-emphasized aspect, despite the name.  From the Taylor Of Old Bond St. (TOBS) website:
"A classic fougère fragrance with top notes of geranium lavender rosemary and liquid amber supported by a heart of carnation fern and orange blossom resting on a sumptuous base of patchouli sandalwood vetivert powdery musk and rock rose."
Complicating things even further is that there are a number of different "Sandalwood" sources so the "Sandalwood" scent is a little subjective.  If you want to know more about "Sandalwood" in all its variations, click/tap to read "What Is Sandalwood And Why Is It In My Shaving Stuff?"
Ingredients: Aqua (Water), Stearic Acid, Myristic Acid, Potassium Hydroxide, Coconut Fatty Acid, Glycerin, Parfum (Fragrance), Triethanolamine, Sodium Hydroxide, Benzyl Alcohol, Methylchloroisothiazolinone, Methylisothiazolinone, (Parfum Contains: Linalool, Geraniol, Benzyl Salicylate, Citronellol, Eugenol, Benzyl Benzoate, Benzyl Cinnamate, Evernia Furfuracea Extract, Evernia Prunastri Extract, Limonene, Coumarin).
By coincidence I used TOBS Sandalwood's ingredient list as the baseline for an examination of how "good" or "bad" ingredients in shave products may be.  Click/tap here to read "Is Your Shaving Cream Trying To Kill You? An Ingredient Teardown"
My Experience With Taylor Of Old Bond St. Sandalwood Shave Cream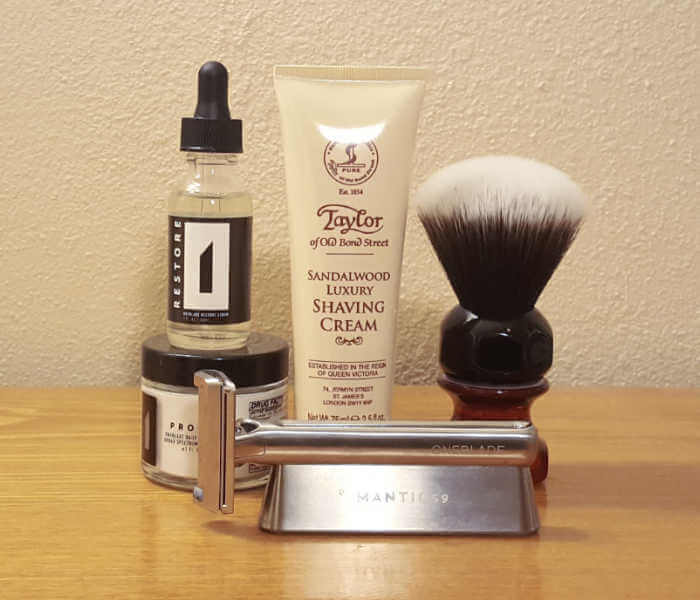 The first thing most people notice in their Taylor Of Old Bond St. Sandalwood shave cream experience is the scent.  Anyone who had read my previous shave cream reviews knows that I have a relatively insensitive nose so I prefer strongly-scented shave products.  TOBS Sandalwood's scent is moderately strong out of the tub, softening only slightly when lathered on the face.  It's pretty persistent, too: I can smell it pretty much throughout my shave.
I mentioned earlier that the "Sandalwood" scent can be difficult to pin down, as there are a number of different scent profiles, both natural and artificial, claiming to be "Sandalwood."  But I think the TOBS version comes admirably close to the "classic Sandalwood" fragrance, often described as woody with additional modifying terms like creamy, milky, warm, soft, and rich.  I like to use the word "mellow" myself.  I'm not usually a big fan of these types of woody fragrances but the TOBS Sandalwood scent has grown on me through the years and I particularly like it in the cold Winter months.

A few years ago I described the lather from TOBS products as "inconsistent."  Some of the newer versions, like Peppermint and Grapefruit, seemed to lather more quickly and luxuriously than their older, more classic formulations–like Sandalwood.
That issue seems to be largely resolved now, and lathering is much more consistent across the line, at least for me.  My latest tube of TOBS Sandalwood delivers a fast, voluminous lather, even in my "hard" water, looking like a heavy meringue.
Scent and lather descriptions aside, how does TOBS Sandalwood perform?  For me both lubrication/glide and protection/cushion are top-shelf.  In fact I have to be careful I don't make too thick of a lather or else my shave isn't as close as it could be.  Post-shave moisturization is solid.
Conclusion
Taylor Of Old Bond Street is regarded as one of "the three T's" of premium, classic British shaving brands (along with George Trumper and Truefitt And Hill).  TOBS is regarded as the "value" leader of the three, with pricing generally lower than competing products.  That doesn't seem to detract from the quality and performance, though (actually, formulation-wise, "the three T's" are fairly close to each other).
Taylor Of Old Bond Street Sandalwood shave cream has been one of most popular, at least by sales, lathering shave creams on the market for some time and it's easy to see why: an appealing, masculine scent; performance as good as other premium shave products; and a more attractive price-point for the value-minded.  What's not to like?
Have you used Taylor Of Old Bond Street Sandalwood shave cream?  What do you think of it?  Leave a comment below!